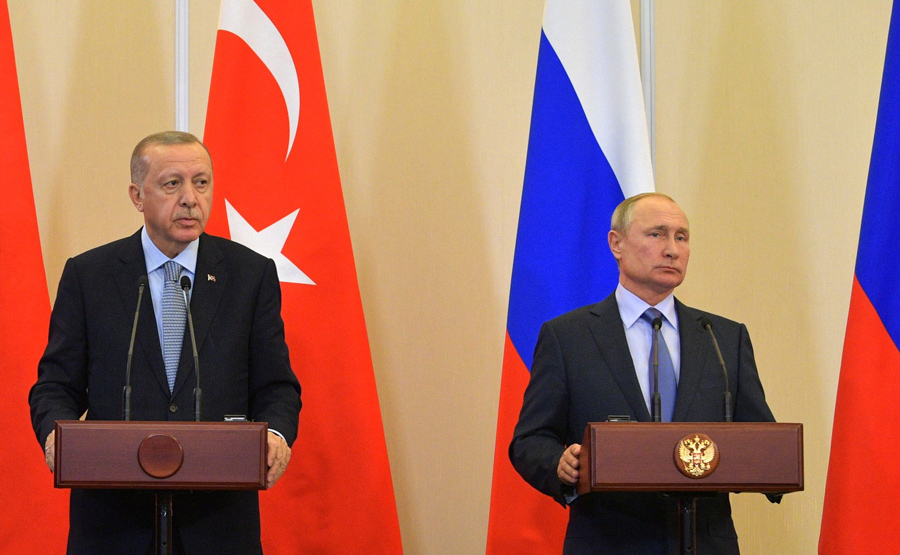 The West's appeasement will, unfortunately, only embolden Turkish President Recep Tayyip Erdoğan and push him further into the Russian orbit, both politically as a covert ally and militarily as a client of critical weapons systems. Pictured: Erdoğan holds a press conference with Russian President Vladimir Putin on October 22, 2019 in Sochi, Russia. (Image source: kremlin.ru)
Russia's invasion of Ukraine has revived an old, outdated, near-defunct concept: a Western habit of overrating Turkey's "geo-political importance." Totally blind to Turkish President Recep Tayyip Erdoğan's anti-Western policy calculus, the Biden administration is pushing Turkey's Islamist strongman into further stealth hostility toward the civilized parts of the world.
"For better or for worse, Turkey is a NATO ally and will remain so. After Russia's invasion of Ukraine, global politics are rapidly evolving in an unpredictable direction. The U.S. has, therefore, an interest in Turkey maintaining a robust air force," wrote Henri J. Barkey, a professor of international relations at Lehigh University. Ironically, Turkish court indictments mention Barkey, a former member of the U.S. state department's policy planning staff, as the key CIA operative behind the failed coup against Erdoğan's government in July 2016. Barkey, in Turkey, is a wanted man.
The West can clearly see Turkey's "unhelpful" behavior -- as it sees that of many countries -- but shrugs it off.
Turkey, in response to the military operation in Ukraine, abstained from voting on suspending Russia's membership in the Strasbourg-based Council of Europe, the West shrugged it off.
As Western governments targeted Roman Abramovich and several other Russian oligarchs with sanctions to isolate Putin and his allies, Turkish Foreign Minister Mevlüt Çavuşoğlu said that "Russian oligarchs are welcome in Turkey."
Russia keeps using Turkish airspace as freely as if it had never invaded Ukraine.
More recently, Erdoğan's government said that it will not back Washington's plans to create special NATO deployment forces in the Black Sea region to contain Russia. The idea was proposed last year by U.S. Secretary of Defense Lloyd Austin, involving the Black Sea's littoral countries that are NATO members: Turkey, Romania and Bulgaria. "Turkey seeks to use diplomatic avenues outside the Montreux Convention and persuasion to keep NATO allies away from the Black Sea," news reports quoted Turkish Defense Minister Hulusi Akar as saying.
More recently, Turkey's leading defense procurement official, Undersecretary of Defense Ismail Demir, said that the purchase of a second batch of the Russian-made S-400 surface-to-air missiles was on the agenda:
"Turkey has been thinking and moving [for the second batch] and is adamant that it will buy the second system, no matter what America says, Turkey continues to apply the same decision that was made at the beginning [of the process to buy Russia's] S-400s."
In 2019, Turkey announced that it would become the first NATO ally to deploy a Russian-made air and anti-missile defense system, against NATO rules, which require all members to use the same weapons systems. Turkey paid $2.5 billion for the S-400s. The move cost Turkey suspension of its membership in the U.S.-led, multinational, F-35 fighter jet program.
Turkey has also been targeted by the Countering America's Adversaries Through Sanctions Act (CAATSA). With that $2.5 billion already in Russian coffers, Turkey, fearing further U.S. sanctions, has been unable to unpack and deploy the S-400s. This dust-up with the U.S. took place before Russia invaded Ukraine. After Russia's invasion of Ukraine, when every sane country is staying away from wiring even a few cents to Russia, NATO "ally" Turkey is still talking about buying a second S-400 system.
The result? The U.S. is further appeasing Erdoğan.
In January, U.S. President Joe Biden surprised EastMed pipeline partners Israel, Greece and Cyprus by abruptly withdrawing U.S. support for the pipeline, thereby preventing a diversified energy supply to Europe, and further assuring even greater oil revenues for Russia and its war machine. The White House claimed that the $7 billion project was antithetical to its "climate goals."
Turkey, from the beginning, was completely outside the EastMed project. Turkey is claiming part of the natural gas in the East Mediterranean fields, but not as an equal partner. Regarding the EU and EastMed: Europe's new push for diversification from Russia's energy has revived talks about EastMed. However, the European Commission is still insisting on knowing more about the EastMed pipeline's commercial viability before giving its final blessing.
In April, State Department Under-Secretary for Political Affairs Victoria Nuland was in Ankara to ink a vague new strategic concept with Turkey. Observers say the concept can provide the framework under which positive changes in bilateral relations can be advanced. "If it works, this is a win for both Congress and the White House," Barkey wrote in The Arab Weekly that "if the US refused to sell fighter jets, he [Erdoğan] would simply procure them from Russia instead."
Also in April, in an about-face, a senior U.S. State Department official said in congressional correspondence that the [potential] sale of F-16 fighter aircraft to Turkey would "serve U.S. interests and bolster NATO unity."
"The Administration believes that there are nonetheless compelling long-term NATO alliance unity and capability interests and U.S. national security, economic and commercial interests supported by appropriate U.S. defense trade ties with Turkey," Naz Durakoğlu, the State Department's top official for legislative affairs, wrote to Congressman Frank Pallone, who chairs the House Energy and Commerce Committee.
Most recently, Secretary of State Anthony Blinken said that foreign military sales to key Washington partners such as Turkey and India should be sped up and bureaucratic hurdles removed.
Asked during a congressional testimony what the Biden administration can do "to cut through the red tape to help our work with our allies such as Turkey and India," Blinken told the House Appropriations Committee:
"I think that we can and should do better in sales, particularly in the rapidity with which we're able to do things, review things. I think that's on us in the executive branch. It's also on Congress."
The West's appeasement will, unfortunately, only embolden Erdoğan and push him further into the Russian orbit, both politically as a covert ally and militarily as a client of critical weapons systems. Erdoğan has long been playing the old oriental carpet-selling game: pitting potential buyers against each other to get the best price -- Turkey is hoping to be sold to the highest bidder.
The West's appeasement will just further embolden Erdoğan to keep blackmailing it: If you do not sell me F-35s or F-16s, I will buy fighter jets from Russia. Erdoğan then turns to Putin: I am your man in NATO. If you do not want me to be a real NATO ally, you must give me something. Erdoğan's double-play has to be stopped. For that, is needed a determined Western bloc who will remind him that he will not get what he wants from his (theoretical) allies in the West by blackmailing them.
Burak Bekdil, one of Turkey's leading journalists, was recently fired from the country's most noted newspaper after 29 years, for writing in Gatestone what is taking place in Turkey. He is a Fellow at the Middle East Forum.