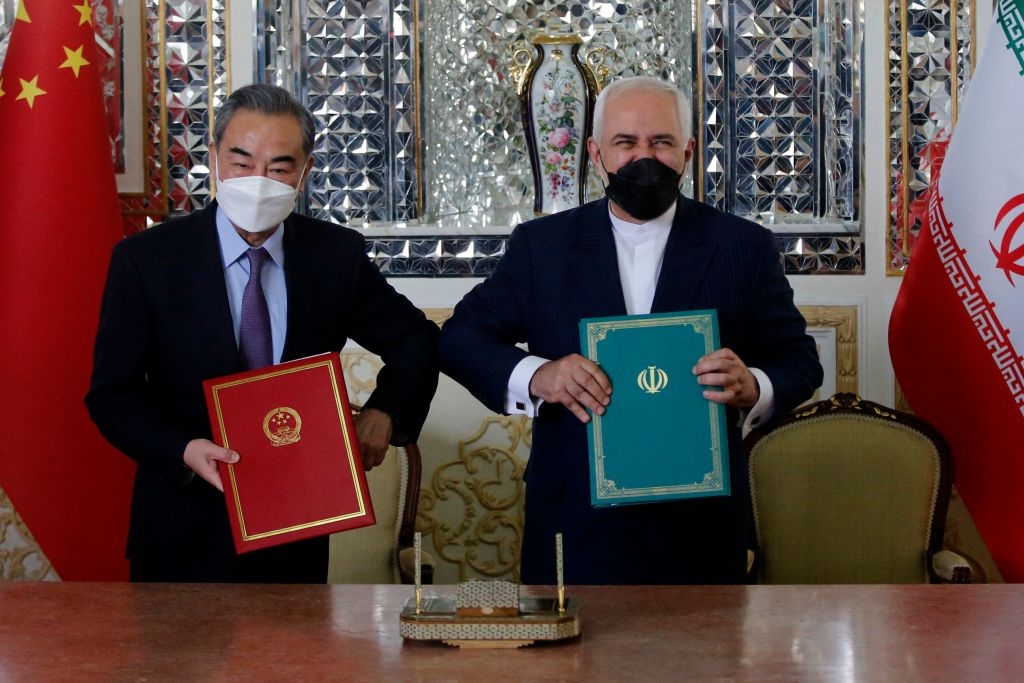 Presumably to take even further advantage of the Biden administration's weak leadership, the Iranian regime is also signing long-term agreements with its oil clients to permanently insulate its economy from the US sanctions. Pictured: China's Foreign Minister Wang Yi (left) and Iran's then Foreign Minister Mohammad Javad Zarif at the signing of the China-Iran comprehensive strategic 25-year partnership agreement on economic and security cooperation, in Tehran, Iran on March 27, 2021. (Photo by AFP via Getty Images)
With total disregard to the Biden administration and the European powers, the ruling mullahs of Iran are defiantly and rapidly advancing their nuclear program to a point where they are now reportedly only few weeks away from manufacturing nuclear weapons according to the International Atomic Energy Agency and the White House.
The Biden administration's weak leadership -- to hold accountable those who are violating Iran sanctions -- is likely a critical reason the Iranian regime is flamboyantly ignoring the US and forging ahead -- soon, most likely, to become a nuclear state.
The US sanctions are not hurting Iran's economy anymore or cutting off the flow of funds to Tehran. The ruling mullahs are now producing more oil and selling it at levels close to the pre-sanctions era to countries such as China, which desperately needs more oil, while the Biden administration has cut off US oil exploration.
Ever since the Biden administration assumed office, Iran's oil exports have been on the rise. During the Trump administration, Iran's oil exports were significantly reduced to 100,000 to 200,000 barrels a day. Iran is currently exporting more than 1 million barrels a day. Roughly 700,000 to 800,000 barrels a day of this oil are being exported to China. "Oil sales have doubled," Iran's hardline President Ebrahim Raisi recently boasted. "We are not worried about oil sales."
Tehran's major revenues come from exporting oil. The Iranian regime reportedly possesses the second-largest natural gas reserves and the fourth-largest proven crude oil reserves in the world, and the sale of oil accounts for nearly 60% of the government's total revenues and more than 80% of its export revenues. Several Iranian leaders have, in fact, hinted at Iran's major dependence on oil exports. "Although we have some other incomes," former President Hassan Rouhani previously acknowledged, "the only revenue that can keep the country going is the oil money."
Iran is also shipping considerable amounts of oil to Venezuela without either country fearing repercussions from the Biden administration. According to Reuters on June 13, an Iran-flagged tanker that was carrying nearly a million barrels of crude "arrived in Venezuelan waters over the weekend, according to a shipping document seen by Reuters on Monday."
"The cargo is the third of Iranian crude supplied by Iran's Naftiran Intertrade Co (NICO) to Venezuela's state-run oil firm PDVSA following a supply contract providing the South American nation with lighter crude. Venezuela has been processing the Iranian oil in its refineries.... Other two Iran-flagged tankers, the very large crude carriers (VLCCs) Dino I and Silvia I, had arrived last month at Venezuelan ports carrying the first cargoes of Iranian crude for Venezuela."
Presumably to take even further advantage of the Biden administration's weak leadership, the Iranian regime is also signing long-term agreements with its oil clients to permanently insulate its economy from the US sanctions. Most recently, Iran also signed a 20-year cooperation agreement with Venezuelan leader Nicolás Maduro to expand ties in the oil and petrochemical industries, as well as the military. "We have important projects of cooperation between Iran and Venezuela in the fields of energy, petrochemicals, oil, gas and refineries," Maduro stated.
In addition, China and Iran announced, in January 2022, the launch of the implementation of a comprehensive cooperation plan between the two nations after Iranian Foreign Minister Hossein Amirabdollahian visited China and met with Chinese Foreign Minister Wang Yi. The "comprehensive cooperation" plan refers to the 25-year deal that was reached between Tehran and Beijing. One of its terms is that China will invest nearly $400 billion in Iran's oil, gas and petrochemicals industries. In return, China will have priority to bid on any new project in Iran that is linked to these sectors. China will also receive a 12% discount and can delay payments by up to two years. China will also be able to pay in any currency it chooses. It is also estimated that, in total, China will receive discounts of nearly 32%.
Such agreements will most likely help the Iranian regime to more easily circumvent US sanctions, gain access to funds, empower its militia and terror groups in the region and continue advancing its nuclear program.
The Biden administration must impose drastic economic sanctions on Iran's energy and financial sectors: that would threaten the ruling clerics' hold on power, forcing the leadership to recalculate its priorities. The US must hold those who violate the sanctions strictly accountable, and make clear to the ruling mullahs that if they continue advancing their nuclear program, military options are on the table.
Currently -- thanks to Biden administration's weak leadership and its unwillingness to hold those who violate Iran sanctions accountable, and unwillingness to cut the flow of funds to Iran -- the Iranian regime has no incentive to halt its march towards manufacturing nuclear weapons. The ruling mullahs of Iran and their oil clients are simply having their way without the US.
Dr. Majid Rafizadeh is a business strategist and advisor, Harvard-educated scholar, political scientist, board member of Harvard International Review, and president of the International American Council on the Middle East. He has authored several books on Islam and US foreign policy. He can be reached at Dr.Rafizadeh@Post.Harvard.Edu