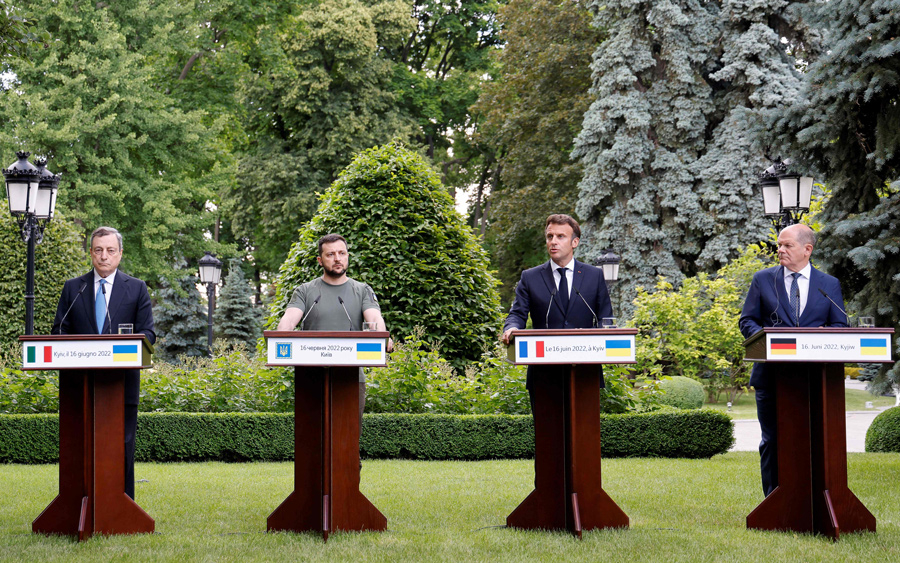 Plans by the European Union to offer membership to Kyiv represent a welcome gesture of support for the Ukrainian people. However, any attempt by the EU to delay Ukraine's membership will simply be taken as a sign by Putin that Europe is not prepared to defend its allies. Pictured (from left): Italian Prime Minister Mario Draghi, Ukrainian President Volodymyr Zelensky, French President Emmanuel Macron and German Chancellor Olaf Scholz hold a press conference in Kyiv, Ukraine on June 16, 2022. (Photo by Ludovic Marin/Pool/AFP via Getty Images)
At a time when there is mounting concern that European leaders are suffering from "war fatigue" over the Ukraine conflict, the prospect of Kyiv becoming an official candidate for European Union membership constitutes a much-needed morale boost for the Ukrainian people.
With the conflict now reaching the four-month mark, the early enthusiasm demonstrated by Western leaders for supporting the Ukrainian cause has been replaced by apathy as it becomes clear that the war is likely to drag on for months to come.
British Prime Minister Boris Johnson highlighted this general sense of war-weariness among European leaders after he made a surprise visit to the Ukrainian capital last weekend, and called for the West to demonstrate resolve in its support for the Ukraine cause.
"When Ukraine fatigue is setting in, it is very important to show that we are with them for the long haul and we are giving them the strategic resilience that they need," Mr Johnson said.
"The Russians are grinding forward inch by inch and it is vital for us to show what we know to be true which is that Ukraine can win and will win."
Mr Johnson's rallying cry of support for Ukraine is in stark contrast to the less-than-enthusiastic approach adopted by many other European politicians, which was clearly evident when the leaders of Germany, France and Italy made their own visit earlier this month to the Ukrainian capital.
While Mr Johnson has, rightly, been praised by Ukrainian President Volodymyr Zelensky for his unstinting support for the Ukrainian cause, the same cannot be said for the leaders of other major European powers, who appear a great deal more interested in persuading the Ukrainian leader to negotiate a ceasefire with Moscow than helping him to win the war.
Thus, when French President Emmanuel Macron, together with German Chancellor Olaf Scholz and Italian Prime Minister Mario Draghi, took the night train to Kyiv to meet with Mr Zelensky, their thoughts were probably more focused on how they might bring the fighting to an end and getting back to doing business than helping Ukraine to achieve victory.
Mr Macron, in particular, has emerged as the chief European cheerleader in favour of Ukraine making concessions to Russia to end the fighting, while the leaders of Germany and Italy, which both rely heavily on Russia for their energy needs, are also said to favour Ukraine ceding territory to Moscow – a result that would only whet the appetite of other predators looking on.
The willingness of the three European leaders to appease the Kremlin's unprovoked act of aggression against Ukraine has certainly provoked a bitter response from prominent advocates of Ukrainian sovereignty.
As prominent Ukrainian businessman Alexander Temerko has commented, the European leaders' visit to Kyiv this month drew uncomfortable parallels with the 1938 visit to Munich by British Prime Minister Neville Chamberlain and his French counterpart, Édouard Daladier, to meet with Adolf Hitler, which resulted in the division of Czechoslovakia in a failed attempt to avert a second world war.
Rather than agreeing to their demands, Mr Zelensky responded by pointedly reminding his visitors that the more weapons Ukraine receives from the West, the faster it will be able to liberate its occupied land and end the war.
"Every day of delay or postponed decisions is an opportunity for the Russian military to kill Ukrainians or destroy our cities," he said. "There is a direct correlation: the more powerful weapons we receive, the faster we can liberate our people, our land."
Mr Zelensky's response sums up the growing frustration of frontline Ukrainian commanders over the failure of Western leaders to fulfil their promises to provide Ukrainian forces with the military supplies they desperately need to defeat the Russians.
The latest military analysis from the front line of the conflict suggests Russia currently outguns Ukraine's forces by a multiple of between 10-15 times.
Moreover, declarations of military support from Washington and Europe have yet to materialise on the Ukrainian front line, so that Ukrainian forces now find themselves in a desperate battle for survival in key battlegrounds in the Donbas region such as the strategically important city of Severodonetsk.
In this context, plans by the European Union to offer membership to Kyiv represent a welcome gesture of support for the Ukrainian people, one that should provide a much needed morale boost for Ukrainian forces.
In what amounts to a significant geo-political shift in Europe, the European Commission has given its backing to Ukraine's bid to be given candidacy status, the first step towards achieving full EU membership.
The decision was immediately welcomed by Mr Zelensky, who predicted Russia would be "very nervous" at the prospect of Kyiv forging closer ties with the rest of Europe. One of Russian President Vladimir Putin's main arguments for invading Ukraine back in February was that he wanted to prevent Kyiv from joining Western institutions.
Instead, he has achieved the opposite effect, with Ukraine, together with other former Soviet states like Georgia, seeking to forge closer ties with key institutions such as the EU. As Mr Zelensky commented soon after the Brussels' announcement, "We prove every day that we are already part of a united Europe."
The challenge for the EU now will be to make sure priority is given to processing Kyiv's application, and not allow it to become caught up in the stultifying bureaucracy of Brussels.
Previously, the EU has agreed to consider membership for countries in the Western Balkans, such as Albania, and Bosnia and Herzegovina. But while they continue to enjoy applicant status, years have passed with no progress being achieved towards granting them membership.
The same cannot be allowed to happen to Ukraine. Any attempt by the EU to delay Ukraine's membership of the bloc will simply be taken as a sign by Mr Putin that Europe is not prepared to defend its allies, and encourage the Kremlin -- and others -- to launch further acts of aggression.
Con Coughlin is the Telegraph's Defence and Foreign Affairs Editor and a Shillman Journalism Fellow at Gatestone Institute.