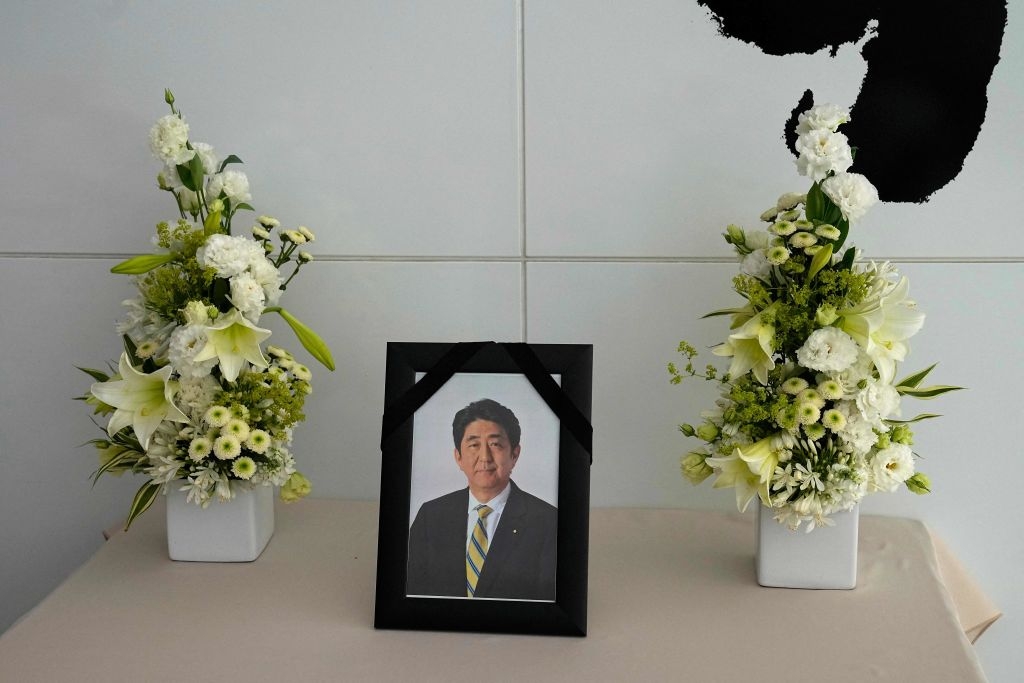 Perhaps Shinzo Abe's most enduring contribution to the Japanese people was successfully to lead them into accepting a greater responsibility for the defense of the Free World. (Photo by Michel Euler/Pool/AFP via Getty Images)
Shinzo Abe, the most influential Japanese leader since World II, ushered in accomplishments that were transformative both in Japan's role as a democratic power in the Indo-Pacific Region and as a dynamic player in international affairs. His aggressive initiatives on defense issues significantly strengthened the US-Japanese Alliance, just as China's expansionist aspirations in the South and East China Seas were peaking; he continued to push for an increase in Japan's defense budget right up to his assassination.
As Prime Minister from 2012 to 2020, Abe expanded military-to-military cooperation with Asian democracies and strengthened the combat capability of regional countries threatened by the Chinese Communist government. Abe approved the delivery of aircraft and ships to Vietnam, Indonesia, and the Philippines and maintained his grip on national security matters even after he had stepped down as prime minister. Perhaps Abe's most enduring contribution to the Japanese people was successfully to lead them into accepting a greater responsibility for the defense of the Free World. The presence of Fumio Kishida as the first Japanese Prime Minister to attend a NATO summit in 29-30 June in Madrid is further testament to how far Abe's visionary leadership was respected by other Free World leaders.
Abe infuriated the Chinese Communist Party (CCP) leadership by jettisoning Japan's studied, passive posture in the Pacific as a consequence of its predatory policies against Asian countries in WWII. The CCP propagandists on July 23, 2021 had threatened to abandon China's pledge of "No First Use" of nuclear weapons by making an exception for Japan, should war break out, if it dared to involve itself in the defense of Taiwan. China's Foreign Minister Wang Yi on December 21, 2021 condemned Japan's decision to support Taiwan in a wartime contingency. Beijing appeared to blame Abe for playing a key role in the US strategic plan to confront China.
Abe's calm demeanor, diplomatic comportment and clarity of thought on strategic security issues helped enable the rapid evolution of the "QUAD" alliance (US, Japan, Australia and India) into a formidable bulwark against Chinese Communist expansionism in the Indo-Pacific. Following the fourth Quad Summit in Tokyo on 23-24 May, US President Joe Biden, in response to a reporter's query if America would militarily defend Taiwan should Communist China launch an invasion, uttered an unambiguous "Yes, that's a commitment we made." The CCP's calculations on any in plan to invade Taiwan doubtless took Biden's response into account.
Abe's determination that Japan must play an active role in the defense of Taiwan seemingly encouraged other Japanese politicians to echo his policy. After Abe resigned in September 2020 as Japan's longest serving Prime Minister due to deteriorating health, his colleagues continued his defense programs. Deputy Prime Minister Taro Aso, on July 21, 2021, proclaimed that, as any invasion of Taiwan constituted an existential threat to Japan, Japan must defend Taiwan; and that the most distant islands of Japan were only 70 miles from Taiwan. On June 10, 2022, Abe's successor, Prime Minister Fumio Kishida, in his keynote address at a regional conference in Singapore, made it clear that Abe's forward defense posture would be part of his legacy when he declared that Japan "would contribute to the goal of maintaining a free and open Pacific."
Abe also initiated several militarily significant steps toward improving Free World defense of the Indo-Pacific area. In 2012, Abe authorized the Japanese government's purchase of privately owned Senkaku Islands. They are administered by Japan but also claimed by China, which calls them the Diaoyu. Abe then created a special police force to monitor any Chinese physical challenges to Japanese sovereignty in the area and ordered Japanese Ground Self-Defense Forces to station a permanent presence on Yonaguni Island, the westernmost Japanese sovereign territory near China. Abe had also agreed to permit US Marines to stage amphibious exercises and was modernizing an airport on Tanegashima Island, close to Chinese mainland. On tiny Mageshima Island, not far from the Chinese coast, he had approved a plan whereby US and Japan's fighter jets could practice landing and take-off operations as if the island was an aircraft carrier.
As for China, while Beijing delivered the obligatory diplomatic condolences to Japan, China's social media was filled with hateful commentary. One possible avenue that Japanese investigative authorities might be pursuing concerning Abe's assassination is whether any dimension of China's intelligence operations in Japan ever approached his assassin, Tetsuya Yamagami, possibly during his three-year stint as a member of the Japanese Maritime Self-Defense Force.
Abe's recent courageous face-offs with China's dictator Xi Jinping included upgrading his warm relationship with Taiwan's President Tsai Ing-wen, by staging his first video conference with the Taiwanese leader on May 22 of this year. In that video exchange, Abe expressed a need to overcome diplomatic barriers to strengthen the security of the Indo-Pacific region
Abe's most significant contribution to strengthening security in the Indo-Pacific Region may yet materialize: to amend Japan's post World War II Constitution to allow Tokyo more aggressively to project military power in the South and East China Seas. Such an addition would be a great boost to Free Asia's hope to keep the Indo-Pacific secure and free. It is to be hoped that all countries in the region will follow in Abe's extraordinary footsteps.
Dr. Lawrence A. Franklin was the Iran Desk Officer for Secretary of Defense Rumsfeld. He also served on active duty with the U.S. Army and as a Colonel in the Air Force Reserve.