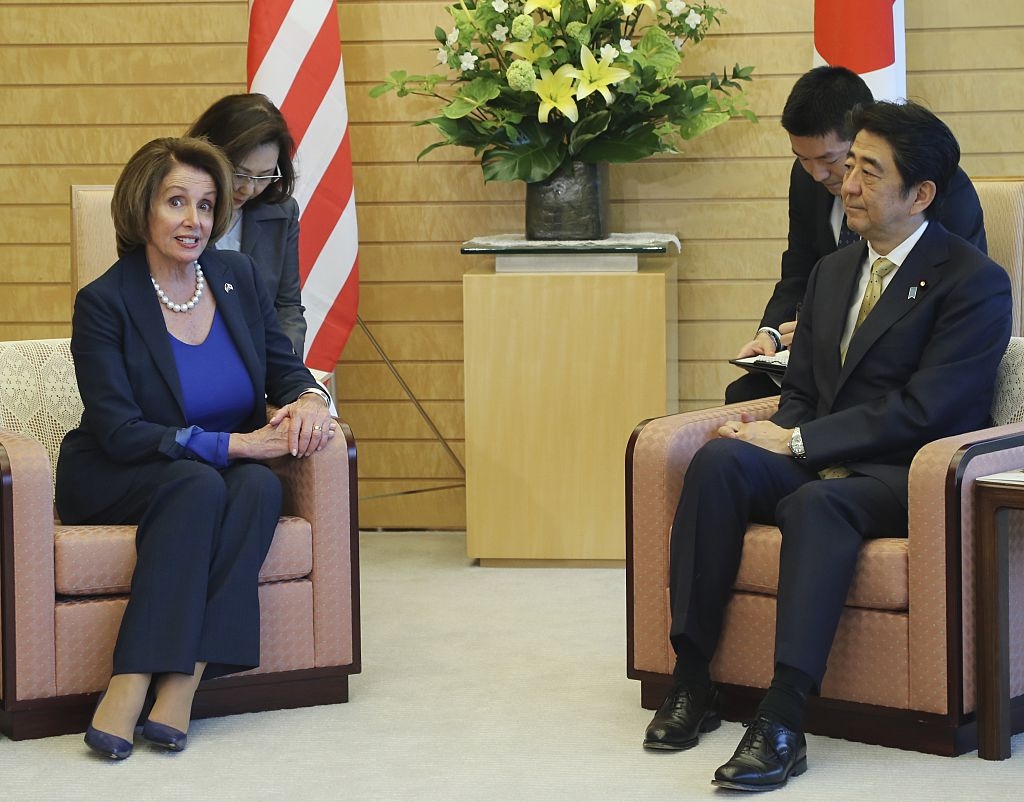 One hopes that Speaker Nancy Pelosi's upcoming visit to Taiwan is also intended to reassure free Asia that America will militarily defend Pacific democracies, despite the failure of the US either to deter Russia from invading Ukraine or adequately to defend it after it was invaded. Pictured: Pelosi meets with Japan's then Prime Minister Shinzo Abe in Tokyo on May 8, 2015. (Photo by Koji Sasahara/AFP via Getty Images)
China this weekend, according to reports, privately delivered a message to US national security officials reinforcing an earlier Chinese Foreign Ministry statement: if US Speaker of the House of Representatives Nancy Pelosi goes ahead with her planned August visit to Taiwan, it would be met with a "resolute and strong measures."
China's Foreign Ministry Spokesman Zhao Lijian stated on July 19 that the visit "would seriously undermine Chinese sovereignty and territorial integrity."
While China's threats contain unusually emphatic language, the visit comes as no surprise to China. Pelosi had scheduled a visit last April, which allegedly was postponed over COVID concerns. Her plan to go to Taiwan indicates that at least some in the US would like incrementally to depart from the "One China Policy," which claims Taiwan as part of China.
Beijing is doubtless evaluating President Joe Biden's statement made this May in Tokyo after a meeting of the Quad allies -- India, Australia, Japan and the US -- that the US would militarily defend Taiwan were it attacked.
China's threats regrettably appear to have achieved their purpose. They seem to have convinced at least a few high-level US officials to recommend that Pelosi cancel her trip. US National Security Advisor Jake Sullivan went on record opposing her visit. National Security Council Coordinator for Strategic Communication John Kirby also acknowledged that Pelosi was briefed by a National Security Council team on "context, facts, and geographical relationships," whatever that is supposed to mean. Biden blamed the Pentagon.
Pelosi, meanwhile, remains prepared at least to lead a delegation to Asian democratic allies of the US -- including Japan, Indonesia, Singapore and Malaysia -- in addition to Taiwan.
Her visit seems intended, in part, to reassure our allies that the US will continue to maintain an active presence in the Pacific. One hopes that Pelosi's Taiwan visit is also intended to reassure free Asia that America will militarily defend Pacific democracies, despite the failure of the US either to deter Russia from invading Ukraine or adequately to defend it after it was invaded.
US military leaders are making similar "reassurance visits." Chairman of the Joint Chiefs of Staff General Mark Milley, for instance, in Indonesia on July 24, was also scheduled to attend a defense conference in Australia with Indo-Pacific Commander Admiral John Aquilino on July 27.
Milley could easily, once again, ring up his Chinese counterpart, General Li Guocheng, and have what is called " a frank conversation" about the catastrophic risks to Communist China of an open military clash, should China take any military action against Pelosi's plane or whatever else.
Communist Chinese propagandist Hu Xijin suggested that to demonstrate China's sovereignty over Taiwan, a warplane from the People's Liberation Army Air Force could "accompany" Pelosi's plane, and then fly over the island of Taiwan on its way back to the mainland.
Media reports claim that US Ambassador to China Nick Burns, who may be helping to prepare Biden for a video conference with Communist Party Chairman Xi Jinping in the next few weeks, should cut short his visit to Washington if Pelosi's trip leads to a crisis. Despite China's harsh rhetoric over the Pelosi visit, communication between the Chinese and US leaders remains diplomatic: Xi recently dispatched a message wishing Biden a "speedy recovery" from his mild case of Covid.
At the same time, unnamed Chinese military contacts are threatening that China's fighter jets could intercept Pelosi's military aircraft as it nears Taiwan, or interfere with the plane's landing at Taipei Airport. If Pelosi, as head of America's legislative branch, decides to proceed with her trip to Taiwan, despite opposition from the Biden administration, the Pentagon might consider assigning military fighter escorts alongside her aircraft to discourage PLA aggression.
Above all, the US, must not submit to the Chinese Communist Party's threats. Pelosi should proceed to Taiwan with as large a bipartisan Congressional delegation as possible. If she bows to demands to stay away, China will be incentivized to attack Taiwan effectively the next day. Backing down at this point would only establish a pattern that all Beijing has to do to intimidate America is bark.
After America's humiliating defeat in Afghanistan and the "far too little, too late " response to Russia's aggression in Ukraine, any cancellation of Pelosi's visit to Taiwan would be seen the world over as yet another spineless US surrender.
US options could include delivering public and private warnings that force would be met with force. The US Navy could immediately deploy an aircraft carrier group near the Taiwan Strait; and a large bipartisan Congressional delegation could accompany Pelosi. The allies in the Quad could also stage a quickly-organized military exercise in the Indo-Pacific region.
If Pelosi proceeds, Biden will need to declare his support for the visit, to demonstrate US unity of command.
The only question is if this administration finally has the political will to stop appearing weak, scared and permitting China to dictate US policy. The administration's record so far:
One has to ask, whose side is the administration on?
Dr. Lawrence A. Franklin was the Iran Desk Officer for Secretary of Defense Rumsfeld. He also served on active duty with the U.S. Army and as a Colonel in the Air Force Reserve.