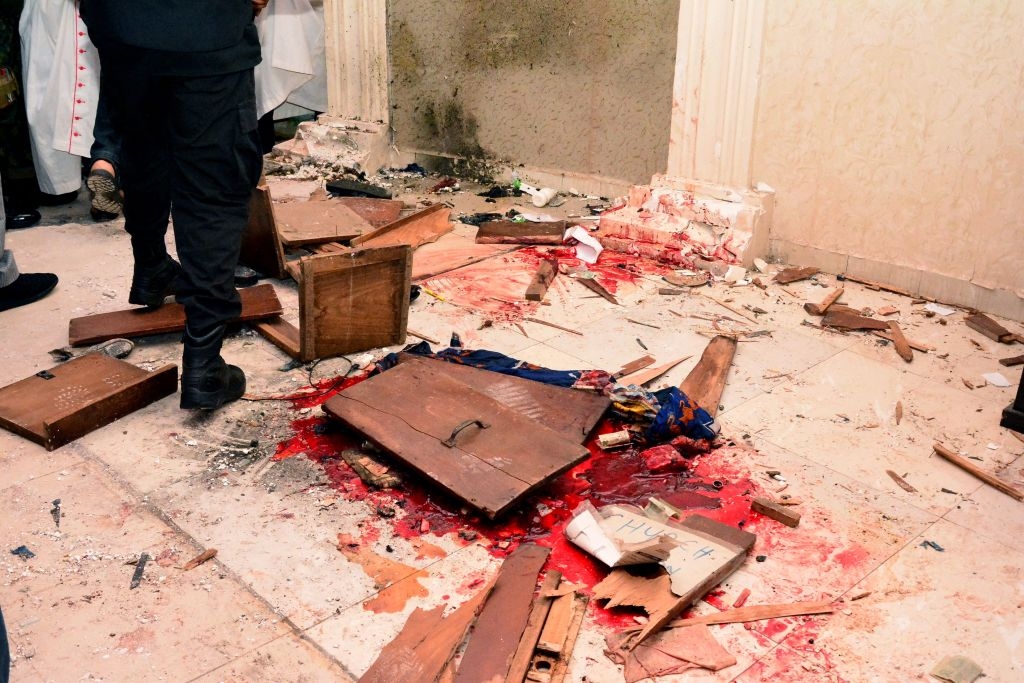 Pictured: The bloodstained floor of St. Francis Catholic Church in Ondo State, Nigeria, after the murder of 50 Christians there, on June 5, 2022. (Photo by AFP via Getty Images)
Politicians have found a new straw man: climate change. There are certainly many things we can gradually do not to pollute or wreck our planet, but blaming it for the pervasive slaughter of Christians by Muslims in northern Africa is not one of them. It seems, sadly, that what drives the persecution of Christians there, and elsewhere, is doctrine, not climate change.
On June 5, 2022, Muslims massacred 50 Christians inside a Nigerian church on Pentecost Sunday (one of many examples of Nigerian Christians massacred while worshipping in their churches).
Two days later, Ireland's President Michael Higgins issued a statement linking the Nigerian church massacre to -- climate change. "The neglect of food security issues in Africa, for so long has brought us to a point of crisis that is now having internal and regional effects based on struggles, ways of life themselves," he wrote, implying that food shortages caused by the climate are what cause murder.
If you look at all four paragraphs of Higgins' statement on the Nigerian church attack, you will see that he (and those like him) have no explanation as to how climate change causes religious persecution. Apparently "food shortages" cause Muslims shouting "Allahu Akbar" ("Allah is the greatest") to bomb churches and murder Christians? It seems possibly a way to shift focus off what they might not want people thinking about -- Muslims killing Christians -- to what they might want them thinking about, climate change; and they possibly bank on the fact that most people do not read or think too critically, and may well go along with whatever sounds comfortable.
Nowhere does Higgins' statement acknowledge, much less condemn, Islamic radicalization and terrorism in the region. Both, however, are what led to the Pentecost Sunday church massacre.
Although unreported by the so-called "mainstream media," the Christians of Nigeria are, according to several NGOs (such as here and here) in fact being purged in a genocide. According to an August 2021 report, since the Islamic insurgency began in earnest in July 2009, more than 60,000 Christians have either been murdered during raids or abducted, never to be seen again. During this same timeframe, approximately 20,000 churches and Christian schools were torched and destroyed by extremist Muslims shouting "Allahu Akbar". In 2021, Muslims murdered at least 4,650 Nigerian Christians seemingly for their faith, and nearly 900 in just the first three months of this year.
Instead of remotely acknowledging any of these disturbing statistics, Ireland's president "condemned" those who "attempt to scapegoat [Muslim] pastoral peoples who are among the foremost victims of the consequences of climate change." This is a reference to the Fulani, Muslim herdsmen apparently motivated by jihadist ideology to raid and butcher Christians on what seems to be a daily basis. As this report indicates, in Nigeria, one Christian is killed every two hours -- most of them at the hands of Fulani.
On June 10, Bishop Jude Ayodeji Arogundade, of the Christian diocese where the Nigerian Christians were slaughtered, responded to Higgins' assertions that climate change is responsible -- as well as to the Irish president's obscene portrayal of the Fulani as victims no less than the Christians they slaughter:
"While thanking the Honorable Mr. Higgins for joining others to condemn the attack and offering his sympathy to the victims, his reasons for this gruesome massacre are incorrect and far-fetched.... To suggest or make a connection between victims of terror and consequences of climate change is not only misleading but also exactly rubbing salt to the injuries of all who have suffered terrorism in Nigeria. The victims of terrorism are of another category to which nothing can be compared! It is very clear to anyone who has been closely following the events in Nigeria over the past years that the underpinning issues of terror attacks, banditry, and unabated onslaught in Nigeria and in the Sahel Region and climate change have nothing in common.... [A]lluding to some form of politics of climate change in our present situation is completely inappropriate.... Terrorists are on free loose slaughtering, massacring, injuring, and installing terror in different parts of Nigeria since over 8 years not because of any reasonable thing but because they are evil—period."
Equally vocal in his condemnation of those who try to shift the focus of Islamic terrorism onto climate change was the human rights champion Lord David Alton of Liverpool. On June 12, he wrote:
[P]oliticians need to be more honest about what drives the carnage.... Every life lost [during the Pentecost Sunday church attack] represented tragic heartbreak for individual families. ... It is striking how little interest mainstream media have had in detailing their stories. Individual lives lost in Nigeria should be no less newsworthy than in any other part of the world. And it is striking how quickly politicians and commentators trot out the same discredited banal narrative that the drivers for such carnage are climate change and lack of resources. They say that the causes are 'complicated,' with hardly a mention of the Jihadist ideology that is behind the endless atrocities of ISIS and Boko Haram. And then they say that everyone [Christian and Muslim] suffers and there is a sort of equivalence with victims coming from varied religious backgrounds. They should tell that to the families whose loved ones are targeted, day in and day out, and see what sort of response they receive."
Without naming any religion, Alton accurately but diplomatically concluded by writing:
"It's high time the world woke up to the unpalatable truth that the same malign force that has murdered and maimed its way through community after community continues to brutally murder Nigerian people and has been able to do so with impunity."
Alton wrote on Twitter on June 6:
"I told @UKParliament that the shocking murders in a church in #Nigeria are attributable to Ideology, Insecurity and Impunity - along with indifference by the Buhari Government. Nor can climate change be blamed for executions, abductions and murders."
It is also revealing that when condemning a nearly identical terrorist attack to the Pentecost Sunday murder of 50 Nigerian Christians—namely, the 2019 Christchurch massacre, when an Australian man killed 51 Muslims in New Zealand—the president of Ireland said nothing about climate change. Rather, he highlighted the true cause for both attacks -- religion. After saying that the mosque attacks "appalled people all over the world," Higgins continued:
"There can be no justification for acts of violence and discrimination based on religion or beliefs ... Freedom of religious expression is a cornerstone of any functioning democracy and those rights must be guaranteed for all citizens."
UN Secretary-General António Guterres, in December 2022, has also tried to divert attention from religiously-motivated terrorism toward climate change. "Climate change... is an aggravating factor for instability, conflict and terrorism," he said. If there were no hurricanes, there would be less terrorism?
These, then, are the lengths to which some people are willing to go. They either ignorantly or mendaciously exploit the human suffering of Christians and others by trying to deflect attention from the radicalization (such as here, here and here), violence (here, here , here and here) and terrorism (here, here and here) advocated by extremist Muslims and turning it toward their particular pet projects, in this instance, climate change.
Raymond Ibrahim, author of the new book, Defenders of the West: The Christian Heroes Who Stood Against Islam, is a Distinguished Senior Fellow at the Gatestone Institute, a Shillman Fellow at the David Horowitz Freedom Center, and a Judith Rosen Friedman Fellow at the Middle East Forum.