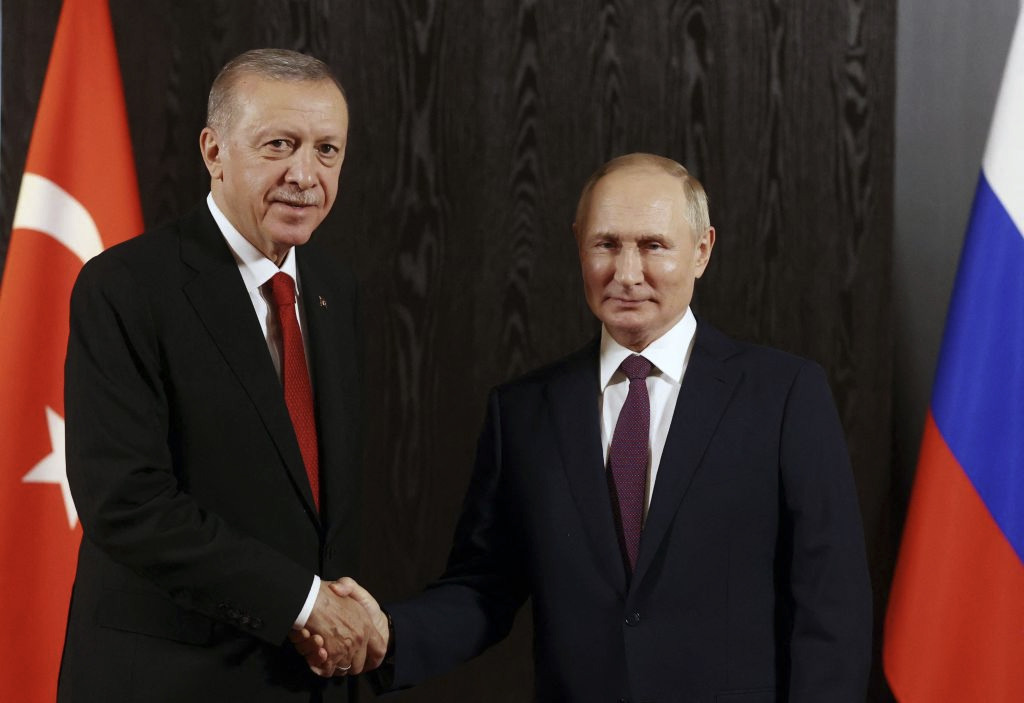 "Europe Should Be Grateful to Erdoğan": The quote is the praise Russian dictator Vladimir Putin bestowed upon Turkey's Islamist strongman Recep Tayyip Erdoğan. Translated into realpolitik, what Putin is saying is: "Russia is grateful to Erdoğan's anti-Western ideology." He is right. Erdoğan is bringing NATO member Turkey more and more into Russia's orbit.
Erdoğan is overtly challenging the alliance of which his country is a member. Here is a brief account of how Erdoğan steered Turkey further away from Western interests, in favor of his Eurasian adventurism, in just a couple of months:
In early July, Erdoğan told a group of top party executives that Putin, during a meeting in Tehran, suggested a deal in which Turkish drone maker Baykar, whose chief engineer is Erdoğan's son-in-law, cooperates with Russia. "Putin told me that he wants to work with Baykar," Erdoğan said.
At the end of July, a Russian state-owned company was caught transferring money to a subsidiary that is building a $20 billion nuclear power plant on Turkey's Mediterranean coast, thereby alleviating concerns that the project could be delayed by war sanctions. Rosatom Corp. sent around $5 billion to the Turkey-based builder, formally known as Akkuyu Nuclear JSC.
The beginning of August. Putin proudly announced that the trade between Russia and Turkey doubled in the first five months of 2022, and had surged 57% in the last year.
After a face-to-face meeting with Putin in the Black Sea resort of Sochi, Erdoğan said that Turkey would now pay Russia in rubles for its natural gas purchases. Meanwhile, Erdoğan happily accepted Putin's invitation to join the September meeting of the Shanghai Cooperation Organisation (SCO) in Uzbekistan. The SCO, launched in 2001, consists of Eurasian member states and declares its mission as combating radicalism and other security concerns in China, Russia and four ex-Soviet Central Asian republics.
As part of the Sochi deal, Erdoğan announced, five Turkish banks adopted Russia's Mir payments system, another blow to Western sanctions on Russia. Turkey had earlier abstained from joining the U.S. and Europe's sanctions on Russia after it invaded Ukraine.
In a joint statement after the Sochi summit, Erdoğan and Putin "reaffirmed their determination to act in coordination and solidarity in the fight against all terrorist organizations in Syria." Shortly after that statement, the Turkish government stepped up its lethal drone attacks against U.S.-allied Kurdish forces in northern Syria ahead of a threatened full-scale invasion. A Turkish drone attack was reported to have killed four people in a town on the Syria-Turkey border.
Dmitri Peskov, Putin's spokesman, said that "Military-technical cooperation between the two countries is permanently on the agenda, and the very fact that our interaction is developing in this sensitive sphere shows that, on the whole, the entire range of our interrelations is at a very high level."
A few days after Peskov's opaque statement, Dmitry Shugayev, the head of the Federal Service for Military-Technical Cooperation, said that a contract had been signed to deliver a second shipment of the S-400 missile system to Turkey, with the production of some components to be localized [some parts made locally] in Turkey. Now that is a real challenge.
Turkey had earlier been expelled from the U.S.-led, multinational partnership that builds the F-35 fifth-generation fighter jet, and been taken under the scope of the Countering America's Adversaries Through Sanctions Act.
The Russians are talking about a second S-400 contract, but this may not exactly be what is taking place. The original contract involves two systems. There is no need for a second agreement for a second system. But the Russians would not be entirely fabricating fake news. The original S-400 contract, at $2.5 billion, involves the Turkish acquisition of two systems. Turkey has so far received the first system but has abstained from activating it, fearing further U.S. sanctions. The second system has not been delivered yet. The TASS agency is reporting it as if it is a new deal but sources are telling this correspondent that the new deal is about the localization of some parts production for the second system.
A senior defense procurement official also told Gatestone that "there is progress in talks for the localization of the second system." That is new news. It also has propaganda mission. Russians are happy to create a new crack, via Turkey, within the NATO alliance. And Turkey is once again blackmailing the U.S. that "it would further deepen its defense cooperation with Russia if Congress blocks its request to buy 40 F-16 Block 70 fighter jets from the U.S."
This plan might make sense to Russia and Turkey, but it does not to the Western civilization to which Erdoğan claims Turkey belongs. To put it simply, more and more Erdoğan's Islamist Turkey simply does not belong where Erdoğan claims it belongs.
When will the West, please, wake up to this shift?
Burak Bekdil, one of Turkey's leading journalists, was recently fired from the country's most noted newspaper after 29 years, for writing in Gatestone what is taking place in Turkey. He is a Fellow at the Middle East Forum.