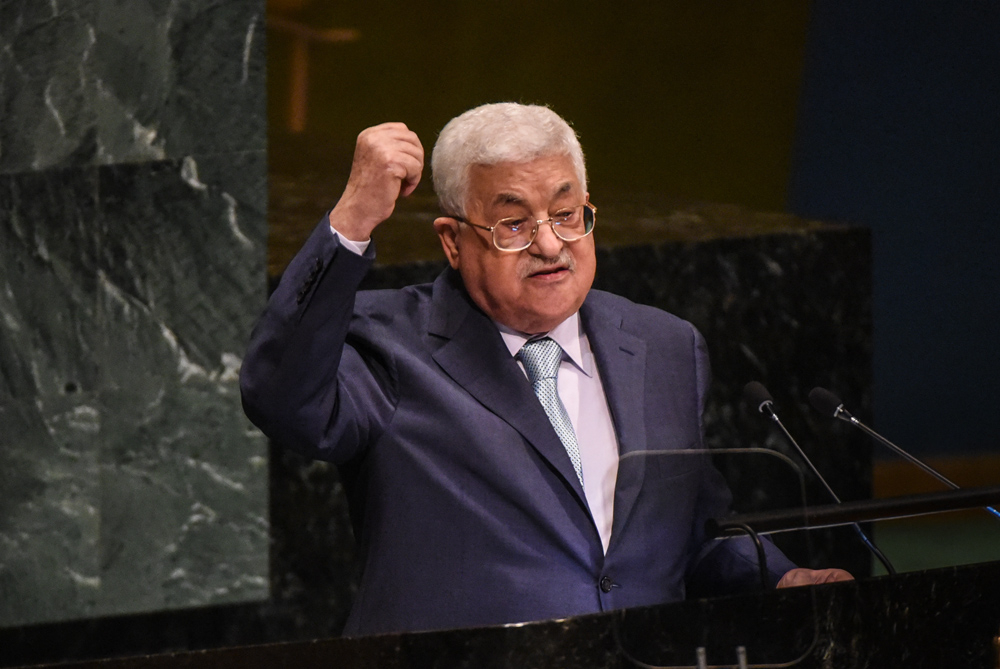 As Palestinian Authority President Mahmoud Abbas prepares to address the United Nations General Assembly in New York later this month, there are increased signs that his loyalists are engaged in terrorist attacks against Israel.
As he has done in the past, Abbas will undoubtedly again use the UN podium to affirm his keenness for making peace with Israel and his opposition to terrorism and violence. Needless to say, he is also expected to exploit the international platform to spew more incitement, lies and blood libels against Israel and Jews.
One thing is for sure. Abbas will not tell his audience at the UN that members of his ruling Fatah faction are running wild in the West Bank, where they are carrying out terrorist attacks against Palestinian activists and Palestinian journalists as well as Israelis on an almost daily basis. These terrorists, who are loyal to Abbas, are operating in the northern West Bank, specifically the Palestinian cities of Jenin and Nablus.
Abbas's terrorists, carrying various types of guns and explosive devices, are roaming the streets of the two cities and openly declaring their support for terrorism.
The terrorists are mostly associated with Fatah's armed group, Aqsa Martyrs Brigades. Another Fatah-affiliated group that recently emerged on the streets of Nablus calls itself the Lion's Den.
The Fatah terrorists have carried out several attacks against both Palestinians and Israelis over the past few months. Many of the terrorists are also known to cooperate with the Iranian-backed Hamas and Palestinian Islamic Jihad (PIJ) Islamist terror groups.
The Fatah terrorists recently carried out a number of shooting attacks against Jewish worshippers visiting Joseph's Tomb in Nablus.
The Aqsa Martyrs Brigades even boasted of the terrorist attacks in a statement. The group also vowed to continue the terror attacks.
Last month, the Israeli army managed to kill Ibrahim al-Nabulsi, one of the leaders of the Aqsa Martyrs Brigades in Nablus who was wanted for carrying out a series of shooting attacks.
After the killing, the Fatah leadership held a conference under the name of the slain terrorist in Ramallah, the de facto capital of the Palestinians. This was a gesture on the part of Abbas and his aides to honor the dead terrorist. Abbas even phoned the parents of al-Nabulsi and two other Fatah terrorists to offer his condolences and praise the terrorists as "martyrs."
Last week, Israel police officers arrested a Palestinian terrorist in the city of Jaffa, near Tel Aviv. The terrorist, who was on his way to carry out an attack, belonged to the Fatah-affiliated Lion's Den terror group. The police found a submachine gun and pipe bombs in the possession of the terrorist.
More recently, the Palestinians announced that Hamad Abu Jildeh, a 24-year-old man from Jenin, died of wounds he sustained during an armed clash with Israeli soldiers a few days earlier. The Palestinians revealed that Abu Jildeh was one of the commanders of Abbas's Aqsa Martyrs Brigades. A video that surfaced on social media platforms featured Abu Jildeh while he was shooting at Israeli troops in the Jenin Refugee Camp. During his funeral, Fatah members called on Palestinians to carry out more attacks.
Abu Jildeh and al-Nabulsi are among several Fatah terrorists killed or apprehended in recent weeks. These terrorists belong to the Palestinian faction that is often described by Westerners as a "moderate" group. The commander of these terrorists is none other than Mahmoud Abbas, who, in addition to his role as Palestinian Authority president, is also chairman of Fatah.
Abbas and senior Fatah leaders have not uttered a word against the involvement of their loyalists in terrorism.
Abbas and the Fatah leadership continue to glorify the terrorists. Abbas, in addition, has refused to rein in or disarm the terrorists. Instead, Abbas and his spokesmen continue, as usual, to blame Israel for the latest flare-up of violence in the West Bank. They are effectively saying that Israel has no right to defend itself or thwart terrorist attacks that are planned and carried out by terrorists, especially those belonging to Fatah.
As far as Abbas and other Palestinian leaders are concerned, Palestinian lawyers, journalists and activists who seek freedom, as well as Jews. should just lie back and accept the daily terrorist attacks against them. Abbas cries "terrorism" only if Israel kills or captures a terrorist.
This is the same Abbas who will appear at the UN General Assembly soon to again play the role of victim and accuse Israel of "genocide" and "ethnic cleansing." Since he came to power in 2005, Abbas has made it a habit to lie to the UN and other international parties.
Following in the footsteps of his predecessor, Yasser Arafat, Abbas's strategy has been to play the world for fools by propagating the false claim that Israel is responsible for all the miseries of the Palestinians -- a move more politically shrewd than blaming one's own atrocious leadership.
Like Arafat, Abbas will continue to talk about the Palestinians' desire for peace all the while encouraging his Fatah terrorists to continue killing. If Abbas really wanted to rein in the terrorists, he would at least instruct his security forces to move in to confiscate illegal weapons and arrest the terrorists.
Abbas, however, is not going to do that because he himself regards the terrorists as heroes and martyrs. Moreover, he had no incentive to crack down on the terrorists; after all, they do not pose a threat to his regime.
Meanwhile, Abbas knows full well that his incitement against Israel has been so effective, that if he ever did make peace with Israel, his own people would execute him for being a traitor.
Abbas, of course, will not mention the Fatah terrorists during his upcoming speech at the UN. He will also not talk about the rampant corruption in his government and the failure of the Palestinian Authority security forces to carry out their duty to enforce law and order and prevent terrorism.
The UN member states should prepare themselves for another Abbas list of lies and libels, assigning blame to everyone but himself for the ongoing bloodshed. It would be helpful if one of the member states' representatives interrupted Abbas's litany to inquire about the role of his loyalists in terrorism and how it is that he continues to praise terrorists while claiming that the Palestinians supposedly seek peace.
Bassam Tawil is a Muslim Arab based in the Middle East.