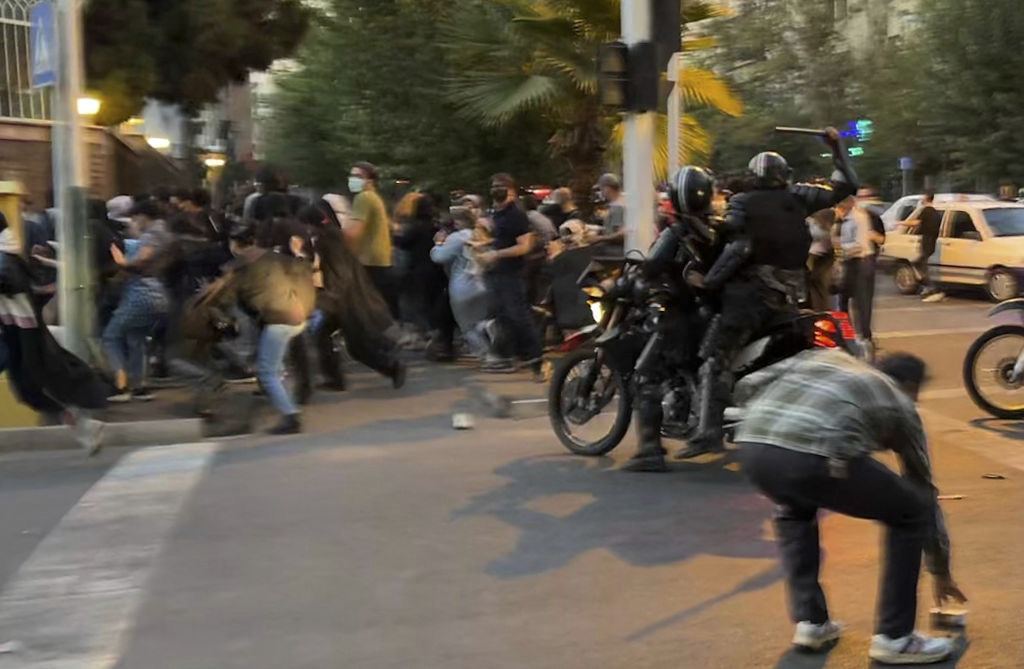 Iran's security forces have skillfully been trying to prevent the latest series of anti-regime protests from spinning out of control. After decades of suppressing challenges to regime stability, the regime's militias and law enforcement agencies are doubtless hoping to have perfected their strategy and tactics against opposition movements.
After the death in custody of Mahsa Amini, a 22-year-old Kurdish woman, opposition demonstrations exploded across Iran. The "Morals Police" had ostensibly arrested Amini for failing to cover her hair adequately – or "bad hijab."
Women, especially professional women, have long expressed their contempt for the hair-covering mandate ever since the start of the Islamic Revolution in 1979, when tens of thousands of them marched in Tehran to denounce the ruling by the newly installed "mullahcracy."
What began as public protest -- with women burning their hijabs to protest Amini's death in a hospital on September 16 -- quickly evolved into massive street clashes across the country.
The demonstrations have continued for two months. Several commentators remarked that that this time the anti-regime protests are different, implying that the regime might not survive. After decades of anti-regime demonstrations, the security forces perhaps believe they have learned how and when to apply the right amount of force.
As usual, pro-regime mouthpieces labeled the protestors as being in league with foreign espionage agencies, with Saudi Arabia, Israel and the US as the primary culprits. Iran's shelling of Kurdish regional government sites in Iraq appeared designed to lend authenticity to Tehran's charge that the US and Israel were helping Iraqi Kurds to fan anti-regime protests by Iranian Kurds. Iran also accused Arab Gulf states, particularly Saudi Arabia, of exploiting the rebellion among Iran's Sunni minority. Iranian military and religious leaders have threatened the US, Israel and Saudi Arabia with retaliation.
Regime leadership shrewdly did not attempt to suppress the women-led protests in Iran with massive deployments of the Islamic Revolutionary Guard Corps (IRGC) and shoot-to-kill orders. Such a response might have run the risk of galvanizing even more Iranian men to join the protests. Instead, Tehran dispatched local police units and specially trained civilian, paramilitary Basij units -- the regime's civilian-clad regime protection forces, to engage the protestors. While the Basij are authorized to shoot-to-kill, protestors are mostly chased by ordinary Basij forces wielding batons and chains, and tossing tear gas canisters. Basijis also infiltrate the crowds of protestors to identify the ringleaders.
Iranian authorities concentrated their initial internal suppression operations in non-Persian minority provinces such as Kurdistan, Lorestan (land of the Luri people), Khuzestan (Arab-Iranians), and Sistan and Baluchistan (Baluchi people and Sunni Muslims). The authorities appeared to be more brutal in their use of force against ethnic minorities in these more isolated regime dominions. Tehran also deployed regular military units in ethnic Azeri areas of Iran, across its northern border with the nation-state of Azerbaijan.
The pockets of resistance where anti-regime activity remains most pronounced are in university campuses in Iran's largest cities, especially in Tehran. The regime dispatched dignitaries such as such as President Ebrahim Raisi on October 8 to address the all-female Al-Zahra University; he was greeted with chants of "Get lost!" Simultaneously the regime was energizing pro-regime members of the student Basij forces to bully students and report on anti-regime campus leaders.
The tyrannical theocracy's judicial institutions are killing and arresting dissidents, which was filmed at several sites. Many anti-regime activists will most likely be tried in special revolutionary court sham trials, at least 1,000 of which will reportedly be public. As Tehran claims that the CIA is behind the protests, state prosecutors will most likely charge some of the dissidents with working for foreign spy networks. Presumably everyone under arrest will be "found" guilty.
If the demonstrations gather momentum or spring up in areas once apparently pacified, the regime might finally deploy massive and deadly force to extinguish their unimaginably courageous citizens -- whose "crime" is to be fighting for their freedom from a brutal, tyrannical dictatorship.
Where are the strong, powerful actions backing up the protestors from the US, President Joe Biden and his apparently pro-Russia, pro-China and pro-despot administration?
Dr. Lawrence A. Franklin was the Iran Desk Officer for Secretary of Defense Rumsfeld. He also served on active duty with the U.S. Army and as a Colonel in the Air Force Reserve.