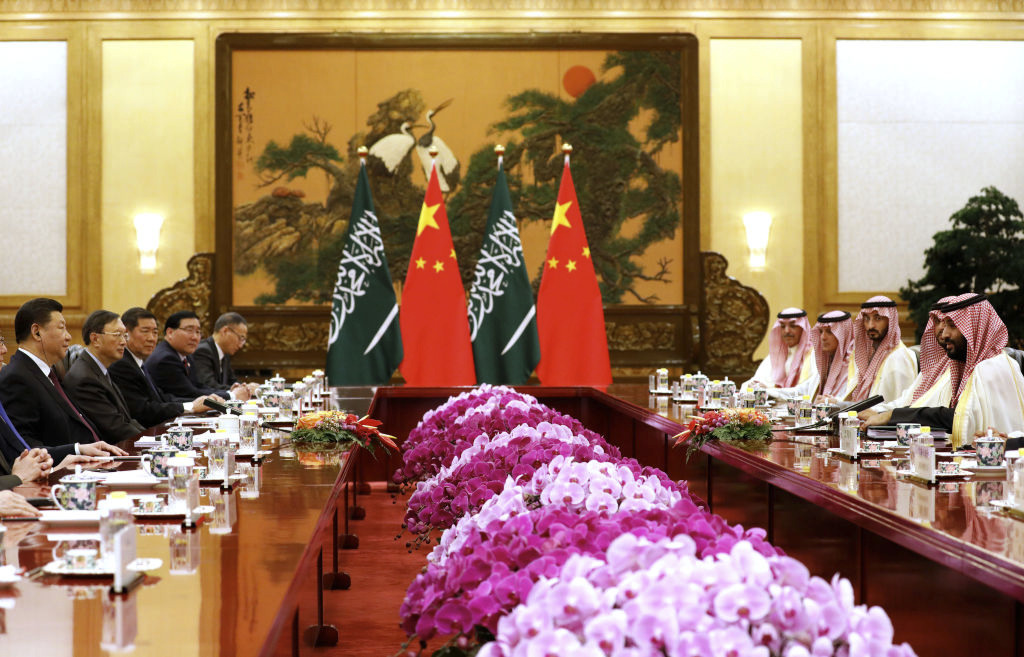 China is fully exploiting the cooling of US-Saudi relations engineered by the Biden administration's repeated public personal attacks on Saudi Crown Prince Mohammed bin Salman (MBS) as well as perceived decreased support for the Saudi-led coalition's efforts to blunt Iranian expansionism in Yemen.
China's first summit with Arab state leaders in Saudi Arabia occurs at a propitious time for both Chinese President Xi Jinping and MBS. Xi is at the height of his power, having been approved in November by the Chinese Communist Party (CCP) Central Committee for an unprecedented third term as party General Secretary. MBS, already Saudi Arabia's de facto leader, was just appointed as the Prime Minister by his father, King Salman bin Abdulaziz.
MBS's recent meeting with US President Joe Biden further added to the crown prince's reputation as a decisive leader. During their October meeting in Riyadh, it was Biden who appeared to be the junior partner. During the sessions, MBS dashed any US hopes that Riyadh would grant the American leader's request to increase its oil production, which Biden had hoped would continue throughout December. Such an increase, if implemented, could have helped reduce US domestic gasoline prices at the pump in the run-up to US mid-term elections and during the holiday shopping and travel season. Biden administration officials were reportedly disappointed by an unexpected OPEC's Saudi-led decision to reduce oil production by two million barrels per day. The Saudis had most likely hoped that the US would finally scuttle the Iran nuclear deal for good, which did not take place.
The Saudi chill toward the US president reflects the political reality that the decades-long US-Saudi strategic partnership is at a nadir. Relations soured following the murder of the Muslim Brotherhood-aligned US-resident and Washington Post columnist Jamal Khashoggi in Saudi Arabia's Consulate in Istanbul in October 2018, although Washington never showed any signs of pique toward Iran for the abduction and apparent murder of the retired FBI agent and CIA contractor Robert Levenson. Allegations that MBS ordered the murder of Khashoggi were embraced by Biden, who went on to publicly condemn the crown prince. Subsequently, Biden's position was further weakened as he was forced to climb down from his pledge to punish MBS, by admitting that MBS, as Saudi Arabia's prime minister, is immune from prosecution.
The Kingdom also continues to absorb bizarre US criticism that Saudi airstrikes hit 72 Yemeni targets whereas the Iran-backed Houthis in Yemen bombed only 52 Saudi facilities Yemen is indeed suffering a profound humanitarian crisis but the responsibility for this disaster lies wholly with Iran, which has been arming, training and supplying its Shiite Houthi tribal ally to take over Yemen, thereby threatening Sunni Saudi Arabia and its oil facilities. Iran's Islamic Revolutionary Guard Corps and the Lebanon-based Hezbollah continue to aid the Houthis, who have launched missiles and weaponized drones against targets in Saudi Arabia and the United Arab Emirates. Just a few weeks into the Biden administration, on February 12, 2021, Secretary of State Antony Blinken removed the Houthis from the list of Foreign Terrorist Organizations. A few months later, the Houthis expressed their appreciation by raining rockets and missiles down on Saudi Arabia's "critical energy facilities" and the United Arab Emirates.
Saudi leaders therefore seem to be seeking to diversify their commercial and security links by improving relations with China, as superficially symbolized by the pomp and ceremony associated with Xi's welcome to Riyadh. If so, this Saudi initiative plays well with Xi's concept of an emerging multi-polar world.
Riyadh choreographed a colorful and festive salute to the Chinese leader with ceremonies equivalent to the elaborate welcome extended then President Trump in his visit to Saudi Arabia in 2017. There is little doubt that MBS was sending a message to the Biden Administration that Saudi Arabia and Gulf States will be looking to expand relations with other geopolitical powers, despite the White House's warnings about deepening ties to Communist China.
Xi has agreed to buy more oil from Gulf Cooperation Council states but suggested that the purchases be paid for in Chinese yuan rather than US dollars. If the oil-exporting states agree to Xi's request, it will further reinforce the notion that US influence with Saudi Arabia is on the decline. As evidence of this negative trend in US prestige, the Saudi crown prince ignored US warnings not to sign deals with the Chinese telecommunications company Huawei. Saudi Arabia inked Huawei-associated contracts on data centers and cloud computing.
China now imports about 18% of its crude oil from Saudi Arabia, slightly less from Russia, and substantial quantities from other Middle East states such as Iraq, Kuwait and Oman. China, as the world's largest importer of oil, may be seeking to continue to diversify its sources of energy, as it already imports petroleum products from 44 countries.
The Saudis seem to be welcoming China as a potential strategic partner -- one that will not, unlike the US, interfere in what the Kingdom undoubtedly considers its most urgent existential need.
Dr. Lawrence A. Franklin was the Iran Desk Officer for Secretary of Defense Rumsfeld. He also served on active duty with the U.S. Army and as a Colonel in the Air Force Reserve.