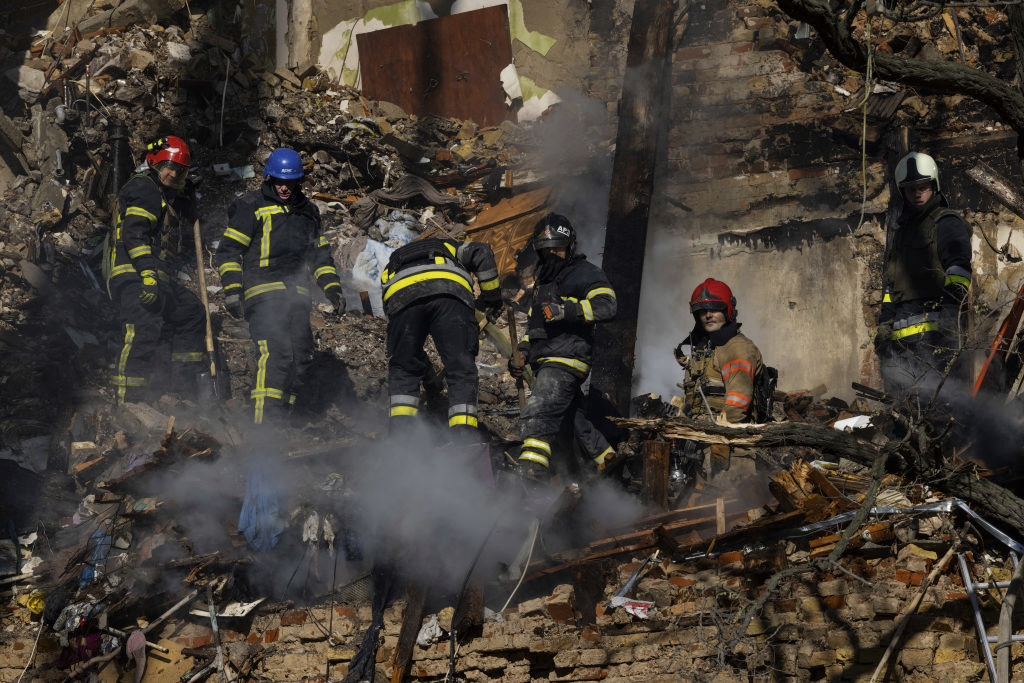 Iran is now selling surface-to-surface missiles to Russia for use in its war on Ukraine -- on the cusp of a reported "major Ukrainian offensive" -- in addition to the drones it has already been delivering, two senior Iranian officials and two Iranian diplomats told Reuters.
According to anonymous US and allied officials quoted by the Washington Post, Iran has secretly agreed to send "what some officials described as the first Iranian-made surface-to-surface missiles intended for use against Ukrainian cities and troop positions."
Russia is reportedly buying Iranian-made missiles capable of hitting targets at distances of 300 and 700 kilometers, respectively.
"The Russians had asked for more drones and those Iranian ballistic missiles with improved accuracy, particularly the Fateh and Zolfaghar missiles family," one of the Iranian diplomats told Reuters.
The news of the missile deal came after it became publicly known in August that Russia had been buying Iranian drones, including the Mohajer-6 and the Shahed-series drones. The first batch, according to the Washington Post, was picked up by Russian cargo flights in late August, with Iranians reported to be training Russian soldiers in using them for Russia's war on Ukraine.
The Shahed-136s kamikaze drones, are designed to explode upon impact with their targets. According to the Washington Post, they are capable of delivering explosive payloads at distances of up to 1,500 miles.
John Kirby, White House National Security Council spokesperson, confirmed in December, that Iranian military support for Russia has become indispensable to Russia's war effort in Ukraine and directly enabling it to kill Ukrainians; that Iran is considering selling ballistic missiles to the country and that the two regimes are developing a military partnership that is mutually beneficial. Kirby said in a December 9 briefing:
"Iran is providing Russia with drones for use on the battlefield in Ukraine... In exchange, Russia is offering Iran an unprecedented level of military and technical support that is transforming their relationship into a full-fledged defense partnership.... This partnership poses a threat, not just to Ukraine, but to Iran's neighbors in the region..."

"Iran has become Russia's top military backer. Since August, Iran has transferred several hundred drones, UAVs, to Russia. Russia has been using these UAVs to attack Ukraine's critical infrastructure, and as I said earlier, to kill innocent Ukrainian people...

"We expect Iranian support for the Russian military to only grow in coming months. We even believe that Iran is considering the sale of hundreds of ballistic missiles from Iran to Russia... We've also seen reports that Moscow and Tehran are considering the establishment of a joint production line for lethal drones in Russia. We urge Iran to reverse course, not to take the steps...

"Russia is seeking to collaborate with Iran on areas like weapons development and training. As part of this collaboration, we are concerned that Russia intends to provide Iran with advanced military components. Moscow may be providing Tehran with equipment such as helicopters and air defense systems. As of this spring, Iranian pilots have reportedly been training in Russia to learn how to fly the Su-35. This indicates that Iran may begin receiving aircraft within the next year. These fighter planes would significantly strengthen Iran's air force relative to its regional neighbors.

"This is a full-scale defense partnership that is harmful, as I said to Ukraine, to Iran's neighbors, and quite frankly to the international community."
Russia's use of Iranian military equipment against Ukraine not only strengthens Russia in Ukraine, but it gives Iran what the Ukrainian Defense Ministry called "test runs' of its drones, to update their systems for future use against the US and its allies, such as Israel.
Kirby spoke on October 20 about the US response to Iran's drone sales to Russia:
"We have imposed new sanctions, including on an air transportation service provider for its involvement in the shipment of Iranian UAVs to Russia... We've also sanctioned... companies and even one individual that was involved in the research, development, production, and procurement of Iranian UAVs and components... including specifically the Shahed family of drones that we know are being used... in Ukraine."
When asked how Iran's sale of drones and missiles impacts the Biden administration's stance on the Iran nuclear deal, also known as the Joint Comprehensive Plan of Action (JCPOA), Kirby deflected the question:
"Our focus right now, quite frankly... is not on the JCPOA. We are way far apart with the Iranians in terms of a return to the deal, so we're just simply not focused on that right now. They had demands that were well in excess of what the JCPOA was supposed to cover. And again, so we're just — we are not focused on the diplomacy at this point."
At a time when Iranians are desperately risking their lives to free themselves of a vicious theocratic dictatorship, it would be equally impressive if the Biden Administration would stand firmly behind the protestors in their fight for liberty and human rights, values America has always professed to support. President Ronald Reagan did it with great success to aid the collapse of the Soviet Empire.
Iranian security forces have killed at least 500 people since the protests there began in mid-September, including 69 children, according to the U.S.-based Human Rights Activists News Agency (HRANA). According to HRANA, Iranian authorities have recently arrested more than 18,400 people in connection with the protests. In addition, at least 100 protesters are currently at risk of facing "execution, death penalty charges or sentences," according to the Oslo-based Iran Human Rights NGO. "This is a minimum as most families are under pressure to stay quiet, the real number is believed to be much higher."
Speaking a rally in California in October, President Joe Biden said, "we stand with the citizens, the brave women of Iran."
Such words are cost-free: They will not do much to help the Iranian protesters fighting for freedom and human rights.
Even former President Barack Obama, who ignored Iran's "Green Movement" protesters in 2009, admitted in October that his lack of support then for the Iranian dissidents was a mistake.
"When I think back to 2009, 2010, you guys will recall there was a big debate inside the White House about whether I should publicly affirm what was going on with the Green Movement, because a lot of the activists were being accused of being tools of the West and there was some thought that we were somehow gonna be undermining their street cred in Iran if I supported what they were doing. And in retrospect, I think that was a mistake."

"Every time we see a flash, a glimmer of hope, of people longing for freedom, I think we have to point it out. We have to shine a spotlight on it. We have to express some solidarity about it."
Statements of solidarity, however strong, will not produce serious results. What is needed from the US is to help the people of Iran concretely – to prevent Iran from acquiring nuclear weapons to dominate the Middle East, South America, Europe -- and the United States.
Iran is now planning to station warships in the Panama Canal – which China is aggressively trying to control. The U.S. has not even had an ambassador in Panama since 2018.
All one has to do is look at how terrified the Biden administration has been of "provoking" Russian President Vladimir Putin into using nuclear weapons.
What actually provokes dictators? That America exists.
There are a number of ways the Biden administration can "take steps," suggest Eric Adelman Counselor at the Center for Strategic and Budgetary Assessments and senior adviser at the Foundation for Defense of Democracies, and Ray Takeyh, senior fellow for Middle East Studies at the Council on Foreign Relations:
"First, the United States should formally declare that it will end negotiations with Iran on a putative return to the Joint Comprehensive Plan of Action... The United States should also make clear that it will not negotiate with an Iranian government that is repressing the Iranian people and destabilizing its neighbors. Such declarations would rob the regime of its ability to generate hope among the population that sanctions might be lifted under its rule.

"Publicly closing the door on negotiations would also free up the Biden administration to fully enforce sanctions already on the books. The United States should target Iranian officials guilty of the most egregious human rights violations, bolstering hope among Iran's people for government accountability. This should be accompanied by full-throated and ongoing U.S. government statements supporting the protesters and drawing attention to the worst instances of repression."
Adelman and Takeyh also argue that the US should increase protesters' ability to communicate by "sending Starlink terminals," which would enable Iran's anti-regime protest movement to "get around the regime's censorship and blocks on social media. Apparently, thanks to Elon Musk, Iran now has "around 100."
"Other software apps, such as Ushahidi, have been used to monitor elections in sub-Saharan Africa by allowing voters to share images of polling places. Such applications could be repurposed to allow Iranians to share images of acts of protest in different parts of the country, enabling coordination among different groups of protesters and, by forcing the government to overstretch its security forces, making it harder for the regime to quash dissent. The United States should also use popular social media channels, such as Telegram, to provide dissidents with accurate information about what is going on throughout the country, including protests, human rights abuses, and executions. The expansion and creative use of such channels of communication could help new protest leaders emerge and drown out regime propaganda.

"In addition, the United States should ramp up broadcasting by the Voice of America's Persian Service and Radio Farda and fund private television broadcasting by Iranian expats, which could provide additional fuel for the fire raging in the streets of Iranian cities. Currently, the United States is projected to spend less than $30 million in the 2023 fiscal year on broadcasting in Iran."
Judith Bergman, a columnist, lawyer and political analyst, is a Distinguished Senior Fellow at Gatestone Institute.