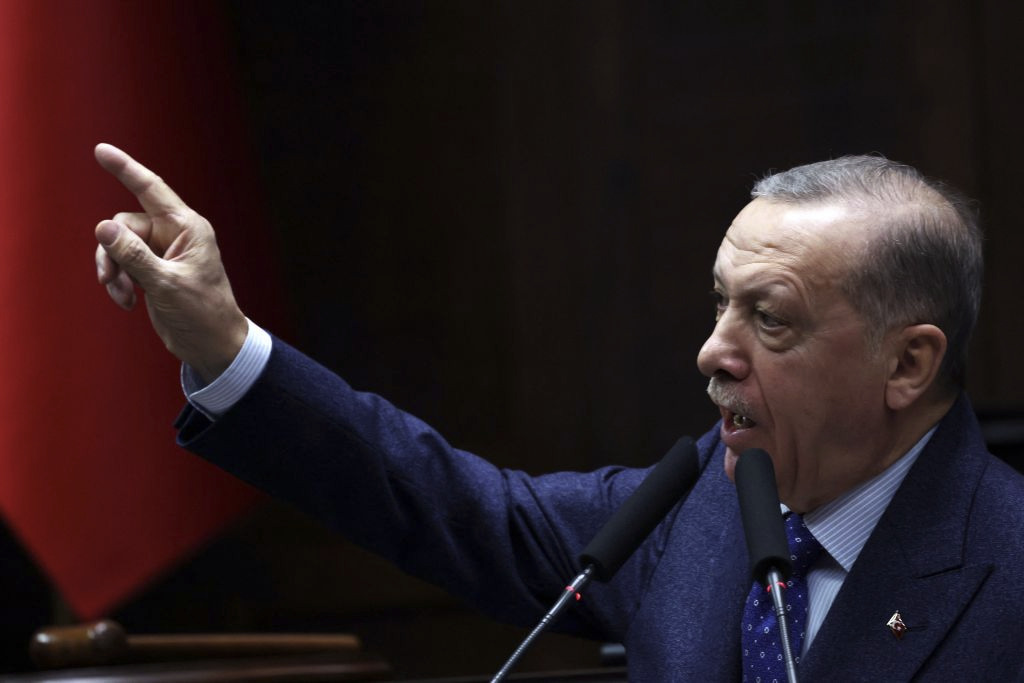 NATO is essentially a security alliance. Its preamble, however, states that the organization is founded on the principles of democracy, individual liberty and the rule of law. The grossly autocratic one-man show in Turkey, a NATO member, features none of that. According to the 2021 Democracy Index prepared by Economist Intelligence Unit (EIU), Turkey ranks 103rd among 167 countries. The index evaluation was based on five criteria: electoral processes and pluralism, functioning of government, political participation, democratic political culture and civil liberties.
In its Freedom in the World 2022 report, Freedom House, a U.S. government funded organization in Washington, D.C., put Turkey in its "not free" category of countries, along with Afghanistan, Angola, Belarus, Cambodia, China, Cuba, Ethiopia, Haiti, Iran, Iraq, Libya, Nicaragua, Russia, Saudi Arabia, Somalia, Sudan, Syria and several other third world rogue regimes. Could one, by the criteria of democracy, imagine any of those countries as a NATO member state? But Turkey is.
From the security perspective, as well, Turkey is the odd one out in the NATO alliance. In 2012, Turkey joined the Shanghai Cooperation Organisation (SCO) as a "dialogue partner." (Other dialogue partners are Belarus and Sri Lanka; observer nations are Afghanistan, India, Pakistan, Iran and Mongolia). In 2022, Turkish President Recep Tayyip Erdoğan said he was hoping to acquire membership in the SCO.
Earlier, in September 2013, Turkey announced that it had selected a Chinese company (on a U.S. sanctions list) to construct its first long-range air- and anti-missile defense architecture. In 2019, Turkey determined to buy the Russian-made S-400 air defense systems. Turkey is the only NATO member sanctioned by the U.S. under the Countering America's Adversaries Through Sanctions Act.
In May 2022, Erdoğan's ultranationalist coalition partner, Devlet Bahçeli, said that Turkey should consider leaving NATO. Maybe he is right. Sadly, that turns out to have been a bluff.
Erdoğan needs NATO -- especially these days, when he needs ammunition for his anti-Western, anti-NATO, "we-against-the-infidels" rhetoric ahead of Turkey's critical presidential and parliamentary elections on May 14. He is tying NATO's planned Nordic expansion, to include Sweden and Finland, to his election campaign.
Two provocative incidents in Stockholm in January -- an effigy of Erdoğan was strung from a lamppost and a Danish politician burned the Quran in front of the Turkish Embassy -- gave Erdoğan a perfect opportunity to rally support and distract his voters from an ailing economy. Both incidents, incidentally, were criticized by Swedish government authorities.
With massive applause from his conservative and nationalist voters, Erdoğan said that Sweden could no longer expect Turkey's support for its NATO membership (every NATO member has veto power). On January 21, Turkish Defense Minister Hulusi Akar cancelled a planned visit by his Swedish counterpart, Pal Jonson. Ankara also cancelled a trilateral meeting with Sweden and Finland on NATO's Nordic expansion.
Özer Sencar, chairman of pollster Metropoll, said that amplifying foreign policy security issues ahead of elections allows Erdogan to consolidate his voter base. He "creates a perception of a 'strong leader' inside Turkey," he said. "If you can come up with a security problem, then people rally behind the strong leader."
What to do? John R. Deni, a research professor at the U.S. Army War College's Strategic Studies Institute, writing in The Hill, advises "strategic patience."
"There are some steps that Washington could at least signal are under consideration, if Ankara has not budged on Finland and Sweden by late spring. These might include undercutting the value of the Turkish lira by making public Washington's displeasure and will to act; implementing another round of sanctions on key Turkish exports, ministries and leaders; reimposing restrictions on the sale of U.S. military hardware to Turkey; and signaling a willingness to reconsider NATO's military posture in Turkey, as well as the American presence there. There is a risk that such moves might play into Erdoğan's domestic political narrative, but they also might achieve the more important goal of solidifying Finnish and Swedish membership in NATO. In any case, for the time being, strategic patience appears a more prudent policy choice."
Deni is right. Any unwisely public Turkish-Western confrontation in the few months before Turkey's elections will add to votes for Erdoğan. Most Turks still believe what they were taught at primary school: A Turk's only friend is another Turk. They are still living in a xenophobic unreal world where every other nation is an enemy of their land and is plotting against Turkey. That childish feeling, in a matter of collective psychology, coerces them to unite behind the leader. Trouble with the West, and Erdoğan wins again.
Burak Bekdil, one of Turkey's leading journalists, was recently fired from the country's most noted newspaper after 29 years, for writing in Gatestone what is taking place in Turkey. He is a Fellow at the Middle East Forum.