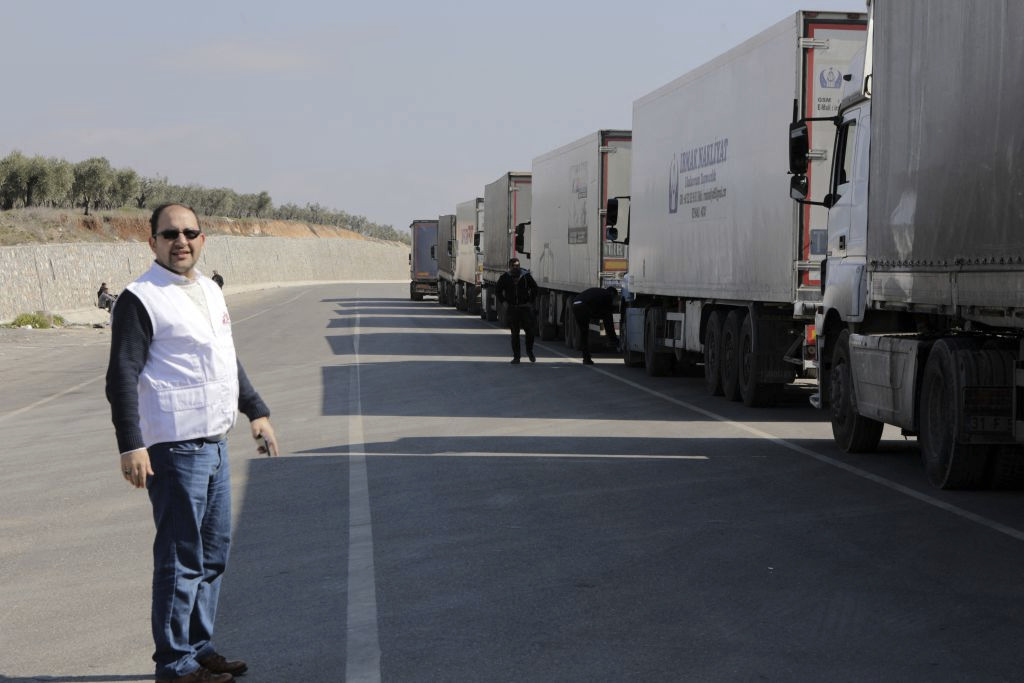 Syrian dictator Bashar al-Assad's offer to ease border restrictions to allow aid agencies better access to areas of northern Syria that were devastated by the recent earthquake is nothing more than a calculated ploy to have the punitive sanctions regime against Damascus eased.
During the five decades or so the Assad regime has been in power, one of its less appealing characteristics has been its willingness to exploit any global crisis for its own benefit.
In the immediate aftermath of the September 11 attacks in 2001, for example, Bashar al-Assad tried to improve relations with Washington by offering to help tackle the Al-Qaeda terrorist network that had masterminded the attack.
It later turned out to be an empty gesture, as Damascus soon turned its attention to supporting the numerous jihadi groups formed to carry out terrorist attacks against US forces operating in the Middle East.
The same pattern of double-dealing is now evident with the Assad regime's blatant attempt to exploit the humanitarian disaster caused by the earthquake on the Turkey-Syrian border for its own ends.
Much of the Syrian area affected by the earthquake lies in rebel-controlled territory or territory formerly controlled by rebels such as Aleppo, which had already suffered extensive devastation as a result of the brutal offensive undertaken by Russia and pro-regime forces during the country's crushing civil war.
Despite his regime's best efforts, Assad had no control over most of northern Syria, which has been divided into numerous enclaves controlled by a variety of actors, from the al-Qaeda-linked factions based in the western area around Idlib to the US-backed Kurdish autonomous zone to the east.
As a result, the Assad regime initially proved unwilling to allow aid agencies access, even though they were some of the worst-affected areas from the earthquake.
Then, bowing to international pressure, Damascus suddenly changed its mind last week, and agreed to open several border crossings between Turkey and Syria to allow humanitarian aid to reach the stricken areas.
As with any decision taken by the Assad regime, the opening of the crossing was not done out of any great concern for the victims of the earthquake in rebel-held areas, but more as a calculated political gamble designed to see if Damascus can turn the humanitarian disaster to its own advantage.
At the very least, the disaster has opened the door for a deeper reconciliation between Syria and other Arab states, such as Egypt and Saudi Arabia, that have shunned the Syrian despot since the start of the civil war. Following the earthquake Assad had his first phone call with Egyptian President Abdel Fattah al-Sisi, while Saudi Arabia sent an aircraft carrying relief supplies to Assad-controlled Aleppo.
There have also been contacts between Syria and Turkey, which supported Islamist fighters seeking to overthrow the Assad regime, about opening border crossings to allow UN aid to be moved into Syrian government-controlled areas, raising hopes that Ankara and Damascus can establish a more constructive relationship.
By far the most significant development, though, so far as the Assad regime is concerned, is Washington's decision to ease sanctions on Syria allowing all transactions related to earthquake relief to be authorised, which would otherwise be blocked by the sanctions.
While US officials insist there are no plans to re-engage with Assad, Damascus will certainly see this gesture as a potential opening in its campaign for international rehabilitation, a move that, if it happened, would amount to an abject betrayal of the Syrian people.
The latest estimates suggest that in excess of 500,000 Syrians died during the country's decade-long civil war, many as a result of the savage war crimes committed by Assad's regime, including the indiscriminate bombing of civilian areas and the industrial-scale torture and murder of regime opponents.
Instead of easing sanctions against Assad, the Biden administration should be supporting efforts to establish an international war crimes tribunal that will ensure Assad and his henchmen stand trial for their despicable crimes.
Nor is Syria the only rogue Middle Eastern state seeking to exploit the earthquake.
Reports have also emerged that Iran, Syria's main regional ally, is similarly seeking to take advantage of the humanitarian disaster to expand its military presence in Syria, a policy that is designed to intensify its efforts to threaten neighbouring Israel.
It is reported that Iran is using the earthquake to smuggle convoys of weapons disguised as humanitarian aid for earthquake victims in Syria.
It is a measure of the moral bankruptcy that lies at the heart of rogue regimes such as Syria and Iran that, even in times of disaster, they are willing to exploit the suffering of others in pursuit of their own perverse agendas.
The Biden Administration should not be encouraging them in their duplicity.
Con Coughlin is the Telegraph's Defence and Foreign Affairs Editor and a Distinguished Senior Fellow at Gatestone Institute.