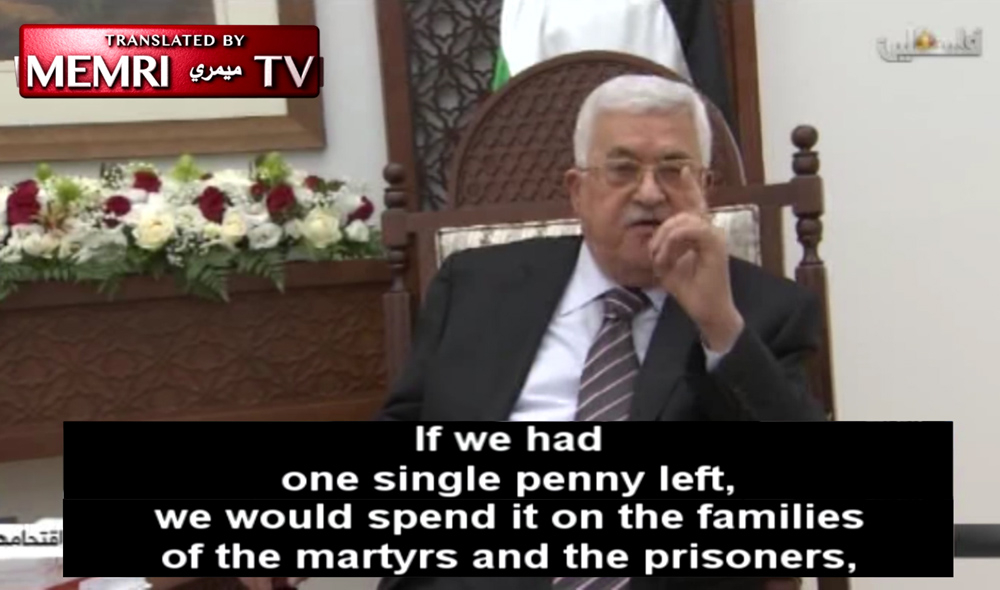 After the recent wave of terror attacks in Jerusalem and the West Bank, Palestinians again took to the streets to celebrate the murder of Jews. As part of the celebrations, the Palestinians danced, chanted slogans in support of the terrorists and handed out sweets to passersby.
Whether intentionally or not, the world media continues to bypass a lot of the celebrations, including the unrestrained Palestinian rejoicing after 9/11, when some media outlets revealed footage of Palestinians dancing, handing out sweets, and celebrating the murder of thousands of Americans.
Americans and others around the world who were reeling from the horror of 9/11 were outraged when the footage of the Palestinian celebrations came to light. For Israelis, this revelry in response to terror has been a nightmare that they have contended with for decades.
In one of the most recent attacks on Israeli civilians, a Palestinian terrorist murdered seven Jews just after Sabbath prayers at a synagogue. Palestinians rejoiced in the streets, celebrating with dancing, sweets, and fireworks.
In some instances, senior officials from the ruling Fatah faction, headed by Palestinian Authority President Mahmoud Abbas, have been documented participating in the celebrations over the murder of Jews.
On January 28, Ata Abu Rumaileh, the head of Fatah in the city of Jenin in the northern West Bank, attended a march celebrating two terror attacks in Jerusalem.
At the march, Abu Rumaileh, brandishing an M-16-style assault rifle, was surrounded by dozens of armed and masked terrorists. He praised the "righteous martyrs" who carried out the attacks and called for more terrorism against Israel.
Weapons and bullets, he said, should be the only language used with Israel. The intifada (uprising), he continued, has "turned into a war" that will not end until the blood of the "martyrs" is avenged. "May these attacks send their [the Jews'] corpses to Hell. Today, we are handing out sweets... in congratulation of our heroic martyrs."
It is worth noting that Abu Rumaileh represents the Fatah faction that is often described by Westerners as the "moderate" party.
Just last week, the head of this party, Mahmoud Abbas, received a phone call from US Secretary of State Antony Blinken, who reportedly promised to put pressure on Israel to halt its "unilateral measures." Needless to say, Blinken did not complain to Abbas about Fatah's incitement or the celebration of terror attacks by many Palestinians.
Jamal Al-Huwail, another senior member of Mahmoud Abbas's Fatah faction, also praised the murder of Jews. A few months ago, Al-Huwail said that Diaa Al-Hamarsheh, the terrorist who murdered five Israelis in the city of Bnei Brak "brought light into the hearts of the Palestinians."
"The people in Jenin took to the streets to celebrate," he added. "Al-Hamarsheh and his family restored the glory of Fatah, Hamas, PFLP [Popular Front for the Liberation of Palestine] and Islamic Jihad."
The terror attack in Bnei Brak indeed produced gleeful mobs of dancing Palestinians in Jenin and elsewhere, who chanted, "Millions of martyrs are marching to Jerusalem!" and hailed the terrorist as a "heroic martyr leader."
A little more than a month later and a few miles away in the city of Elad, two Palestinian terrorists attacked Jews with an axe and a knife, murdering four men, one of whom recently died of his wounds.
In a surreal twist, Abbas's Fatah official, Ata Abu Rumaileh, asserted the terrorists' boy-scout ethics: "They refused to kill women, children, and elderly. That is the morality of the fighters and resistance members."
Palestinian Media Watch pointedly added that the "morality" of the terrorists somehow falls somewhat short: they "butchered fathers with axes and knives in front of their children at a park."
Perhaps Abu Rumaileh would consider it a precedentially "ethical win" when the horrific Netanya Passover Massacre in 2002 saw Palestinians dancing for joy at the challenging "achievement" of murdering 30 Jews and injuring 140 others, mostly elderly people, at a holiday meal.
A similar celebration occurred in the aftermath of the 2008 Merkaz HaRav Yeshiva massacre, after a Palestinian terrorist shot dead eight Jewish students. Then, "thousands of Palestinians [took] to the streets, shooting guns in the air, offering prayers of gratitude and handing out candy to local children. They weren't celebrating a religious holiday or a sports championship. They were celebrating the vicious murder of eight boys."
There are some Palestinians who simply wish to live in peace and have actively helped Israeli Jews in dangerous situations, but their voices and stories are not often heard. One such Palestinian man was "forced to flee [the] West Bank after death threats for rescuing children of murdered Rabbi Miki Mark."
The motivation to remain silent is fear.
It is difficult to account, however, for crowds of thousands dancing and rejoicing over the killing of innocents. What makes a human being say intentionally crushing an infant beneath the wheels of a car makes the perpetrator a "hero"? What makes them call the car-ramming murder of 8- and 6-year-old brothers a "heroic commando operation"?
This is the result of decades of anti-Israel incitement and brainwashing by Palestinian leaders, which their funders have never told them to stop. As far as most Palestinians are concerned: 1) All Jews are "settlers," and 2) Israel is one big settlement that must be eliminated.
Furthermore, finding humor in a cartoon of a terror attack victim's head on a platter about to be eaten as part of a traditional Palestinian feast is hard to comprehend. Why do we keep hearing Palestinians claim that terror and glorification of the murder of innocent civilians is a "natural response"?
There is nothing "natural" about murdering Jewish children waiting at a bus stop. There is nothing "natural" about murdering unarmed civilians outside a synagogue. There is nothing "natural" about dancing and handing out candy to celebrate terrorism and the murder of Jews, or of anyone.
While Abbas occasionally condemns an attack that has attracted sufficient international outrage to hurt the PA's image, his actions speak louder than words.
In what has come to be known as "Pay for Slay," Abbas has been adamant about continuing to pay large benefits to the families of terrorists: "Even if I will have to leave my position, I will not compromise on the salary of a martyr (shahid) or a prisoner," Abbas promised.
At the age of 87, Abbas is still holding to this position. Despite legislation designed to counter the hundreds of millions of dollars in US, EU and international foreign aid funneled to terrorist family allowances, he is still finding creative ways to continue. As of 2017, these funds were found to be "equal in sum to about half of the foreign aid for budget support." In the years following, they have only increased.
The EU, the US, and other international funders of the Palestinians continue to finance a government that refuses not only to condemn terror, but that actually grows it like a lucrative slave-farm for terrorists. For some Palestinians, such as the leaders of Hamas and Palestinian Islamic Jihad, that even includes sending women and children to blow themselves up and using babies as human shields. The leaders do not, of course, send out members of their own families for this "achievement."
Sadly, these funders do not even ask the Palestinian leaders, as a condition of their funding, to stop calling for violence and to stop rewarding murder. One has to ask: Why not? If you go to a bank and request a mortgage, the bank will stipulate conditions. That is "natural."
Considering the undisguised vitriol of Fatah and the Palestinian Authority in support of terrorism -- with both words and money -- how could Israel seriously be expected to engage in any fruitful peace talks with the Palestinians?
Bassam Tawil is a Muslim Arab based in the Middle East.