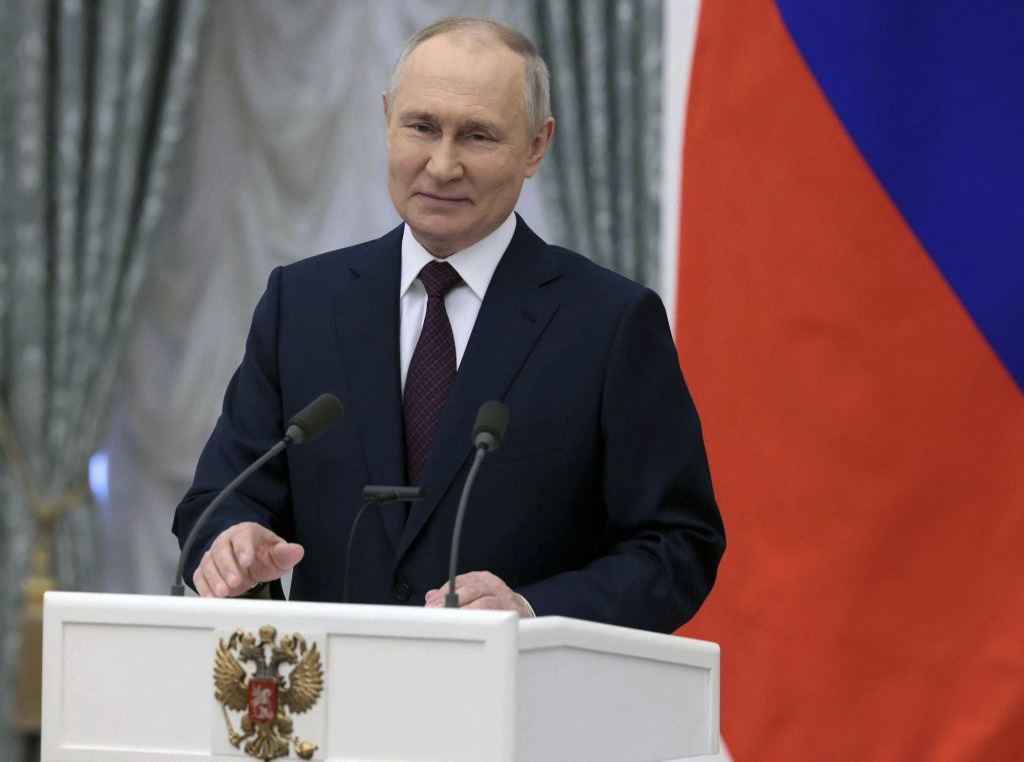 No one will be more delighted at the deepening scepticism expressed about America's continued involvement in the Ukraine conflict than Russian President Vladimir Putin.
At a time when the Russian leader is desperate to turn the conflict in Moscow's favour, any indication that the US and its allies are losing interest in their support for Kyiv will simply encourage Putin in the belief that he can snatch victory from the jaws of defeat.
Recent comments by a number of prominent Republicans have indicated that, far from backing the Ukrainians in their existential battle for survival against unprovoked Russian aggression, their primary objective is to scale down American involvement at the first available opportunity.
Ron DeSantis, the Florida governor and a likely frontrunner for the Republican presidential nomination, has declared that protecting Ukraine is not a "vital interest" for the United States, calling the dispute nothing more than a territorial dispute between Kyiv and Moscow. "While the US has many vital national interests... becoming further entangled in a territorial dispute between Ukraine and Russia is not one of them."
Meanwhile former President Donald Trump, one of DeSantis's main rivals for the nomination, has said he would have struck a deal with Putin, giving him control of large swathes of eastern Ukraine, to end the war if he were still in the White House.
Scepticism about maintaining American military support has been deepening in Republican circles in recent months, especially after the Republicans took control of the House of Representatives in last year's mid-term elections.
Kevin McCarthy, who was eventually appointed Speaker of the House in January after overcoming strong opposition from Republican opponents, reportedly agreed to spending caps that would limit future aid to Ukraine as part of the deal he struck with ultraconservatives to secure his appointment.
Apart from increasing pressure on US President Joe Biden to change his approach to the Ukraine conflict, mounting Republican opposition to the war represents a public relations gift to Putin.
From the start of the conflict, one of the Russian leader's key assumptions has been that the Western powers were too weak and divided to sustain their support for the Ukrainian cause, and so it is proving.
Nor is it just in the US that there are indications that support for the war is on the wane. While European leaders -- in public, at least -- continue to pledge their backing for Kyiv, there are worrying indications that their rhetoric is not matched with deeds.
Lat week, France was accused of impeding the European Union's plans to replenish Ukraine's dwindling artillery shell stocks in a dispute over where the weapons are manufactured. After the EU agreed on a scheme to provide Kyiv with one million 155mm artillery shells that would bolster the Ukrainian war effort, Paris had delayed implementation of the deal by insisting that only defence firms based in the EU should be allowed to access the lucrative new contracts said to be worth two billion euros.
Concerns have also been raised recently about the willingness of other European powers to maintain their support for Ukraine. Germany was recently accused of blocking attempts to provide Kyiv with tanks, while in Britain, where the military has suffered more than a decade of underfunding, the British government is running short of ammunition to send to Ukraine.
This depressing picture will undoubtedly be interpreted by Putin as justifying his view that the West would eventually lose interest in the Ukraine conflict and that, for all the public pledges of support, the Western alliance does not want Ukraine to win after all.
The indications from DeSantis and others that Western support for Kyiv is on the wane could also have potentially disastrous consequences for the Ukrainian war effort. There are also wider global security implications: if Putin is able to get his way in Ukraine, he will be encouraged in the belief that he can expand his territorial ambitions into other parts of Europe. Other adversaries of the West will not fail to see a second major US retreat as yet another vacuum, and a green light for their territorial expansion, as well.
For example, an investigation undertaken by the Dossier Centre, a group funded by Mikhail Khodorkovsky, a long-standing critic of Putin, has warned that the Kremlin plans to take over Moldova by the end of the decade, a threat also delivered in early February by Russian Foreign Minister Sergey Lavrov, as well as over a year ago by Belarussian President Alexander Lukashenko "standing in front of a battle map that appears to show a planned invasion of Moldova, along with Ukraine."
Moscow has also threatened to attack airfields in Poland, a NATO member state, which would require a military response from the entire NATO alliance, thereby provoking all-out war between Russia and the West. At that point, the conflict would very much become a "vital interest" for Washington.
Putin is always looking for any sign of weakness in his enemies that he can exploit, which would explain the interception of an American drone over the Black Sea by two Russian Su-27 warplanes this week. Apart from disrupting the intelligence-gathering mission being undertaken by the MQ-9 Reaper drone, the Russians would also have been aiming to test Washington's response.
Any weakening of support by the US and its allies could also have implications for the war in Ukraine itself, where Ukrainian forces are currently involved in desperate battle to defend the eastern city of Bakhmut.
While the Russians have suffered significant losses in their assault on the city -- some estimates suggest the Russians are losing up to 1,000 men a day -- Russian commanders will be encouraged in the belief that they can ultimately prevail with their gruelling offensive if they believe that the Ukrainians can no longer rely on support from the West.
Fortunately there are still countries such as Poland that have no intention of abandoning the Ukrainian cause. On the contrary, the plucky Poles have just reaffirmed their commitment to Kyiv by becoming the first NATO member state to send warplanes to Ukraine: Warsaw is planning to send four MIG-29 fighters.
It is a move that the Biden Administration and other allies should be encouraged to replicate. That is leadership -- and what many Americans seem starved for: a Churchill, not a Chamberlain. A reminder: it would have been so much less costly in life and treasure to have stopped Hitler before he crossed the Rhine.
In an attempt to persuade DeSantis to change his mind, Ukrainian President Volodymyr Zelensky has invited the Florida governor to visit him in Kyiv.
It is an invitation DeSantis would be well-advised to accept.
Con Coughlin is the Telegraph's Defence and Foreign Affairs Editor and a Distinguished Senior Fellow at Gatestone Institute.