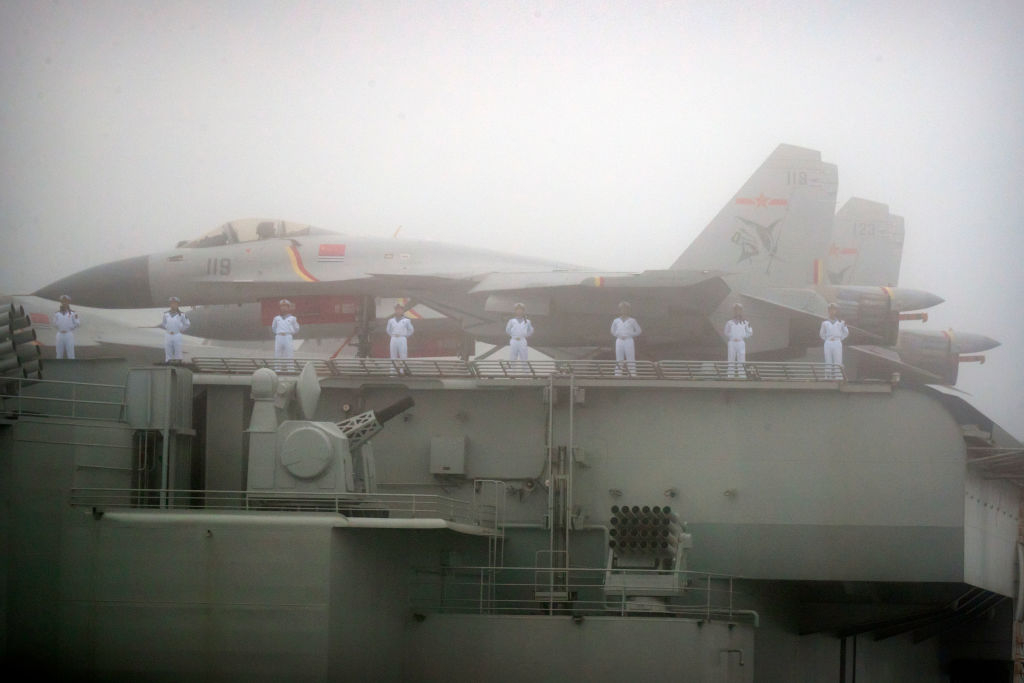 China is reportedly recruiting former air force pilots from the West to understand better how Western military aircraft and pilots operate. Up to 30 former UK military pilots are believed to have traveled to China since 2019 to work as instructors in the People's Liberation Army (PLA).
"They are a very attractive body of people to then pass on that knowledge. It's taking Western pilots of great experience to help develop Chinese military air force tactics and capabilities," an unnamed Western official said. "Money," he added, "is a strong motivator."
Britain's Ministry of Defence stated that while the pilots have not actually breached any current law in the UK by working for the PLA, they are warning other former pilots against taking up work for the Chinese military.
"It certainly doesn't match my understanding of service of our nation -- even in retirement -- to then go and work with a foreign power, especially one that challenges the UK interest so keenly," Minister of State for the Armed Forces James Heappey said, stressing that the UK "must change the law."
"We are taking decisive steps to stop Chinese recruitment schemes attempting to headhunt serving and former UK armed forces pilots to train People's Liberation Army personnel in the People's Republic of China," a spokesperson for the UK Ministry of Defence announced.
Other Western pilots have also been targeted by China. In France, one pilot told Le Figaro: "I almost tried it. This is not a common opportunity to have a fighter in your hands, and here I am offered the handle of a J-11 [J-11BH carrier-based variant, or the newer J-15]." He was offered a three-year, 20,000 euro per month contract. "I almost let myself be tempted," he said. "I eventually turned down the offer as I did not want to get into trouble. And also for ethical reasons, as China is not on our side."
Despite the outburst of concern in the UK and elsewhere over China's attempts to recruit Western pilots, a number of Western countries, including the UK, Canada, and the United States, until recently used to engage actively with the Chinese People's Liberation Army, thereby contributing to the development of Chinese military capabilities.
According to Sky News, at least three Chinese military personnel undertook basic officer training at the Royal Air Force College in the UK, the latest as recently as 2019.
In addition, a number of more senior military officers from China studied at the Joint Services Command and Staff College in the UK, which caters to more senior military personnel from both the army, navy and air force.
Earlier, in 2016 the Ministry of Defense in the UK sent up to four RAF pilots to take part in the "Aviation English Course" in Beijing which, according to unnamed sources cited by Sky News, "consisted of helping the People's Liberation Army Air Force learn how to run overseas military deployments."
"It was very specific that it had to be frontline military aviators in current flying practice, so I am sure more than English language got talked about," the source said, adding that the title of the course, "Aviation English," was "a misnomer -- why send military pilots rather than teachers?"
Furthermore, the British Ministry of Defence only raised the alarm on the issue this fall, raising questions as to why it had taken them so long.
"The first duty of any government is to protect our nation's security," Labour's shadow defence secretary John Healey said in a statement.
"The Tories have been too slow to emerge from their 'golden era' with China and repeatedly blasé about security threats. This official deployment could have compromised details of UK military operations, technology and training to a foreign power, posing a significant threat to our national security. Ministers must answer serious questions about why they backed this activity and what risks it poses. The public also want reassurance on the actions taken to halt it."
In Canada, the military invited representatives from the People's Liberation Army to observe its winter military exercises as recently as in 2018.
"We do not train with the PLA," a spokesperson for Canada's Department of National Defence said in 2020.
"However, based on an agreement signed in 2013, there has been the occasional, reciprocal granting of observer-status for non-sensitive activities, including winter survival exercises."
As late as 2019, however, Canada's Department of Global Affairs was fearful that the Canadian Chief of the Defence Staff General Jonathan Vance, after being urged by the United States, had cancelled winter military exercises with the PLA and later all military interactions.
"Should Canada make any significant reductions in its military engagement with China, China will likely read this as a retaliatory move," said a February 2019 Department of Global Affairs memo to Ian Shugart, then Deputy Minister of Foreign Affairs.
"We understand that [this cancellation] was driven principally by concerns voiced by the U.S. that the training could result in unintended and undesired knowledge transfer to the PLA. Unilateral decisions to postpone and/or cancel previously agreed DND/CAF co-operation with the PLA risk being interpreted by China or others in an unintended (and unhelpful) way. [This] could also damage Canada's long-term defence and security relationship with China."
The winter exercises were supposed to have been observed by six to eight military officers from the People's Liberation Army. In addition, according to the Globe and Mail:
"[A] calendar of coming engagements for 2019 between the Canadian military and China's PLA listed up to 12 events, including PLA soldiers attending the Canadian Security Studies Program at Canadian Forces College in Toronto and a United Nations peacekeeping course at the Canadian-army affiliated Peace Support Training Centre in Kingston. It also included the delegation of athletes for the Military World Games in Wuhan and delegates to attend a PLA National Defence University International Symposium in China. Canada sent 114 athletes, 57 coaches and support staff to the Military World Games."
Perhaps most incredibly, the US Army, as late as November 2020, conducted the Disaster Management Exchange (online, due to coronavirus) with China's PLA. The event has been an ongoing bilateral annual training exercise between China and the US since 2005. In November 2019, the US Army Pacific hosted members of the PLA for the two weeks that the exercise lasted at Kilauea Military Camp and Kilauea Military Reservation in Hawaii. Unbelievably, the November 2020 remote exercise took place just one month after President Donald Trump's National Security Adviser, Robert O'Brien, had pronounced China to be the threat of the century.
"The CCP is seeking dominance in all domains and sectors...(and) plans to monopolize every industry that matters to the 21st century," O'Brien said in October 2020.
"Most recently the PRC used cyber-enabled espionage to target companies developing Covid vaccines and treatments in Europe, the UK and the United States all the while touting the need for international cooperation."
Perhaps the US Army's approach to the PLA might partly be explained through the fact that as late as 2013, Lt. Gen. Francis Wiercinski, then U.S. Army Pacific commander, suggested that the US could conduct bilateral exercises such as the Disaster Management Exchange with China, as China's army no longer posed any danger to the US.
"I believe that the Army is extremely well suited to conduct continuous engagement with the Chinese because our army-to-army forces are literally, at this point, not a threat to each other," Wiercinski said.
"Our engagements with disaster management exercises, military medicine, engineering projects -- these are all peacekeeping operations. These are excellent opportunities for us to get into mil-to-mil discussions. I can only hope those will continue in the future."
Robert Williams is a researcher based in the United States.