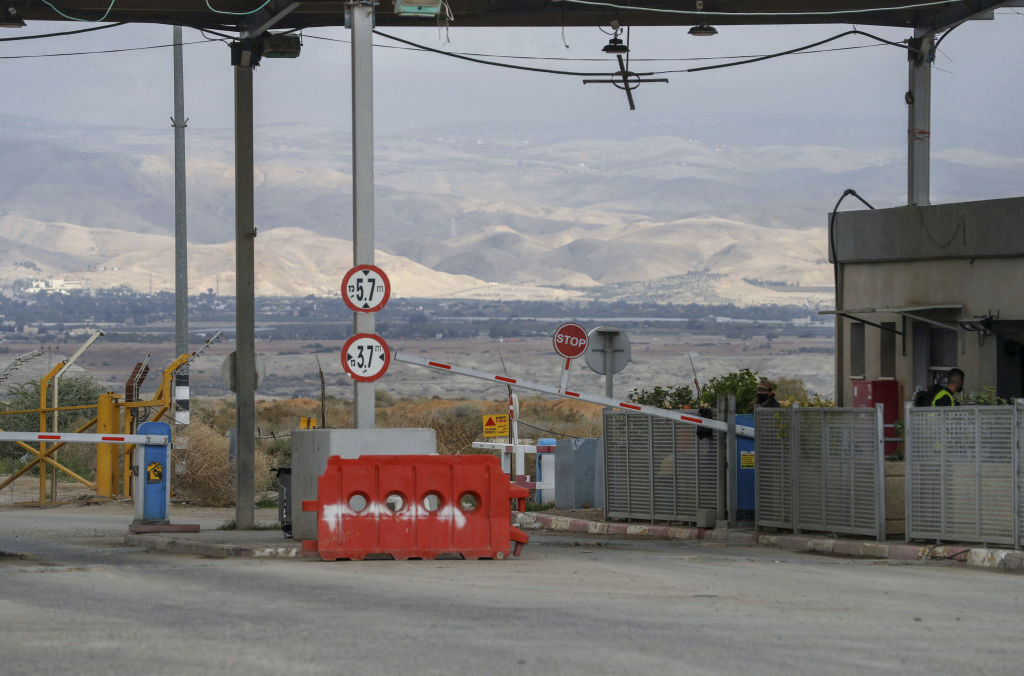 Imad Al-Adwan, a member of Jordan's parliament, is being praised as a "hero" by many Jordanians and Palestinians after he was reportedly caught trying to smuggle weapons into Israel.
On April 22, Israeli authorities arrested Al-Adwan, 35, when he tried to cross from Jordan into Israel through the Allenby Bridge border crossing. A video posted on social media showed the contents of three bags containing 100 kilograms of gold, 12 automatic rifles and 270 semi-automatic pistols discovered in his possession.
Al-Adwan is known for his staunch vocal support for the Iranian-backed Palestinian terror group, Hamas. In a video posted on social media, he said: "We send our greetings and respect to the Palestinian resistance groups, Hamas and the Arab symbol Abu Obaidah [spokesman of Hamas' military wing, Izaddin Al-Qassam]."
It is safe to assume that the weapons the Jordanian MP tried to smuggle were intended for the use of Hamas or other Palestinian terror groups in their Jihad (holy war) against Israel. His anti-Israel statements and support for Hamas had already turned Al-Adwan into a "hero" in the eyes of many Jordanians and Palestinians.
He has repeatedly referred to Israel as "the Zionist entity," implying that he does not recognize its right to exist. He has also denounced the Jordanian ambassador to Israel for dining with Jews and called for cutting off diplomatic relations between Israel and Jordan.
Now, Al-Adwan is being praised by Arabs because he allegedly tried to smuggle weapons into Israel. Why would a member of the Jordanian parliament who hates Israel with a passion and supports a terror group whose charter calls for the elimination of Israel try to smuggle weapons? To kill Jews.
That is precisely why Al-Adwan is seen by many Jordanians and Palestinians as a "hero" and a "brave man." This is a Jordanian member of parliament who apparently decided to take his anti-Israel agenda to the next level by smuggling assault rifles and pistols to terror groups. It is not difficult to imagine the public outcry had an Israeli MP been caught trying to smuggle weapons into Jordan or any other country.
Al-Adwan is a lawyer and holds a master's degree in international law. As such, one would expect him to be aware of the implications of attempting to smuggle weapons across an international border, especially into a country that has diplomatic relations and a peace treaty with Jordan.
Instead of demanding that Al-Adwan be put on trial in Jordan for breaking the law and harming his country's relations with Israel, several Jordanians are condemning Israel for arresting him and are demanding his immediate and unconditional release from Israeli detention.
According to Abdel Bari Atwan, a Palestinian newspaper editor based in London:
"Representative Imad Al-Adwan has turned into a popular hero, not only among his tribe, but rather among all members of other Jordanian clans, and Jordanian citizens in general and from different origins and races... Whatever the purpose of his smuggling of the arsenal of weapons and gold, undertaking it was a great national honor because the aim was to reach the Palestinian resistance in the West Bank and other occupied territories...

"The overwhelming majority of Jordanians says that he (the Jordanian MP) is a brave national hero, whether his goal is trade, or the delivery of weapons to the resistance, because the two possibilities end up supporting the resistance and reflect courage and a national, religious and moral commitment to solidarity with the Palestinian people."
Atwan warned that the Jordanian government's failure to have Al-Adwan quickly released from Israeli detention "may lead to military action by his tribe."
"We do not rule out several options, most notably kidnapping Israeli soldiers or civilians and taking them hostage and using them as a bargaining chip... Jordan is changing in a quick manner and the popular and official discontent has reached its climax. This explains Jordan's openness to Iran and the axis of resistance."
Murad Adaileh, Secretary-General of the Islamic Action Front party, the political wing of the Muslim Brotherhood, also voiced support for Al-Adwan:
"What MP Imad Al-Adwan did when he tried to deliver weapons to Palestine to resist the [Israeli] occupation is a legal obligation and a national necessity.... The duty of the [Jordanian] government is to seek his release."
Echoing the widespread support for the detained Jordanian parliament member, prominent Palestinian political activist Fayez Abu Shamala wrote that Arabs and Muslims are proud of Al-Adwan. "Imad Al-Adwan, you are the path to the end of the Zionist state," Abu Shamala said. "You are not alone, Imad!"
Another Palestinian, Waseem Moukhtar, heaped praise on the Jordanian parliament member for his support for the Palestinians and for "translating words into deeds, adding:
""From Palestine, we affirm our solidarity and support for him until he obtains his freedom. We demand that the Jordanian monarch work to secure his release."
Sadly, the campaign of solidarity with the Jordanian parliament member who was caught while trying to smuggle a large cache of weapons into Israel signals the hatred that Jordanians and Palestinians feel towards Israel and Jews.
This hate is the direct result of decades of indoctrination and brainwashing of Jordanians and Palestinians. Israel does not harbor any bad feelings towards Jordan. The opposite is true. Israel has always been supportive of the Jordanian monarchy and the stability of the Hashemite regime was and still is an important cornerstone of Israel's security. Recently, Israel agreed to provide water-scarce Jordan with 200 million cubic meters of desalinated water.
Had the Jordanian parliament member called for normalizing Jordan's relations with Israel, he would have likely been denounced by many Arabs as a traitor. Instead, he is being lauded because Jordanians and Palestinians believe he was on a mission to deliver weapons to terrorists who want to kill Jews.
The Jordanians would do well to understand that the charges against Al-Adwan, if true, mean that Hamas or other Islamist groups are active in Jordan and are using the kingdom and its elected representatives to smuggle weapons into Israel. These weapons could also easily be used by the terrorists to undermine security and stability in Jordan.
The Jordanians might also understand that the association of a parliament member with terrorism will cause damage to Jordanian diplomats and government officials, especially when they travel to other countries. Why should any country trust these diplomats and officials not to be smuggling weapons to destabilize them?
If and when Al-Adwan is handed back to Jordan, it would serve Jordan's interest to put him on trial for his involvement in the smuggling attempt and for harming Jordan's national security worldwide by being affiliated with terrorism.
Israel should insist that the parliament member stand trial in Jordan if Israeli authorities decide to release him from detention. Israel should also protest to Jordan against the ongoing campaign of incitement against Israel in the Jordanian, especially in light of the Al-Adwan case.
As for the international community and the mainstream media in the West, they could learn from the failed smuggling attempt that Israel's security concerns are not unjustified and not exaggerated. This week, over 100 rockets were fired from Gaza into Israel, a country roughly the size of Victoria Island. What would the UK do if one rocket – let alone 100 – were fired into England? Or Germany, if rockets were fired at Munich? Or France, if rockets were fired at Nice or Cannes or St. Tropez?
Israel daily faces attempts by Hamas and other terror groups to carry out terrorist attacks to kill Jews. The next time people complain about "tough Israeli security measures," please remind them of that?
Bassam Tawil is Muslim Arab based in the Middle East.