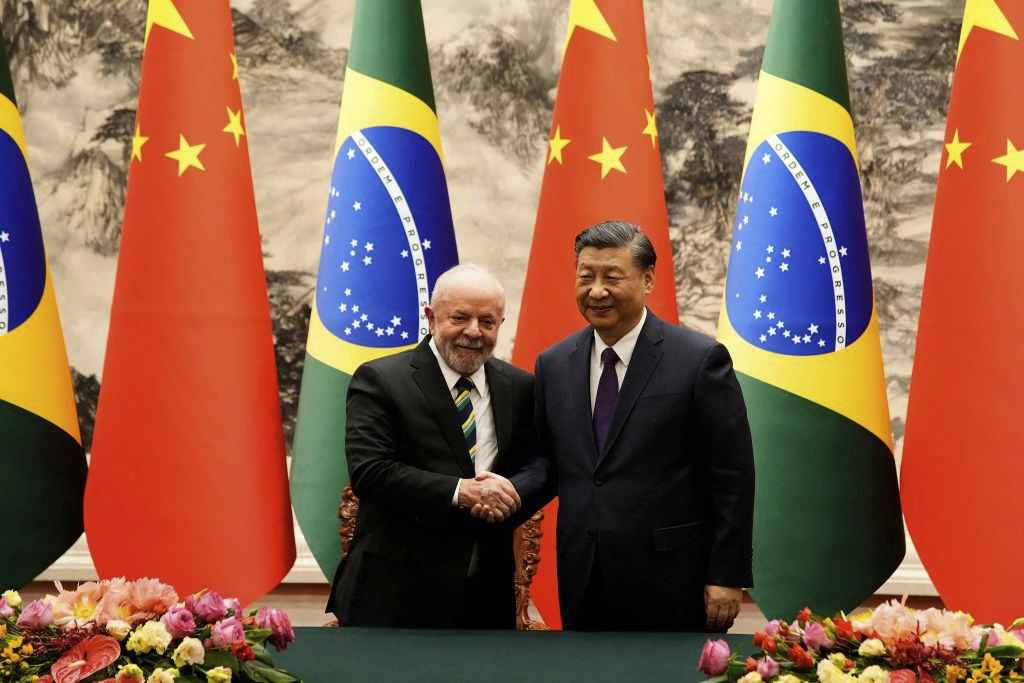 The mid-April visit to China of newly inaugurated Brazilian President Luiz Inácio Lula da Silva (Lula) is an apparent triumph for the Chinese Communist Party (CCP) in its effort to broaden its influence in Latin America. The visit also seems to have served Lula's legacy dream of being perceived as a moral beacon and advocate for the impoverished "Global South."
Lula, now 76, is serving his third term as Brazil's president, after barely defeating the pro-US and conservative nationalist former President Jair Bolsonaro. Lula has long been an advocate of a socialist model of economic development. He once expressed his respect for the CCP, on an earlier visit to China, "for having created this grand miracle." According to Wang Yi , CCP Director of Foreign Affairs, Lula also expressed admiration for China's having brought millions out of poverty and hunger.
Chinese President Xi Jinping signaled the significance of Lula's visit by upgrading its bilateral relations with Brazil to a "Global Strategic Relationship," as he urged Brazil to celebrate next year's 50th anniversary of bilateral relations by increasing support for China's "Belt and Road Initiative." Xi also apparently persuaded Lula to support the use of China's yuan to replace the dollar as the global standard currency.
Professor Wang You-ming of China's Institute of International Relations describes this transition as passing from an "Economically Hot/Politically Cold Relationship to a Hot/Political and Hot Economic" status. China also might want Brazil to grant permission to purchase additional farmland. China already owns more than 200,000 hectares of Brazilian land. During Lula's visit to China, 15 bilateral agreements were signed covering broad issues.
The Brazilian leader's fifth visit to China on April 14 was a stark contrast to his cool visit to the US this past February. There were no new agreements during the Lula-Biden tête-à-tête. This lack of positive developments is magnified by the continuing trend of US companies drawing down on their investment footprint in Brazil. Ford Motor Company, for instance, began to pull up stakes in Brazil in 2021 and is now in negotiations with a Chinese company to sell its remaining plant in Brazil's Bahia State.
Since Lula's election, he has made his foreign policy quite clear. Lula, for example, is opposed to sanctions on Moscow after Russia's invasion of Ukraine. He intimated that US President Joe Biden and Ukrainian President Volodymyr Zelensky are partially responsible for Moscow's invasion. Lula even counseled that the US and Europe were prolonging the war by sending arms to Ukraine, and that China, Turkey and Brazil were best suited to help Russia and the Ukraine agree on negotiations. Lula also has also long supported the creation of a Palestinian state. Brazil's Palestinian community likely lent their electoral support to Lula, whose views on Israel are in stark contrast to Bolsonaro's pro-Israel stance.
Brazil's warming ties to China also have an economic purpose. China is Brazil's largest trading partner, and Brazil exports a great deal of agricultural produce to China. Brazil appears hopeful for increased Chinese investment to modernize its industrial plants as well as technology transfer for its semiconductor production.
China has expressed its desire to revolutionize traditional bilateral commerce with Brazil, and shift to increased orientation toward newer technologies, such as digitalization and e-commerce. Wang Yi, appealing to Lula's proclivity to support environment projects, such as protecting the Amazon rain forest, predicted that future bilateral exchanges will include environmental cooperation.
Above all, Lula has praised China's rhetoric favoring the establishment of a new, non-US led international order based on multipolarity. China has acknowledged Lula's support by emphasizing Brazil's prominent role in the multinational "BRICS" alliance consisting of Brazil. Russia, India, China, and South Africa. BRICS is part of China's quest to displace the US as global leader. The close links between China and Brazil are likely to become increasingly apparent. Several Chinese provinces have developed economic and investment partnerships with almost all of Brazil's state governments, which flourished even in the Bolsonaro years.
The Chinese triumph, however, may prove short-lived. Bolsonaro -- who condemned China as a "predator" and infuriated the CCP by visiting Taiwan in February 2018 when he was campaigning for the presidency -- remains popular and may run against Lula in Brazil's next presidential election.
Dr. Lawrence A. Franklin was the Iran Desk Officer for Secretary of Defense Rumsfeld. He also served on active duty with the U.S. Army and as a Colonel in the Air Force Reserve.