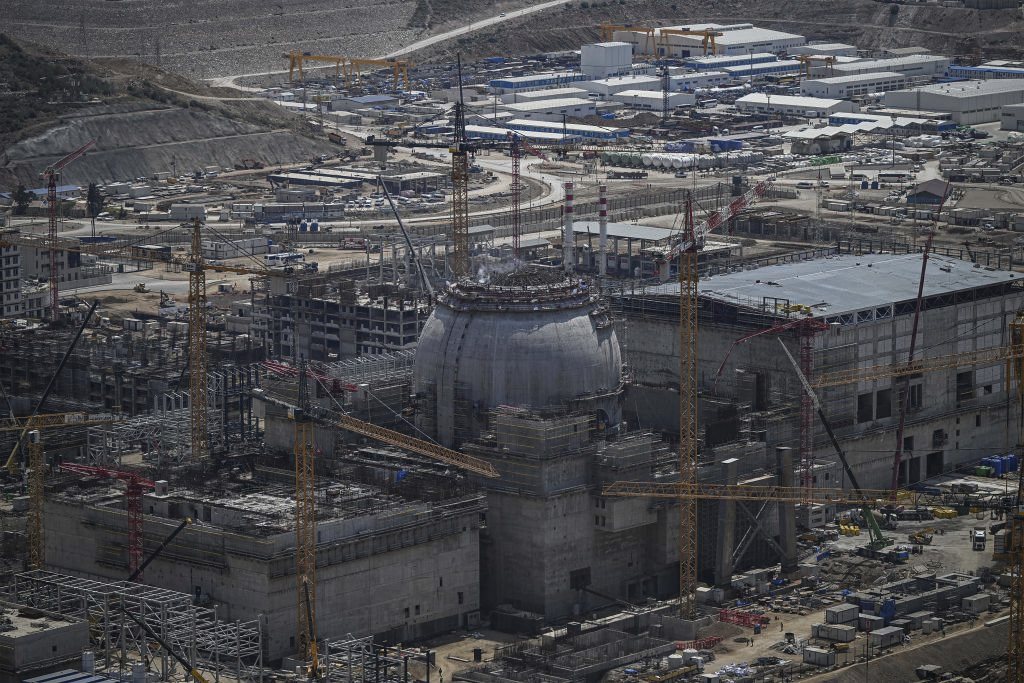 Some Western governments, in particular the U.S. administration, have a bizarre way of sanctioning Russian President Vladimir Putin's staunchest allies: by flooding them with rewards. Take, for instance, Putin's not-so-secret Trojan Horse in NATO, Turkey.
Turkish President Recep Tayyip Erdoğan tirelessly struggles to harm Western interests. He should be punished and sanctioned for doing that. Instead, the UN, under U.S. direction, rewarded Turkey by appointing a close Erdoğan confidant to a critical Afghan post, and the Biden administration rewarded Erdoğan by requesting Congressional authorization to sell critical fighter jet parts to Turkey.
On April 26, Feridun Sinirlioğlu, an Erdoğan confidant and senior Turkish diplomat who previously served as Turkey's permanent representative at the UN, was appointed as UN Secretary-General Antonio Guterres's special coordinator for Afghanistan. According to a press release by the UN, Guterres announced the appointment of Sinirlioğlu as the Special Coordinator, Independent Assessment Mandated by Security Council Resolution 2679 (2023).
Earlier, in September, Putin promised to make Turkey an "energy hub" by transporting Russian gas to Europe. Turkey has been buying nearly half its natural gas from Russia, and paying several billion dollars for it every year.
In an effort to help Putin evade sanctions, Turkey agreed to pay 25% of its natural gas bill to Russia in rubles. In return, to help Erdoğan find a way out of a punishing economic crisis, Putin deferred repayment Turkey's $20 billion gas debts to Russia until 2024. That was a genuine gesture to the Turkish president, who has been plagued by a deep economic crisis ahead of critical presidential and parliamentary elections this month.
Last year, Russia's state-run Rosatom, the company building Turkey's first nuclear power plant, wired to its Turkish subsidiary, Akkuyu, around $5 billion, the first in a series of such transfers. Russian cash has helped plug the growing hole in Turkey's foreign currency reserves, at a time when Erdoğan needs foreign money to boost the country's ailing economy. Some analysts see the Rosatom-Akkuyu-dollar bonds triangle as a Turkish-Russian scheme to open a "parking space" for Russian funds in Turkey. The increase in Turkish central bank's foreign and gold reserves — $108.1 billion on August 4, 2022 from $98.9 billion on July 26, 2022 — might have been, at least partially, the result of Russian money flowing to Turkey.
On April 27, Putin hailed Moscow's burgeoning energy and wider economic ties with Ankara as he and Erdoğan took part virtually in a ceremony inaugurating Turkey's first nuclear power plant. "This is a flagship project," Putin said via video-link. "It brings both mutual economic benefits and, of course, helps to strengthen the multi-faceted partnership between our two states."
By contrast, Turkey's relations with the West have seen one bottom after another.
In early April, the USS San Juan, a Los Angeles-class submarine, docked at Limassol in the Republic of Cyprus. The government of the Turkish Republic of Northern Cyprus (TRNC), a tiny breakaway statelet that only Turkey recognizes, predictably condemned the move. Turkey's Foreign Ministry promptly issued a statement expressing "strong support" for the TRNC's condemnation.
Following the tragic earthquakes that devastated Turkey in February, killing more than 50,000 people, the U.S. offered humanitarian assistance, dispatching the aircraft carrier USS George H.W. Bush. Turkey issued a statement dismissing the prospect of the U.S. carrier docking in Turkey. "We will not allow it," Turkish Foreign Minister Mevlüt Çavuşoğlu said.
Just a day before the inauguration of the Russian-built nuclear plant in Turkey, Çavuşoğlu announced that a summit between Erdoğan and Syrian President Bashar al-Assad, also known as the dictator in Damascus, could take place as early as May. He said that the presidents of Russia and Iran would also join the summit. Russia and Iran: the masterminds behind the Turkish-Syrian reconciliation.
At times one does not see if Çavuşoğlu is the Turkish foreign minister or the Russian one. On April 24, Çavuşoğlu called U.S. President Joe Biden a "charlatan" over his April 24 statement marking the Armenian Genocide Remembrance Day. Çavuşoğlu deemed Biden's remark as an "attempt by political charlatans to distort history."
Erdoğan's allegiance, however, is not to Russia and Iran alone. On April 13, the U.S. Commerce Department said it has imposed new export controls on 28 companies based in China, Turkey and other countries for supplying Russia's military and defense industries with U.S.-origin items, which it deemed violated America's sanctions regime.
Earlier in April, Turkey targeted the military leader of the key U.S. partner in the war against ISIS in Syria, with a drone strike in Sulimaniyeh in northern Iraq. Mazloum Abdi, the leader of the predominantly Kurdish group Syrian Democratic Forces (SDF), was traveling to the northern Iraqi city when the drone carried out an attack near the airport. The attack took place near an SDF convoy that included U.S. military personnel.
Meanwhile, Erdoğan keeps on blocking Sweden's accession into NATO, to Putin's presumed delight (Turkey, a NATO member, has veto power over accession of new members). Shortly after Russia's invasion of Ukraine, Finland and Sweden dropped decades of military non-alignment and applied to join NATO. Erdoğan, however, has blocked the NATO bids, and demanded that steps be taken against "terrorists": dozens of suspects whom Erdoğan links to outlawed Kurdish militants and a failed 2016 coup attempt against himself. Erdoğan also asked Sweden and Finland countries to drop both a formal and informal arms embargo against Turkey that they had imposed before their NATO bid.
Problematically, Erdoğan's request for the extradition of "terrorists" does not fit into the judicial system of any democratic country: he insists that everyone who opposes his rule is a "terrorist" -- therefore more than half of 85 million Turkish citizens are terrorists.
Against this backdrop, the West, particularly the Biden administration, has chosen a bizarre way of reciprocity: sending "flowers and gifts" to Putin's man in Ankara, Erdoğan.
Not good enough to please Erdoğan? Fine. Just send more.
On April 17, the Biden administration officially notified Congress about the planned sale to Turkey of critical avionics software upgrades for its current fleet of F-16 fighter aircraft. "Turkey is a longstanding and valued NATO ally," a State Department spokesperson said in a statement. "The Biden administration supports Turkey's efforts to bring the avionics of its F-16 fleet up to standard."
Anything for a sale?
Perhaps the Turkish foreign minister was right to call Biden a "charlatan."
Burak Bekdil, one of Turkey's leading journalists, was recently fired from the country's most noted newspaper after 29 years, for writing in Gatestone what is taking place in Turkey. He is a Fellow at the Middle East Forum.