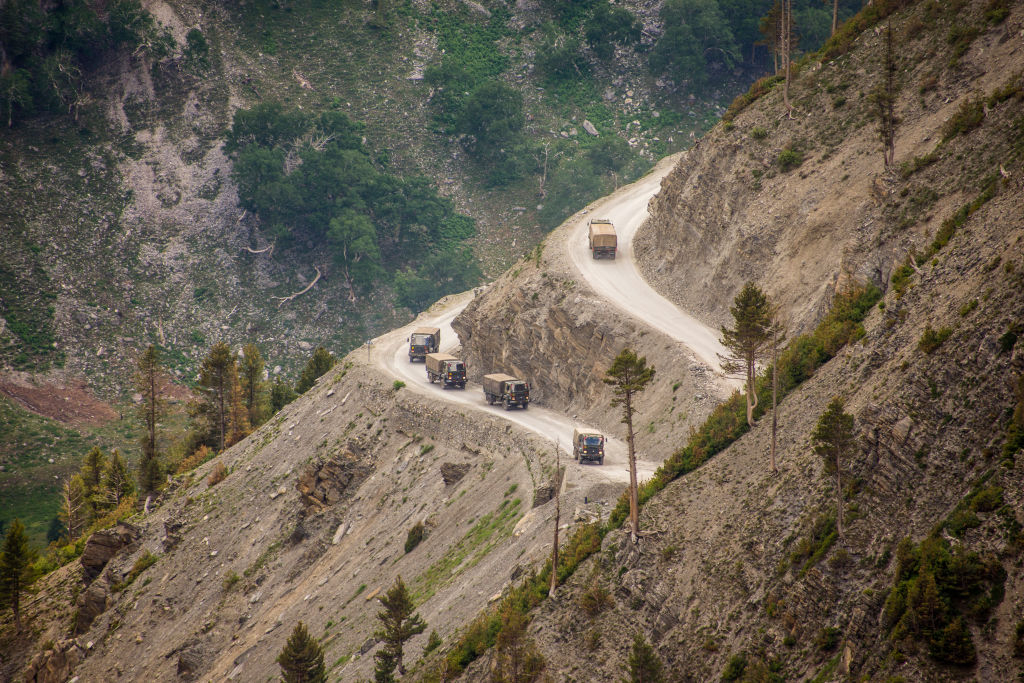 India feels a giant demon breathing on her shoulder.
The more China strengthens its military and economic power, the more threatened India feels. The main reason is China's aggressive actions along the China-India border, known as the Line of Actual Control. India and China share a de facto border of 3,440 km in total -- containing rivers, lakes and snowcaps at high altitudes.
On April 1, China's Ministry of Civil Affairs released an updated list of its preferred "standardized geographical names" for places in the Indian state of Arunachal Pradesh, which borders China. The new list of 11 places contains the names in Chinese and Tibetan characters, and in Pinyin (a Romanized system for standardizing forms of Mandarin Chinese).
This is not the first time that China is looking beyond its borders into India's territory, especially Arunachal Pradesh. China's first list, containing six places in Arunachal Pradesh, was released in 2017, and the second list, of 15 places, was released in 2021. According to The Indian Express:
"China claims some 90,000 sq km of Arunachal Pradesh as its territory. It calls the area 'Zangnan' in the Chinese language and makes repeated references to 'South Tibet'. Chinese maps show Arunachal Pradesh as part of China, and sometimes parenthetically refer to it as 'so-called Arunachal Pradesh'".
While releasing this latest list of places it has renamed, China's Ministry of Foreign Affairs wrote,:
"According to the relevant regulations of the State Council on the management of geographical names, our ministry, together with relevant departments, has standardized some geographical names in southern Tibet."
After China released the new list, White House press secretary Karine Jean-Pierre said of Arunachal Pradesh:
"The United States has recognised that territory for a long time. And we strongly oppose any unilateral attempts to advance territorial claims by renaming localities. And so, again, this is something that we have long stood by."
The modern history of Arunachal Pradesh is well-known. In 1914, British administrator and chief negotiator Sir Henry McMahon drew a 550 mile (890 km) line separating British India and Tibet -- known as McMahon Line, and a part of Simla Convention. The Simla Convention divided Tibet into Outer Tibet and Inner Tibet, and recognized that "Tibet is under the suzerainty of China, and recognizing also the autonomy of Outer Tibet" that would "remain in the hands of the Tibetan Government at Lhasa," on the condition that China would "abstain from interference in the administration" of Outer Tibet.
Inner Tibet, however, would be under the jurisdiction of Chinese government.
The McMahon Line is actually a boundary between Tibet and British India. China was not a party to the creation of the McMahon Line. But the McMahon Line was over all boundaries of Tibet, as defined in the Simla Convention.
Lord Curzon, a British statesman who served as Viceroy of India from 1899 to 1905, was, during the First World War, the leader of the House of Lords. He was also the chief architect of British policy toward Tibet. It was a policy that, from 1913 on, was focused on establishing the political status of Tibet apart from both India and China. The British considered Tawang of Arunachal Pradesh, through the Simla Convention, as part of India – a decision also agreed to by the Tibetan authorities at the time.
The British efforts from 1913 to 1918 concerning Tibet, however, were not successful. A draft convention was initiated on April 27, 1914 by all three parties, Britain, China and Tibet -- but China repudiated it immediately. A slightly revised convention was signed on July 3, 1914 -- but not by the Chinese plenipotentiary, who declined to sign it.
Tibet then was an independent country that had every right to negotiate border agreements with any bordering countries.
In 1950, China invaded and fully occupied Tibet. Since then, China has been claiming a right to Arunachal Pradesh and denying the Tibet-India agreement. Even though the McMahon Line is the clear boundary between the countries, the dispute between China and India increases as skirmishes flare up. Each time, the region and the world hold their breath.
One war already took place between China and India, from October 20 to November 21, 1962. The Chinese army advanced into the Arunachal Pradesh, but later withdrew. A comparatively weaker India suffered losses. Then, in 2017, China began constructing a road from the Dokola area to Bhutan's army camp. India accused China of violating agreements and tensions rose. Three years later, in 2020, a deadly clash between Chinese and Indian soldiers took place at the Galwan Valley, in which 20 Indian soldiers were killed. China's casualties have not been reported.
With the handover of the year-long G20 presidency to Indian Prime Minister Narendra on December 1, 2022, India is planning to host 200 G20 meetings spread across 60 Indian cities. Itanagar, the capital of Arunachal Pradesh was the site of one of the meetings in March. However, China did not participate in that meeting and also skipped the meeting held in Kashmir on May 22-24.
Day by day, relations between the two world's most populous countries, both nuclear powers, continue to deteriorate, with no signs of peace talks in sight.
Mohshin Habib, a Bangladeshi author, columnist and journalist, is Executive Editor of The Daily Asian Age.