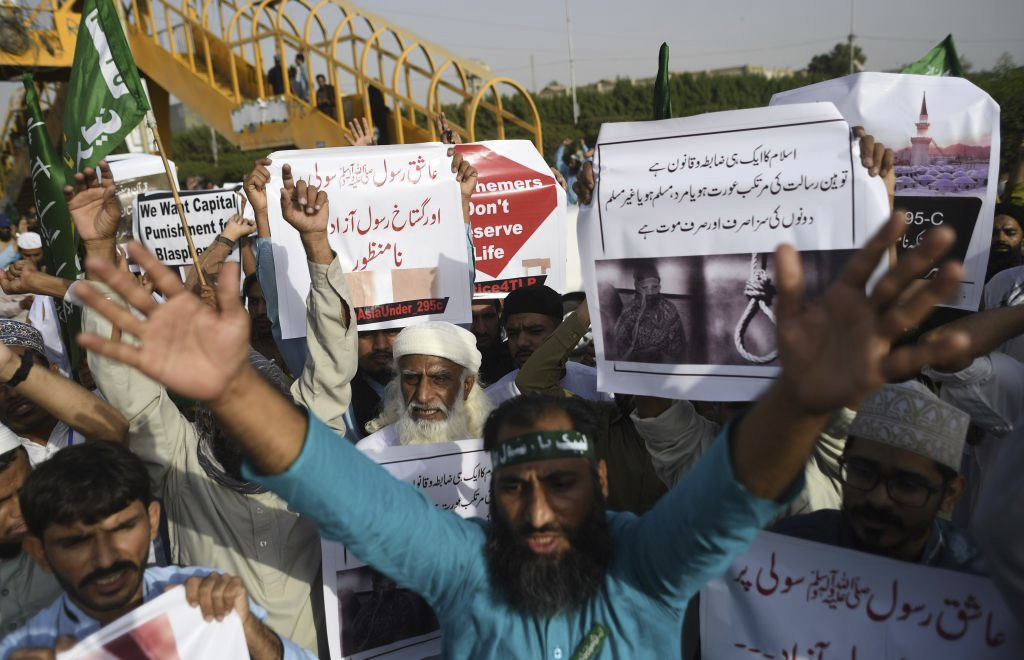 Pakistan's blasphemy laws have once again been made even more stringent by the country's lawmakers. Amid a long-running international outcry against the notorious blasphemy laws, the National Assembly of Pakistan on January 17 unanimously passed "The Criminal Laws (Amendment) Act 2023," which increased the minimum punishment for those found guilty of insulting the Islamic Prophet Mohammad's companions, wives and family members from three years to 10 years' imprisonment, along with a fine of 1 million Pakistani rupees ($4,122).
The bill was brought forth by National Assembly Member Abdul Akbar Chtrali, a leader of the Islamist political party Jamaat-e-Islami. Chtrali, on May 17, 2021, had also called for the use of nuclear weapons against India and Israel. The statement of "object and reasons" for the bill by Chitrali says:
"The fact may be observed that disrespecting to the Companion of Holy Prophet (P.B.U.H) and other sacred personalities not only promotes terrorism and disruption in the country but it also hurts the people from all walks of life..."
The Human Rights Commission of Pakistan (HRCP) last month expressed its deep concern about the law:
"While the stated aim of this bill is to curb sectarianism, HRCP believes it is likely to exacerbate the persecution of Pakistan's beleaguered religious minorities and minority sects."
HRCP also stated that given Pakistan's troubled record of the misuse of such laws, these amendments are likely to be weaponized disproportionately against religious minorities and sects, resulting in false police reports, harassment and persecution. While Chtrali and the National Assembly thought it necessary to make the laws harsher, human rights activists in Pakistan and abroad are seeing the danger ahead for the minorities, including Christians, Ahmadiyya Muslims (whom Pakistan does not recognize as Muslim), and Hindus.
Peter Jacob, a leader of Pakistan's Catholic community and executive director of the Lahore-based Centre for Social Justice, labeled the amendment as an unfortunate development. "Our demands have been ignored again. Sadly there is no history of any debates on such laws in our assemblies," he said, addressing a January 17 gathering of activists and lawyers in Lahore.
The blasphemy laws are mostly used against religious minorities. According to the Pakistani National Commission For Justice and Peace, Christians, Hindus and Ahmadiyya Muslims constitute the accused in almost half of the blasphemy cases in the country, even though together they make up less than 5% of the whole population. Between 1987 and 2017, blasphemy charges were brought against 1,549 people. Among these, 829 people were non-Muslims. Since 1990, more than 70 people have been brutally murdered by mobs over allegations of insulting Islam. Critics say the fact that minorities figure so prominently in these cases shows how the laws are unfairly applied.
Most importantly, blasphemy is considered a non-bailable offense, which means that bail may be granted at the discretion of the court but cannot be claimed as a matter of right. Moreover, once an individual is charged with violating blasphemy laws, he or she can be arrested without a warrant.
In 1860, the British colonial authority in India introduced the Indian Penal Code, containing three blasphemy provisions. They were Sections 295, 296 and 298, with a fourth blasphemy provision, Section 295-A, enacted in 1927. However, these laws were almost unenforced under British rule. Until 1947, the time of Indian liberation and separation, there had been only seven blasphemy cases. Between 1927 and 1985 (58 years) only ten cases were heard in Pakistan's courts. Since then, however, there have been more than 4,000 cases. During the tenure of military dictator Muhammad Zia-ul-Haq, who ruled the country from 1978 to 1988, the laws in Pakistan became harsher. Numbers of clauses were added to the laws to appease the Islamists, to Islamize the country, and to isolate the Ahmadiyya community, who were declared non-Muslim in 1973.
The International Journal of Science and Research stated in 2019:
"In Pakistan, many people are on death row or serving life sentences for blasphemy in Pakistan then in any other country in the world."
In an editorial titled "Wrong Approach," Pakistan's leading English language newspaper, Dawn, wrote:
"Pakistan has for the past several decades been battling sectarianism. While targeted killings and sectarian acts of terrorism may currently be down, in the past the nation has witnessed grotesque massacres of innocent people carried out by sectarian death squads... It is hard to understand why such a sensitive law was passed 'unanimously' without quorum.... Moreover, there is concern that this law will be open to misuse, much as the blasphemy laws are."
These laws urgently need to be repealed.
Mohshin Habib, a Bangladeshi author, columnist and journalist, is Executive Editor of The Daily Asian Age.