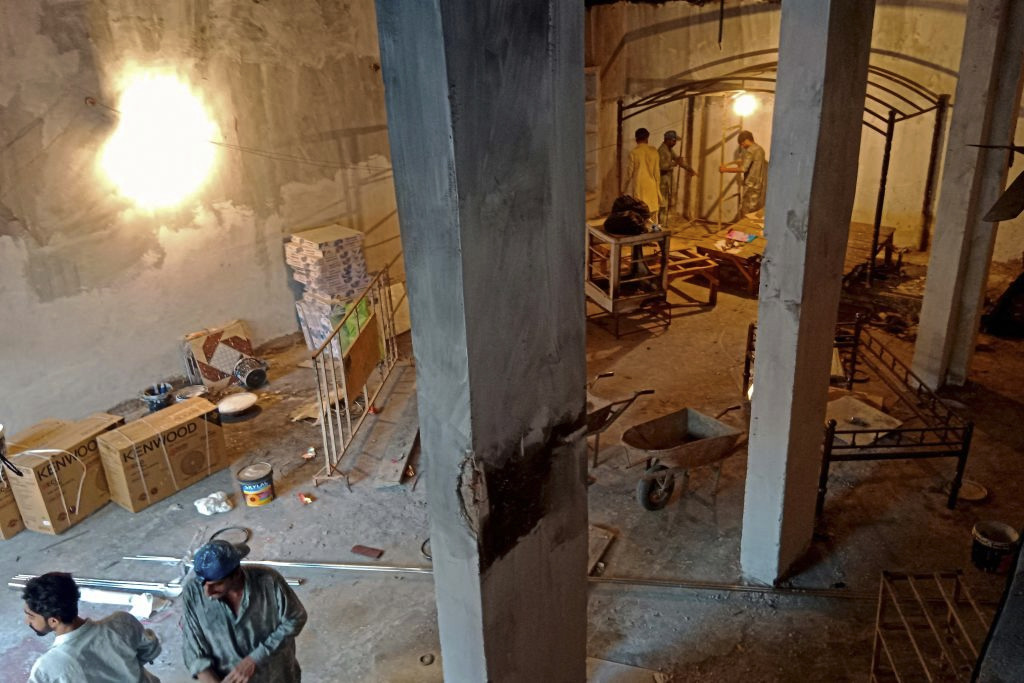 The utmost violence, it seems, against the Christians in Pakistan has taken a permanent form. According to the Pakistani daily newspaper Dawn, on August 16, following an alleged incident of blasphemy in the town of Jaranwala, a violent mob of hundreds ransacked and torched five churches, and attacked the homes of Christians and the office of the local assistant commissioner. According to the newspaper:
"As per police and local sources, the violence erupted after some locals alleged that several desecrated pages of the Holy Quran had been found near a house at Cinema Chowk in Jaranwala, where two Christian brothers resided.

"Rumors of the alleged act spread like wildfire across Jaranwala after those who had leveled the allegations approached different mosques, from where announcements were made to incite people to show their "reaction" to the incident....

"[T]he situation became more volatile when members of the Tehreek-e-Labbaik Pakistan (TLP) entered the fray, making public announcements from mosques and other places, riling up people to reach the site of the alleged incident. Soon, a mob gathered outside the house of the two men – who had evacuated by then – and set it on fire, sparking a spate of violent incidents."
The Pakistan Christian Post wrote:
"The extremist group Tehreek-e-Labbaik has posted a video depicting the recent destruction of Christian homes following an allegation of blasphemy, accompanied by threats to carry out acts of violence against those accused of blasphemy...

"What began as accusations against two Christian brothers has escalated into a devastating wave of violence, resulting in the destruction of over 20 churches and 500 homes. The situation remains tense as the community grapples with the aftermath of this unfortunate incident."
A Christian cemetery was also desecrated, residents and community leaders said, and the mob dragged belongings from Christians' houses, and set them on fire in the street. The attack lasted more than ten hours, without any police intervention.
According to Morning Star News:
"The rioting began after Muslim residents of Cinema Chowk in Jaranwala, Faisalabad District, accused Umar Saleeem, known as Rocky, of desecrating pages of the Koran and writing blasphemous comments.

"A relative said Rocky was leaving for work Wednesday morning when he saw a piece of paper with something written in red ink pasted on the door of a Muslim neighbor.

"'When he went closer to read it, he was shocked to see a photograph of him and his younger brother Umair, alias Raja, pasted on top of the page,' the relative told Morning Star News on the condition of anonymity. 'Beneath the page were some partially burnt pages of the Koran inscribed with derogatory remarks about Islam and Muhammad.'"
Instead of providing protective custody, a criminal case was filed against the two Christian brothers on August 16 , under Sections 295-B and 295-C of Pakistan's Penal Code. Both men were taken into custody on the next afternoon and handed to the Counter-Terrorism Department of Punjab for investigation. Section 295-B relates to desecration of the Koran and carries a punishment of life in prison. Section 295-C relates to insulting Muhammad and is punishable by death.
Tehreek-e-Labbaik Pakistan (TLP) is the fifth-largest political party in Pakistan. It was founded in 2015 by Khadim Hussain Rizvi. The party, capitalizing on Muslim sentiments of hostility towards non-Muslims, secured 3 out of 168 seats in the Provincial Assembly of Sindh in 2018.
After the Pakistani Supreme Court's 2018 acquittal of Asia Bibi, a Christian who was charged with blasphemy and kept in solitary confinement for eight years until TLP members held protests across Pakistan. Muhammad Afzal Qadri, a TLP co-founder, also called for the murder of the three Supreme Court justices involved in hearing Bibi's appeal, stating: "The Chief Justice and two others deserve to be killed."
According to a 2022 report by the Atlantic Council on yet another blasphemy accusation:
"Videos circulating on Twitter, Facebook, and other social media platforms showed a violent mob dragging a half-dead man on the streets of Sialkot, Pakistan on December 1, 2021. Young men were throwing stones at him and kicking his body as he was dragged mercilessly by those who called themselves the "protectors" of the sanctity of the Prophethood.

"The videos go on to show ghastly scenes of the mob burning a corpse as dozens of men not only look on, but use their cell phones to take selfies and memorialize their role in a lynching...

"The victim's name was Priyantha Kumara Diyawadana, a 48-year-old manager at a factory in Sialkot. His alleged crime: desecrating posters featuring the name of the Prophet Muhammad.

"On the surface, this lynching may seem like an isolated, extremist reaction to what allegedly happened inside a factory, and while officials have not so far named any organized group for instigating the mob, the slogans chanted at the crime scene point the finger at a sectarian politico-religious party: Tehreek-e-Labbaik Pakistan, better known as the TLP."
Many in the Muslim population as well as in Pakistan's establishment, seem never to pass up a chance to file blasphemy charges against vulnerable Christians.
On July 8, 2023, police arrested a 35-year-old Christian for allegedly sharing a post on Facebook, although "Even the imam of the village mosque told them that the post contained nothing derogatory against Islam, and that they should desist from stoking religious tension."
Nevertheless, the police arrested Zaki Masih under Sections 295-A and 298 of the Pakistan Penal Code. Section 295-A pertains to "Deliberate and malicious acts intended to outrage religious feelings of any class by insulting its religion or religious beliefs," punishable by up to 10 years in prison, a fine, or both. Section 298 relates to the "uttering of any word or making any sound or making any gesture or placing of any object in the sight with the deliberate intention of wounding the religious feelings of any person," punishable by one year of imprisonment, a fine, or both, respectively.
There has been an outcry against Pakistan's blasphemy laws by international human rights organizations for a long time. The Geneva based International Commission of Jurists, in a 2015 report, wrote:
"The International Commission of Jurists (ICJ) opposes the criminalization of the exercise of the rights to freedom of expression and religion or belief in Pakistan in the shape of the blasphemy laws and considers them a flagrant violation of Pakistan's international human rights obligations, including its obligations to respect the rights to freedom of thought, conscience and religion; freedom of expression; and equal treatment before the law. Furthermore, the retention of the mandatory death sentence as a penalty upon conviction for a crime, including under 295-C of the Penal Code, violates Pakistan's obligations under the International Covenant on Civil and Political Rights (ICCPR), including to respect the rights to life, to a fair trial, and to prohibit torture and other cruel, inhuman or degrading treatment or punishment."
David Griffiths, Director of the Office of the Secretary General of Amnesty International, said in 2020:
"Pakistani authorities need no more evidence to see how dangerous the blasphemy laws are – they are abused to make false accusations that can, and have, led to unlawful killings and even whole communities being attacked and their homes burnt."
In 2021, a group of United Nations Special Rapporteurs for human rights -- Ahmed Shaheed, Irene Khan, Fernand de Varennes and Tlaleng Mofokeng -- said that "they were concerned by the continued persecution and acts of violence perpetrated by State and non-state actors in Pakistan, fuelled by claims of apostasy and blasphemy, often targeting religious or belief minorities," adding:
"We urge the Government of Pakistan to comply with its international human rights obligations, including with regard to freedom of expression, religion or belief, as well as with regard to the rights of persons who belong to minorities, to repeal all its anti-blasphemy and anti-apostasy legislation and to take measures to combat advocacy of religious hatred that constitutes incitement to discrimination and violence."
No changes in the situation have yet been observed.
Mohshin Habib, a Bangladeshi author, columnist and journalist, is Executive Editor of The Daily Asian Age.