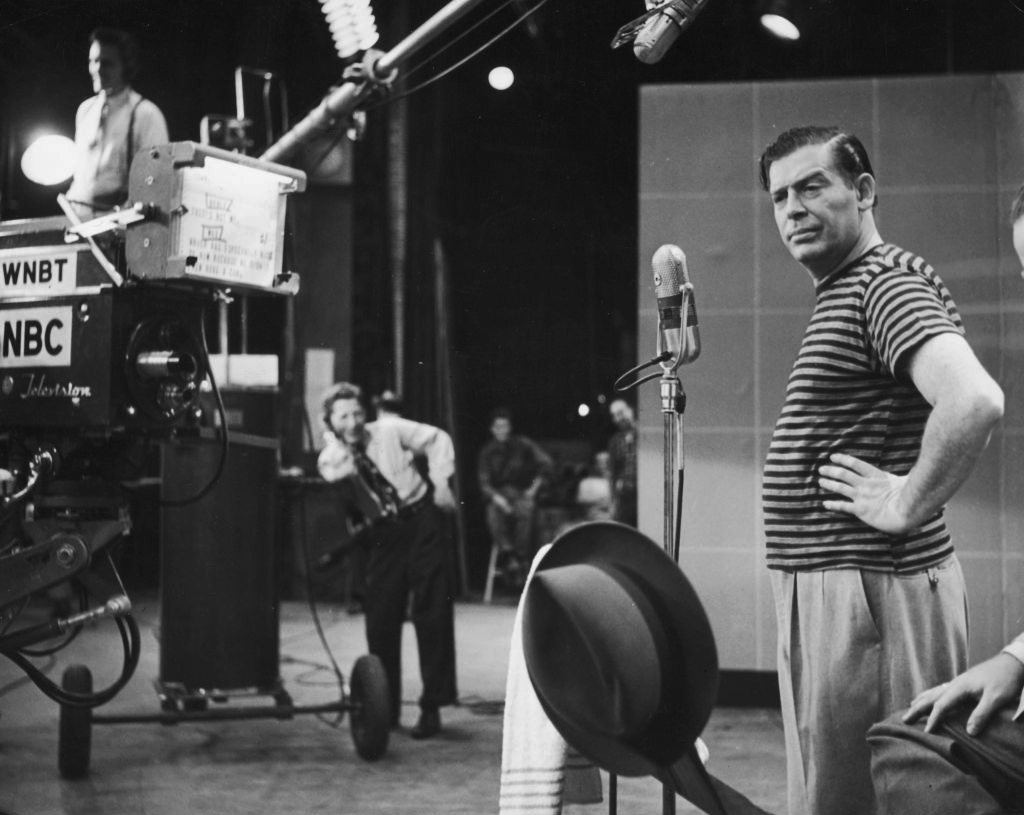 From the dominance of streaming video to the retreat of AM radio, this is an era that is witnessing a dramatic revolution in how, where, and when we get our news and entertainment.
Yet today's events are nothing compared to what an earlier generation of Americans experienced in the years immediately after World War II.
It was television that transformed our nation literally overnight and while the technology was amazing for its day, it was an array of performers who sold these early, expensive, and finicky TV sets to the American public.
The public got a glimpse of television during the 1939 World's Fair in New York but it was a vibrant, confident post-war America that welcomed the flickering images of this emerging giant into their homes. For those families who had the money to afford a set, they found themselves quite popular as distant family, friends, and neighbors who didn't have the cash for a set would invite themselves over for programs that featured the likes of Eddie Cantor, Jack Benny, Dagmar, Sid Caesar, and others.
If we wish, however, to point to the one individual who made the sale of television sets a national success, it was Milton Berle. He was host of NBC's Texaco Star Theatre between 1948 and 1953, and is considered the first major television star. With his slapstick comedy and entourage of sidekicks, he was known to millions of viewers as "Uncle Miltie." Television sales more than doubled nationwide after his show began to air. At one point it was estimated he captured more than 90% of the nation's television audience.
There are names equally important to the television industry but that have faded over time. Among them is Dr. Allan B. DuMont, who created a company that included the manufacturing of DuMont television sets along with the creation of an upstart network that broadcast Jackie Gleason's Cavalcade of Stars, Ted Mack's The Original Amateur Hour, The Morey Amsterdam Show, Captain Video and His Video Rangers, The Arthur Murray Party and The Ernie Kovacs Show, among others.
Discerning television set consumers also looked to the DuMont brand because they knew the wooden cabinets that housed the tubes and wires were well made, the audio was superior to his competitors' and he had invested serious money into pioneering other technical advances that made them more reliable.
The DuMont network, unable to keep up with the mega networks, NBC and CBS, disappeared in 1956. Others would take its place, such as Metromedia and Fox, but they would never match DuMont's innovation and commitment to the consumer.
For nostalgia fans, the echoes from that era still ring out, reminding us of a time when families would gather around a box with a small, flickering, black and white image. They would share an experience that might feature "The Mad Russian," a character played by Bert Gordon on Eddie Cantor's radio show, who would announce in an exaggerated accent "How doooo yooooou dooooo?" For the rest of the week his comedic delivery would be repeated by millions of Americans at work and at home, one more shared, common bond among those who had been introduced to the magic, mystery and promise of television. As we watch families look at their smart phones over dinner, indifferent to the presence of others, we realize just how much of that shared experience we have lost. Uncle Miltie would have probably agreed that we are the poorer for it.
Lawrence Kadish serves on the Board of Governors of Gatestone Institute.