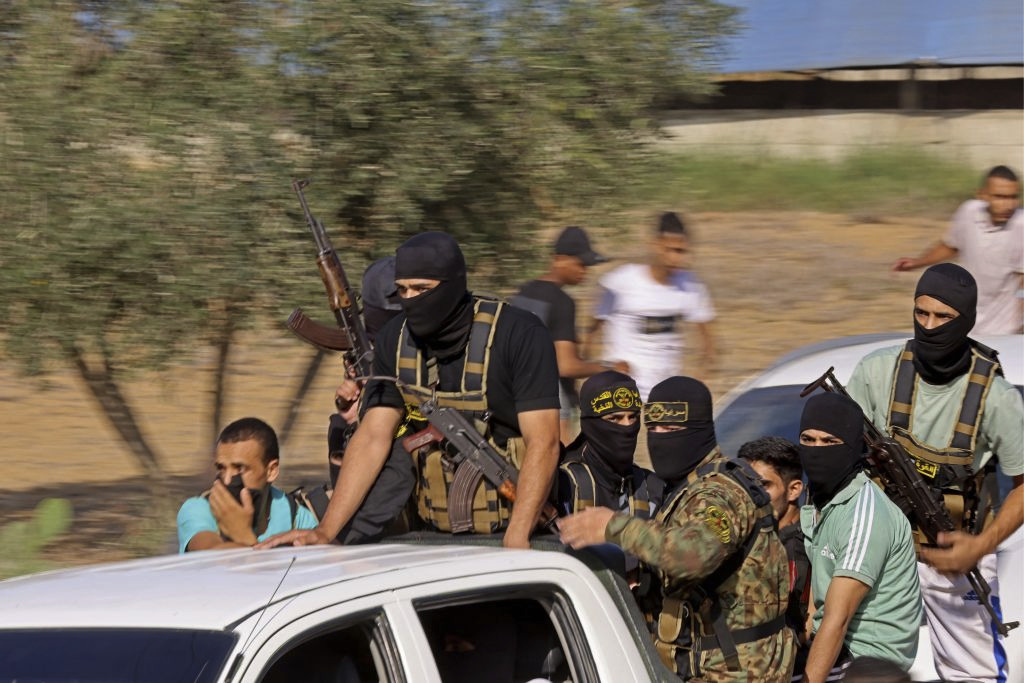 The Biden Administration has been pressuring Israel to agree to "humanitarian pauses" in the war against the Iran-backed Hamas terrorist group, whose members carried out the October 7 massacre in which 1,200 Israelis were murdered and thousands more wounded. Hamas has also kidnapped more than 240 Israelis into the Gaza Strip, including toddlers, women and the elderly.
By calling for "humanitarian pauses" in the war, the Biden Administration is throwing a lifeline to Hamas. A pause or a ceasefire would allow Hamas to regroup and prepare new attacks against Israelis.
On November 4, however, US Secretary of State Antony Blinken, to his credit and that of the Biden administration, rebuffed calls for a ceasefire, as "such a halt right now would only allow Palestinian militant group Hamas to regroup and attack Israel again." The next day, however, Blinken continued his calls for "humanitarian pauses" -- which Hamas would also use to prepare new attacks. As far as Hamas is concerned, any pause or ceasefire is a lifeline to help it attack.
"There was a ceasefire. It was before October 7," the new speaker of the US House of Representatives Mike Johnson stated, "and Hamas broke it."
David Friedman , former US Ambassador to Israel, noted recently on Fox News that the shooting is not continuous, and that Israel is enabling the supply of humanitarian aid to southern Gaza all the time. He reported that in northern Gaza, Hamas had set up a large screen to present a film of Hamas's "greatest hits" last week to approximately 1,000 Gazans who turned out -- so evidently there is sufficient electricity.
On November 4, Hamas took advantage of a humanitarian window of opportunity that Israel gave to the residents of the Gaza Strip and carried out attacks with mortar fire and anti-tank missiles against Israelis. "While the IDF [Israel Defense Forces] were opening a humanitarian axis for the movement of Gaza residents to the south [of the Gaza Strip], terrorists from the terrorist organization Hamas attacked the forces involved in opening it," the IDF said.
The leaders of Hamas, who are hiding inside a network of tunnels, evidently care nothing for the well-being or safety of the Palestinians in the Gaza Strip. Hamas has placed its military bases, rocket launchers, munitions storage and command posts inside, under or near civilian infrastructure, such as schools, hospitals, children's playgrounds, homes and mosques.
Hamas has also prevented civilians from fleeing to safe zones in the southern Gaza Strip. Hamas snipers have reportedly killed dozens of children and women attempting to travel there. This is all after Israel's repeated warnings to Gazans to go to the south of the Gaza Strip through safe corridors.
In the past week, Hamas used a "humanitarian pause" that Israel implemented under US pressure to attempt to smuggle wounded terrorists into Egypt under the guise of an evacuation of injured civilians. Hamas's lies and deceit are consistent. A senior US official revealed that Hamas tried to sneak some of its members out of the Gaza Strip in ambulances through the Rafah border crossing with Egypt.
A "humanitarian pause" would also mean supplying hundreds of thousands of gallons of fuel to Hamas's generators, which are used to provide clean air and electricity to its network of underground tunnels built, according to Hamas official Mousa Abu Marzouk, for the use of Hamas terrorists, not for civilians. According to US officials, Hamas already maintains a stockpile of more than 200,000 gallons of fuel for its tunnels. Last week, the IDF released an audio recording of a call between a Hamas commander and the director of the Indonesian Hospital in the Gaza Strip, during which the commander said that Hamas is taking fuel from the hospital's stock.
The Biden administration should be denouncing Hamas for forcing Palestinians -- about whom it cares so deeply that it shoots at them to prevent them from fleeing to safety -- to die as human shields in its genocidal war to slaughter Israelis and destroy Israel.
The Biden administration should also continue to call, as it has been doing, for the immediate and unconditional release of all the hostages held by Hamas. Moreover, the Biden administration might also call on Palestinians in the Gaza Strip to rise up against the terrorist group Hamas that is effectively holding two million Palestinians as hostages.
The Israeli victims of Hamas's October 7 massacre were not given a chance to flee through a safe corridor. No one called on Hamas to accept a "humanitarian pause" as its terrorists were committing atrocities against Israelis that day in cities and towns near the Gaza Strip. The terrorists invaded Israel for one purpose: to murder, rape and behead as many Jews as possible.
Did Hamas take a "humanitarian pause" before they slaughtered hundreds of Israelis at a music festival? Did Hamas "pause" before they raped women? Did Hamas "pause" before they beheaded, dismembered and baked infants in ovens?
International human rights lawyer Arsen Ostrovsky asked:
"Just out of curiosity, did Hamas have a 'humanitarian pause' when they came into our homes and murdered our children, decapitated babies, raped women, burnt entire families alive and took over 240 people, including infants and elderly, hostage?"
How come the US did not consider a "humanitarian pause" during its war on Al-Qaeda and Islamic State (ISIS)? Why was the US permitted to wage a relentless war on Al-Qaeda and ISIS terrorists, while Israel is being asked to provide humanitarian aid and fuel to the same group responsible for the worst massacre of Jews since the Holocaust? What are the chances that the humanitarian aid and fuel will actually go to Gaza's civilians -- about whom Hamas's leaders care so much that they are forcing them to die as human shields -- rather than to the leaders of Hamas for their cohorts?
Any cessation of the war on Hamas, even if temporary, would be considered a victory for the terrorist group and its supporters. Hamas and its patrons in Iran would be delighted to see a ceasefire in the Gaza Strip so that they can say that international pressure forced Israel to halt its war. Any "humanitarian pause" should start only after all the hostages have been released and all Hamas terrorists have either surrendered or been killed.
Bassam Tawil is a Muslim Arab based in the Middle East.