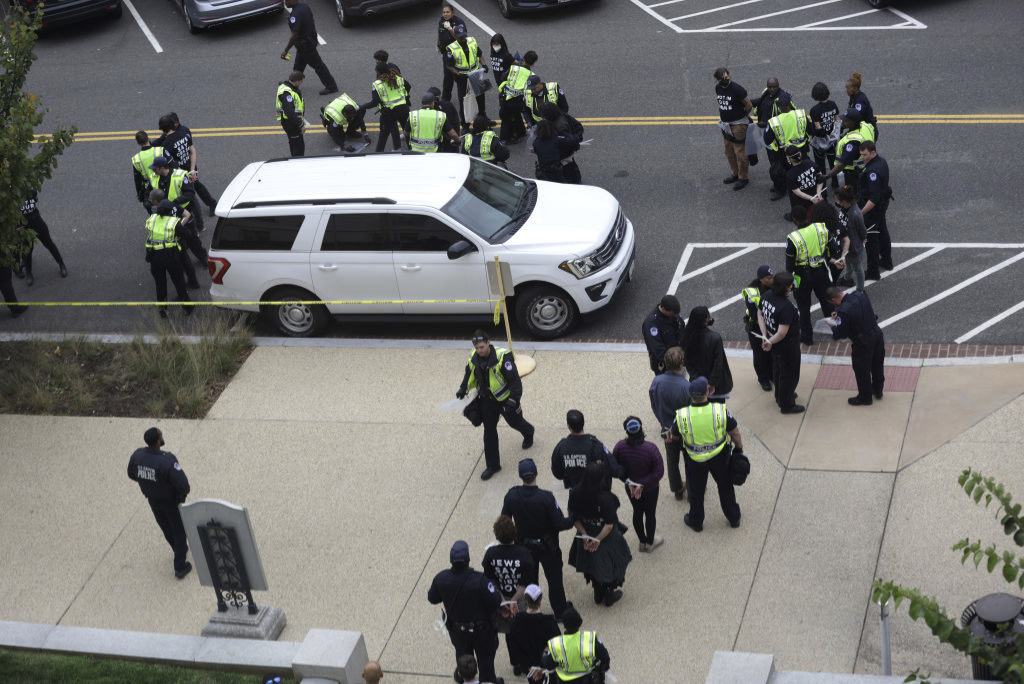 On October 18, pro-terrorist insurrectionists stormed the United States Capitol after a hate rally by two anti-Israel groups: IfNotNow and Jewish Voice for Peace (JVP). Both hate groups had issued statements that either justified or rationalized the Hamas atrocities against Israelis.
IfNotNow's statement after the Hamas rapes, killings and kidnappings argued that, "we cannot and will not say today's actions by Palestinian militants are unprovoked. Every day under Israel's apartheid system is a provocation." Jewish Voice for Peace described the Hamas attacks as an incident in which "Palestinian fighters from Gaza launched an unprecedented assault" in response to Israeli "oppression" which is the real "source of all this violence".
The pro-Hamas insurrectionists rallying for a "ceasefire" that would allow Hamas to attack again had come knowing that their actions were illegal, and over 400 of them had intended to be arrested. Over 300 eventually were arrested for their insurrection in the rotunda of the Capitol's Cannon House Office Building. Three of the extremists were taken into custody for assaulting police officers.
IfNotNow has a long history of getting its activists arrested to support terrorists and JVP has previously promoted events featuring terrorists. Those arrested included key organization figures like Alissa Wise, a top JVP official who has supported terrorists and engaged in sustained harassment of Jewish people over their support for Israel.
The Capitol Insurrection was one of a number of illegal rallies held by these hate groups, including an attempt to take over New York's Grand Central Station on the Sabbath, which also led to multiple arrests. Participants included May Ye, a Chinese-American activist from Maine who claimed that she "became a rabbi to be a Jewish voice for Palestinian liberation".
Both groups, like much of the pro-terror network, have benefited heavily from Soros funding.
The If Not Now Education Fund, the 501(c)(3) tax-exempt nonprofit arm of the 501(c)(4) extremist organization, received two sets of two-year grants from the Soros Open Society Foundations (OSF) totaling $400,000 beginning in 2019 and running until 2023. JVP has taken in $650,000 from OSF with multi-year grants beginning in 2017 and running through 2023. Like IfNotNow, JVP is a 501(c)(4) and has a 501(c)(3) arm. Both have benefited from recent Soros grants.
The illegal pro-terrorist activities of both JVP and IfNotNow, as well as many other groups in the anti-Israel network, reflects the refusal of the IRS to enforce the tax code against the Left.
The IRS had previously found that the tax code bans funding of anti-war groups or any organization whose "primary activity is the sponsoring of... protest demonstrations in which demonstrators are urged to commit violations of local ordinances and breaches of public order."
Such organizations don't "qualify for exemption under section 501(c)(3) or (4) of the Code."
IfNotNow and JVP are one of many leftist organizations and other anti-Israel protest groups whose very existence is a violation of IRS regulations. But above and beyond the tax code, Soros is knowingly funding riots and illegal activities by hate groups with a long history of such activities.
On Manhattan's Fifth Avenue, anti-Israel protesters were arrested for blocking traffic at an event co-sponsored by Adalah, a BDS group which helped produce the Black Lives Matter (BLM) platform calling for a boycott of Israel, and has received $1.5 million from Soros, as well as from JVP and IfNotNow.
In Bay Ridge, Brooklyn, Hamas supporters gathered for a "Flood Brooklyn for Palestine" hate rally whose name echoed "Al Aqsa Flood": the Hamas name for its October 7 butchery in Israel. Nineteen rioters were arrested after NYPD officers were assaulted and hit with fireworks and bottles by the hate filled mob. Participating groups included Linda Sarsour's Arab American Association of New York, which received $60,000 from the Soros network, as well as Samidoun: a terrorist front group banned by Israel and Germany, whose fiscal sponsor, the Alliance for Global Justice (AFGJ), received $250,000 from Soros in 2020. (This money may have been intended for AFGJ's BLM groups.)
The Ford Foundation and other major leftist donors have stated that they will no longer fund Samidoun, after the terror front group handed out candy to celebrate Hamas atrocities, but the Soros network has offered no such promise of ending its funding of the extremist sponsor.
At another "Flood Brooklyn for Palestine" rally targeting the vicinity of the Crown Heights community, home to the largest group of Jewish Chabad Lubavitch Chassidim in the world, participants celebrated the Hamas attack and called for the destruction of Israel. Members of the hateful mob vandalized police cars and local businesses and then proceeded to hijack the Brooklyn Bridge. Terrorist supporters marching on Lower Manhattan carried a large black and white banner reading, "Honor the Martyrs" referring to the dead Islamic terrorists.
That rally was called by Within Our Lifetime, along with other Islamic groups, whose chair, Nerdeen Kiswani was defended and "proudly supported" for her hateful activities by Palestine Legal, which received $25,000 from the Soros network.
The support for pro-Hamas groups is not surprising. George Soros has a history of defending Hamas. "America and Israel must open the door to Hamas," he urged in a 2007 editorial after the group first came to power in Gaza, while claiming that Hamas had a "more moderate political wing".
"Neither Hamas nor Hezbollah can be treated merely as targets in the war on terror because both have deep roots in their societies," he argued in an earlier editorial. And in another editorial, he complained that pro-Israel activists were "abetting" Israel's "insistence on treating Hamas only as a terrorist organization."
While Soros was editorializing for Hamas, Robert Malley, the son of an adviser to the PLO's Yasser Arafat, was conducting backchannel talks with Hamas as a director at Soros's International Crisis Group. The revelation of the Hamas link forced the Obama campaign to temporarily drop Malley, who later returned as Obama and Biden's Iran "nuclear deal" negotiator. (Malley is currently under investigation by the FBI for mishandling classified information.)
Malley, who served as the CEO of the Soros group before joining the Biden administration's Iran effort, had argued that it's a mistake to think of Hamas only "in terms of their terrorist violence dimension" and claimed that "there's so much misinformation about them".
The real mistake may be thinking that it's a coincidence that George Soros has funded hate groups rallying for Hamas and against Israel, after defending Hamas in the past.
The Hamas insurrection in the streets of our major cities has been fueled by money from major leftist donors, including Soros. The funding of organizations engaged in illegal activities is a violation of both the tax code and the law. The failure to hold accountable the funders of radical domestic terrorism, whether by BLM or Hamas supporters, has led to violence in the streets.
The Soros insurrection must be defunded and the entire network of organizations, including the billionaire Nazi collaborator behind it, must be held responsible for its illegal activities. If the IRS will not do its job and enforce the tax code against nonprofits engaged in illegal activities, Congress must move to close the loopholes and end the nonprofit status of groups engaged in violence, crimes and support for terrorist organizations. Taxpayers should not be funding terrorism, and tax-exempt organizations cannot engage in illegal activities and back terrorists.
Soros has spent much of his life organizing the destruction of the nation by funding a vast network of extremist groups. And he is not alone. Billionaire donors and foundations have brought the country and the world to a series of crises by taking fringe organizations and causes, and injecting enough money into them that they appeared to be mainstream.
Congress can deal a serious blow to the empire of extremists by reforming the tax code and closing the "terror loophole" that enabled the ugly displays of hatred in New York City and across America. If BLM wasn't enough of a wake-up call, the Islamic terrorist rallies within miles of Ground Zero ought to be. It's time for Congress to defund the Soros Hamas insurrection.
Daniel Greenfield is a Shillman Journalism Fellow at the David Horowitz Freedom Center. This article previously appeared at the Center's Front Page Magazine.