This fall, two Iraqi experts travelled to the U.S. to study the archival material of Iraq's former Jewish community, in order to prepare measures of conserving it so that they can take care of the archive when it is returned to Iraq. At present, work is progressing rapidly in the branch archives in College Park by a team of experts with high-tech equipment for cleaning and restoration and digitization of records and documents.
It is strange that there is much talk today about sending the Jewish archives next year to the Iraqi Department of Antiquities in Baghdad, although it is not clear where it is to be kept or exhibited.
The question is: How can the archives be sent back to Iraq without real guarantees for its preservation, maintenance and access, particularly as the government claims it has multiples of that volume in Iraq? If so, why does the government not fully conserve and maintain the already existing volumes and then place them in museums and exhibit them so they can be of use?
The other question is: Where are the rights of the Jews of Iraq today? If the Iraqi government acknowledges their great history, it should return to them their citizenship, first and foremost. In the First Interfaith Conference convened in Suleimania last year this author demanded that they be given their parliamentary seats, just like other religions, then have returned to them all property and assets unjustly and wrongfully plundered, and be compensated for the great losses they suffered. How can the archive be returned without its true owners? Such a act is unreasonable and unacceptable.
The Iraqi Jewish archive includes a large number of valuables, pictures and documents of the Jews of Iraq. The archive was kept by the previous regime in terrible conditions, partially immersed in water and exposed to damage. It was discovered by U.S. forces accidentally while searching for weapons of mass destruction. The archive was found in a flooded basement cellar and managed to be collected and dispatched to the National Archives in the United States for restoration, maintenance and preservation.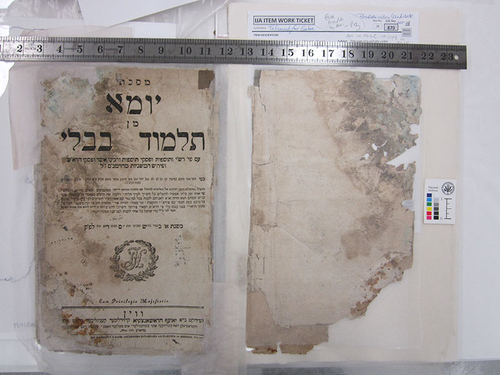 A volume of the Babylonian Talmud, printed in Vienna in 1793. The book is from the Iraq Jewish archive, and is pictured undergoing restoration at the U.S. National Archives. (Image source: U.S. National Archives)
The Jews of Iraq, almost all of whom either fled the country or were killed, contend that the archive should not be sent to Baghdad, and are demanding that the U.S. authorities not to hand over the documents to the Iraqi government.
Today there remain in Iraq only seven Jews, according to the New York Times, whereas they once made up a third of the population of Baghdad, according to Mir Basri in his book about the Jews of Iraq, in which which wrote about more than 100 individuals who contributed to building modern Iraq.
If there are still many Iraqis who regard Jews -- and now Christians who are being massacred -- as less than human, why should they regard their archives as worth more?
The truth is that the Holy Quran considers the Jews as people of the book, and Moses is their prophet to whom God gave the Torah. There are dozens of verses that favor them in the Quran, such as the verse "we gave the people of Israel the book, the wisdom, the prophecy and provided them with sustenance and exalted them among the nations of the world". And the Quran described the Torah as light and guidance from Allah. Many of the shrines of Jewish prophets are still in Iraq, such as that of the Prophet Nahum, in the village of Alqosh near Mosul; the Prophet Heskel [Ezekiel] in the village of Kifl near Hilla; Ezra in Qurna where the two rivers meet; Joshua in Al-Karkh in Baghdad; Daniel in Kirkuk close to the castle; Ezair in Basra in an area called by his name; as well as countless other personalities and scholars.
These people should be honored, celebrated and glorified as they live on in the hearts and minds of the honorable and the faithful. History underlines their achievements in letters of gold immortal through the ages.
At meeting was convened in London by a large number of Iraqi Jews, there were demands that their archives be kept outside Iraq; they include an important part of their heritage, their history, their life and their personalities. Already, one man has claimed that some of these documents refer to him personally, and as such he is the sole owner and that they have been seized from him unjustly and wrongfully. According to Dr. Harold Rhode, the archives -- which are scheduled to be returned to the Iraqi government in June -- are stolen property to begin with; sending them to back Iraq would be like sending back to Germany property stolen from the Jews by the Nazis.
At the meeting, Edwin Shuker spoke of the archive and its importance, displaying a number of documents transferred from Iraq to America in 2003. They had been found in the underground cellar of the Iraqi Intelligence Center, immersed in water and about to disintegrate save for the last-minute efforts of the U.S. Army.
One of the most important items displayed by Shuker was his own school certificate that he said is part of his history, his life, his core relationship and his love for Baghdad, where he recalls his little house in the Batawin area.
The archive contains many such personal documents, for example, a photograph of Farah Sheena, aged thirteen, a young girl with dark hair, taken during her studies at the intermediate school in Baghdad, where she was an elite student. According to her brother, Sami Sheena, Farah died of cancer in England in 1968, at the age of 29, leaving behind a husband and two small children.
Doris Hamburg, Director of Programs for the Preservation of Archives, said that the record of Farah Sheena was one among nearly 2,700 books and tens of thousands of documents retrieved from the destroyed cellar of the secret police in Baghdad.
Also discovered was a 400 year-old Hebrew Bible, a 200-year-old Talmud originally from Vienna; and a small Passover Haggadah, kept by the former Iraqi regime but stored in a despicable state, exposed to damage and flooding. There was also a French prayer book dating back to 1930, and a collection of beautifully printed speeches by a Rabbi in Germany from the year 1692. There are also folders filled with school records of students from 1920 to 1975.
Most of the Jews were forced out of Iraq by means of the farhud [seizing of property, pogrom] murder, imprisonment and withdrawal of citizenship, leaving behind traces of a rich history dating back 2,500 years. The archive shows clearly that the Jews were immensely distinguished in various political, social and economic fields.
There is no doubt that Iraq owes a lot to the Jews of Iraq in terms of its history, development and prosperity. In contemporary history, to name a few, Sir Sasson Heskel, one of the best 20th century finance ministers of the Middle East, and the first finance minister who served Iraq with distinction. Among other accomplishments, he negotiated with Great Britain for oil revenue payments be made in gold instead of paper currency — a far-sighted request since soon after, the currency depreciated and gold climbed to considerable heights. He was bitterly mourned by many; the poet Ma'rouf Al- Risaffi said: "Do not say he died/ But that fine men lost a star/ We lost in a darkly night /The master of Parliament when he speaks."
As to banks and banking, the Jews in Iraq were peerless. There was the Bank Zilkha, Bank Credit, Bank Aboody and Eastern Bank, with many branches throughout the Middle East, India and beyond. More than half of the 18 members of the Baghdad Chamber of Commerce were Jews. It was only thanks to their consummate professionalism that Iraq was not adversely affected during both world wars.
The first neurologist in Iraq was Jack Abood, who studied in Baghdad and London, and undertook the establishment and management of the first mental hospital and treated his patients proficiently with dedication and meticulous care. Daoud Gabbay treated poor patients in Amara and Baghdad, providing free medication, and had long queues of people in front of his surgery. Women wiped their shoes in front of his surgery as they do when visiting holy places as a sign of respect and belief in his great ability to heal the sick. Many used to visit him in the middle of the night, but he never tired of treating them with all the love and care.
Seeking to to modernize and not embarrass, the Alliance School was the highest educational establishment; Laura Khadoori opened the first school for girls in Iraq. The first shelter for Muslim orphans was instituted by Menahem Daniel from his own private income; today it has been transformed into a theatre club, to hide the features of the Jews in Iraq and their services.
The first Iraqi civilian pilot was Selim Sasson Saleh Daniel who studied aviation in Britain, bought a small plane, came to Baghdad in the early 1930s, and was later appointed an officer in the Directorate of Civil Aviation.
The first brick house built in Baghdad, the house of Shamash, was demolished to build Hotel Babylon. While other people maintain historic landmarks, we erase our historical memory.
A petition was written to the U.S. Administration; it was signed by many attendees, appealing to the Administration not to return the archives to Iraq, as they constituted a natural right of Iraqi Jews after all the tribulations, tragedies, displacement and suffering that they had endured. This intervention represents a call for preserving this history and its glories, as well as striving to restore usurped rights for a community with a brilliant 3000 year history that has exceeded the Muslims and Christians.
A great history of three thousand years cannot be erased by fifty years of suffering, distress and displacement, and will remain immortal written in letters of gold -- good people of various religions and sects coexisted together and intermarried and lived with affection, integration, harmony and peace.
The place of the United States is to save a heritage, not to be complicit in destroying it.