Shahrokh Zamani, sentenced to 11 years in prison on charges of "spreading propaganda" and "participating in illegal organizations" for attempting to build a Trade Union for him and his fellow painters, is presently serving his time in Rajai-Shahr prison, known for its devastating conditions and inhumane treatment of prisoners.
In October of 2013, without notice, the prison authorities decided to add six months to Mr. Zamani's existing sentence for the vague charge of "insulting the Supreme Leader-Ali Khamenei." As courts of the Islamic Republic largely ignore international legal standards, judges, mainly Islamic clergy with no training in law, do as they please, including arbitrarily extending prison sentences for perceived infractions, presumably just to punish a prisoner further. Mr. Zamani was most likely disciplined for contacting international human rights organizations and reporting the grotesque human rights abuses inside Iran's prisons.
In October 2012, Mr. Zamani wrote such a letter to Mr. Ahmad Shaheed, the UN Special Rapporteur for human rights in Iran. The following is an excerpt from that letter:
My name is Shahrokh Zamani, and I am a member of Painters' Worker Union of Tehran. On June 5, 2011, in Tabriz to visit my parents, I was unlawfully arrested by the agents of the Ministry of Intelligence without any charges, evidence or documents. After forty days of both psychological and physical forms of harsh tortures, I was taken to the central prison of Tabriz. In those 40 days of my unlawful and illegal detention I was on a hunger strike to protest my situation. I lost 27 kg [59.5 lbs] but never gave a confession. Despite there being not a shred of evidence against me, or my interrogators never having gotten one line of a confession out of me, the First Branch of Revolutionary Court of Tabriz accused me of " spreading propaganda against the regime and forming Socialist groups," a charge that carries a mandatory prison sentence of 11 years. When I asked the judge what was the evidence against me and why he was justified in giving me such a long sentence, he replied, "Who do you think I am, Sir? I am just a small link in the chain of this system."
More recently, on February 15, 2014, Zamani and his cellmate Rasoul Badeghi were transferred to solitary confinement for two days in Rajai-Shahr prison. From there Zamani wrote the following letter as obtained by the International Committee Against Execution (ICAE):
"My cellmate and I, Mr. Rasoul Badeghi [a labor activist], were sent to solitary for objecting to the crushing treatment by prison authorities and other restrictions forced upon political prisoners. The authorities kept me in solitary for only a few days, but instead, I would gladly exchange those days in the dungeons of hell for months in solitary in any other prison.

Four days ago, on February 18, 2014, in a solitary cell in Ward 5 of the prison, I was busy feeling sorry for myself -- thinking of all the abuses and oppression to which I have been subjected and the unimaginable circumstances forced on me -- when the voice of a guard, startled me; saying I was being moved to a new cell.

I gathered all my belongings, which were two blankets, and followed him. In the corridor I saw eight young men; their eyes showed the sparkle of youth combined with a wave of panic -- absolute terror mixed with hope, hatred, love, and despair.

They looked as if they were trying somehow to connect their past, present and future to this one horrifying moment. "Why were these boys brought to solitary?" I asked the guard. "For 'carrying out their sentence,'" he said. "You mean you are going to hang these boys?" I said. "Yes" he said. "That is what we have been doing for the last couple of days now…they are bringing more people for hangings tomorrow. We had to turn away people for hangings the other day due to lack of holding space. There are 40 people waiting to be hanged by the end of the month -- in the next two days…They are on the waiting list."

What is this curse that has befallen us in Iran? What kind of slaughterhouse lines up young men for hangings? How much more blood does this regime need in order to simply stay in power -- with its increased wave of executions behind closed doors?

Next, I was awakened by lots of noise, slamming cell doors, sobs, hysterics, begging, and moans of the young men. I desperately waited for news that the young men were somehow spared. They were being sacrificed so their government could remain in power. You felt as if you had died hours ago, too, many times, with the noose around your neck. You even started to feel suffocated, as if you, too, were being pulled up by the noose.

Then you can hear other people, maybe the families or onlookers. Why, instead of these men's families, couldn't one have brought the families of the authorities -- Ayatollah Larijani [Head of Judiciary of the Islamic Republic] and others in power -- to this prison to make them watch these murders. Tell them to watch this butchery, these factories, that they, or their families, have created for killing young people.

In Iran, they hang innocent young people in groups in front of their families. This regime has sustained itself only by killing; to survive, it must continue killing. To stay in power, the Islamic Republic is killing so many people in one day that they have run out of space for them? My God! If you do not object to all these killings, you, too, are responsible; you, too, have blood on your hands.

Under a so-called "moderate" President, Hassan Rouhani, with his fictitious "Islamic Human Rights," these atrocities have not only continued, but have increased aggressively. Is it not true that no matter what these people have done, the Islamic Republic's very nature, its laws, rules and regulations, are also somehow responsible? Who among you is making a living from these killings? Who among you is helping this bloodshed grow?

Shahrokh Zamani, February 2014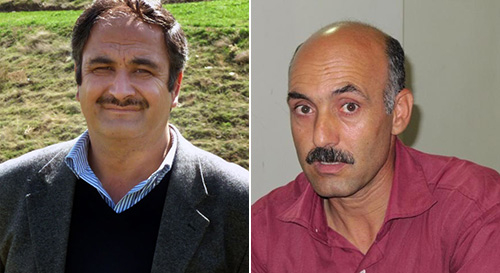 Shahrokh Zamani (left) and Rasoul Badeghi.
Update: According to HRANA News Agency's February 25, 2014 report; prison authorities are seeking new charges against Mr. Zamani and Mr. Badeghi for causing a prison riot and clashes with guards. Both are calling these new charges falsified and are denying them. When they were transferred to solitary confinement, eight prisoners started a hunger strike in support.