Palestinian Authority [PA] President Mahmoud Abbas is being roundly condemned by Palestinians for speaking out against the abduction of three Israeli youths in the West Bank.
The attacks on Abbas are not only coming from Hamas and other radical groups, but also from within his own Fatah faction, where some senior officials are saying the time has come for the 80-year-old leader to retire.
The campaign against Abbas raises a big question about the prospects of achieving peace between Israel and the Palestinians.
If Abbas is now being condemned as a "traitor" for opposing the abduction of the three youths and ordering his security forces to assist in the efforts to locate them, what would have happened to him had he signed a peace agreement with Israel?
That is perhaps the main reason Abbas was unable to continue with the U.S.-sponsored peace talks with Israel, which ended in late April.
Abbas knows that any agreement he signs with Israel will still leave a majority of Palestinians unsatisfied. Even worse, he is aware that his people would accuse him of making unacceptable concessions if he were to reach a peace agreement with Israel.
As one of Abbas's senior aides explained this week, "President Abbas does not want to go down in history as a traitor."
Abbas's predecessor, Yasser Arafat, faced the same dilemma at the botched Camp David summit in 2000. Arafat, who walked out of the summit even though he had received a generous offer from Israel's then-Prime Minister Ehud Barak, was reputed to have said, "Do you want see me up there having tea with [assassinated Egyptian President Anwar] Sadat?"
The onslaught against Abbas reached its peak earlier this week when he declared, in a speech before the Organisation of Islamic Cooperation in Jeddah, his opposition to the kidnapping of the three youths.
"They are human beings and we care about the lives of human beings," Abbas said, referring to the three abductees. The Palestinian Authority security forces, he added, were working with Israel to help find the three Israelis.
Almost immediately after Abbas made his remarks, Palestinians representing various groups, including his own Fatah faction, used Facebook to launch an unprecedented attack on him, with many condemning him and calling for his removal from power.
Hamas, the first Palestinian group to lash out at Abbas, said that his remarks "violate" the reconciliation accord that was signed with Fatah in late April. Hamas spokesman Sami Abu Zuhri said that Abbas's remarks came as a "shock" to Palestinians, who consider security cooperation with Israel a "national crime."
Palestinians say that the kidnapping of the Israeli youths and Abbas's subsequent condemnation has ended the short-lived honeymoon between Fatah and Hamas. The two parties, which are supposed to be partners in the Palestinian unity government, are once again attacking and threatening each other.
But the reactions of Fatah leaders to Abbas's remarks carry more weight than Hamas's criticism.
Samir Mashharawi, a senior Fatah operative, launched a scathing attack on Abbas, dubbing him a "traitor." In an article entitled, "Mahmoud Abbas and the Ideology of Treason," Mashharawi wrote: "For Abbas, treason has become an ideology and not just a perspective. He is even proud of this ideology."
Another senior Fatah official, Mohamed Dahlan, accused Abbas of "subservience" and abandoning his people in the midst of the battle.
Both Mashharawi and Dahlan have been expelled from Fatah at the request of Abbas. But the two, along with other Fatah officials who were also expelled by Abbas, continue to enjoy widespread support among Fatah loyalists, especially in the Gaza Strip.
Another senior Fatah official, Jibril Rajoub, who regards himself as a successor to Abbas, decided to take advantage of the anti-Abbas fervor by defending the abduction of Israeli soldiers to force Israel to release prisoners. Rajoub, in an interview with a Ramallah-based news website, said that while he was opposed to the kidnapping of civilians, he supported the abduction of soldiers "because this is the only language that Israel understands."
Rajoub's remarks are seen by Palestinians as a direct challenge to the embattled Abbas, who has repeatedly affirmed his opposition to "all forms of violence" against Israel.
Some Palestinians see Rajoub's remarks as the "first shot" in his campaign to succeed Abbas. Rajoub, a former Fatah security commander in the West Bank, knows that statements supporting the kidnapping of Israeli soldiers would turn him into a popular figure and improve his chances of becoming the next Palestinian Authority president. Given the widespread support and jubilation among Palestinians over the kidnapping of the three Israeli youths, Rajoub is not wrong in believing that he could replace Abbas one day.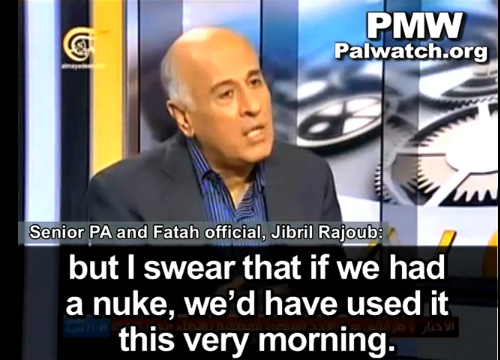 Jibril Rajoub, a member of the Fatah Central Committee and former commander of the Palestinian security forces, is a leading contender to succeed Mahmoud Abbas as PA president. (Image source: Palestinian Media Watch)
The anti-Abbas campaign provides additional evidence that Palestinians have been radicalized to a point where it has become dangerous to denounce the kidnapping of Israelis or even refer to them as human beings.
Abbas's credibility among Palestinians has been severely undermined as a result of his condemnation of the kidnapping and his insistence on pushing security coordination with Israel. Now that Abbas has been condemned as a traitor, he will never be able to sign a peace agreement with Israel that would win the support of enough Palestinians.