Less than 48 hours after a top European Union court ruled that Hamas should be removed from the bloc's list of terrorist groups, supporters of the Palestinian Islamist movement responded by firing a rocket at Israel. The attack, which did not cause any casualties or damage, did not come as a surprise.
Buoyed by the EU court's ruling, Hamas leaders and spokesmen see it as a "political and legal achievement" and a "big victory" for the "armed struggle" against Israel.
Musa Abu Marzouk, a top Hamas leader, issued a statement thanking the EU court for its decision. He hailed the decision to remove his movement from the terrorist list as a "victory for all those who support the Palestinian right to resistance."
When Hamas leaders talk about "resistance," they are referring to terrorist attacks, such as the launching of rockets and suicide bombings against Israel. In other words, Hamas has interpreted the court's decision as a green light to carry out fresh attacks as part of its ambition to destroy Israel.
The rocket that was fired from the Gaza Strip at Israel only days after the court decision is not likely to be the last.
Although the EU court has said that its controversial decision was "technical" and was not a reassessment of Hamas's classification as a terrorist group, leaders of the Islamist movement believe that the move will eventually earn them legitimacy in the international arena.
Ironically, the EU court's decision coincided with Hamas celebrations marking the 27th anniversary of its founding. Once again, Hamas used the celebrations to remind everyone that its real goal is to destroy Israel. And, of course, Hamas used the event to display its arsenal of weapons that include various types of rockets and missiles, as well as drones.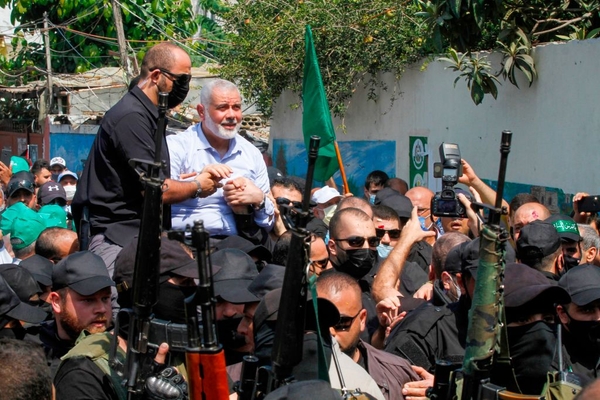 Thousands of armed Hamas troops showed off their military hardware at a Dec. 14, 2014 parade in Gaza, marking the organization's 27th anniversary. (Image source: PressTV video screenshot)
Hours before the EU court decision was made public, Hamas leader Mahmoud Zahar announced that his movement would never recognize Israel. Zahar also made it clear that Hamas seeks to overthrow the Palestinian Authority [PA] regime and seize control over the West Bank.
The EU court's decision also coincided with increased efforts to achieve rapprochement between Hamas and Iran. Recently, a senior Hamas leadership delegation visited Tehran as part of efforts to mend fences between the two sides. The main purpose of the visit was to persuade the Iranians to resume military and financial aid to Hamas. The visit, according to senior Hamas officials, appears to have been "successful."
"There are many signs that our relations are back on the right track," explained Hamas's Musa Abu Marzouk. "Hamas and Iran have repaired their relations, which were strong before the Syrian crisis." Relations between Hamas and Iran deteriorated due to the Islamist movement's refusal to support the regime of Syrian President Bashar Assad.
Now the Iranians are likely to interpret the EU court decision to remove Hamas from the list of terrorist groups as a green light to resume financial and military aid to the movement.
Iran's leaders recently announced that they intend to dispatch weapons not only to the Gaza Strip, but to the West Bank as well, as part of Tehran's effort to support those Palestinians who are fighting to eliminate Israel.
Moreover, the EU court's move will also embolden other countries that provide Hamas with political and financial aid, first and foremost Qatar and Turkey. Oil-rich Gulf countries such as Kuwait, Bahrain, Oman and Saudi Arabia will now face pressure from many Arabs and Muslims to join Qatar, Turkey and Iran in extending their support to Hamas.
The biggest losers, meanwhile, are Palestinian Authority President Mahmoud Abbas and Egypt's President Abdel Fattah el-Sisi. Over the past few months, the two men have been doing their utmost to undermine Hamas and end its rule over the Gaza Strip.
Abbas has been fighting Hamas by blocking financial and humanitarian aid and arresting its supporters in the West Bank, while Sisi continues to tighten the blockade on the Gaza Strip and destroy dozens of smuggling tunnels along the border with Egypt.
The EU court's decision represents a "severe blow to the Palestinian Authority and Egypt," noted Palestinian political analyst Raed Abu Dayer. "As far is Abbas is concerned, the decision grants Hamas political legitimacy and challenges his claim to be the sole legitimate leader [of the Palestinians]. With regards to Egypt, the European court decision calls into question rulings by Egyptian courts that Hamas is a terrorist organization."
Even if the EU court decision is reversed in the future, there's no doubt that it has already caused tremendous damage, especially to those Muslims who are opposed to radical Islam.
Any victory for Hamas, albeit a small and symbolic one, is a victory for the Islamic State, Al-Qaeda, Islamic Jihad, the Muslim Brotherhood and other fundamentalist groups around the world.
The decision has left many Arabs and Muslims with the impression that Hamas, after all, is not a terrorist organization, especially if non-Muslims in Europe say so through one of their top courts. Even worse, the decision poses a real and immediate threat to Israel, as evident from the latest rocket attack.
If the Europeans have reached the conclusion that Hamas is not a terrorist organization, then why don't their governments openly invite tens of thousands of Hamas members and supporters to move to London, Paris and Rome? And they should not forget to ask the Hamas members to bring along with them their arsenal of weapons.