Nigeria's former dictator and perennial coup plotter, Mohammadou Buhari[1], may well defeat incumbent President Goodluck Jonathan in the country's upcoming presidential elections, scheduled for February 14 . Buhari, a northerner and a Muslim, has vowed to end Boko Haram's reign of terror in the northeast of the country. Boko Haram has been responsible for the deaths of at least 10,000 Nigerians in 2014, mostly Christian and Muslim civilians, as well as many Nigerian soldiers and police.[2]
According to Boko Haram documents, the terrorist group wants to purge the ruling political and religious elites in Nigeria's 12 northern states, which are already governed by Islamic Sharia law.[3]
Boko Haram apparently considers the governing Muslim leaders of those states corrupt and "insufficiently" Islamic, for, they say, having introduced watered-down Sharia codes.[4] If Boko Haram successfully purges the moderate Muslim elites in the northern states, Nigeria may well split into two separate nation-states, as did the Sudan. There would be a Muslim country in the north under Sharia law -- if Boko Haram stopped there, a call that is doubtful. And there would be another country in the south, governed by the existing Federal Constitution
Nigeria's southern states are largely populated by Christians from the Ibo tribe, except for some Yoruba tribal areas in the country's southwest. The Yoruba are also largely Muslim but less prone to militancy than northern-based Islamic tribes.[5] The Hausa people in northern Nigeria are almost entirely adherents of Islam. The Boko Haram terrorists are almost all Hausa, except for some Fulani tribal members.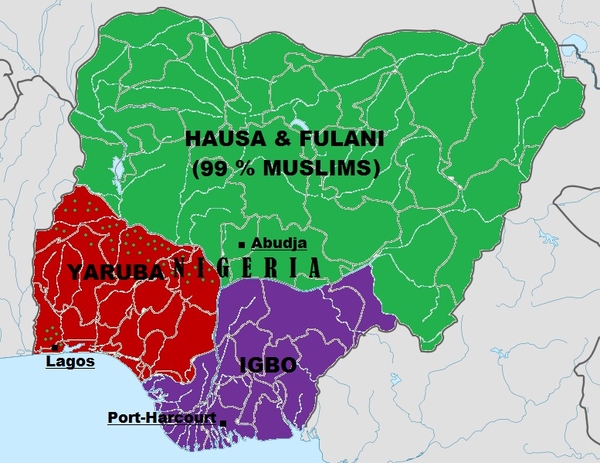 A religious-ethnic map of Nigeria. (Image source: Wikimedia Commons)
An election victory by Buhari would be more the result of voter dissatisfaction with the perceived lack of leadership by Jonathan. His administration is seen by some as embarrassingly incompetent in the face of Boko Haram's ability to lay siege to at least a quarter of Nigeria's territory. This image is punctuated by the failure of Nigeria's security forces to rescue any of the nearly 300 girls kidnapped more than nine months ago by the Boko Haram in the northeastern town of Chibok.[6] The Nigerian army's feckless operational performance against Boko Haram's militants -- and in some instances a total unwillingness to fight -- along with its poor human rights record have poisoned and slowed military-to-military ties with the American advisors sent to train anti-terrorist units.
Jonathan's own chances for victory may hinge on the possibility, in the Muslim north, of low voter turnout, due to the widespread dislocation of citizens caused by fear of Boko Haram's violence.[7]
In the event of a Jonathan victory, there may substantial post-election violence in the northern states, as there has been in previous presidential elections.[8]
Buhari, although a Muslim, realizes that there can be no accommodation with the Boko Haram terrorists. Boko Haram has attempted to assassinate Buhari several times in the past year. A victory by Buhari, despite his own dubious human rights record, would pit a moderate Muslim against the radical recruits of Boko Haram. Furthermore, a Buhari electoral win may renew enthusiasm for on-the-ground bilateral U.S.-Nigerian military cooperation against the Boko Haram. Joint anti-Boko Haram planning and training was largely discontinued last year because of endemic corruption among Nigerian bureaucrats and the army's human rights abuses, such as indiscriminate arrests, torture of detainees, and extra-judicial executions.[9]
Meanwhile, officials in the national capital of Abuja claim that the Americans failed to deliver heavy weapons and attack helicopters needed effectively to combat Boko Haram forces.
Boko Haram already controls a landmass the size of Denmark, and last week almost captured Maiduguri, the capital city of Borno State. Maiduguri, a city of approximately two million people, is now completely cut off from the outside. Borno, Nigeria's northeastern-most state, borders on the neighboring Muslim majority countries of Chad, Niger, and Cameroon. Boko Haram fighters have already spilled across the border into Cameroon.
If the Boko Haram ultimately succeeds in capturing Maiduguri, it will have gone a long way to securing a West African Caliphate.
The strategic danger by Boko Haram is the possibility of the establishment of an extremist Muslim corridor cutting all the way across sub-Saharan Africa, from Nigeria in the West to Somalia in the east.
Dr. Lawrence A. Franklin served on active duty with the U.S. Army and as a Colonel in the Air Force Reserve, where he served as a Military Attaché to Israel.
---
[1] Retired General Buhari, now 72 years old, seized power in 1983 but was eventually overthrown in another military coup, after a 20-month, somewhat bizarre, authoritarian rule.
[2] Council of Foreign Relations, Washington D.C. and "Boko Haram's deadliest Mission," by Monica Mark, The Guardian, 10 January 2015.
[3] The 12 Nigerian states under Sharia are: Bauchi, Borno, Gombe, Jigawa, Kaduna, Kano, Katsina, Kebbi, Niger, Sokoto, Yobe, and Zamfara.
[4] Boko Haram: A Militant Leadership Monitor Special Report. "The founding of Boko Haram and its spread to 32 Nigerian states" by Frank Gargon and Sharon Bean. January 2012, p.5.
[5] Afridentity: Essays on Africa by Bekeh Ukelina Utietiang, Essay Four: Muslim-Christian Relations in Nigeria. p.51.
[6] The leading Nigerian spokesperson for the kidnapped girls, Hadiza Bala Usman has heartily endorsed Buhari's presidential candidacy.
[7] Masui Segun, Human Rights Watch Nigeria Country Officer, quoted from the Nigerian government's National Emergency Management Agency, that over 900,000 people are internally displaced (mostly in the north). Foreign Policy Initiative Conference on Boko Haram, 22 January 2015, Washington D.C.
[8] Following the 2011 presidential election, resulting in the election of incumbent President Jonathan, there were over 800 deaths in post-electoral violence and great destruction of property, almost entirely in the Muslim northern states. Statement of the Joint National Democratic Institute/International Republican Institute Pre-Election Assessment, 15-20 January 2015 Mission to Nigeria, 23 January 2015. p.1.
[9] Human Rights Watch World Report 2014; World Report: "Boko Haram Marches On" by Caitlan Poling, 12 September 2014; "Nigeria's Elections Will Be a Test of Peace vs Power," Washington Post, 6 January 2015.