Sweden's latest attempt to flex its muscles as a humanitarian and feminist superpower ended in a diplomatic disaster last week.
On March 9, the country's Social Democratic Foreign Minister, Margot Wallström, was to address the foreign ministers of the Arab League assembled in Cairo.
Wallström had been invited by Arab League Secretary General Nabil el-Araby as a guest of honor. According to Egyptian sources, it is believed that the unusual offer to listen to a European foreign minister was made in light of Sweden's recent decision to recognize Palestine.
Wallström never got a chance to speak. According to her own explanation, she was blocked from addressing the meeting after protests by Saudi Arabia. "They have reacted strongly to what we have said about democracy and human rights," she told Swedish public radio. Secretary General el-Araby refused to comment, and spokespersons for the Swedish and Saudi embassies in Cairo were unavailable for comment.
It is unknown if the text of Wallström's address was distributed to the Arab foreign ministers before the meeting. They cannot, however, have been unaware that she had previously spoken out against the flogging of the Saudi blogger, Raif Badawi, who was convicted of "insulting Islam," and that she had criticized the status of women's rights in the Gulf kingdom.
Back in Sweden, Wallström and Prime Minister Stefan Löfven had faced criticism for their decision to continue Sweden's controversial weapons exports to Saudi Arabia.
On March 10, the Swedish Minister of Defense Peter Hultqvist announced that Sweden would not extend its agreement to sell arms to Saudi Arabia. The Swedish government claimed that the decision had been made several days before FM Wallström's unfortunate experience in Egypt.
On Wednesday, March 11, Saudi Arabia recalled its ambassador from Stockholm.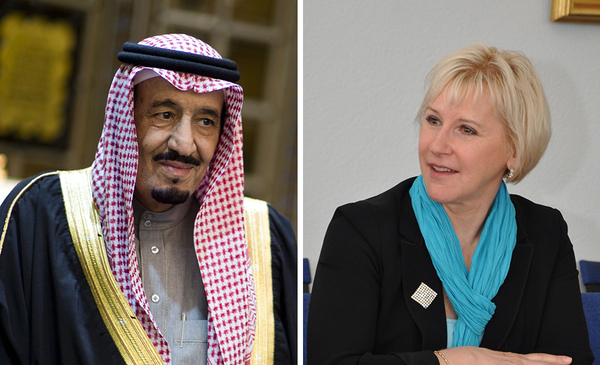 Swedish Foreign Minister Margot Wallström wanted to lecture the Arab League on human rights. Saudi Arabia's King Salman was not amused. (Image sources: US Sec. of Defense and Wikimedia Commons/Janwikifoto)
Following the Saudi cancellation of Wallström's speech at the Cairo conference, her press secretary, Erik Boman, told the Swedish News Bureau TT, "They [the Saudis] are trying to save face."
Swedish priorities
A copy of what Margot Wallström intended to say to the Arab League has been published on a Swedish government website.
In it, she made no specific reference to human rights violations in any particular Arab country. She referred to the predicament of women in particular and human rights in general:
"Human rights are a priority in Swedish foreign policy. Freedom of association, assembly, religion and expression are not only fundamental rights and important tools in the creation of vibrant societies. They are indispensable in the fight against extremism and radicalization. So is a vibrant civil society. ... Yesterday was International Women's Day. This is a day to celebrate women's achievements, recognize challenges, and focus attention on women's rights, women's representation and their adequate resources. Our experience is that women's rights do not only benefit women, but society as a whole. ... More than 20 years ago, in 1994, the International Conference on Population and Development met here in Cairo to discuss various issues, including education of women and protection of women from all forms of violence, including female genital mutilation and sexual harassment. Many of these issues are still very much in play today and I urge you to contribute to upholding the agreements made here in Cairo 20 years ago."
The Foreign Minister appears to have been unaware that "human" and "women's" rights are anathema in a great number of Arab States including Saudi Arabia. She also seems innocent of the 1990 Cairo Declaration on Human Rights in Islam, according to which any human right must be compatible with Islamic sharia law -- meaning that there are no "human rights" as thought of in the West, but only human obligations as imposed by Allah and his prophet. Whatever is inside sharia law is a human right. Whatever is outside sharia law is not a human right.
Denouncing Margot Wallström
After the diplomatic debacle in Cairo, Arab foreign ministers denounced Wallström in a statement: "Arab countries totally reject Wallström's statement as irresponsible and unacceptable. ... Saudi Arabia's Constitution is based on the Shariah that protects the right of people and safeguards their blood, wealth and honor."
The Saudi cabinet, chaired by the Custodian of the Two Holy Mosques, King Salman, had rejected on March 9 any denunciation of Saudi judiciary, whose decisions are based on Islamic law and "implemented impartially to maintain the country's stability and security".
The Swedish government, parliament and mainstream media, as demonstrated throughout decades, seem to have no inkling of what sharia law implies.
In their hearts, they evidently believe that we all think the same. As Sweden champions democracy, liberty and equal rights, the Swedish establishment apparently cannot imagine that others would think otherwise.
This belief has been the basis of Sweden's foreign and immigration policies for many years. The Swedish "humanitarian superpower," however, has now reached the limits of a policy based on love and understanding.
If Margot Wallström had attended diplomacy school, she would have realized that she and her government have fired three missiles at the Arab world and at Saudi Arabia in particular:
Sweden refuses to extend its agreement to sell arms to Saudi Arabia.
Margot Wallström wants to lecture the Arab League on human rights.
Wallström's spokesman accuses the Saudis of wanting to save face.
As a result of recent developments, Sweden has now lost influence in the Middle East and probably most of the Islamic world.
Through its recognition of Palestine as a sovereign state, and following years of anti-Israeli propaganda, Sweden has made itself terra non grata in Israel -- and now Saudi Arabia does not like it either.
An EU member state that sees itself as the universal purveyor of peace and love, without understanding what is actually going on the world, will of course lose credibility and influence where real policy is made: Washington, London, Berlin, Brussels, Moscow, Beijing, Cairo and so on.
One wonders where the Swedish government will go next to find takers for its uninformed, idealistic world policy.
While Gatestone Institute stands by the articles written for it to date by Ingrid Carlqvist, Gatestone is no longer affiliated with her in any way.