As predicted, Swedish Foreign Minister Margot Wallström's criticism of "medieval" conditions in Saudi Arabia has caused great parts of the Muslim world to rise up in anger against her and Sweden, the country she represents.
"Almost the entire Muslim world joins in the criticism of Wallström," wrote the Swedish national daily Dagens Nyheter on March 19, adding that around thirty Muslim countries have distanced themselves from Wallström's comments. The Arab League has denounced her for criticizing the lack of human rights in Saudi Arabia, and on Saturday the Organization of Islamic Cooperation (OIC), which represents 57 Arab and Muslim states, as well as the Palestinians, accused her of having "degraded Saudi Arabia and its social norms, judicial system and political institutions".
Dagens Nyheter quotes Middle East expert Marianne Laanatza, from the universities of Stockholm and Lund, as saying that Sweden's troubles may escalate. In addition, Middle East analyst Per Jönsson, from Sweden's Foreign Policy Institute, notes that the OIC's reaction implies that almost the entire Muslim world, including Shia Muslim states and countries in Southeast Asia, have now turned their backs on Sweden. Saudi Arabia and the United Arab Emirates have already recalled their ambassadors from Sweden; Per Jönsson fears that others will follow their example.
In response, Wallström held a crisis meeting on March 19 with representatives of around thirty Swedish enterprises that have business interests in the Gulf region. As of this writing, the outcome of the meeting is unknown. Saudi Arabia has already announced that is will deny entry visas to representatives of Swedish companies. Clearly, Swedish enterprises are in significant trouble.
Evidently, Sweden's Foreign Minister was unaware that by criticizing Islamic sharia customs, such as flogging a blogger a thousand times and the ill-treatment of women, she was, in fact, seen as turning against Islam itself.
The Swedish government's ignorance was amply demonstrated when Gatestone called Margot Wallström's press spokesman, Erik Boman.
Gatestone asked if he was aware that practices such as the death penalty for blasphemy, flogging and barring women from driving a car are based on the Koran. He said he was not. Nor, he said, had he heard of the 1990 Cairo Declaration on Human Rights in Islam, which states that all human rights must be based solely on sharia law, and rejects human rights as expressed in the 1948 Universal Declaration of Human Rights.
Veronica Nordlund, from the Swedish Foreign Ministry's press service, told Gatestone that she has heard of the Cairo Declaration, but thinks that Saudi Arabia has signed the Universal Declaration of Human Rights. Saudi Arabia did not, in fact, sign the Universal Declaration of Human Rights. It abstained, claiming the Declaration violated sharia law. [1]
All in all, there appears to be a genuine but concerning lack of knowledge in the Swedish government about Islam and Islamic affairs.
The prominent Dutch Islam expert, Professor Johannes "Hans" J.G. Jansen -- author of an influential biography of Muhammad -- said he does not think Margot Wallström knows what she has gotten herself into.
Asked if the Swedish Foreign Minister can criticize Saudi sharia practices such as flogging, and call them "medieval," without offending Islam, professor Jansen says that this would be impossible.
Gatestone: "But now she claims that it had not been her intention to criticize Islam?"

Jansen: "It makes no difference what she says. In Islam, it is for Muslims to determine whether or not one has criticized their religion. From a Muslim perspective, the Foreign Minister's worst transgression is to have labeled Saudi practices 'medieval.' Muslims never use that term when talking about themselves. They only use it with reference to other parts of the world, for example Europe. The Saudis see themselves as the inheritors and custodians of Islam's Golden Age in the seventh century, which must not be labeled medieval."
Jansen notes that from a Muslim perspective, any criticism or infringement of sharia law and Muslims' obligation to wage jihad [war in the service of Islam] is a violation of their freedom of religion.
The same, he continued, goes for Muslims' duty to strike terror into the hearts of non-Muslims. Jansen points to the Koran's Sura 8, verse 60:
"And prepare against them whatever you are able of power and of steeds of war, by which you may terrify the enemy of Allah and your enemy and others besides them whom you do not know [but] whom Allah knows. And whatever you spend in the cause of Allah will be fully repaid to you, and you will not be wronged."
In other words, it is incumbent on Muslims to "terrify" non-Muslims. But strangely, when they succeed, Muslim spokesmen accuse their frightened victims of suffering from "Islamophobia," and demand that Western authorities denounce and persecute people who are beset by this "psychiatric" malady.
There is nothing, however, to indicate that Margot Wallström and other members of the Swedish government and political establishment have been driven by fear. They have no knowledge of what orthodox Islam is all about and evidently believe that the religion is benevolent and peaceful, but unfortunately hijacked or misinterpreted by evil men.
As if more proof of Sweden's incomprehension were needed, Margot Wallström stood up in the Swedish parliament on March 20, and claimed that she had no intention of criticizing Islam. The Swedish government, she said, will "safeguard and develop the relations Sweden has had with Saudi Arabia through the years. ... We have the greatest respect for Islam as a world religion and for its contribution to our common civilization."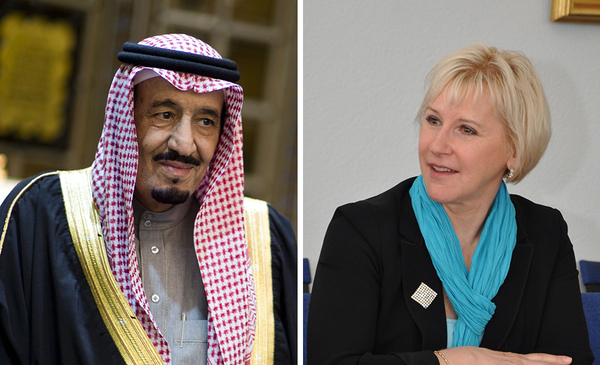 Swedish Foreign Minister Margot Wallström wanted to lecture the Arab League on human rights. Saudi Arabia's King Salman was not amused. (Image sources: US Sec. of Defense and Wikimedia Commons/Janwikifoto)
Wallström and her government have now come in for the surprise of their lives. The good-hearted Foreign Minister suddenly finds herself denounced all over the Muslim world as an enemy of the prophet.
It will be critical to see how Wallström intends to extricate herself from her unwanted position as one of the world's most reviled offenders of Islam.
Will she retract her criticism of Saudi flogging and misogyny, and announce that it was never her intention to offend the great Saudi nation or its culture? In that case, she will have dealt a devastating blow to Sweden's claim to be a "moral superpower" and to a foreign policy based on human rights and feminism.
Or will she stand by her words and accept that Sweden -- and any other country in Europe that claims to stand for humanistic values and the primacy of human rights -- is in for a debacle that may well be more severe than what Denmark experienced during the Muhammad cartoon crisis in 2005/2006?
There is increasing talk among observers that Wallström will have to step down, and that Sweden will have to accept a global role more commensurate with its knowledge of world affairs.
While Gatestone Institute stands by the articles written for it to date by Ingrid Carlqvist, Gatestone is no longer affiliated with her in any way.
---
[1] Nisrine Abiad (2008) "Sharia, Muslim states and international human rights treaty obligations: a comparative study. BIICL. pp. 60-65 ISBN 978-1-905221-41-7