Given the capitulation to Iran's geopolitical ambitions represented by the agreement reached in Vienna on July 14, a spotlight is likely to fall on the pivotal role played by Europe's chief diplomat.
Few guessed that while stating the "security of the world" was at stake during negotiations with the Islamic Republic of Iran, Federica Mogherini also felt "political Islam" should be a part of Europe's future.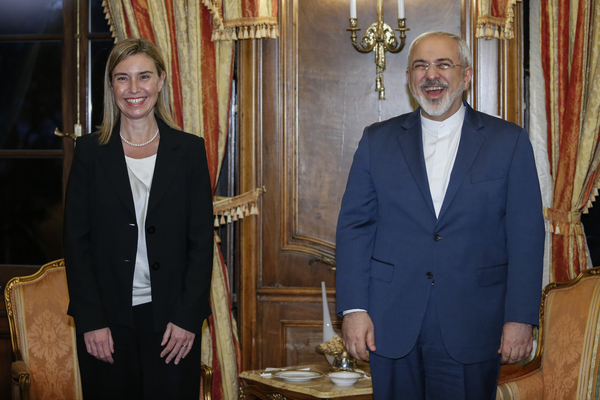 Not funny. Federica Mogherini (left) represented the European Union in nuclear negotiations with the Islamic Republic of Iran, a millenarian Shi'ite theocracy that calls for the annihilation of America and Israel. At right, Iran's foreign minister, Javad Zarif. (Image source: European Union)
The European Union's unelected High Representative for Foreign Affairs and Security Policy made her pro-Islamist remarks in a speech delivered last month in Brussels.
While heading up Europe's combined delegation in the Austrian capital, and purportedly tasked with staving off Iran's nuclear capabilities, Mogherini, a former member of the Italian Communist Youth Federation, also took to tweeting in Arabic.
The assertions made by Mogherini to the Islam in Europe conference, before she left for Vienna, reveal the thinking of a key figure behind the dangerous concessions given to Iran as a result of its continued intransigence and the West's continued surrender to it.
It should therefore surprise no one that Syria's President Assad has congratulated Ayatollah Ali Khamenei on his "great victory" in negotiations from which the Jewish state -- which had the most to lose based on Iran's constant threats to obliterate it -- was excluded.
As talks progressed, the Supreme Leader of Iran was pictured trampling on an Israeli flag, with the accompanying caption on Khamenei's official website reading: "The Zionist regime is condemned to vanish."
Mogherini first gained notoriety after her statement to the United Nations Security Council on May 11, during which she dismissed pushbacks against the flood of migrants illegally crossing the Mediterranean.
As a consequence of the border policies of the European Commission, of which Mogherini is also Vice-President, the number of immigrants pouring into Europe by land has now exceeded those crossing by sea.
Local authorities in Hungary are struggling to cope with refugee camps filled with rioting migrants shouting "Allahu Akbar!" (Arabic for "Allah is Greater!").
There seems no recognition of the generosity of a nation that is exhausting its resources to give Muslims asylum from conflict.
The speech given by Mogherini in Brussels on June 24 demonstrates why she believes that the growing migration crisis her actions have orchestrated should be welcomed:
"Islam holds a place in our Western societies. Islam belongs in Europe. It holds a place in Europe's history, in our culture, in our food and -- what matters most -- in Europe's present and future. Like it or not, this is the reality."
She continued:
"We need to show some humble respect for diversity. Diversity is the core feature of our European history, and it is our strength. ... We need to understand diversity, understand complexity. ... For this reason I am not afraid to say that political Islam should be part of the picture."
Under the treaties establishing the EU, there are no democratic checks on figures such as Mogherini or on the enormous power they wield. Only representatives elected to the European Parliament can quiz members of the European Commission.
There is also no democratic way for MEPs to repeal any of the laws applied across the EU, authored by the commission's bureaucrats, or to fire any of its officials.
Regrettably, Mogherini's speech chose not to delve into which aspects of the "diversity" represented by "political Islam" Europe should embrace: The subhuman status afforded to non-Muslims such as Christians and Jews, perhaps; or the death sentence faced by Muslims who seek to leave Islam or reform it? Or maybe the codified inferiority of females, or the view that democracy, made by man and not Allah is illegitimate, or that it is permissible to counter free speech with violence?
Mogherini's speech in Brussels -- added to the July 3 vote at the UN Human Rights Council (UNHRC) of several European nations in favor of a resolution condemning Israel for war crimes -- also highlight a grim reality when viewed in the context of the West's concessions to Iran.
While political leaders in Europe seek to placate their Muslim populations, Israel is faced with even fewer reliable allies on the world stage as the prospect of a nuclear Iran looms larger.
The UNHRC's resolution targeting Israel had been prompted by a UNHRC report into last year's Gaza conflict, during which the Israeli Defense Force had sought to protect the country's population against constant and indiscriminate rocket attacks.
In an address on June 29, Britain's Col. Richard Kemp urged the UNHRC to deal with the reality of events in Gaza last summer:
"Hamas sought to cause large numbers of casualties among their own people, in order to bring international condemnation against Israel, especially from the United Nations. ... It was Hamas's strategy, not illegal Israeli action as this report shamefully alleges without a shred of evidence, that was the reason why over 1,000 civilians died in Gaza."
With only the US voting against the resulting "anti-Israeli manifesto" it was nevertheless endorsed by European nations including France, Germany, the UK, Ireland, and the Netherlands.
As a consequence of several international treaties, these countries and 23 others have unified executive authority on issues of foreign policy into the institutions of the European Union.
To those arguing with the EU's head of security policy that, "more Muslims in Europe will be the end of Europe," Mogherini has a curt answer:
"These people are not just mistaken about Muslims: these people are mistaken about Europe – that is my core message – they have no clue what Europe and the European identity are."
Claiming that "Islam is a victim," Mogherini went on to stress that the "caliphate" declared last year by ISIS under the name of the Islamic State, represents "an unprecedented attempt to pervert Islam."
Led by "caliph" Abu Bakr al-Baghdadi, in February ISIS announced its intention to export 500,000 migrants to Europe to create chaos. As his nom de guerre suggests, the PhD in Islamic Studies possessed by Dr. Ibrahim al-Badri comes from the city where the Koran was compiled.
Federica Mogherini's claim to have a better grasp of political Islam stems from an undergraduate paper she once authored on the subject.
As a result of the border policies imposed by Mogherini, the president of the EU's judicial cooperation agency, Michèle Coninsx, confirmed on July 6 that ISIS's scheme to augment such a migrant flow with jihadists is now being accomplished.
It is hard not to conclude that the official responsible for the EU's borders represents a sheltered elite, convinced that the solution to problems in the Middle East and North Africa is importing their populations into Europe.
Using an Arabic euphemism to describe the Islamic State, Mogherini's speech concluded:
"Western media like to refer to Da'esh with the word 'medieval'. This does not help much to understand the real nature of the threat we are facing. Da'esh is something completely new."
The EU's chief representative to the talks in Vienna could have done with visiting the museum located on the city's Karlsplatz. There can be found the following demand for surrender, issued against the Viennese, which post-dates the medieval period by two centuries:
"We order you to wait for us at your residences in the city so we can decapitate you. It will be a pleasure for me to publicly establish my religion and to pursue your crucified god. I will put your sacred priests to the plough and rape your nuns. Forsake your religion or else I will give the order to consume you with fire."
It was authored by the Muslim caliph reigning in 1683.
When it comes to political Islam, Federica Mogherini is evidently incapable of differentiating between behaviors that are "completely new," and those that form an established pattern.
That failure makes the diplomatic surrender to the Islamic Republic of Iran, being portrayed by President Obama as a path to a "more hopeful world," easier to comprehend.
The West's negotiations were conducted with a millenarian Shi'ite theocracy that calls for the annihilation of America and Israel.
George Igler is a political analyst in the City of London and the Director of the Discourse Institute.