Six years ago, Turkey's official narrative over its leaders' Kodak-moment exchanges of pleasantries with Syrian President Bashar al-Assad's regime in Damascus promised the creation of a Muslim bloc resembling the European Union. Border controls would disappear, trade would flourish, armies would carry out joint exercises, and Turks and Syrians on both sides of the border would live happily ever after. Instead, six years later, blood is flowing on both sides of the 900 kilometer border.
Inside Turkey, clashes between security forces and members of the youth wing of the outlawed Kurdistan Workers' Party (PKK) have been taking place for weeks. Many towns and neighborhoods have turned into ghost-towns, as strict curfews are now in place. As a result, tens of thousands of Kurds have been forced to flee their homes, seeking refuge in safer parts of the country. While the Turkish army struggles to diffuse the latest Kurdish urban rebellion, hundreds of Kurdish militants and members of Turkey's security forces have lost their lives.
Worse, the conflict has the potential to trigger further violence in Turkey's non-eastern regions, where there is a vast Kurdish population spread across large cities.
Already in Istanbul, violence erupted on February 2, 2016, when unidentified gunmen opened fire on the campus of an Islamic association; they killed one man and wounded three others. In a second incident in a suburb of Istanbul, two people were killed and seven wounded after armed assailants fired on a tea-house.
Across the border in northern Syria, Turkey's "Kurdish problem" is equally pressing. The PKK's Syrian faction, the Democratic Union Party (PYD), has been successfully fighting on the front-lines alongside the Western alliance that is waging war on the Islamic State (IS), and making itself highly regarded by the alliance, thereby further angering Ankara.
Turkey, which views the PYD as a terrorist organization like the PKK, fears that the Syrian Kurds' fight against IS could, in the near future, earn the PYD international legitimacy.
On February 1, Brett McGurk, the U.S. envoy to the coalition against IS, visited a part of Kurdish-controlled northern Syria. On his visit, McGurk posed in front of cameras with a PYD commander -- all smiles -- while receiving an honorary plaque. The ceremony lent further legitimacy to the PYD. McGurk's actions greatly angered Turkish President Recep Tayyip Erdogan. In a statement directed towards Washington, Erdogan asked: "How will we trust [you]? Am I your partner or are the terrorists in Kobane [the Kurdish town in northern Syria]?"
Ironically, Syrian Kurds are not only backed by the U.S., but also by Russia, which became another Turkish nightmare. On November 24, 2015, two Turkish F-16 jets shot down a Russian Su-24 military jet flying along Turkey's border with Syria. Turkey justified its actions against Russia, citing a violation of Turkish airspace. Russian President Vladimir Putin pledged to punish Turkey by means "other than" a slew of severe commercial sanctions.
Immediately after the November 24th incident, in a clear signal to Turkey, Moscow began to reinforce its military deployments in Syria and on the eastern Mediterranean. These included installations of S-400 anti-aircraft and anti-missile defense batteries, lying in wait for the first Turkish plane to fly over Syrian skies, in order to shoot it down in front of the cameras. Russia's scare tactics worked. The Turks halted their airstrikes against IS strongholds in Syria.
On January 29, 2016, another Russian jet, this time a Su-34, violated Turkish airspace and was not shot down. The Turks, already uneasy over tensions with Russia, did not pull the trigger. Most observers agree that the second violation and Turkey's failure to shoot, despite earlier pledges that "all foreign aircraft violating Turkish airspace would be shot down," was a major humiliation on the part of Ankara.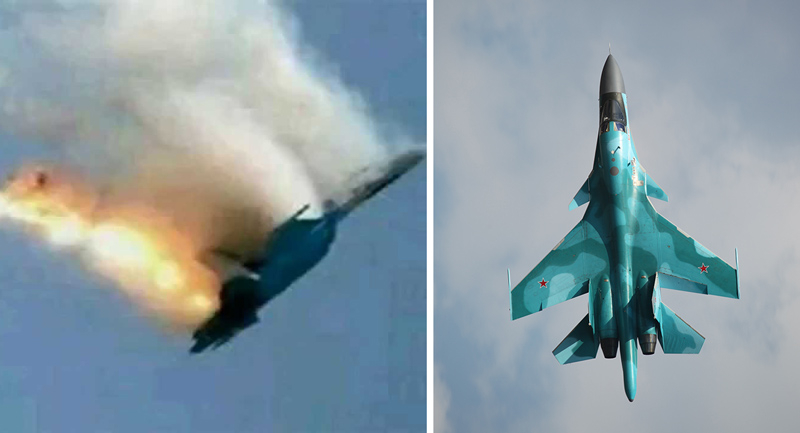 Left: A Russian Su-24 bomber explodes as it is hit by a missile fired from a Turkish F-16 fighter, on Nov. 24, 2015. Right: A Russian Su-34 fighter jet. On Jan. 29, 2016, a Russian Su-34 violated Turkish airspace and was not shot down, despite earlier pledges that "all foreign aircraft violating Turkish airspace would be shot down."
Much to Turkey's discomfort, the Russians are playing a tough game in Syria. Most recently, the Russian military deployed at least four advanced Sukhoi Su-35S Flanker-E aircraft to Syria; the move -- shortly after the January violation of Turkish airspace by the Su-34 -- further augmented its air superiority and boldly challenging Ankara.
"Starting from last week, super-maneuverable Su-35S fighter jets started performing combat missions at Khmeimim airbase," Russian Defense Ministry spokesman Maj. Gen. Igor Konashenkov told the TASS news agency on February 1. But a more humiliating move by Moscow was to come: Russian forces in Syria bombed "moderate" anti-Assad Islamist groups, as well as Turkmen (ethnic Turks) in northwestern Syria.
Russian airstrikes have reinforced Assad's forces that now encircle Aleppo, a strategic city in the north. More than 70,000 Syrians, mostly Turkmen, fled from their villages to the Turkish border to seek refuge inside Turkey, and potentially add to the country's refugee problem. Turkey is home to more than 2.5 million Syrians who have fled the civil war. It is estimated that at least one million more would flee to Turkey if Aleppo fell to Assad's forces.
Erdogan and his prime minister, Ahmet Davutoglu, are now paying the price for their miscalculated Islamist aspirations to install a Muslim Brotherhood type of Sunni regime in Syria in place of the non-Sunni Assad regime. Assad, with Russia's help, has become somewhat untouchable and has never been so safe and secure since the outbreak of the Syrian civil war in 2011. By contrast, the Turks now face a multitude of threats on both sides of an apocalyptic border.
As Behlul Ozkan, an assistant professor at Istanbul's Marmara University, warned in a recent article in the New York Times:
"With the Middle East ravaged by religious radicalism and sectarianism, the European Union and the United States can't afford the Turkish government's brutal military efforts against the Kurds or its undemocratic war on academics and journalists. Only a secular, democratic Turkey that can provide a regional bulwark against radical groups will bring stability to both the Middle East and Europe. As Mr. Erdogan seeks to eliminate all opposition and create a single-party regime, the European Union and the United States must cease their policy of appeasement and ineffectual disapproval and frankly inform him that this is a dead end."
Burak Bekdil, based in Ankara, is a Turkish columnist for the Hürriyet Daily and a Fellow at the Middle East Forum.