Between March 29 and April 2, 2016, Turkey's president, Recep Tayyip Erdogan, paid a visit to Washington D.C. to participate in the 4th Nuclear Security Summit hosted by U.S. President Barack Obama.
In an interview with CNN broadcast March 31, Erdogan said, "We will not allow an act such as giving northern Syria to a terrorist organization... We will never forgive such a wrong. We are determined about that."
Asked which terror organization he was referring to, Erdogan said: "The YPG [Kurdish People's Protection Units], the PYD [Democratic Union Party] ... and if Daesh [ISIS] has an intention of that sort then it would also never be allowed."
Erdogan was thereby once again attempting to equate Islamic State (ISIS), which has tortured, raped, sold or slaughtered so many innocent people in Syria and Iraq, with the Kurdish PYD, and its YPG militia, whose members have been fighting with their lives to defeat genocidal jihadist groups such as al-Nusra and ISIS.
The question is not why Erdogan or his government have such an intense hatred for Kurds. Turkey's genocidal policies against the Kurds are not a secret. Turkey's most recent deadly attacks are ongoing in Kurdish districts even now. The more important question is why Erdogan thinks that Turkey is the one to decide to whom the predominantly Kurdish north of Syria will belong -- or who will not rule that part of Syria.
On February 17, Turkey's capital, Ankara, was shaken by a car bomb that killed 28 people and wounded 61 others.
Turkey's Prime Minister, Ahmet Davutoglu, immediately announced that the perpetrator was a Syrian national with links to the Syrian Kurdish People's Protection Units (YPG).
"A direct link between the attack and the YPG has been established," Davutoglu said. "The YPG attack was carried out with logistical support from the Kurdistan Workers' Party (PKK) inside Turkey. Just as al-Qaeda or Daesh do not have seats at the table, the YPG, which is a terrorist organization, cannot have one." He then once again refused to permit Kurdish YPG participation in U.N.-brokered Syria peace talks in Geneva.
Saleh Muslim, the head of Syria's Kurdish Democratic Union Party (PYD), replied via Agence France-Presse: "We deny any involvement in this attack. These accusations are clearly related to Turkish attempts to intervene in Syria."
The General Command of the YPG also denied any involvement in the attack:
"Under challenging conditions, we are protecting our people from barbaric gangs such as ISIS and Al-Nusra. Countless states and media outlets have repeatedly reported about the support Turkey has been providing to these terrorist groups. Apart from the terrorist groups attacking us, we as YPG have engaged in no military activity against the neighboring states or other forces.

"We would like to repeat our message to the people of Turkey and the world: We have no links to this incident... We have never been involved in an attack against Turkey. The Turkish state cannot possibly prove our engagement in any kind of attack on their side because we were never involved in such an action. Turkish Prime Minister Davutoglu's remarks 'Ankara attack was conducted by YPG' is a lie and far away from the truth. With this statement, Davutoglu wants to pave the way for an offensive on Syria and Rojava and cover up Turkey's relations with the ISIS which is known to the whole world by now."
The Middle East is going through mass murders, kidnappings, rapes, the sexual slavery of women and other crimes. And Turkey's aggressive and supremacist foreign policy, which does not respect the sovereignty of its neighbors, has played a large role in this situation.
Syria and Iraq, Turkey's southern neighbors, are now the breeding ground of genocidal jihadist groups, foremost the Islamic State (ISIS). Many reporters, experts and eyewitnesses have revealed that Turkey has contributed to the rise of jihadist terrorists in the region -- by letting ISIS members get in and out of Turkey and even by providing funds, logistics, and arms for ISIS.
Inside its own boundaries, Turkey has been engaged in an all-out war against its own Kurdish citizens since last August. Turkey has been murdering them indiscriminately and destroying their homes and neighborhoods.
Turkey's hatred of Kurds is so intense that it also targets Kurdish defense forces in Syria.
On February 13, Davutoglu confirmed shelling the Kurdish YPG group in Syria, after the YPG advanced on the rebel-held town of Azaz in Syria. "We will retaliate against every step [by the YPG]," Davutoglu said. "The YPG will immediately withdraw from Azaz and the surrounding area and will not go close to it again."
The rebels in Azaz and elsewhere in Syria are mostly Islamist jihadists. According to the scholar Aymenn Jawad Al-Tamimi, Azaz was mostly controlled in early 2015 by the group Liwa Asifat al-Shamal ("Northern Storm Brigade"), affiliated with the Islamic Front. Syria's al-Qaeda affiliate Jabhat al-Nusra ("Al-Nusra Front") also had a presence there.
"Azaz is a symbol for Turkey," said Fabrice Balanche of the Washington Institute For Near East Policy. "Prime Minister Davutoglu fears that if the Kurds capture Azaz, they could start a big offensive from Kobane to the west and from Afrin to the east," he told BBC.
As widely reported, the crisis in the region reached a peak when a Turkish Air Force F-16 fighter jet shot down a Russian Air Force Su-24 bomber along the Turkey-Syria border on November 24, killing the pilot, Lieutenant-Colonel Oleg Peshkov. The Turkish government tried to excuse the attack by claiming that the jet was downed after it had violated Turkish airspace for 17 seconds.
The Russia Defense Ministry, however, denied the aircraft ever left Syrian airspace, and released a video they claimed shows that the Su-24 was not in Turkish airspace when it was shot down.
Meanwhile, Turkey's neighbor to its West, Greece, has long been a victim of Turkey's violations of its sovereign airspace. According to data recorded by the Greek military, in 2014 alone, Turkish aircraft violated Greek airspace 2,244 times. On just one day, February 15, Turkish warplanes violated Greek airspace 22 times, according to Athens News Agency.
After Syria, Greece and Russia, Turkey's next target was its other southern neighbor, Iraq. In December, Iraq's President, Fuad Masum, said, "The presence of the Turkish Army Forces in Mosul Province without our permission violates international rules. I want Turkish officials to get its force out of Iraq's territory immediately."
Iraq's Prime Minister Haider al-Abadi also condemned Turkey's action: "We have not asked Turkey for any force and no one had informed us about the arrival of the force."
Two neighbors of Turkey, Cyprus and Armenia, have also been victims of Turkish aggression -- for an even longer time.
Turkey, for more than 40 years, has been illegally occupying the northern part of the Republic of Cyprus, which it invaded with a bloody military campaign in 1974. According to historian Victor Davis Hanson:
"Thousands of settlers from Anatolia were shipped in by the Turkish government to occupy former Greek villages and to change Cypriot demography -- in the same manner the occupying Ottoman Empire once did in the 16th century. ... The island remains conquered not because the Greeks have given up, but because their resistance is futile against a NATO power of some 70 million people. Greeks know that Turkey worries little about what world thinks of its occupation."
Turkey has also been blockading yet another neighbor since 1993: "Turkey and Azerbaijan have effectively been exercising an illegal unilateral economic blockade against Armenia, which has hurt the latter economically," wrote Armen V. Sahakyan, the executive director of the Eurasian Research and Analysis Institute. "Turkey and Azerbaijan are in clear violation of the Principle of Good Neighborliness, as well as all of the General Assembly resolutions condemning unilateral coercive measures."
Turkey has been assaulting its neighbors in what appears as outbursts of Turkish Islamic supremacy. What Turkey would call a crime if committed by a non-Turkish or a non-Sunni state, Turkey sees as legitimate if Turkey itself commits it.
When Turkey invaded Cyprus, historically a Greek and Christian nation, it is not called an invasion. Turkey still refers to the 1974 military campaign as a "peace operation." Senior politicians and military officials from Turkey also participate in the official ceremonies called "the Peace and Freedom Festival," organized in occupied northern Cyprus on July 20 every year, to celebrate what they "achieved" more than 40 years ago -- namely, an ethnic cleansing and colonization campaign that they conducted through many crimes, including mass murders, wholesale and repeated rapes, torture and inhuman treatment, plundering Cypriot cultural heritage and destroying churches, among others.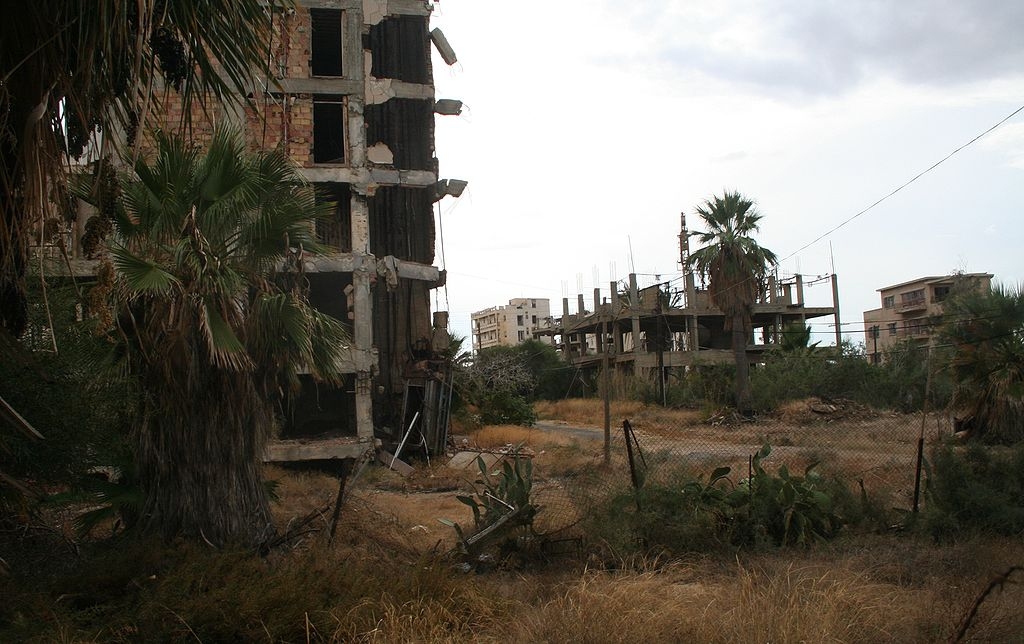 The crumbling buildings of the Varosha district of Famagusta, Cyprus, photographed in 2009. The area lies within Turkish-controlled northern Cyprus. The inhabitants fled during the 1974 Turkish invasion and the district has been abandoned since then. (Source: Wikimedia Commons)
If anyone blockaded another state, especially a Sunni state, Turkey would most certainly condemn it. But when Turkey itself blockades a Christian nation, it is always "justified" -- most often as a response to some "unacceptable wrongdoing" by the other side.
If a non-Turkish, or non-Sunni state, treated a Turkish or Sunni minority brutally, Turkey would passionately condemn it. But Turkey sees no harm in slaughtering its own Kurdish citizens, and devastating their towns. Turkey claims this is a just way of "fighting against terrorism."
Turkey can shoot down a Russian plane in the blink of an eye, because supposedly no one can violate Turkish airspace even for a few seconds -- or even if no such violation takes place. But Turkey can violate the Greek sovereign airspace countless times as a national sport or hobby whenever it feels like it?
If Western authorities criticize Turkey for its policies, Turkey accuses them of "intervening in Turkey's internal affairs."
For instance, when a group of journalists close to the movement of the Islamic cleric Fethullah Gulen were detained in a mass arrest operation on December 14, 2014 in Turkey, the European Commission, in a joint statement, criticized the police raids and arrests of the media representatives.
EU foreign affairs chief Federica Mogherini and the commissioner heading EU enlargement talks also said the arrests went "against European values."
Turkish President Recep Tayyip Erdogan responded in a public speech:
"When we take a step, someone in the European Union immediately comes up and makes a statement. According to what do you make this statement? What do you know?

"Those who have made this country wait at the gate of the European Union for 50 years, do you ever know what this [our] step is? The elements that threaten our national security -- be they members of the press, or this or that -- will get the required response. It is impossible for us to make them sovereign in this country.

"And when we take such a step, we do not think about 'what will the European Union say?' or 'will the EU accept us [as a member]?' We do not have such concerns. We will pull ourselves up by our own bootstraps. Please keep your intellect to yourselves."
Erdogan also said that the detentions were not an "issue" of press freedom and claimed that the Fethullah Gulen movement was backed by Israel, which Erdogan referred to as "the country in the south that he [Gulen] loves."
So, the European Union, of which Turkey is allegedly "striving" to be a member, cannot even issue a critical statement concerning Turkey's policies because that would "intervene in Turkish steps for national security," but Turkey can send jihadist fighters, arms or funds into Syria or Iraq and destroy lives and civilizations there?
Turkey seems to believe it always has to be strong and a leading force in the region. But if Kurds -- an indigenous, stateless and persecuted people -- are to gain a single right anywhere in the world, does Turkey find that unacceptable?
The entire history of Turkey as well as its current policies demonstrate that Turkey believes Kurds are inferior to Turks. Turkey does not even recognize the Kurds' right to be educated in Kurdish, evidently in an attempt to separate them from their identity.
"The policy of Republican Turkey since its establishment in 1923," wrote the author Amir Hassanpour, "is a typical case of what has been called 'linguicide' or 'linguistic genocide.' Forcing the Kurds to abandon their language and become native speakers of Turkish is the primary goal of the language policy."
Freedom and sovereignty are for Turks only. Kurds are just to be murdered or to be Turkey's servants. This has been the state policy of Turkey ever since it was founded in 1923.
"The master in this country is the Turk," said Mahmut Esat Bozkurt, Turkey's first Minister of Justice, in 1930. "Those who are not genuine Turks can have only one right in the Turkish fatherland, and that is to be a servant, to be a slave. We are in the most free country of the world. They call this Turkey."
Uzay Bulut, a Turkish journalist, is currently based in Washington DC.