On paper, the plight of Biafrans -- whose state in what is today southeastern Nigeria, lasted for only three years, 1967-70, before the Nigerian authorities ended it with a genocide against them -- should, for the international community, be an open-and-shut case.
Journalists, human rights activists, social justice warriors on campuses throughout the West, and organizations such as the United Nations and the European Union, all ostensibly claim to care deeply about human rights, especially for people whom the Europeans once colonized.
Biafra constitutes a textbook example of British colonization. The country's brief existence was cut short by the Nigerian government's genocide, which crushed all hopes for independence and self-determination. Biafrans, today, are denied their fundamental rights of assembly and free expression -- rights that are guaranteed by the Nigerian constitution. The Nigerian government continues murderously to oppress them and their movement for sovereign freedom.
The international community, headed by the UN, which preaches the gospel of human rights and self-determination, persistently ignores their national aspirations.
The territories that constitute present-day Nigeria came under colonial occupation as British protectorates around 1903. Nigeria is essentially an artificial construct, created as a colony by Great Britain in 1914, when it merged the protectorates. The country is made up of a number of different indigenous African peoples, among them the Biafrans, who are ethnically predominantly Igbo.
After Nigeria's independence from Great Britain in 1960, Biafra seceded from Nigeria, and in 1967 declared its own state. The Nigerian government refused to accept the secession and responded by launching a war on Biafra. The assault included a blockade of the nascent state, and resulted in the murder of more than two million Biafrans, many of whom were children who starved to death because of the blockade.
The Biafrans, watching the dissolution of their young state, surrendered to Nigeria in January 1970. They realized, perhaps, that the world's abandonment of them did not warrant any future for their cause.
Unlike others at that time, such as the Palestinian Liberation Organization (PLO), Biafrans did not engage in hijacking and bombing airplanes, taking hostages and other forms of terrorist attacks against innocent civilians to further their cause. The international community responds obediently to terrorism. Whereas the PLO has now become the Palestinian Authority (PA) and is among the world's largest per capita recipients of international foreign aid, with a plethora of "human rights activists" championing its cause (as well as a UN body, UNRWA, exclusively for Palestinians), it would be hard to find a diplomat at the UN who even knows how to pronounce "Biafra".
The question inevitably comes to mind, why the ostensibly anti-racist, pro-self-determination international community of opinion makers and human rights advocates has neither the political goodwill, nor the treasure to spare for the Biafrans.
Although the genocide effectively ended Biafran independence, a new generation of Biafrans is now peacefully pressing for an independent Biafra again. In an example of extreme hypocrisy, Muhammadu Buhari, the Muslim president of Nigeria, has declared himself fully committed to a Palestinian state, while his military fights the Biafran movement for self-determination with brutal force.
On May 30, Biafrans commemorated Biafra Heroes Remembrance Day. According to Amnesty International, the only major human rights organization that has interested itself in Biafra,
"An on-the-ground investigation... has confirmed that the Nigerian army gunned down unarmed people ahead of last month's planned pro-Biafran commemoration events in Onitsha, Anambra state.

"Evidence gathered from eyewitnesses, morgues and hospitals confirms that between 29-30 May 2016, the Nigerian military opened fire on members of the Indigenous people of Biafra (IPOB), supporters and bystanders at three locations in the town."
"Opening fire on peaceful IPOB supporters and bystanders who clearly posed no threat to anyone is an outrageous use of unnecessary and excessive force and resulted in multiple deaths and injuries. In one incident, one person was shot dead after the authorities burst in on them while they slept," said M.K. Ibrahim, Country Director of Amnesty International Nigeria. He continued, "This is not the first time that IPOB supporters have died at the hands of the military. It is becoming a worrying pattern and this incident and others must be immediately investigated".
Also, according to Amnesty, some of the dead and injured IPOB supporters were shot in the back, an indication that they were fleeing the scene when they were shot. In addition, soldiers stormed St. Edmunds Catholic church, where hundreds of people, who had come from other parts to participate in the pro-Biafran commemoration events, were sleeping. According to one witness:
"At about midnight, we heard someone banging the door. We refused to open the door but they forced the door open and started throwing teargas. They also started shooting inside the compound. People were running to escape. I saw one guy shot in the stomach. He fell down but the teargas could not allow people to help him. I did not know what happened to the guy as I escaped and ran away."
Another witness told Amnesty that on the morning of May 30, he saw soldiers open fire on a group of around 20 men and boys aged between 15 and 45. He said that five of them were killed. "I saw one boy trying to answer a question. He immediately raised his hands, but the soldiers opened fire...He lay down, lifeless. I saw this myself." The witness described how military officers loaded men with gunshot wounds into one van, and what appeared to be corpses into another. Later that morning, another witness described how police shot a child bystander as a group of young men protested the shootings.
According to Amnesty,
"Following the shootings, the military told media sources that the soldiers only opened fire after being shot at first, but Amnesty International's research has found no evidence to support this. All the people the organization interviewed said that the protesters were not armed; one young man said that he threw stones at the police and military after they shot teargas at the IPOB members. He said the military then fired live ammunition in return. Information gathered by Amnesty International indicates that the deaths of supporters and members of IPOB was the consequence of excessive and unnecessary use of force. International law requires the government to promptly investigate unlawful killings with a view to bringing the perpetrators to justice. Amnesty International is also calling for those IPOB supporters still held in detention without charge to be either immediately charged or released".
Amnesty International began research into the violence and killings of IPOB members and supporters in southeast Nigeria in January 2016 and is expected to publish a comprehensive report on the matter in the near future.
Thus far, Amnesty says , its research shows that,
"Since August 2015, there have been at least five similar incidents in Onitsha alone where the police and military shot unarmed IPOB members and supporters. Amnesty has documented cases of alleged unlawful killings by the Nigerian army between August 2015 and May 2016. In August 2015, military officers opened fire on peaceful supporters of IPOB calling for an independent Biafran state. The killings and mass arrests of members and supporters of IPOB by joint military and police operations continued.... On 17 December 2015, for example, the military killed five people when they opened fire on members of the IPOB who were demonstrating in Onitsha in a celebration of a court order for the release of their purported leader, Nnamdi Kanu. In February 2016, the Nigerian military used excessive force to disperse a peaceful gathering in a school compound in Aba. At least nine people were killed and many more injured..."
As for IPOB's leader, Nnamdi Kanu, director of London-based Radio Biafra, he was arrested in October 2015 and has since been held, illegally, despite meeting bail conditions.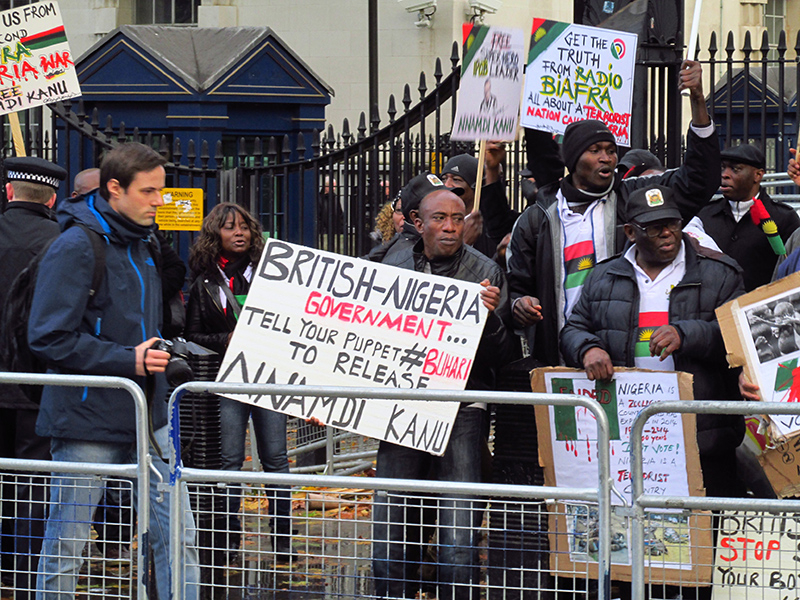 Supporters of "Indigenous People of Biafra" (IPOB) protest in London against the Nigerian military's killings of civilians in Biafra, and call for the release of IPOB's leader, Nnamdi Kanu, November 13, 2015. (Image source: David Holt/Flickr)
By contrast, while President Buhari uses military force against the peaceful Biafran movement, including at events as innocuous as Biafran commemoration ceremonies, his government has stated that it will not use military force against Fulani herdsmen. The latter comprise a predominantly Muslim, semi-nomadic group, now deemed to be the fourth-deadliest terror group in the world according to the Global Terrorism Index (GTI). Between 2010 and 2013, they killed 80 people in Nigeria, but by the end of 2014, this figure had risen to at least 1,229 people, according to the GTI, which ranked the African nation as the world's third most terrorized country.
According to Buhari's Minister of Interior, Gen. Abdulrahman Dambazau, however,
"This is a non-military issue that borders on law and order. It is not every security issue that you call in the military. It is the responsibility of the police to maintain peace. I believe that if we put the police in proper position in terms of discharging its functions, then there would be no need for military option. The police are equal to the task.... In any case, I do not even have the power to deploy the military for anything. It is only when the situation gets out of hand that you invite the military."
It is noteworthy that a peaceful situation, such as that of the pro-Biafra movement, apparently requires a "military option", whereas a lethal terrorist group, such as the Muslim Fulani herdsmen, who murder innocent civilians, does not. This tactic furthermore brings into question, whether Buhari's efforts at curbing Boko Haram in the country are genuine or merely a play the Nigerian president puts on half-heartedly for the benefit of the international community.
The situation should at least give countries such as Germany serious reason to reconsider their involvement in the region. Germany has said that it will begin supplying military hardware to the Nigerian government to address "security challenges in its North East and Niger Delta regions" before the end of 2016. One has to wonder whether Germany, a country that has invited migrants into its country in order to show how tolerant it is, has considered that it risks supplying the Nigerian government with military hardware that could well be used to kill Biafrans.
Other countries in the process of selling, or planning to sell, weapons to Nigeria, include the United States, which refused -- bizarrely, out of "human rights concerns" -- to provide the former Nigerian president, Goodluck Jonathan, a Christian, with weapons to fight Boko Haram, but apparently has no qualms about helping Buhari, a Muslim, whose murder of defenseless people in southeastern Nigeria is evidently considered unproblematic.
In short, the international community has a lot of explaining to do.
Judith Bergman is a writer, columnist, lawyer and political analyst.