"So essentially there's a sense that, yes, there's a new more assertive, maybe even more aggressive Russia, but fundamentally Russia is a state in decline. And we have conversations in NATO headquarters about states in decline and arrive at two fundamental models, states in rapid decline which typically lead to chaos and breakdown, and states in gradual decline. And we ask ourselves which of these two models would we have our nearest, most militarily capable neighbor with thousands of nuclear weapons move along. Obviously trying to manage Russia's decline seems more attractive than a failed state of that size and magnitude on NATO's border."
So says Douglas Lute, Washington's permanent representative to NATO. Speaking in April at the Aspen Security Forum Global in London, Lute explained why the West adopted clearly inadequate measures to stop Russia after its seizure of Crimea and portions of Donbass. As the thoughtful diplomat explains, "it may not make sense to push further now and maybe even—and maybe accelerate or destabilize that decline."
If we do not act because Russia is weak, then how do we explain the West's China policies? China, in the estimation of almost all policymakers and analysts, is not on the way down. On the contrary, they believe it is ascendant.
By now, they also know that Beijing is increasingly aggressive. China grabbed Scarborough Shoal from the Philippines four years ago. Since then, it has attempted to seize another South China Sea feature, Second Thomas Shoal, also from Manila, and the Senkaku Islands, in the East China Sea, from Japan. The Chinese military has, without justification, closed off portions of the international waters of, and airspace over, the South China Sea. Chinese authorities, virtually without consultation, declared an air-defense identification zone, which included the sovereign airspace of Japan, over the East China Sea. China's generals have repeatedly sent their troops deep into Indian-controlled territory at various spots in the Himalayas.
And our response? That has been to continue "engagement" of the Chinese regime, helping to strengthen its economy and institutions and integrate it into multilateral organizations. The concept is that, at some point, Beijing will enmesh itself into the international community and accept global norms. Most everyone believes that if China has a stake in the world, it will help defend the existing system.
In short, the West has developed reasonable-sounding rationales for not acting in the face of what is clearly aggression by big powers. That inaction has bought peace, but the peace has never been more than temporary. Eastern Europe and East Asia are in seemingly never-ending crises because officials in Beijing and Moscow believe their countries should be bigger than they are today.
Faced with little or no resistance, China and Russia are succeeding in redrawing their borders by force. It should be no surprise that success has only increased their ambitions, with each now wanting even more territory of their neighbors. The Kremlin is at this moment threatening Poland and the Baltics. Beijing is acting provocatively in an arc from India in the south to South Korea in the North.
By using forceful tactics, both the Dragon and the Bear are destabilizing the world. So we should not care whether an aggressor is weak or strong. It is the aggression that now matters.
What to do? America and its allies and friends must first stop China and Russia, then reverse the gains from their belligerent acts, and finally impose costs greater than the benefits they obtained.
This means, with Russia, forcing Moscow to return Crimea to Ukraine and evicting the Kremlin's forces from Donbass. In the first instance, the West will have to impose progressively stricter sanctions, perhaps even an embargo on all commercial and financial dealings.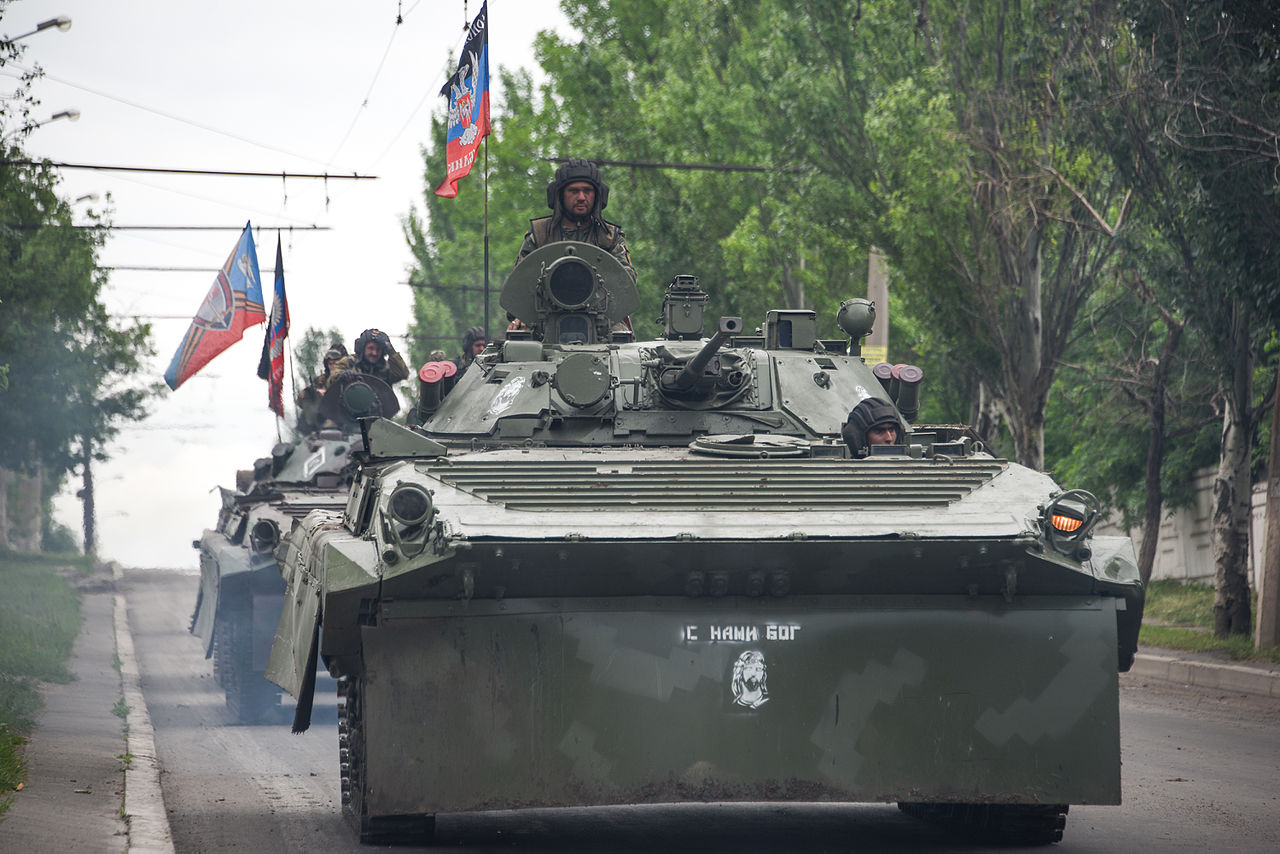 Armored vehicles of a Russian-backed rebel force near Donetsk, Eastern Ukraine, May 30, 2015. (Image source: Mstyslav Chernov/Wikimedia Commons)
Russia experts say that moves like these will only increase popular support for Vladimir Putin and that the Russian people can endure great hardship. Whether or not these propositions are correct, coercive measures will deprive the Russian military of the resources it needs to threaten neighbors.
At the moment, the country is particularly vulnerable. The economy, for instance, is already in dreadful condition. Last year, according to the Russian Federal Statistics Service, gross domestic product contracted 3.7%. This year, the outlook also looks negative, as both officials and analysts say.
Putin, under strict sanctions, will not be able to afford to keep his planes in the air or create the three new divisions now planned to be deployed on the border with the Baltic states and Poland. His ships will have to stay close to port.
Should we, like Ambassador Lute, be concerned by a nuclear-armed, hostile state falling apart? Of course, but we should be more worried by a hostile state launching nuclear attacks on the Baltics, as the Kremlin has repeatedly threatened to do. An invasion of Estonia, Latvia, or Lithuania, however carried out, will trigger a wide war, due to their NATO membership.
As a matter of urgency, those threatened by Putin — his neighbors, Western Europe, and the United States — need to delegitimize him and the other hostile elements in Russia. Delegitimization begins and ends with his being forced to return seized territory.
With China, America and its partners need to take back control of Scarborough, in the northern reaches of the South China Sea. In the spring of 2012, Chinese and Philippine vessels sailed in close proximity around the shoal, just 124 nautical miles from the main Philippine island of Luzon and close to the strategic Manila and Subic Bays.
Washington brokered a pact between Beijing and Manila, whereby both agreed to withdraw their vessels. Only the Philippines complied, however, leaving Beijing's vessels in control of Scarborough.
The Obama administration, wanting to avoid a confrontation with the Chinese navy, did not enforce the agreement it had just finished sponsoring. American inaction made the problem even bigger, because Beijing then ramped up pressure on Second Thomas Shoal and the Senkakus. America, through doing nothing, just convinced the Chinese they had license to do whatever they wanted.
China's ever-expanding ambitions have consequences. In late March, the New York Times reported that General Joseph Dunford, chairman of the Joint Chiefs of Staff, was overhead at the Pentagon asking Admiral Harry Harris, the chief of the U.S. Pacific Command, what could be the most important question of the era: "Would you go to war over Scarborough Shoals?"
As Dunford's question suggests, our general policy approach, in place for decades, is not working now. We have essentially taught the Chinese that aggression pays, and when aggressors are allowed to keep their prizes, the international system, as sturdy as it is, can be taken down quickly.
Nothing will be as effective in restoring stability in East Asia as a Chinese retreat from Scarborough. The U.S. Navy, should employ Beijing's own "cabbage" strategy of surrounding an opponent and deny China's access to the strategic feature by bringing in far more firepower than China can muster — and staying as long as necessary. Moreover, Washington should threaten to close off the American market to a China increasingly needing to boost exports, now in a precipitous drop, down 7.3% in the first five months of this year.
Do we risk armed conflict when we force the Chinese to abandon the shoal or Putin to give back Crimea? Yes, but policymakers, employing policies that sounded good to the ear, have let situations drift for so long that there are no good options left. The choice is no longer risk versus no risk. The choice is which awful risk to assume.
The Chinese and Russians may be villains, but it is we, through inaction, who have permitted them to be villainous. We have, with the best of intentions, created an exceedingly dangerous world.
Gordon G. Chang is the author of The Coming Collapse of China and a Senior Fellow at the Gatestone Institute.