It is finished. The last attempt to instil a portion of decency into the party of the British left is over. The party of the UK left -- the Labour party -- has now returned to precisely the position it was in before its recent racism row. It has investigated itself, found itself innocent and now reappointed the figure who kicked the whole row off.
Gatestone readers have been able to follow this from the start. After Jeremy Corbyn's shock election as Labour party leader last year, in November we covered the "new racism" that came -- and would increasingly come -- from a party that had just elected a man who has called Hamas and Hezbollah 'friends' and who has spent a lifetime palling up with the worst anti-Semites and anti-Western bigots on the planet. The election of such a man, we predicted, would have consequences.
Then in February of this year, when the Labour Club at Oxford University turned out to be overrun by barely disguised and largely open anti-Semitism, we suggested that the rot of this party had surely started "from the top." It is hard to expel junior members for crimes no worse than those committed by the leader of their party.
In March we covered the growing tolerance within the party for the spread of anti-Semitic tropes and the dominance of anti-Semitic types. Parliamentary candidate Vicky Kirby had previously been suspended from the Labour party for tweeting about Jews having "big noses" and about Adolf Hitler being the "Zionist god" and similar less-than-attractive outpourings. Under Mr Corbyn's leadership, Ms Kirby was reinstated and became the vice-chair of her party's local chapter.
Then in May came the beginning of the big scandal -- the one that looked finally, perhaps, even likely to move Jeremy Corbyn from his position. At the end of April, a string of scandals had occurred all in precisely the same area. Naz Shah -- an MP for Bradford -- was found to have spread anti-Israel and anti-Semitic messages on Facebook and other social media. These included a suggestion that the Jews of Israel all be forcibly deported and sent to America. At the same time, Labour MP Rupa Huq appeared to try to justify, and then swiftly step back, from endorsing such sentiments and a set of Muslim Labour councillors were suspended for anti-Semitic outbursts.
Once former London Mayor and member of the party's executive committee Ken Livingstone had started claiming that the Jews had been in alliance with Hitler before the Holocaust, even Jeremy Corbyn realised that he had to act. He promptly set up a review into anti-Semitism run by new party member, Shami Chakrabarti. We immediately predicted that this review would consist of an attempt to "deny, divert and cover-up" the problem. The warning-signs were already there, not just in that the person appointed to run the review (who among other things had no expertise, knowledge or experience in the issue of anti-Semitism) but because it was swiftly announced that the inquiry would not only look into anti-Semitism but also into the presence of "other forms of racism," including "Islamophobia."
So it was no surprise to anyone when in July we revealed that the Labour party had indeed, as mentioned, "found itself innocent." The Chakrabarti report had found no evidence of anti-Semitism "or other forms of racism," although it did concede that there was an "occasionally toxic atmosphere" and some evidence of "ignorant attitudes."
That two anti-Semitic incidents had occurred at the launch of this whitewash -- one from Corbyn himself in which he seemed to compare Israel with ISIS, and another in which a Jewish Labour MP felt bullied into leaving -- apparently was just the tip of the problem.
Since the launch of the report, Jeremy Corbyn has appeared in front of a House of Commons Home Affairs Committee, which is itself looking into the issue of anti-Semitism, and in which Corbyn was questioned on his party's report. Slightly belying the claim that it was fully independent, Ms Chakrabarti sat behind Corbyn while he gave evidence, nodded along to his statements, scowling at criticisms and slipping notes to him to assist him until she was berated by the Chair for doing that. At that hearing, the full intellectual vacuity of her barely 30-page report became evident.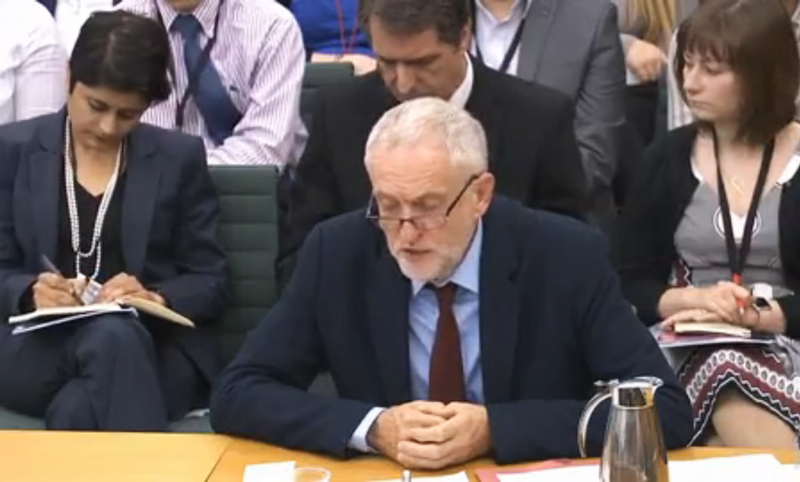 Jeremy Corbyn (center) is questioned by a House of Commons Home Affairs Committee on the Labour party's anti-Semitism inquiry, while the inquiry's author, Shami Chakrabarti (left) scribbles a note to him, July 4, 2016. (Image source: UK Parliament)
At one point Corbyn was asked about one Jackie Walker, an activist who had been suspended and then re-admitted to the party after describing Jews as being the "chief financiers of the slave trade." According to Corbyn, Jackie Walker still had a "positive contribution" to make to the Labour party.
The Chakrabarti report had said, in its section on "guidance on language and behaviour," that "racial or religious tropes and stereotypes about any group of people should have no place in our modern Labour Party." Yet with the report's author sitting behind him, nodding and urging him along, Corbyn then insisted that a figure like Walker not only had a place but had a "positive contribution" to make.
Asked before the House of Commons committee what would henceforth happen to Labour members who used inappropriate terms about Jews, Corbyn replied, "What will happen is that they will be told they should not use them." A bold piece of leadership to be sure.
In any event, readers will not be surprised that after all this, on July 5, it was announced that Naz Shah -- the Labour MP whose suspension had started most of this -- had formally been readmitted into the Labour party. The Labour party for Bradford West is back and all is well. Britain's Labour party has been successfully recaptured. It was all so easily predictable. As will be the next steps in the moral degeneration and demise of the British left.
Douglas Murray, a British author and commentator, is based in London.