Iran is not only detaining and arresting more Iranian-Americans, but also boasting about it and publicly asking for more money to release them.
Iran's Islamic Revolutionary Guard Corps (IRGC) pointed out recently: "We should wait and see, the U.S. will offer ... many billions of dollars to release" two particular Iranian-American businessman, Siamak Namazi and his father Baquer Namazi.
According to Alex Shirazi's nuanced profile, Siamak Namazi was one of the intellectual architects of the National Iranian American Council (NIAC), which has been accused of lobbying for the Iranian regime and pursuing policies that benefit themselves and the Iranian regime. Accordingly, the organization was founded "as a way to continuously lobby for the removal of sanctions against Iran and to promote Iran's foreign policy, while combating the pro-Israel sentiment in America, according to documents from a Cyprus convention that featured the two men."
Mr. Namazi worked for Iran's Ministry of Housing and Urban Planning from 1994 to 1996. He also joined a company in Tehran called Atieh Bahar Consulting (AB), which was founded by Pari Namazi and her husband, Bijan Khajehpour.
The Tehran-based Atieh Bahar Consulting "offered a range of legal and industrial services to foreign enterprises, most importantly the access it provided to the [Iranian] regime, and the advice it dispensed on how best to navigate the vagaries of the regime's entrenched factions and competitive interests."
In addition, Siamak Namazi seemed to advocate doing business with the Iranian regime, as he pointed out to Lebanon's Daily Star newspaper: "If oil companies want to operate in the Iranian market they need to link up with a local partner, and this is where we step in and help them to find the right partner." This apparently occurred at a time that there were US economic sanctions imposed on Iran, including sanctions on firms dealing with the Iranian government. Baquer Namazi was governor of Iran's Khuzestan province one of the most oil-rich areas in the nation.
Earlier this year, the Obama administration paid nearly $1.7 billion in cash to make sure that Iran would release four Iranian-Americans who were taken as hostages. According to one report, "Future payments to Iran could reach as much as $2 billion, according to sources familiar with the matter."
One of the hostages was Jason Rezaian, who according to his family, has been trying to improve the Islamic Republic's image to the world through his work. Improving Iran's image would undoubtedly benefit the Islamic Republic's political establishment and the ruling politicians of Iran in many ways such as re-entering the international community, enhancing its global legitimacy, re-engaging in the world financial system, improving business opportunities, and bringing more revenues which would empower the IRGC, the hardliners, and the Supreme Leader, Ayatollah Ali Khamenei.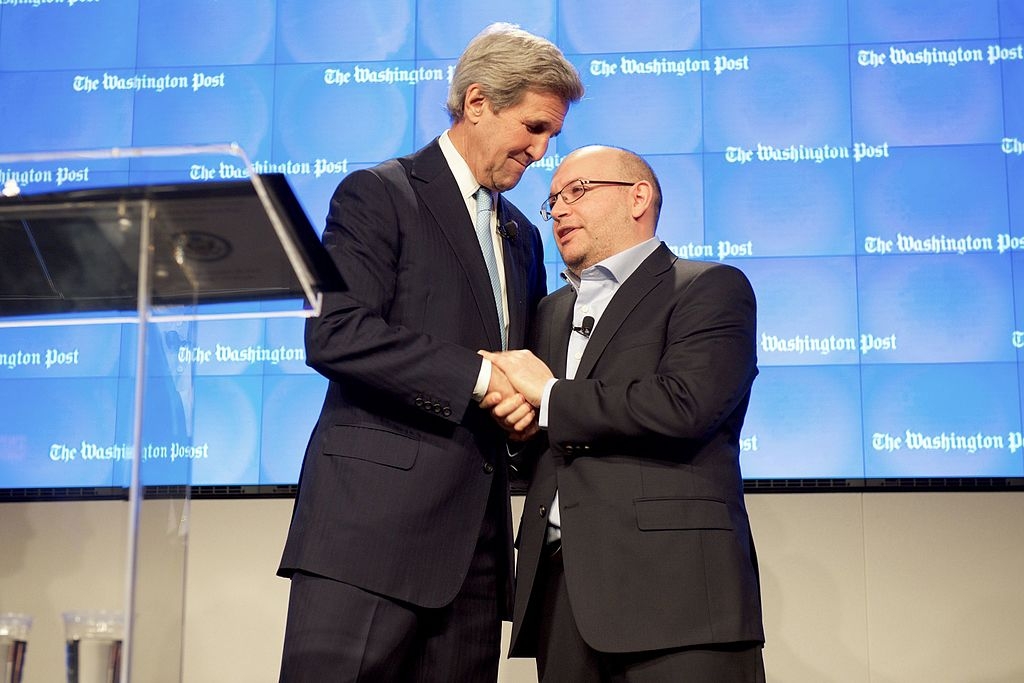 One of the American hostages that Iran this year released in exchange for $1.7 billion in cash was Jason Rezaian, who according to his family, has been working to improve the Islamic Republic's image to the world. Rezaian is pictured above with U.S. Secretary of State John Kerry on January 28, 2016. (Image source: U.S. State Department)
One major question that many would then ask is: why the Iranian government would arrest Iranian-Americans who seem to be benefiting the Iranian government's interests, enhancing Iran's legitimacy, doing business, making money for themselves, making money for the Iranian government, or supporting an Iranian lobby group? Is this all part of a tactical game to extort more money from the US, as some might argue?
Other questions raised are that while the State Department has long warned American citizens against traveling to Iran, why do some dual nationals, primarily Iranian-Americans, continue to travel to Iran for business or other reasons? Does not this place the US in a grave situation where it has to plead with Iranian leaders and pay money, while the Iranian government gains the upper hand and enjoys more leverage against Washington?
There are several other issues at stakes as well. First of all, from the IRGC and Khamenei's perspective, while some dual nationals, Iranian-Americans, might appear to be advocating for the Iranian government and advancing Iran and their own interests, the IRGC still can play the tactical game that these individuals are siding with specific Iranian leaders such as Iran's President Hassan Rouhani and Iran's foreign minister Javad Zarif, rather than siding with other Iranian leaders.
Secondly, and more fundamentally, the Iranian government has learned that arresting dual nationals and Iranian-Americans not only can lead to the flow of billions of dollars to Iran, but also can ratchet up Iran's political leverage against the US and Western allies.
Finally, U.S. President Barack Obama appears to have forgotten the basic rule of foreign policy and international law, that a state should not engage in negotiation or paying ransom to other state or non-state actors listed as top sponsors of terrorism or as terrorist organizations.
Paying ransom only reinforces their behavior. The State Department's own report in 2016 found Iran to be still the "top state sponsor of terrorism." Iranian-Americans who travel to Iran despite the warnings put the US in a difficult situation. President Obama is dangerously encouraging the Iranian leaders' detaining and arresting dual nationals to extort money and play hardball.
Dr. Majid Rafizadeh, political scientists and Harvard University scholar is president of the International American Council on the Middle East. He can be reached at Dr.rafizadeh@post.harvard.edu