Turkish President Recep Tayyip Erdogan, until a few years ago, could astonish. Now the pattern of his primary political strategy boringly repeats itself.
The pattern started in 2009 with Erdogan's shocking tirade against then Israeli President Shimon Peres. "When it comes to killing," Erdogan told Peres at the Davos meeting, "You know very well how to kill." In the following years, that romantic neighbourhood-bully behaviour against major powers added to his popularity at home -- in addition to the anti-Zionist rhetoric and Jew-bashing that boosted his popularity both at home and on the Arab Street.
The target "tyrant" did not have to be non-Muslim. "Dictator Sisi" -- his reference to Egypt's President Abdel Fattah al-Sisi, and the "Tyrant, murderer of Damascus" -- his reference to Syrian President Bashar al-Assad are still common currency.
Crowds vowed to march to war after him if he decided the mighty Turkish army should reach the gates of Damascus, Cairo or Jerusalem.
They cheered and cheered. In the personality of Erdogan, they were going to find the lost soul of their great imperial past. Erdogan, a smart politician, knew very well that even the talk of reverting back to "our glorious days" would suffice to mobilize "victory-hungry" masses behind him. You did not have to start the Third War to satisfy their thirst and convert it into votes.
This explains why Erdogan in later years diverted his empty, inflammatory rhetoric to the ailing European Union (EU). His -- and his cabinet ministers' -- rhetoric regarding the EU looked (and still looks) quite "Duterte-ish" -- ready to push people out of helicopters. That can be hardly surprising. This is what the "average Turk" wants to hear: The tough, brave guy challenging the world's major Western powers.
The same holds true for the United States. The past few years have featured the same story between Ankara and Washington:
Sir, the Turks are accusing the U.S.A. of...
Turkey is our ally. We can always talk to them to prevent any misunderstanding.
So boring, with all possible turns of speech, writing and press releases of spokespersons' cliché replies that never make it into big headlines. On December 28, for instance, Erdogan said he has evidence that U.S.-led coalition forces gave support to terrorist groups, including the Islamic State of Iraq and the Levant (ISIL) and Syrian Kurdish forces. A U.S. embassy statement said:
"The United States government has not provided weapons or explosives to the YPG or the PKK [Kurdish groups] -- period. We repeatedly have condemned PKK terrorist attacks and the group's reprehensible violence in Turkey.... The U.S. is cooperating with Turkey in the operations against ISIL."
So dry. So insufficient.
In Turkey's multiple and extremely serious challenges against various countries in recent years, there was only one leader who knew in which language to talk to Erdogan: Vladimir Putin. On Nov. 24, 2015, two Turkish F-16 jets shot down a Russian Su-24. Ankara said that as part of the new rules of engagement, any foreign plane violating Turkish airspace would be shot down. Putin immediately downgraded diplomatic relations, announced scores of punishing economic sanctions but, more importantly, he promised that the price Turkey would have to pay would not be limited to the economy and trade.
Turkey's economy started to suffer by losing billions of dollars in tourism and export revenue in half a year. Erdogan panicked. He sent envoy after envoy to normalize ties with Russia. Moscow demanded an apology, which in mid-2016 Erdogan offered to Putin. Since then, Erdogan has been behaving like a member of the Shanghai Cooperation Organization (SCO), led by Russia and China. More than once Erdogan offered to abandon the EU and join the SCO.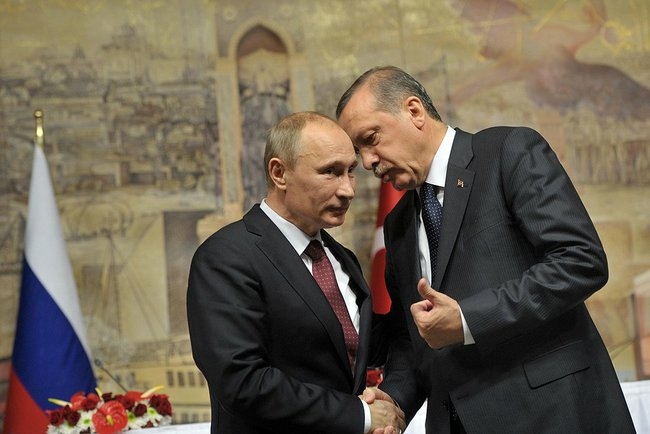 In July 2016, Erdogan apologized for downing a Russian plane, and in August he went to Russia to shake hands for normalization. Pictured: Russian President Vladimir Putin with Turkey's then Prime Minister Erdogan, meeting in Istanbul on December 3, 2012. (Image source: kremlin.ru)
Erdogan's balancing act has been successful not because the Russians are fools. It has been successful because his Western counterparts were too naïve in deciphering him and his real political motives. There is something brave and cunning about Erdogan. He keeps fighting until the end, so long as he does not perceive or face any imminent major political or economic threat to his rule. He would, however, immediately change sides if the path he is on is potentially a costly one -- as in how Putin "reshaped" Erdogan.
Burak Bekdil, one of Turkey's leading journalists, was just fired from Turkey's leading newspaper after 29 years, for writing what was taking place in Turkey for Gatestone.