Universities and colleges in the United States need to be safe places where students of all backgrounds and beliefs can live and study, free from intimidation by other students, faculty, and administrators.
Protests are fine, and they are our right as Americans, but there needs to be zero tolerance for violence and intimidation. If a speaker or group is committing or inciting battery, assault or vandalism, the situation should be a police and judicial matter -- as well as valid grounds for mandatory expulsion. There is no place for vigilantism by students, faculty or administers on campus to enforce political conformity. There is no place for any kind of intimidation and violence anywhere in the US. We should never let rioters have a hecklers veto over who gets to speak. The following are some ideas to rein in the current terror on campuses:
Pass a law that the leaders of protesters will be responsible for -- and must pay for -- the extra security needed.

The people who are causing the problems should be the ones who pay -- not only in colleges and universities but in other venues also. If you participate in and/or pay for a group and organize a protest, and if you or your group intentionally commits violence, you and your protestors should be held responsible for the cost of police and other security in the event of physical or personal injury. The protesters (or rioters) will say it is free speech, but when they are trying to shut down someone else's free speech in a physical way, that is denying someone's constitutional rights with violence.

If there is violence, organizers should have to pay for property damage and medical bills of the injured as well as face legal consequences.

Pass a rule that universities, including professors and administrators, should be personally responsible in their dealings with students not to enforce political preferences in any way. If any professor or administrator uses a student's political beliefs in any way as a means of judging that student's grades or position at a school, it should result in dismissal and criminal charges. The left has used social intimidation and job insecurity as a weapon to drive conservatives out of academic life for half a century. Students at a university have the right to be in an atmosphere where they are not belittled, disparaged or intimidated because they hold a minority political view. This was what the left fought for in the sixties; now they have become the oppressors.

There should be a federal law that makes trying to deny somebody's right to free speech a felony with mandatory jail time, for even first offense.

There should be a law that says a person participating in a riot is guilty of the crimes committed by the group, the same as in robbing a bank: if one of your partners murders a teller then all the bank robbers are guilty of murder.

Make it a crime for a police chief or mayor to not repel violent rioting.

The FBI should be tasked with identifying violent rioters and building felony cases against them.

No one should ever take action against a protester who is not being violent. If someone is not resisting or is incapacitated, then care should be taken to use minimal force.

There should be a shaming-campaign to get donors to stop donating to schools that permit violence and actively try to stomp on the rights of students or any non-violent group of persons and speakers. Colleges should support free speech and diversity of opinions.

There needs to be a law that makes it legal to record all university classes and lectures, and public meetings. This should apply to public and private schools. If you take on the responsibility of molding young minds, there needs to be complete transparency and accountability. Whatever you teach should be public. What would be the point of keeping what you are teaching a secret? The idea of education is to spread information. What is the big secret?

All alumni and donors should be able to sit in on any class they wish. They should simply have to go to the administration and request a permission slip. It would be safer for students if there were a background and metal-detector check on the person making the request, but in general it should be a right for donors and alumni to be in any class at any time without the professor having prior notice, but also a right to remove them if they should become disruptive.
The rioters have been doing us a favor by showing their real colors.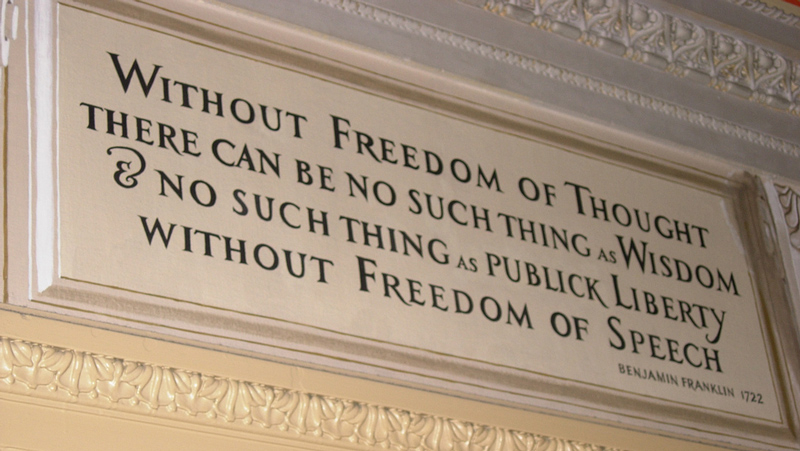 (Image source: Wikimedia Commons/k_donovan11)
Jeff Trag is based in Tlaquepaque, Jalisco, Mexico.