Does a country involved in financing Islamic terrorism deserve to be invited to join the world's biggest military alliance, and receive all the perks that come with it? Many may argue this is the case with the small Balkan state of Montenegro, whose NATO membership will soon be taken up for consideration by the U.S. Senate.
According to a 2016 investigation by Balkan journalists Marko Vesovic, Vladimir Otasevic and Hasan Haydar Diyab, the Montenegrin government is indirectly involved in the funding of Islamic terrorism. More precisely, between 2013 and 2015, 3.5 million kilograms of cigarettes were illegally delivered from the Montenegrin port of Bar to Libyan areas under the control of terrorists close to al-Qaeda and ISIS. And such a movement of cargo would not have been possible, they claim, without the explicit endorsement of high-ranking Montenegrin officials. According to Vesovic, in an interview with Sputnik News, the former Montenegrin prime minister and president Milo Đukanović, who kept himself in power for the past quarter of a century (until 2016), would be himself a case in point.[1]
As revealed by Italian prosecutors in 2001, it seems that Đukanović was involved in the smuggling of cigarettes around the Adriatic by Italian crime syndicates in the 1990s. Charges were dropped due to Đukanović's diplomatic immunity, but not before he admitted his involvement in the criminal enterprise. According to Vesovic:
"The same Montenegrin elite is (now) involved in a very complex system of organized crime, based on the smuggling of cigarettes to North Africa. In the 1990s they were smuggled to Italy.... Now, as we see, they found a new market."
In other words, while Đukanović was busy signing the accession protocol with NATO in May 2016, boatloads of illegal cigarettes from Montenegro were apparently making their way into ISIS-controlled areas. Shortly thereafter, Đukanović was greeted by then US President Barack Obama in New York and praised for his country's progress. For all his talk of rethinking America's foreign commitments, it appears that President Donald Trump has also made the decision to endorse Montenegro's membership bid, according to the Wall Street Journal.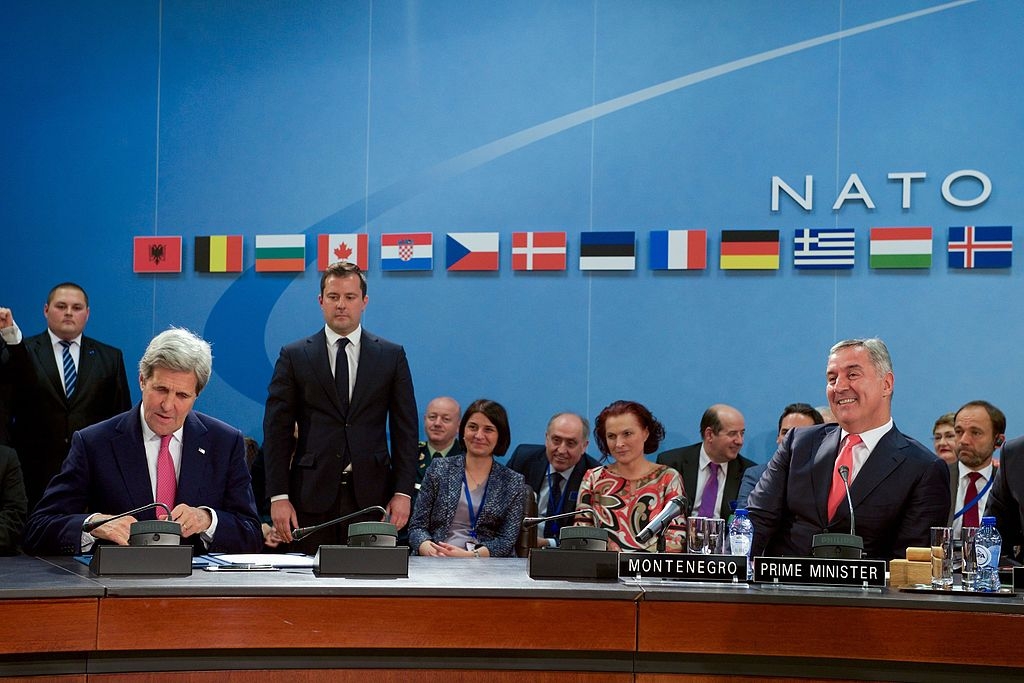 While then Prime Minister Milo Đukanović of Montenegro (sitting behind the table, at right) was busy signing the accession protocol with NATO in Brussels on May 19, 2016, boatloads of illegal cigarettes from Montenegro were apparently making their way into ISIS-controlled areas. (Image source: U.S. State Department)
As noted by political commentator Guy Millière, Trump is the first American President explicitly to designate militant Islam as a main enemy. He has constantly repeated his determination to eviscerate ISIS and to break with the complacency of his predecessor on this issue. In this regard, it seems that Montenegro's admission to NATO would be problematic.
Moreover, many Montenegrins have not forgiven the Western military alliance for some of its actions during the Kosovo War, including the 1999 bombing campaign that targeted Serbia and Montenegro. That memory explains why an opinion poll conducted in December 2016 found that only 39.5% of Montenegrins were in favor of NATO membership while 39.7% opposed it, with the remaining 20% undecided. Other opinion polls have produced similar results. Đukanović and his party might be prepared to drag Montenegrins kicking and screaming into NATO, but how committed an ally can it be?
Meanwhile, an argument has been invoked among officials from NATO and Montenegro to justify its admission: the geopolitical interests of the United States and a set of shared core values: the Western ones of "democracy, individual liberty, and the rule of law," to quote Deputy Assistant Secretary of Defense Michael R. Carpenter.
The geopolitical argument is implicitly premised on the so-called "Brzezinski Doctrine." Brzezinski himself, however, pointed out in 2016 that the strategy of dividing Eurasia at any cost failed, in that it did precious little to strip Russia of its influence while at the same time only heightening bilateral tensions.
Another problem is that the Montenegro's rule of law seems to leave much to be desired. According to Freedom House's 2016 survey, Amnesty International reports from 2015/16, or the 2015 edition of the Annual Country Reports on Human Rights Practices of the State Department, Montenegro can be described as an autocracy, stifling freedom of the press and freedom of expression, and with deep connections to organized crime. The October 2016 parliamentary elections were controversial, and the process was perceived as deeply flawed: messaging apps were blocked, mobile phone services broke down, and multiple instances of ballot-stuffing and physical abuse were reported.
Allegations by Đukanović that there was a supposed coup attempt against him were rejected by the opposition, who suspected the supposed attempted coup was actually a "false-flag" operation used by Đukanović to discredit his political rivals in the past. While Đukanović stepped down in October in favor of Duško Marković, a former intelligence chief and a close ally, he is widely believed to be the power behind the throne and to be planning a comeback in the 2018 presidential elections.
Taken together, these factors seem to leave the case for Montenegro joining NATO considerably thorny. As Doug Bandow, former special assistant to Ronald Reagan, summed it up: "Whatever Podgorica's virtues, reflecting the best of the West is not one."
Between its apparent links to the funding Islamic terrorism, its flawed democracy, and its still-insufficiently developed army, Montenegro is not yet a reliable partner for the West.
Grégoire Canlorbe, a journalist, currently lives in Paris.
---
[1] Sputnik News has an obvious pro-Putin bias, but here, it is referenced ONLY to quote the journalist, and it's the quote and the investigation that are relevant.