Israel Prepares for Jihadis
As thousands of radical jihadis have moved from abroad into Syria and the Sinai Peninsula, and joined radicalized local fighters to create the largest pro-al-Qaeda presence in the region, Israel is perfecting its ability to neutralize targets as quickly as possible.
As al-Qaeda-affiliated radical forces pour into areas bordering Israel's north and south, the Israeli defense establishment is adjusting itself to prepare for a new, post "Arab spring" reality.
According to Israeli security assessments, thousands of radical jihadis have moved into Syria from abroad, and joined radicalized local fighters to create the largest pro-al-Qaeda presence in the region.
The concern now is that Syria will act a springboard for jihad [holy war in the service of Islam] and that terrorists will move from Syria to nearby states -- Lebanon, Jordan, and the Sinai Peninsula in Egypt -- to create zones of extremism and violence.
This trend has already begun to take shape in Syria's neighbor, Iraq, where, since the spring months, thousands of people have been murdered in bombings and shootings in resurgent al-Qaeda attacks, mainly on Shi'ite targets.
The newly empowered Iraqi al-Qaeda elements are tied to Syria's largest al-Qaeda-affiliated group, the Al Nusra Front.
If or when the regime of Bashar Assad crumbles and these rebels seize Damascus, Israel and the US would immediately have to answer the question of how to secure Syria's enormous chemical weapons arsenal. Allowing those and other weapons to fall into radical hands is unthinkable.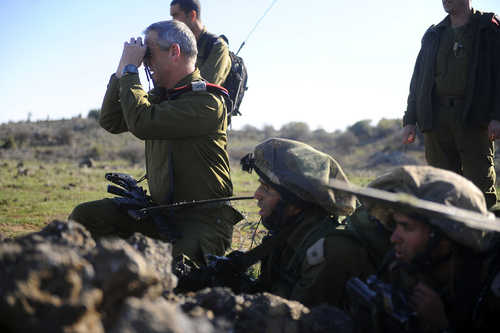 IDF Chief of General Staff Benny Gantz observes an exercise in the Golan Heights, near the border with Syria, in November 2011. (Source:IDF)
Meanwhile, to Israel's south, thousands of jihadi fighters have turned the Sinai Peninsula into a terrorist base. The Egyptian military, although occupied with efforts to stabilize Cairo, Alexandria, and other cities, has internalized the scope of the new threat in Sinai, and is busy preparing a large counter-terrorism offensive to rein in the radicals. Israeli Defense Minister Moshe Ya'alon said Egypt will likely launch the operation in the near future, and that it will proceed for a long period of time.
Despite increased Egyptian counter-terrorism efforts, senior Israel Defense Force [IDF] officials have stated that they expect the terrorists in Sinai sooner or later to attack Israel again.
These attacks could take two forms. First, they could fire rockets at Israeli population centers, such as the Red Sea resort city of Eilat, which relies heavily on tourism, and is located a stone's throw from the Sinai Peninsula.
Eilat has been already been targeted several times in recent years by Sinai terrorists firing rockets; the IDF recently mobilized an Iron Dome anti-rocket battery near the city to protect it from future rocket threats.
The second type of threat involves a ground raid by cells of terrorists armed with bombs, shoulder-held rockets, and automatic weapons, and with a view to penetrating the Israeli frontier and striking either a high-value target or a civilian population center inside the country.
Due to the increase in regional jihadi activity, as time goes by the chance of such incidents increases.
The IDF, not resting on its laurels, has put into action a large-scale plan to prepare Israel's northern and southern borders for the new threats they face.
On both borders, fences with sophisticated electronic sensors have been erected. Infantry brigades are being mobilized for border patrols in growing numbers. And commanders have increased the number of Artillery Corps and Armored Corps units.
As a direct response to the rising threat, the IDF held its largest Paratroopers Brigade exercise this week, in which, to practice mobilizing large forces behind enemy lines at a moment's notice, a thousand soldiers parachuted at night from Hercules transport planes to the ground. After landing, the paratroopers practiced how to form quickly into battalions, link up at staging grounds and launch assaults on enemy targets.
A senior IDF source said the exercise was taking place because "the enemies around us are gathering near our borders." He described the ability to parachute a thousand paratroopers behind enemy lines as a "huge advantage."
Col. Eliezer Toledano, Commander of the Paratroopers Brigade, said, "Many eyes are watching us in this drill: The eyes of the Israeli people, who must know that when Israel decides to, it can send 1,000 combat soldiers deep into enemy territory at a moment's notice; the eyes of IDF senior command, who knows it needs only mark the spot, and we'll already be there; and the eyes of our enemies, who will know that any moment, more than 1,000 paratroopers keen for battle will spit fire behind their lines."
Additionally, the IDF is working hard on gaining improved intelligence pictures of what is occurring beyond the northern and borders – an effort that includes the setting up of new field surveillance unit.
Throughout, the IDF is perfecting its ability to identify and neutralize targets as quickly as possible, by employing accurate firepower from a range of platforms.
In a region which is facing its most uncertain phase in decades, Israel is taking every possible step to ensure it is ready for anything.
Related Topics: Israel | Yaakov Lappin receive the latest by email: subscribe to the free gatestone institute mailing list
Reader comments on this item
Comment on this item
Tweets by @GatestoneInst
Subscribe To Mailing List
Latest Articles
by Khaled Abu Toameh
The arrest of businessman Mohamed Al Sabawi is seen as part of a campaign by the Palestinian Authority to intimidate and extort money from prominent and wealthy businessmen who seek to help strengthen the Palestinian economy. The case of Al Sabawi will undoubtedly scare potential investors and convince them that investing in Ramallah and other Palestinian cities is a bad idea.
A Palestinian Authority security official said that the arrest was a "routine legal procedure" against an investor suspected of slander and obstructing the work of police officers.
by Stephen Bryen and Shoshana Bryen
The administration's position is that the nuclear deal is separate from any other conversation with Iran including the fate of the Americans imprisoned there: retired FBI agent Robert Levinson, former U.S. Marine Amir Hekmati, and Iranian-American Pastor Saeed Abedini, who is currently housed in a "violent offenders" prison.
We get, essentially, nothing. But it is worse than that. Whatever the P5+1 believes it achieved pales in comparison to what the deal cost.
by Samuel Westrop
"Al Fatiha Global has a strict vetting policy ... We have certain people who actually go out and check people's social networking profiles, like Facebook and Twitter. If somebody has something on there which may seem a bit radical, then that's it, they're not accepted." — Kas Jameel, Aid Convoy Driver
Jameel, however, apparently forgot to vet his own social media postings.
by Khaled Abu Toameh
The Geneva accord and Washington's failed policies in Egypt and other Muslim countries have taught the Palestinians that it would be better to wait until the U.S. completely loses its influence so that other players such as Russia, China and the EU will step in and impose a solution on Israel.
The way the Palestinian Authority sees it, "If it worked with Iran, why shouldn't it work also with Israel?"
by Veli Sirin
"We will not allow boys and girls to live together in state-owed student residences. The values I hold do not allow such a thing. Anything can happen when it is mixed....All kinds of messy things are happening." — Turkish Prime Minister Recep Tayyip Erdogan, AKP Party.
"They have revoked women's rights step by step. Women should liberate themselves from a mentality that aims to lock them in the house." — Kemal Kilicdaroglu, leader, CHP Party.
"In a democracy, the state cannot play the voyeur. Stick to your own business." — Haluk Koc, CHP Party Spokesman.
Most Shared
Most Viewed