Germany: The Greatest Double Robbery in the History of Art?
A full list of artworks will not be published online. "We prefer if people with a claim to lost artwork get in touch with us to say which picture they are missing, rather than the other way around." — Reinhard Nemetz, State Prosecutor's Office, Augsburg, Germany.

"I find it shocking they won't list everything they've found. Families don't always know exactly what they're looking for until they see an image of it." — Lawrence Kaye, Art Lawyer, New York.
Anger is growing over the way the German government has handled information regarding a secret trove of some 1,400 works of art confiscated or fleeced by the Nazis and discovered in a Munich apartment nearly two years ago.
German prosecutors confirmed on November 4 that they had discovered the trove -- by artists including Marc Chagall, Albrecht Dürer, Paul Klee, Henri Matisse, Pablo Picasso and Pierre-Auguste Renoir -- in early 2012 as part a tax-evasion investigation. But they concealed that fact from the public until they were forced to reveal it after the German newsmagazine Focus revealed details about the discovery in an exposé published on November 3.
Jewish groups in Germany and elsewhere, as well as the families of Holocaust survivors seeking to recover looted art, are asking why German authorities allowed two years to pass before disclosing the find, and the U.S. State Department is calling on Germany to return the artworks to their rightful owners.
The art trove -- estimated to be worth about €1 billion ($1.35 billion) -- was unearthed in a trash-filled apartment of an 80-year-old man named Cornelius Gurlitt. According to Focus magazine, much of the art was bought at a pittance by Cornelius's father, Hildebrand Gurlitt, from Jews fleeing Germany during the Second World War.
The trail leading to the artworks began in September 2010 aboard a German train from Switzerland to Munich. Customs officials carrying out a routine check on passengers asked Cornelius for his papers and became suspicious when they found he was carrying an envelope with €9,000 ($12,000) in cash inside, all in crisp €500 notes.
The amount was within the legal limit of €10,000 for travel within Europe and Cornelius was allowed to go on his way, but the customs officials remained suspicious. In March 2012 (not in 2011, as Focus had originally reported) police conducted a raid on his Munich apartment on charges of tax evasion and embezzlement. Once inside the flat, they discovered a stash of 121 framed and 1,285 unframed works of art -- sketches, oil paintings, charcoals, lithographs and watercolors -- that were professionally stored behind mountains of canned food.
According to Focus magazine, at least 300 pieces in the Gurlitt collection are 20th century modern classics, so-called "degenerate art," a term used by the Nazi regime to describe virtually all modern art. The trove also includes masterpieces and many previously unknown artworks of "amazing quality." The oldest painting dates back to the 16th century.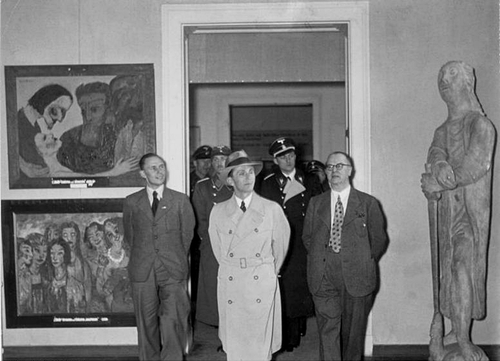 Nazi Minister of Propaganda Joseph Goebbels (center) visits an exhibition of confiscated art deemed "degenerate" by the Nazi regime, in this 1938 photograph. (Image source: German Federal Archives)
Cornelius inherited the artwork from his father, an art dealer who, in the run-up to the Second World War, had been in charge of confiscating art for the Nazis. Some of the works were seized from museums, while others were stolen or bought at a fraction of their value from Jewish collectors who were forced to sell. The art was often sold outside of Germany in order to raise hard currency for the Nazi regime.
Hildebrand Gurlitt -- who evidently kept much of the artwork for himself -- was detained and questioned by Americans investigating art looting after the war ended in May 1945. But Gurlitt, who had an apartment in Dresden during the war, told the authorities that his collection had burned in the bombing of that city in February 1945.
Hildebrand Gurlitt died in a car accident in 1956; after the death of his wife, Helene, in 1967, the collection passed on to Cornelius, who -- judging by the empty frames found in his house -- apparently sold the art one piece at a time to provide himself money on which to live.
In October 2011, for instance, Cornelius sold one painting -- The Lion Tamer (Löwenbändiger) by the German Expressionist artist Max Beckmann -- through the Cologne auction house Lempertz for €864,000 ($1.2 million). A staff member at Lempertz said Cornelius was "friendly and charming" and had told them "his mother had given him the work." No one, he said, "suspected a thing."
Officials at the auction house said they were surprised to learn from news reports that Gurlitt was under investigation. "No one from the government ever came to us or alerted us about him. What does it say about the federal prosecutors that they didn't feel the need to alert the auction houses?" a spokesman said.
According to art experts, however, Lempertz, which was established in 1845, has a long history of trafficking in art confiscated from Jews, and it ought to have suspected the Beckmann painting was of potentially dubious provenance.
Meanwhile, the whereabouts of Cornelius, who has not been arrested, are unknown. "We currently have no contact with the suspect. But there is no urgent suspicion that would justify a warrant," according to Reinhard Nemetz, head of the state prosecutor's office in the Bavarian city of Augsburg.
Speaking at a hastily arranged news conference on November 5, two days after Focus magazine published its story, a tight-lipped Nemetz defended the decision to keep the discovery of the artwork secret. He said Germany's privacy laws prevented his office from making any of the details of the investigation public.
"Our primary attention is on whether a crime has been committed," Nemetz said, stressing the "exceedingly complex legal position" of the case. He added that going public with the case would have been "counterproductive" to the investigation and would have posed a security risk because of the value of the artwork, which is being stored at a government warehouse in Munich.
Nemetz also denied accusations that Germany was seeking to keep the artwork for itself. "We do not want to keep the pictures," he said at a press conference. "The pictures are not going to be put up in my office."
A full list of the artworks, however, will not be published online -- despite the growing number of calls to do so -- because, Nemetz said, authorities do not want to be inundated with claims: "We prefer if people with a claim to lost artwork get in touch with us to say which picture they are missing, rather than the other way around."
But many observers outside of Germany are baffled by Nemetz's lack of transparency. "It is a mystery to me, I have no idea what was behind it," Israeli art expert Joel Levi said in an interview with the Israeli newspaper Ha'aretz. "I have no explanation as to why the German investigative authorities are adopting this method of 'Let's wait and see what happens.' I do not understand," he said, "why it remained in the investigation rooms until it was revealed in the German newspaper."
Art lawyer Lawrence Kaye told the Wall Street Journal, "I find it shocking they won't list everything they've found. Families don't always know exactly what they're looking for until they can see an image of it."
Another art lawyer, David Rowland of Rowland & Petroff in New York, called the German government's decision to withhold details or images of the recovered works a "huge disservice" to the families of Holocaust survivors. "Without a list, we can't do anything," he said. "They should put a list on the Internet with photos." Rowland also called the process of mailing off letters "just about the most inefficient way a person could handle this situation." Going forward," he said, "we hope the German authorities will be as transparent as possible."
The call for more transparency was echoed by Anne Webber, co-chair of the Commission for Looted Art in Europe, a London-based organization that helps families recover art seized by the Nazis. "As important a story as this is -- why have the Bavarian authorities been sitting on them for two years?" she said. "Bavaria needs to publish a list of these works as soon as possible."
Chris Marinello, the director and founder of London-based Art Recovery International, said Germany could accelerate restitution by making a list of the artworks available to the public.
"When you're dealing with Nazi-looted artwork that may belong to heirs in their 80s or 90s struggling to reconnect with their heritage, a detailed list of seized items should be posted online immediately," Marinello said. "There are so many organizations that specialize in researching Nazi-looted art claims that would have been happy to step up and assist," he added.
The U.S. State Department is now calling on the German government to accelerate restitution of artworks to American citizens and people in other countries.
According to the Wall Street Journal, the State Department believes that prosecutors in Germany violated the Washington Principles on Nazi-Confiscated Art of 1998, international norms that govern the handling of claims to art seized or looted by the Nazis. The specific provision violated calls for a speedy publication of information regarding the discovery of stolen works.
Others warn that legal ambiguity surrounding German property laws could make it difficult for heirs to the original owners to reclaim seized or looted works anytime soon. Even in the case of looted art, German law stipulates that the burden of proof is on the individual who files the claim to provide evidence that the artworks were acquired under duress.
According to an opinion essay published by the Swiss newspaper Neue Zürcher Zeitung, Cornelius Gurlitt may be entitled to keep much of the artwork, regardless of how it came into his possession:
Adolf Hitler's law on the confiscation of so-called degenerate art was the sovereign act of a sovereign state, hence all works that Hildebrand Gurlitt acquired as 'degenerate' are considered to be legally valid purchases. Therefore, Cornelius is not obliged to return at least 300 of the 1,500 artworks if he does not want to. Furthermore, the 'Washington Declaration' of 1998, in which over 40 countries committed themselves to search for Nazi-confiscated art in museums and archives and to negotiate fair solutions with the heirs, does not obligate Cornelius Gurlitt to do anything because the Washington Declaration does not involve privately owned artworks. We will have to wait and see what pressure German justice decides to use against him.
Germany is now facing pressure to amend its laws to make it easier to restore stolen art. For example, the U.S. government reportedly plans to press Germany to change its 30-year statute of limitations for filing claims in cases where the artwork is found to have been held by a private individual.
Pressure is also building from within Germany itself. In a front-page commentary published on November 5, the German newspaper Die Welt called on the German parliament to revoke the statute of limitations involving looted art and to declare that all sales contracts involving such works, even after 1945, to be null and void. "The greatest robbery in the history of art would, as far as possible, be completely reversed. It would be an overdue return to justice," the commentary said.
The Nazis confiscated about 16,000 pieces of art during World War II, according to the US Holocaust Memorial Museum in Washington D.C. An estimated 10,000 pieces are still missing and many families around the world are still searching, but maybe not for much longer.
Art experts expect much more Nazi-confiscated art to surface over the coming years. "This is not the end of it," according to Robert Edsel, author of the book The Monuments Men, an account of the taskforce assigned to rescue European cultural artifacts during World War II. (Edsel's book has been made into a film by George Clooney, to be released in February 2014.)
"As the World War II generation passes over the next five years, we're going to see more of this stuff coming out: paintings on walls, in attics from World War II veterans of all sides. We're going to find more of these. I don't know necessarily of this sort of scale, but we're going to see more of it," according to Edsel.
Soeren Kern is a Senior Fellow at the New York-based Gatestone Institute. He is also Senior Fellow for European Politics at the Madrid-based Grupo de Estudios Estratégicos / Strategic Studies Group. Follow him on Facebook.
Related Topics: Germany | Soeren Kern receive the latest by email: subscribe to the free gatestone institute mailing list
Reader comments on this item
Comment on this item
Subscribe To Mailing List
Tweets by @GatestoneInst
Subscribe To Mailing List
Latest Articles
by Oliver Williams
In the politically correct attempt to avoid "stereotyping" and be safe from discomfort, have we been blocking out reality?
Hollywood has been indulging in a sort of reverse racial profiling: cinematic terrorists could be anybody other than Muslims.
Muslim terrorists? As in the movie Non-Stop, Hollywood would rather cast the family members of 9/11 victims as terrorists rather than reflect that such a thing exists.
by Khaled Abu Toameh
Fatah has several hundred militiamen in the Gaza Strip, some of whom are members of the Palestinian Authority security forces, who continue to receive their salaries from Western governments.
At least two Fatah armed groups announced that they had started firing rockets at the "settlements" of Ashkelon and Sderot, cities inside the pre-1967 borders of Israel, with another Fatah group claiming responsibility for firing 35 rockets into Israel since Sunday.
So far as Abbas is concerned, "it all started when Israel fired back" in response to hundred of rockets fired at Israel from the Gaza Strip during the last few days. He seems concerned that if the world hears about the role of Fatah in the rocket attacks, the news will affect Western financial aid to the Palestinian Authority, which dominated by Fatah.
by Soeren Kern
"When it becomes serious, you have to lie." — Jean-Claude Juncker.
"We decide on something, leave it lying around, and wait and see what happens. If no one kicks up a fuss, because most people don't understand what has been decided, we continue step by step until there is no turning back." — Jean-Claude Juncker.
"Of course there will be transfers of sovereignty. But would I be intelligent to bring attention to that?" — Jean-Claude Juncker.
"I am for secret, dark debates." — Jean-Claude Juncker.
Juncker has been an unabashed advocate for expanding the powers of the EU. Critics say that the new system for naming the Commission president amounts to an "institutional coup" because it severs any remaining direct connection with the democratic process at the national level.
by Samuel Westrop
If British politicians are serious about putting a stop to the misuse of charity for pro-terror purposes, lawmakers could propose legislation that removes the effective immunity of charitable trusts from liability when their trustees are found to have used funds for terrorist or other unlawful activities.
by Valentina Colombo
"God is not fanatic; the ulema [religious scholars]... are." — Mohammed Charfi, Muslim intellectual.
Saudi Arabia's behavior comes with the bought consent of the West, which would rather constantly reprimand and punish Israel than address the Arab and Muslim world's floggings, stonings, beheadings and amputations -- not to mention executing homosexuals, gender apartheid and the often merciless treatment of foreign workers. Such a double standard exposes that many Europeans who consider themselves moral and speak about "ethical investing" are, in fact, accessories to these Saudi crimes, and therefore themselves guilty of crimes against humanity.
"He does not see this court as legitimate." — Samar Badawi, wife of human rights lawyer Walid Abu al-Khayr, who was sentenced by a Saudi court to 15 years in prison.
Raif Badawi, a Saudi blogger, has been sentenced to 1000 lashes, ten years in jail and a fine of $270,000 for a blog regarded by Saudi Arabia's regime as insulting Islam.
"My commitment is…to reject any repression in the name of religion…a goal that we will reach in a peaceful and law-abiding way." — Raif Badawi
Terrorism only exists, therefore, if and when it is directed at the Saudi regime, and may well mean just defeating Shiites.
Most Shared
Most Viewed