Kerry's Peace Process Double Standards
Translations of this item:
It is interesting how one comment from an Israeli minister has managed to strain relations between the U.S. Administration and Israel, while fiery rhetoric and street demonstrations against Kerry and Obama in the Palestinian territories and Arab capitals are completely ignored by Washington.
The U.S. Administration has reacted quickly and strongly to statements attributed to Israeli Defense Minister Moshe Ya'alon. Ya'alon was quoted by the Israeli daily Yedioth Ahronot as describing U.S. Secretary of State John Kerry as "messianic and obsessive."
In response, the U.S. condemned Ya'alon's comments as "offensive and inappropriate."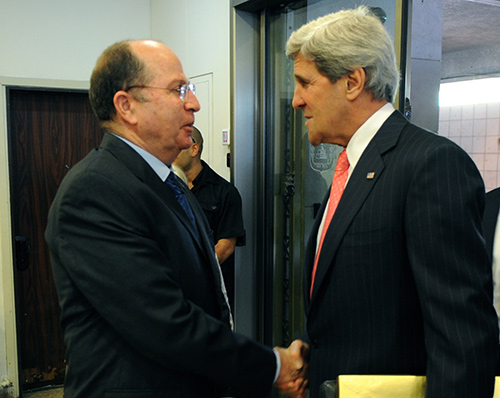 Israel's Defense Minister Moshe Ya'alon greets U.S. Secretary of State John Kerry in Israel, May 2013. (Image source: U.S. State Department)
But while the U.S. Administration has been quick in issuing a response to the Israeli minister's statements, it continues to ignore remarks and demonstrations against Kerry made by Palestinians and other Arabs.
Palestinian officials representing various organizations, including the Palestinian Authority, have been denouncing Kerry almost on a daily basis over the past few weeks. But these condemnations do not seem to bother the State Department.
Among the officials who have been extremely critical of Kerry's role in the current Israeli-Palestinian peace talks is Yasser Abed Rabbo, the PLO's Secretary-General and one of the closest advisors to Palestinian Authority President Mahmoud Abbas.
Just last month, Abed Rabbo launched a scathing attack on Kerry, denouncing his latest proposals as unacceptable. "Kerry does not have the right to decide where our borders will be," the top PLO official said. "If the U.S. wants, it can give parts of California or Washington to Israel. Kerry's framework agreement is very dangerous."
Abed Rabbo has also accused Kerry of seeking to "appease Israel by fulfilling its expansionist demands in the Jordan Valley under the pretext of security. He wants to buy Israeli silence over the Iran deal (with the six big powers)."
Palestinian officials have also been leaking details about Kerry's latest proposals for reaching an agreement between Israel and the Palestinian Authority. Some have gone as far as accusing Kerry of being biased in favor of Israel, working toward "liquidating" the Palestinian cause and trying to extort the Palestinians.
Tayseer Khaled, member of the PLO Executive Committee, was recently quoted as accusing Kerry of trying to extort the Palestinians politically. Khaled's allegations have since been repeated by other Palestinians.
In addition, anti-Kerry demonstrations have become a common phenomenon in Ramallah and other Palestinian cities in the West Bank and Gaza Strip. At some of these protests, Kerry is often condemned as a pawn in the hands of Israel.
At another protest in Ramallah, Palestinians chanted, "Oh Kerry, you coward, you have no room in Palestine."
In Bethlehem several weeks ago, Palestinians took to the streets to protest against Kerry's visit to the city. And when President Barack Obama visited Bethlehem last year, Palestinians hurled shoes at his portrait and chanted, and set fire to his photograph.
Anti-Kerry protests have also taken place in Egypt and Jordan, where protesters also torched his portrait and declared him persona non grata.
Why, then, Kerry is not just as offended by the Arab condemnations?
It is interesting to see how one comment from an Israeli minister has managed to strain relations between the U.S. Administration and Israel, while fiery rhetoric and street demonstrations against Kerry and Obama in the Palestinian territories and Arab capitals are completely ignored by Washington. If Kerry really cares about the peace process, he also needs to ask the Palestinian Authority and Arab governments to lower the tone and stop inciting against him and the U.S. Unless, of course, those statements and protests do not offend him.
‭‮
Related Topics: Palestinian Authority | Khaled Abu Toameh receive the latest by email: subscribe to the free gatestone institute mailing list
Reader comments on this item
| | | |
| --- | --- | --- |
| Title | By | Date |
| Kerrys peace project double standards [86 words] | Irma Rochlin | Jan 18, 2014 08:27 |
| Of course, those comments don't offend him [134 words] | Objective observer | Jan 17, 2014 19:37 |
| What it really is and why [112 words] | YKB | Jan 17, 2014 16:40 |
| Nor does US respond to equally harsh words from a different ally - Saudi Arabia [192 words] | Raymond in DC | Jan 17, 2014 13:12 |
| Some people are polite, others not [58 words] | Bart Benschop | Jan 17, 2014 02:31 |
| Arab condmenations of Kerry [58 words] | Howard Karby | Jan 16, 2014 19:06 |
| Re: Palestinian anti-Kerry comments [107 words] | Jen Schiller | Jan 16, 2014 12:10 |
| "Intersting" is it? [6 words] | David Scholem | Jan 16, 2014 06:39 |
Comment on this item
Subscribe To Mailing List
Tweets by @GatestoneInst
Subscribe To Mailing List
Latest Articles
by Peter Huessy
The Washington Post's Glenn Kessler not only invents points the Cheneys did not make, he then casually dismisses "uncomfortable points" they did make. How many Pinocchios is that worth?
Kessler evidently assumes that when intelligence assessments differ, the correct version is only that which differs from the points made by the Cheneys but not by their critics.
Most senior Democratic members of the Senate at the time voted -- twice -- for giving the President the authority to take down Saddam Hussein. How else can Democrats say they made a mistake voting for the war if they cannot now make the case that they were "fooled"?
The U.S. took down Saddam Hussein's regime because on balance the threat-intelligence could not be ignored.
by Soeren Kern
The Vatican failed in an attempt to cover up the contents of a prayer by a Muslim cleric at an interfaith "Prayer for Peace" service held in the Vatican garden on June 8. Departing from a pre-approved script, the imam recited verses 284-286 of Sura 2 from the Koran, the latter part of which calls on Allah to grant Muslims victory over non-Muslims.
Danish police raided a mosque in the Vibevej district of Copenhagen after a passerby allegedly saw weapons being carried into the complex.
"We now have hundreds of jihadists and thousands of sympathizers. This naïve Cabinet's inaction is inviting an attack in the Netherlands." — Geert Wilders, Dutch Freedom Party.
Conference attendees called on the Spanish government to sponsor an official study aimed at finding ways to bring European food standards into compliance with Islamic Sharia law.
by Douglas Murray
They carried banners saying, "Stop Israeli State Terror," but some went off-message, deciding, apparently, that it did not matter if their targets were Israelis or not.
In the Netherlands, fresh from a pro-ISIS rally in Amsterdam, the home of the Chief Rabbi -- not Israeli, just Jewish -- was attacked twice in one week.
We live in a rightful disgust for racism of any kind. And yet here we see -- and nowhere more clearly than in Germany -- the new racist nightmare for Europe.
by Samuel Westrop
"These boys were groomed [at the Al Manar Centre] ... so that they are satisfied that what they go to do is right ... once they're groomed, all it takes is someone to say come and I'll take you." — Source close to the Yemeni Community, Cardiff, U.K., as reported in The Telegraph.
All these preachers share one thing in common: they are favorites of the two leading government-subsidized Salafi charities in Britain.
by Bassam Tawil
"We know that Hamas uses human shields. But why would you report this when you are sitting in the middle of the Gaza Strip, surrounded by Hamas gunmen?" — Reporter covering the war, who asked not to be identified.
Besides the human shields story there is another item that the international media choose to ignore: the extrajudicial execution of Palestinian "collaborators" during the last two weeks. The executions were reportedly carried out in the most brutal manner. Hamas has also been shooting suspected "collaborators" in the legs to prevent them from moving around.
It is the media that is helping Hamas get away with war crimes.
Most Shared
Most Viewed