Kerry's Peace Process Double Standards
Translations of this item:
It is interesting how one comment from an Israeli minister has managed to strain relations between the U.S. Administration and Israel, while fiery rhetoric and street demonstrations against Kerry and Obama in the Palestinian territories and Arab capitals are completely ignored by Washington.
The U.S. Administration has reacted quickly and strongly to statements attributed to Israeli Defense Minister Moshe Ya'alon. Ya'alon was quoted by the Israeli daily Yedioth Ahronot as describing U.S. Secretary of State John Kerry as "messianic and obsessive."
In response, the U.S. condemned Ya'alon's comments as "offensive and inappropriate."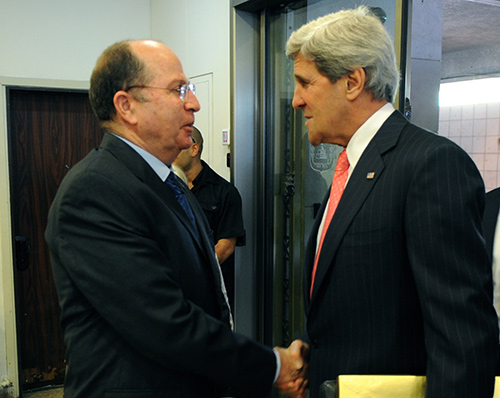 Israel's Defense Minister Moshe Ya'alon greets U.S. Secretary of State John Kerry in Israel, May 2013. (Image source: U.S. State Department)
But while the U.S. Administration has been quick in issuing a response to the Israeli minister's statements, it continues to ignore remarks and demonstrations against Kerry made by Palestinians and other Arabs.
Palestinian officials representing various organizations, including the Palestinian Authority, have been denouncing Kerry almost on a daily basis over the past few weeks. But these condemnations do not seem to bother the State Department.
Among the officials who have been extremely critical of Kerry's role in the current Israeli-Palestinian peace talks is Yasser Abed Rabbo, the PLO's Secretary-General and one of the closest advisors to Palestinian Authority President Mahmoud Abbas.
Just last month, Abed Rabbo launched a scathing attack on Kerry, denouncing his latest proposals as unacceptable. "Kerry does not have the right to decide where our borders will be," the top PLO official said. "If the U.S. wants, it can give parts of California or Washington to Israel. Kerry's framework agreement is very dangerous."
Abed Rabbo has also accused Kerry of seeking to "appease Israel by fulfilling its expansionist demands in the Jordan Valley under the pretext of security. He wants to buy Israeli silence over the Iran deal (with the six big powers)."
Palestinian officials have also been leaking details about Kerry's latest proposals for reaching an agreement between Israel and the Palestinian Authority. Some have gone as far as accusing Kerry of being biased in favor of Israel, working toward "liquidating" the Palestinian cause and trying to extort the Palestinians.
Tayseer Khaled, member of the PLO Executive Committee, was recently quoted as accusing Kerry of trying to extort the Palestinians politically. Khaled's allegations have since been repeated by other Palestinians.
In addition, anti-Kerry demonstrations have become a common phenomenon in Ramallah and other Palestinian cities in the West Bank and Gaza Strip. At some of these protests, Kerry is often condemned as a pawn in the hands of Israel.
At another protest in Ramallah, Palestinians chanted, "Oh Kerry, you coward, you have no room in Palestine."
In Bethlehem several weeks ago, Palestinians took to the streets to protest against Kerry's visit to the city. And when President Barack Obama visited Bethlehem last year, Palestinians hurled shoes at his portrait and chanted, and set fire to his photograph.
Anti-Kerry protests have also taken place in Egypt and Jordan, where protesters also torched his portrait and declared him persona non grata.
Why, then, Kerry is not just as offended by the Arab condemnations?
It is interesting to see how one comment from an Israeli minister has managed to strain relations between the U.S. Administration and Israel, while fiery rhetoric and street demonstrations against Kerry and Obama in the Palestinian territories and Arab capitals are completely ignored by Washington. If Kerry really cares about the peace process, he also needs to ask the Palestinian Authority and Arab governments to lower the tone and stop inciting against him and the U.S. Unless, of course, those statements and protests do not offend him.
‭‮
Related Topics: Palestinian Authority | Khaled Abu Toameh receive the latest by email: subscribe to the free gatestone institute mailing list
Reader comments on this item
| | | |
| --- | --- | --- |
| Title | By | Date |
| Kerrys peace project double standards [86 words] | Irma Rochlin | Jan 18, 2014 08:27 |
| Of course, those comments don't offend him [134 words] | Objective observer | Jan 17, 2014 19:37 |
| What it really is and why [112 words] | YKB | Jan 17, 2014 16:40 |
| Nor does US respond to equally harsh words from a different ally - Saudi Arabia [192 words] | Raymond in DC | Jan 17, 2014 13:12 |
| Some people are polite, others not [58 words] | Bart Benschop | Jan 17, 2014 02:31 |
| Arab condmenations of Kerry [58 words] | Howard Karby | Jan 16, 2014 19:06 |
| Re: Palestinian anti-Kerry comments [107 words] | Jen Schiller | Jan 16, 2014 12:10 |
| "Intersting" is it? [6 words] | David Scholem | Jan 16, 2014 06:39 |
Comment on this item
Subscribe To Mailing List
Tweets by @GatestoneInst
Subscribe To Mailing List
Latest Articles
by Pierre Rehov
For terrorists, the death of innocent children is irrelevant. In a society that promotes martyrdom as the ultimate sign of success, the death of innocent children can sometimes even be seen as a public relations blessing.
In every action, intent is paramount. There should never be a moral equivalence painted between the deliberate killing of civilians, and a retaliation that tragically leads to casualties among civilians.
There is, however, one small difference: in the Middle East, reporters are threatened, except in Israel. Their choice becomes a simple one: promote the Palestinian point of view or stop working in the West Bank. Keep the eye of the camera dirty or lose your job. This show should not go on.
by Khaled Abu Toameh
Since 1948, the Arab countries and government have been paying mostly lip service to the Palestinians.
"They have money and oil, but don't care about the Palestinians, even though we are Arabs and Muslims like them. What a Saudi or Qatari sheikh spends in one night in London, Paris or Las Vegas could solve the problem of tens of thousands of Palestinians." — Palestinian human rights activist.
"Some Arabs were hoping that Israel would rid them of Hamas." — Ashraf Salameh, Gaza City.
"Some of the Arab regimes are interested in getting rid of the resistance in order to remove the burden of the Palestinian cause, which threatens the stability of their regimes." — Mustafa al-Sawwaf, Palestinian political analyst.
"Most Arabs are busy these days with bloody battles waged by their leaders, who are struggling to survive. These battles are raging in Yemen, Syria, Iraq, Egypt, Libya and the Palestinian Authority." — Mohammed al-Musafer, columnist.
"The Arab leaders don't know what they want from the Gaza Strip. They don't even know what they want from Israel." — Yusef Rizka, Hamas official.
by Soeren Kern
European elites, who take pride in viewing the EU as a "postmodern" superpower, have long argued that military hard-power is illegitimate in the 21st century. Unfortunately for Europe, Russia (along with China and Iran) has not embraced the EU's fantastical soft-power worldview, in which "climate change" is now said to pose the greatest threat to European security.
For its part, the European Commission, the EU's administrative branch, which never misses an opportunity to boycott institutions in Israel, has issued only a standard statement on the shooting down of MH17 in Ukraine, which reads: "The European Union will continue to follow this issue very closely."
The EU has made only half-hearted attempts to develop alternatives to its dependency on Russian oil and gas.
by Shoshana Bryen
Proportionality in international law is not about equality of death or civilian suffering, or even about [equality of] firepower. Proportionality weighs the necessity of a military action against suffering that the action might cause to enemy civilians in the vicinity.
"Under international humanitarian law and the Rome Statute, the death of civilians during an armed conflict, no matter how grave and regrettable does not constitute a war crime.... even when it is known that some civilian deaths or injuries will occur. A crime occurs if there is an intentional attack directed against civilians (principle of distinction) or an attack is launched on a military objective in the knowledge that the incidental civilian injuries would be clearly excessive in relation to the anticipated military advantage (principle of proportionality)." — Luis Moreno-Ocampo, Chief Prosecutor, International Criminal Court.
"The greater the military advantage anticipated, the larger the amount of collateral damage -- often civilian casualties -- which will be "justified" and "necessary." — Dr. Françoise Hampton, University of Essex, UK.
Most Shared
Most Viewed