Kerry's Peace Process Double Standards
Translations of this item:
It is interesting how one comment from an Israeli minister has managed to strain relations between the U.S. Administration and Israel, while fiery rhetoric and street demonstrations against Kerry and Obama in the Palestinian territories and Arab capitals are completely ignored by Washington.
The U.S. Administration has reacted quickly and strongly to statements attributed to Israeli Defense Minister Moshe Ya'alon. Ya'alon was quoted by the Israeli daily Yedioth Ahronot as describing U.S. Secretary of State John Kerry as "messianic and obsessive."
In response, the U.S. condemned Ya'alon's comments as "offensive and inappropriate."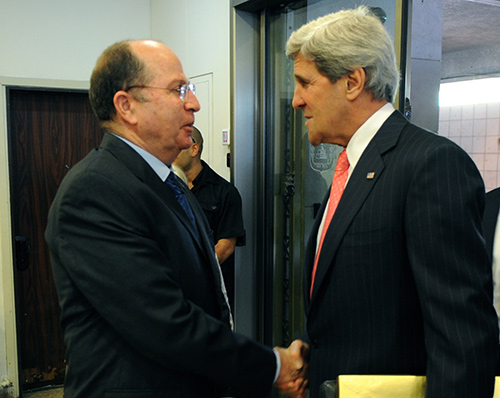 Israel's Defense Minister Moshe Ya'alon greets U.S. Secretary of State John Kerry in Israel, May 2013. (Image source: U.S. State Department)
But while the U.S. Administration has been quick in issuing a response to the Israeli minister's statements, it continues to ignore remarks and demonstrations against Kerry made by Palestinians and other Arabs.
Palestinian officials representing various organizations, including the Palestinian Authority, have been denouncing Kerry almost on a daily basis over the past few weeks. But these condemnations do not seem to bother the State Department.
Among the officials who have been extremely critical of Kerry's role in the current Israeli-Palestinian peace talks is Yasser Abed Rabbo, the PLO's Secretary-General and one of the closest advisors to Palestinian Authority President Mahmoud Abbas.
Just last month, Abed Rabbo launched a scathing attack on Kerry, denouncing his latest proposals as unacceptable. "Kerry does not have the right to decide where our borders will be," the top PLO official said. "If the U.S. wants, it can give parts of California or Washington to Israel. Kerry's framework agreement is very dangerous."
Abed Rabbo has also accused Kerry of seeking to "appease Israel by fulfilling its expansionist demands in the Jordan Valley under the pretext of security. He wants to buy Israeli silence over the Iran deal (with the six big powers)."
Palestinian officials have also been leaking details about Kerry's latest proposals for reaching an agreement between Israel and the Palestinian Authority. Some have gone as far as accusing Kerry of being biased in favor of Israel, working toward "liquidating" the Palestinian cause and trying to extort the Palestinians.
Tayseer Khaled, member of the PLO Executive Committee, was recently quoted as accusing Kerry of trying to extort the Palestinians politically. Khaled's allegations have since been repeated by other Palestinians.
In addition, anti-Kerry demonstrations have become a common phenomenon in Ramallah and other Palestinian cities in the West Bank and Gaza Strip. At some of these protests, Kerry is often condemned as a pawn in the hands of Israel.
At another protest in Ramallah, Palestinians chanted, "Oh Kerry, you coward, you have no room in Palestine."
In Bethlehem several weeks ago, Palestinians took to the streets to protest against Kerry's visit to the city. And when President Barack Obama visited Bethlehem last year, Palestinians hurled shoes at his portrait and chanted, and set fire to his photograph.
Anti-Kerry protests have also taken place in Egypt and Jordan, where protesters also torched his portrait and declared him persona non grata.
Why, then, Kerry is not just as offended by the Arab condemnations?
It is interesting to see how one comment from an Israeli minister has managed to strain relations between the U.S. Administration and Israel, while fiery rhetoric and street demonstrations against Kerry and Obama in the Palestinian territories and Arab capitals are completely ignored by Washington. If Kerry really cares about the peace process, he also needs to ask the Palestinian Authority and Arab governments to lower the tone and stop inciting against him and the U.S. Unless, of course, those statements and protests do not offend him.
‭‮
Related Topics: Palestinian Authority | Khaled Abu Toameh receive the latest by email: subscribe to the free gatestone institute mailing list
Reader comments on this item
| | | |
| --- | --- | --- |
| Title | By | Date |
| Kerrys peace project double standards [86 words] | Irma Rochlin | Jan 18, 2014 08:27 |
| Of course, those comments don't offend him [134 words] | Objective observer | Jan 17, 2014 19:37 |
| What it really is and why [112 words] | YKB | Jan 17, 2014 16:40 |
| Nor does US respond to equally harsh words from a different ally - Saudi Arabia [192 words] | Raymond in DC | Jan 17, 2014 13:12 |
| Some people are polite, others not [58 words] | Bart Benschop | Jan 17, 2014 02:31 |
| Arab condmenations of Kerry [58 words] | Howard Karby | Jan 16, 2014 19:06 |
| Re: Palestinian anti-Kerry comments [107 words] | Jen Schiller | Jan 16, 2014 12:10 |
| "Intersting" is it? [6 words] | David Scholem | Jan 16, 2014 06:39 |
Comment on this item
Subscribe To Mailing List
Tweets by @GatestoneInst
Subscribe To Mailing List
Latest Articles
by Burak Bekdil
So in the EU-candidate Turkey, a pianist should be punished for his re-tweets, but a pop-singer should be congratulated for her first-class racist hate-speech. This is contagious.
No reporter present at Mr. Ihsanoglu's campaign launch speech thought about asking him if his commitment to the "Palestinian cause" included any affirmation of the Hamas Charter, in particular a section that says, "…The stones and trees will say, 'O Muslims, there is a Jew behind me, come and kill him.'"
Turkey is also the country where a few years earlier, a group of school teachers (yes, school teachers!) gathered in a demonstration to commemorate Hitler.
by Debalina Ghoshal
Despite Chapter VII of the UN Charter and UNSC Resolutions, it seems that North Korea will continue developing its missiles -- and eventually weaponize them with nuclear warheads.
"North Korea's ballistic and nuclear threat is very much a near-term threat. ... Steady progression in their program is not harmless." — Victor Cha, Centre for Strategic and International Studies.
On March 26, 2014, North Korea reportedly test-fired medium-range ballistic Rodong missiles -- capable of reaching Japan and U.S. military bases in the Asia-Pacific region.
Since February, South Korean officials claim that North Korea has confirmed at least 90 test-firings, among which ten were ballistic missiles.
by Khaled Abu Toameh
It is important to note that these cease-fire demands are not part of Hamas's or Islamic Jihad's overall strategy, namely to have Israel wiped off the face of the earth.
Many foreign journalists who came to cover the war in the Gaza trip were under the false impression that it was all about improving living conditions for the Palestinians by opening border crossings and building an airport and seaport. These journalists really believed that once the demands of Hamas and the Palestinian Islamic Jihad are accepted, this would pave the way for peace between the Israelis and the Palestinians.
To understand the true intention of Hamas and its allies, it is sufficient to follow the statements made by their leaders after the cease-fire announcement this week. To his credit, Ismail Haniyeh, Hamas's leader, has never concealed Hamas's desire to destroy Israel.
Hamas and its allies see the war in the Gaza Strip as part of there strategy to destroy Israel. What Hamas and its allies are actually saying is, "Give us open borders and an airport and seaport so we can use them to prepare for the next war against Israel."
by Burak Bekdil
A front-page headline was particularly revealing: They (Israel) bombed a mosque in Gaza! Including the exclamation mark!
A quick internet search, if you typed "mosque bombing Shiite-Sunni," would give you 782,000 results on July 16.
Why did we not hear one single Turkish voice protest the death of 300,000 Muslims in Darfur?
Hamas's Charter is must-read fun.
by Bassam Tawil
What is sad is that the Gazans have not yet been able to free themselves from the yoke of Hamas.
The world seems not to understand that Hamas, like ISIS and the Muslim Brotherhood, does not exist in a vacuum. It is one cog in the radical Islamist wheel that threatens the Arab and Muslim world and the major cities of Europe.
The Western world also seems not to understand that it has to incapacitate or totally neutralize the countries funding terrorism, such as Iran, Qatar and Turkey, for whom the Palestinian problem is only a pretext on the way to destroying the Western world as we know it and replacing it with only Islam.
Most Shared
Most Viewed