Palestinians vs. Pro-Palestinian Israelis
"Normalization [with Israel] is an act of treason." — Large poster outside Ramallah peace conference.

If Israelis and Palestinians are unable even to talk about peace, what would happen if and when Palestinian Authority President Mahmoud Abbas signs a peace deal with Israel? Might he, too, find himself being escorted out of Ramallah under police protection for daring to talk peace with Israel?
Israeli peace activists who arrived in Ramallah recently were forced to leave the city under Palestinian Authority [PA] police protection.
The activists were escorted out of Ramallah in police vans after Palestinian protesters attacked the hotel where a "peace conference" between Israelis and Palestinians was taking place.
The event in Ramallah was organized by Minds of Peace, a not-for-profit organization whose mission is "Grassroots Peace Making and Public Diplomacy: A novel approach to the peaceful resolution of the Palestinian-Israeli conflict."
Although the event in Ramallah was supposed to last for two days, during which Israelis and Palestinians would talk about peace and coexistence, as soon as the conference began at City Inn Hotel in Ramallah, scores of Palestinian activists arrived at the scene, chanting slogans against the presence of Israelis in Ramallah.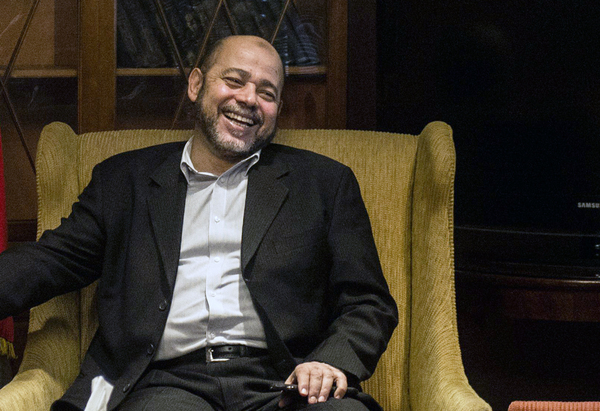 Palestinian protesters try to force their way into the "Minds for Peace" conference in Ramallah. (Image source: Screenshot from Zamnpress YouTube)
"Israelis out, out! Palestine is Arab, from the sea to the river," shouted one a female protester. "This land is not for sale!" shouted another protester, as he tried to force his way into the conference hall.
Palestinian policemen who were rushed to the scene were unable to stop the protesters from damaging windows and doors as they hurled stones at the hotel.
The protesters also hung a large poster at the entrance to the hotel declaring, "Normalization [with Israel] is an act of treason."
The protest finally forced the organizers of the conference to call it off, with the Israelis quickly leaving Ramallah out of concern for their safety.
"The situation outside is very tense and we have to stop here," Ibrahim Enbawai, one of the Palestinian participants in the conference declared after a brief chat with the police commander. "There are hundreds of people outside and the police have asked that we stop the event."
The following day, January 9, the Israeli and Palestinian activists tried to meet at the Ambassador Hotel in Jerusalem. But here, too, they were confronted by dozens of Palestinian "anti-normalization" activists who forced the Israelis and Palestinians to leave the hotel in a humiliating manner.
Amal Obaidi, one of the protesters, said she was opposed to the "peace" conference because it represented a policy of "surrender and normalization with Israeli occupation." She further explained, "We reject any normalization meeting. Jerusalem is an Arab city and it will remain so."
This was not the first time that Palestinians expressed their opposition to meetings between Israelis and Palestinians. "Anti-normalization" activists have succeeded in foiling many other meetings, especially those that are held in cities and towns under the control of the PA.
That is why the Israeli and Palestinian "peace activists" have been forced to hold their meetings in secret locations or in different countries around the world.
There are a number of disturbing elements in the story of the "anti-normalization" advocates.
First, the protesters are acting against Israelis who openly support the Palestinian issue and are completely opposed to the policies of the current Israeli government. In other words, the Palestinians are "spitting in the face" of those Israelis who support their demands and are prepared to put their lives at risk by entering Ramallah to talk peace.
Second, most of the activists who are protesting against such meetings are affiliated, in way or another, with the same Palestinian Authority, which is conducting official peace talks with Israel under the auspices of U.S. Secretary of State John Kerry. So why don't the "anti-normalization" folks also turn out against the Palestinian leadership in Ramallah? Most probably because they are scared of being arrested or harassed by Palestinian security forces. Moreover, many of the activists are on the payroll of the PA and are afraid of losing their salaries.
Third, there is the troubling role played by some Palestinian journalists in organizing, and later reporting about, Israeli-Palestinian meetings. The protesters who foiled the "peace" conference in Ramallah and Jerusalem said they had been tipped off by Palestinian journalists who urged them to take action against the meetings.
Fourth, not a single Palestinian official has dared to condemn the assaults on the Israeli and Palestinian peace activists. Even the PA leadership, whose representatives often say (in English) that they are in favor of such meetings, has yet to denounce the actions and threats of the "anti-normalization" activists.
If fifteen Israelis and an equal number of Palestinians are unable even to talk about peace, what would happen if and when PA President Mahmoud Abbas signs a peace agreement with Israel? Might he, too, find himself being escorted out of Ramallah under police protection for daring to talk peace with Israel?
Related Topics: Israel, Palestinian Authority | Khaled Abu Toameh receive the latest by email: subscribe to the free gatestone institute mailing list
Reader comments on this item
| | | |
| --- | --- | --- |
| Title | By | Date |
| Impossible [46 words] | Bart Benschop | Jan 22, 2014 22:00 |
| Leftist [26 words] | Benjamin | Jan 21, 2014 18:37 |
| A spider's web of Intrigue [101 words] | Fox | Jan 21, 2014 13:33 |
| ↔ Useful idiots [119 words] | Les Brown | Jan 28, 2014 14:46 |
| Nuts to normalization [36 words] | Robert Feldman | Jan 21, 2014 12:16 |
| More Islamic than thou [73 words] | Johnstonpackinham | Jan 21, 2014 11:24 |
| Stubborn idiots [129 words] | Robert Davis | Jan 21, 2014 11:11 |
| Article to be passed on [61 words] | Frank Bright | Jan 21, 2014 07:35 |
| Palestinians [154 words] | A.T. Halmay | Jan 21, 2014 07:06 |
| When? [20 words] | Martien Pennings | Jan 21, 2014 05:58 |
Comment on this item
Subscribe To Mailing List
Tweets by @GatestoneInst
Latest Articles
by Khaled Abu Toameh
The "Arab Spring" did not erupt as a result of the Israeli-Palestinian conflict. Rather, it was the outcome of decades of tyranny and corruption in the Arab world. The Tunisians, Egyptians, Libyans and Yemenis who removed their dictators from power did not do so because of the lack of a "two-state solution." This is the last thing they had in mind.
The thousands of Muslims who are volunteering to join the Islamic State [IS] are not doing so because they are frustrated with the lack of progress in the Israeli-Palestinian peace talks.
The only solution the Islamic State believes in is a Sunni Islamic Caliphate where the surviving non-Muslims who are not massacred would be subject to sharia law.
What Kerry perhaps does not know is that the Islamic State is not interested in the Israeli-Palestinian conflict at all. Unlike Kerry, Sunni scholars fully understand that the Islamic State has more to do with Islam and terrorism than with any other conflict.
by Steven J. Rosen
Palestinian officials have generally been silent about security cooperation with Israel. They are loath to acknowledge how important it is for the survival of the Palestinian Authority [PA], and fear that critics, especially Hamas, will consider it "collaboration with the enemy."
"You smuggle weapons, explosives and cash to the West Bank, not for the fight with Israel, but for a coup against the Palestinian Authority. The Israeli intelligence chief visited me two weeks ago and told me about the [Hamas] group they arrested that was planning for a coup... We have a national unity government and you are thinking about a coup against me." — Mahmoud Abbas, PA President, to Khaled Mashaal, Hamas leader.
According to Israeli Defense Minister Moshe Ya'alon, if the IDF leaves the West Bank, Hamas will take over, and other terrorists groups such as the Islamic Jihad, Al-Qaeda and Islamic State would operate there.
In recent months, Abbas has been making a series of threats against Israel. If Abbas becomes another Arafat, it could be the Israeli side that loses interest in security cooperation.
by Burak Bekdil
It was the Islamists who, since they came to power in the 2000s, have reaped the biggest political gains from the "Palestine-fetish."
But the Turkish rhetoric on "solidarity" with our Palestinian brothers often seems askew to how solidarity should be.
by Raheel Raza
One blogger writes that Malala hates Pakistan's military. I believe it is the other way around.
I would so like to see the day when Malala is welcomed back in Pakistan, with the whole country cheering.
by Francesco Sisci
Democratic evolution in China was being seriously considered. The failures of U.S. support for democracy in Afghanistan, Iraq, Egypt and Libya gave new food for thought to those opposed to democracy. Lastly, the United States did not strongly oppose the anti-democratic coup d'état that overthrew a democratically elected government in Thailand.
On the other hand, Russia -- dominated by Vladimir Putin, a new autocrat determined to stifle democracy in Russia -- provided a new model.
The whole of Eastern Europe and most of Latin America, formerly in the clutches of dictatorships, are now efficient democracies. This seems to indicate that while democracy cannot be parachuted into a country, there is a broader, longer-term global trend toward democracy and that its growth depends on local conditions.
As economic development needed careful planning, political reforms need even greater planning. The question remains: is China preparing for these political reforms?
Most Shared
Most Viewed