Palestinians vs. Pro-Palestinian Israelis
"Normalization [with Israel] is an act of treason." — Large poster outside Ramallah peace conference.

If Israelis and Palestinians are unable even to talk about peace, what would happen if and when Palestinian Authority President Mahmoud Abbas signs a peace deal with Israel? Might he, too, find himself being escorted out of Ramallah under police protection for daring to talk peace with Israel?
Israeli peace activists who arrived in Ramallah recently were forced to leave the city under Palestinian Authority [PA] police protection.
The activists were escorted out of Ramallah in police vans after Palestinian protesters attacked the hotel where a "peace conference" between Israelis and Palestinians was taking place.
The event in Ramallah was organized by Minds of Peace, a not-for-profit organization whose mission is "Grassroots Peace Making and Public Diplomacy: A novel approach to the peaceful resolution of the Palestinian-Israeli conflict."
Although the event in Ramallah was supposed to last for two days, during which Israelis and Palestinians would talk about peace and coexistence, as soon as the conference began at City Inn Hotel in Ramallah, scores of Palestinian activists arrived at the scene, chanting slogans against the presence of Israelis in Ramallah.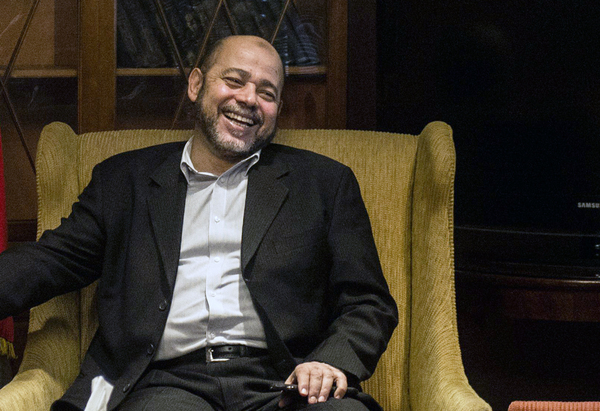 Palestinian protesters try to force their way into the "Minds for Peace" conference in Ramallah. (Image source: Screenshot from Zamnpress YouTube)
"Israelis out, out! Palestine is Arab, from the sea to the river," shouted one a female protester. "This land is not for sale!" shouted another protester, as he tried to force his way into the conference hall.
Palestinian policemen who were rushed to the scene were unable to stop the protesters from damaging windows and doors as they hurled stones at the hotel.
The protesters also hung a large poster at the entrance to the hotel declaring, "Normalization [with Israel] is an act of treason."
The protest finally forced the organizers of the conference to call it off, with the Israelis quickly leaving Ramallah out of concern for their safety.
"The situation outside is very tense and we have to stop here," Ibrahim Enbawai, one of the Palestinian participants in the conference declared after a brief chat with the police commander. "There are hundreds of people outside and the police have asked that we stop the event."
The following day, January 9, the Israeli and Palestinian activists tried to meet at the Ambassador Hotel in Jerusalem. But here, too, they were confronted by dozens of Palestinian "anti-normalization" activists who forced the Israelis and Palestinians to leave the hotel in a humiliating manner.
Amal Obaidi, one of the protesters, said she was opposed to the "peace" conference because it represented a policy of "surrender and normalization with Israeli occupation." She further explained, "We reject any normalization meeting. Jerusalem is an Arab city and it will remain so."
This was not the first time that Palestinians expressed their opposition to meetings between Israelis and Palestinians. "Anti-normalization" activists have succeeded in foiling many other meetings, especially those that are held in cities and towns under the control of the PA.
That is why the Israeli and Palestinian "peace activists" have been forced to hold their meetings in secret locations or in different countries around the world.
There are a number of disturbing elements in the story of the "anti-normalization" advocates.
First, the protesters are acting against Israelis who openly support the Palestinian issue and are completely opposed to the policies of the current Israeli government. In other words, the Palestinians are "spitting in the face" of those Israelis who support their demands and are prepared to put their lives at risk by entering Ramallah to talk peace.
Second, most of the activists who are protesting against such meetings are affiliated, in way or another, with the same Palestinian Authority, which is conducting official peace talks with Israel under the auspices of U.S. Secretary of State John Kerry. So why don't the "anti-normalization" folks also turn out against the Palestinian leadership in Ramallah? Most probably because they are scared of being arrested or harassed by Palestinian security forces. Moreover, many of the activists are on the payroll of the PA and are afraid of losing their salaries.
Third, there is the troubling role played by some Palestinian journalists in organizing, and later reporting about, Israeli-Palestinian meetings. The protesters who foiled the "peace" conference in Ramallah and Jerusalem said they had been tipped off by Palestinian journalists who urged them to take action against the meetings.
Fourth, not a single Palestinian official has dared to condemn the assaults on the Israeli and Palestinian peace activists. Even the PA leadership, whose representatives often say (in English) that they are in favor of such meetings, has yet to denounce the actions and threats of the "anti-normalization" activists.
If fifteen Israelis and an equal number of Palestinians are unable even to talk about peace, what would happen if and when PA President Mahmoud Abbas signs a peace agreement with Israel? Might he, too, find himself being escorted out of Ramallah under police protection for daring to talk peace with Israel?
Related Topics: Israel, Palestinian Authority | Khaled Abu Toameh receive the latest by email: subscribe to the free gatestone institute mailing list
Reader comments on this item
| | | |
| --- | --- | --- |
| Title | By | Date |
| Impossible [46 words] | Bart Benschop | Jan 22, 2014 22:00 |
| Leftist [26 words] | Benjamin | Jan 21, 2014 18:37 |
| A spider's web of Intrigue [101 words] | Fox | Jan 21, 2014 13:33 |
| ↔ Useful idiots [119 words] | Les Brown | Jan 28, 2014 14:46 |
| Nuts to normalization [36 words] | Robert Feldman | Jan 21, 2014 12:16 |
| More Islamic than thou [73 words] | Johnstonpackinham | Jan 21, 2014 11:24 |
| Stubborn idiots [129 words] | Robert Davis | Jan 21, 2014 11:11 |
| Article to be passed on [61 words] | Frank Bright | Jan 21, 2014 07:35 |
| Palestinians [154 words] | A.T. Halmay | Jan 21, 2014 07:06 |
| When? [20 words] | Martien Pennings | Jan 21, 2014 05:58 |
Comment on this item
Subscribe To Mailing List
Tweets by @GatestoneInst
Subscribe To Mailing List
Latest Articles
by Pierre Rehov
For terrorists, the death of innocent children is irrelevant. In a society that promotes martyrdom as the ultimate sign of success, the death of innocent children can sometimes even be seen as a public relations blessing.
In every action, intent is paramount. There should never be a moral equivalence painted between the deliberate killing of civilians, and a retaliation that tragically leads to casualties among civilians.
There is, however, one small difference: in the Middle East, reporters are threatened, except in Israel. Their choice becomes a simple one: promote the Palestinian point of view or stop working in the West Bank. Keep the eye of the camera dirty or lose your job. This show should not go on.
by Khaled Abu Toameh
Since 1948, the Arab countries and government have been paying mostly lip service to the Palestinians.
"They have money and oil, but don't care about the Palestinians, even though we are Arabs and Muslims like them. What a Saudi or Qatari sheikh spends in one night in London, Paris or Las Vegas could solve the problem of tens of thousands of Palestinians." — Palestinian human rights activist.
"Some Arabs were hoping that Israel would rid them of Hamas." — Ashraf Salameh, Gaza City.
"Some of the Arab regimes are interested in getting rid of the resistance in order to remove the burden of the Palestinian cause, which threatens the stability of their regimes." — Mustafa al-Sawwaf, Palestinian political analyst.
"Most Arabs are busy these days with bloody battles waged by their leaders, who are struggling to survive. These battles are raging in Yemen, Syria, Iraq, Egypt, Libya and the Palestinian Authority." — Mohammed al-Musafer, columnist.
"The Arab leaders don't know what they want from the Gaza Strip. They don't even know what they want from Israel." — Yusef Rizka, Hamas official.
by Soeren Kern
European elites, who take pride in viewing the EU as a "postmodern" superpower, have long argued that military hard-power is illegitimate in the 21st century. Unfortunately for Europe, Russia (along with China and Iran) has not embraced the EU's fantastical soft-power worldview, in which "climate change" is now said to pose the greatest threat to European security.
For its part, the European Commission, the EU's administrative branch, which never misses an opportunity to boycott institutions in Israel, has issued only a standard statement on the shooting down of MH17 in Ukraine, which reads: "The European Union will continue to follow this issue very closely."
The EU has made only half-hearted attempts to develop alternatives to its dependency on Russian oil and gas.
by Shoshana Bryen
Proportionality in international law is not about equality of death or civilian suffering, or even about [equality of] firepower. Proportionality weighs the necessity of a military action against suffering that the action might cause to enemy civilians in the vicinity.
"Under international humanitarian law and the Rome Statute, the death of civilians during an armed conflict, no matter how grave and regrettable does not constitute a war crime.... even when it is known that some civilian deaths or injuries will occur. A crime occurs if there is an intentional attack directed against civilians (principle of distinction) or an attack is launched on a military objective in the knowledge that the incidental civilian injuries would be clearly excessive in relation to the anticipated military advantage (principle of proportionality)." — Luis Moreno-Ocampo, Chief Prosecutor, International Criminal Court.
"The greater the military advantage anticipated, the larger the amount of collateral damage -- often civilian casualties -- which will be "justified" and "necessary." — Dr. Françoise Hampton, University of Essex, UK.
Most Shared
Most Viewed