Palestinians vs. Pro-Palestinian Israelis
"Normalization [with Israel] is an act of treason." — Large poster outside Ramallah peace conference.

If Israelis and Palestinians are unable even to talk about peace, what would happen if and when Palestinian Authority President Mahmoud Abbas signs a peace deal with Israel? Might he, too, find himself being escorted out of Ramallah under police protection for daring to talk peace with Israel?
Israeli peace activists who arrived in Ramallah recently were forced to leave the city under Palestinian Authority [PA] police protection.
The activists were escorted out of Ramallah in police vans after Palestinian protesters attacked the hotel where a "peace conference" between Israelis and Palestinians was taking place.
The event in Ramallah was organized by Minds of Peace, a not-for-profit organization whose mission is "Grassroots Peace Making and Public Diplomacy: A novel approach to the peaceful resolution of the Palestinian-Israeli conflict."
Although the event in Ramallah was supposed to last for two days, during which Israelis and Palestinians would talk about peace and coexistence, as soon as the conference began at City Inn Hotel in Ramallah, scores of Palestinian activists arrived at the scene, chanting slogans against the presence of Israelis in Ramallah.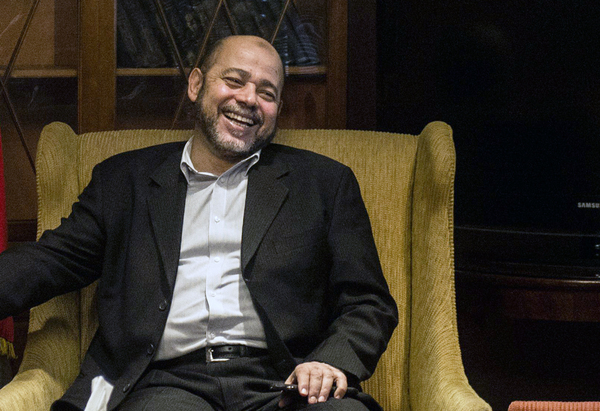 Palestinian protesters try to force their way into the "Minds for Peace" conference in Ramallah. (Image source: Screenshot from Zamnpress YouTube)
"Israelis out, out! Palestine is Arab, from the sea to the river," shouted one a female protester. "This land is not for sale!" shouted another protester, as he tried to force his way into the conference hall.
Palestinian policemen who were rushed to the scene were unable to stop the protesters from damaging windows and doors as they hurled stones at the hotel.
The protesters also hung a large poster at the entrance to the hotel declaring, "Normalization [with Israel] is an act of treason."
The protest finally forced the organizers of the conference to call it off, with the Israelis quickly leaving Ramallah out of concern for their safety.
"The situation outside is very tense and we have to stop here," Ibrahim Enbawai, one of the Palestinian participants in the conference declared after a brief chat with the police commander. "There are hundreds of people outside and the police have asked that we stop the event."
The following day, January 9, the Israeli and Palestinian activists tried to meet at the Ambassador Hotel in Jerusalem. But here, too, they were confronted by dozens of Palestinian "anti-normalization" activists who forced the Israelis and Palestinians to leave the hotel in a humiliating manner.
Amal Obaidi, one of the protesters, said she was opposed to the "peace" conference because it represented a policy of "surrender and normalization with Israeli occupation." She further explained, "We reject any normalization meeting. Jerusalem is an Arab city and it will remain so."
This was not the first time that Palestinians expressed their opposition to meetings between Israelis and Palestinians. "Anti-normalization" activists have succeeded in foiling many other meetings, especially those that are held in cities and towns under the control of the PA.
That is why the Israeli and Palestinian "peace activists" have been forced to hold their meetings in secret locations or in different countries around the world.
There are a number of disturbing elements in the story of the "anti-normalization" advocates.
First, the protesters are acting against Israelis who openly support the Palestinian issue and are completely opposed to the policies of the current Israeli government. In other words, the Palestinians are "spitting in the face" of those Israelis who support their demands and are prepared to put their lives at risk by entering Ramallah to talk peace.
Second, most of the activists who are protesting against such meetings are affiliated, in way or another, with the same Palestinian Authority, which is conducting official peace talks with Israel under the auspices of U.S. Secretary of State John Kerry. So why don't the "anti-normalization" folks also turn out against the Palestinian leadership in Ramallah? Most probably because they are scared of being arrested or harassed by Palestinian security forces. Moreover, many of the activists are on the payroll of the PA and are afraid of losing their salaries.
Third, there is the troubling role played by some Palestinian journalists in organizing, and later reporting about, Israeli-Palestinian meetings. The protesters who foiled the "peace" conference in Ramallah and Jerusalem said they had been tipped off by Palestinian journalists who urged them to take action against the meetings.
Fourth, not a single Palestinian official has dared to condemn the assaults on the Israeli and Palestinian peace activists. Even the PA leadership, whose representatives often say (in English) that they are in favor of such meetings, has yet to denounce the actions and threats of the "anti-normalization" activists.
If fifteen Israelis and an equal number of Palestinians are unable even to talk about peace, what would happen if and when PA President Mahmoud Abbas signs a peace agreement with Israel? Might he, too, find himself being escorted out of Ramallah under police protection for daring to talk peace with Israel?
Related Topics: Israel, Palestinian Authority | Khaled Abu Toameh receive the latest by email: subscribe to the free gatestone institute mailing list
Reader comments on this item
| | | |
| --- | --- | --- |
| Title | By | Date |
| Impossible [46 words] | Bart Benschop | Jan 22, 2014 22:00 |
| Leftist [26 words] | Benjamin | Jan 21, 2014 18:37 |
| A spider's web of Intrigue [101 words] | Fox | Jan 21, 2014 13:33 |
| ↔ Useful idiots [119 words] | Les Brown | Jan 28, 2014 14:46 |
| Nuts to normalization [36 words] | Robert Feldman | Jan 21, 2014 12:16 |
| More Islamic than thou [73 words] | Johnstonpackinham | Jan 21, 2014 11:24 |
| Stubborn idiots [129 words] | Robert Davis | Jan 21, 2014 11:11 |
| Article to be passed on [61 words] | Frank Bright | Jan 21, 2014 07:35 |
| Palestinians [154 words] | A.T. Halmay | Jan 21, 2014 07:06 |
| When? [20 words] | Martien Pennings | Jan 21, 2014 05:58 |
Comment on this item
Subscribe To Mailing List
Tweets by @GatestoneInst
Latest Articles
by Burak Bekdil
Where Turkey stands today is a perfect example of how, when Islamists -- mild or otherwise -- rule a county, even the most basic liberties are systematically suppressed.
"A climate of fear has emerged in Turkey." — Hasam Kilic, President, Turkey's Constitutional Court.
The prosecutor demanded a heavier penalty for the victim than for her torturers.
The European Commission identified government interference in the judiciary and bans imposed on social media as the major sources of concern regarding Turkey's candidacy for full membership.
by Khaled Abu Toameh
To understand what drives a young Palestinian to carry out such a deadly attack, one needs to look at the statements of Palestinian Authority leaders during the past few weeks.
The anti-Israel campaign of incitement reached its peak with Abbas's speech at the UN a few weeks ago, when he accused Israel of waging a "war of genocide" in the Gaza Strip. Abbas made no reference to Hamas's crimes against both Israelis and Palestinians.
Whatever his motives, it is clear that the man who carried out the most recent attack, was influenced by the messages that Abbas and the Palestinian Authority leadership have been sending their people.
by Richard Kemp
Would General Allen -- or any other general today -- recommend contracting out his country's defenses if it were his country at stake? Of course not.
The Iranian regime remains dedicated to undermining and ultimately destroying the State of Israel. The Islamic State also has Israel in its sights and would certainly use the West Bank as a point from which to attack, if it were open to them.
There can be no two-state solution and no sovereign Palestinian Arab state west of the Jordan, however desirable those things might be. The stark military reality is that Israel cannot withdraw its forces from the West Bank.
Fatah leaders ally themselves with the terrorists of Hamas, and, like Hamas, they continue to reject the every existence of the State of Israel.
If Western leaders actually want to help, they should use all diplomatic and economic means to make it clear to the Palestinians that they will never achieve an independent and sovereign state while they remain set on the destruction of the State of Israel.
by Louis René Beres
The Palestine Liberation Organization [PLO], forerunner of today's Palestinian Authority, was founded in 1964, three years before Israel came into the unintended control of the West Bank and Gaza. What therefore was the PLO planning to "liberate"?
Why does no one expect the Palestinians to cease all deliberate and random violence against Israeli civilians before being considered for admission to statehood?
On June 30, 1922, a joint resolution of both Houses of Congress of the United States endorsed a "Mandate for Palestine," confirming the right of Jews to settle anywhere they chose between the Jordan River and the Mediterranean Sea. This is the core American legacy of support for a Jewish State that President Obama now somehow fails to recall.
A sovereign state of Palestine, as identified by the Arabs -- a Muslim land occupied by "Palestinian" Arabs -- has never existed; not before 1948, and not before 1967. From the start, it was, and continues to be, the Arab states -- not Israel -- that became the core impediment to Palestinian sovereignty.
by Timon Dias
It looks as if this new law is meant to serve as a severe roadblock to parties that would like to dismantle the EU in a democratic and peaceful way from within.
A rather dull semantic trick pro-EU figures usually apply, is calling their opponents "anti-Europe."
Most Shared
Most Viewed