Hamas: Teaching Human Rights is Against Palestinian, Islamic Culture
Translations of this item:
Hamas' real problem with the UNRWA curriculum is that it could spoil the Islamist movement's ongoing efforts to stir the hearts and minds of Palestinian children to wage jihad against the "enemies" of Islam. Hamas wants Palestinian children to be taught how to become suicide bombers and seek the death of Jews and "infidels."
Palestinian schoolchildren in the Gaza Strip have been denied the opportunity to learn about human rights after the Hamas government determined that such a subject "dangerously contravenes Palestinian and Islamic culture."
Hamas's announcement came in response to an attempt by the United Nations Relief and Works Agency (UNRWA) to include a course on human rights in schools run by the agency in the Gaza Strip.
The UNRWA bid drew strong condemnations from the Hamas government, whose representatives accused the international agency of seeking to "brainwash" Palestinian children.
Mutasame al-Minawi, a senior official with the Hamas-run Ministry of Education, explained that the main reason why his government was opposed to the human rights subject being taught in Palestinian schools is because it "ignores the nakba [catastrophe] of the Palestinian people, seeks to scrap the right of return for Palestinian refugees [to Israel] and promotes the culture of peaceful resistance and submission as a way of restoring our rights."
Al-Minawi said that UNRWA proposed two years ago to include in its school curriculum the subject of human rights. UNRWA was hoping, he added, that the subject would be taught to children from Grades 7-9.
According to the Hamas official, his government back then expressed reservations about some of the contents of the subject, prompting UNRWA to amend about 40% of the material.
But recently, UNRWA decided to go ahead with its plan to teach human rights in its schools in the Gaza Strip, ignoring warnings from the Hamas government, al-Minawi claimed. "UNRWA is acting as a state-within-a-state," he charged. "They need to know the limits of their power and that they are committed to the curriculum taught in areas under UNRWA's jurisdiction."
The Hamas official said that UNRWA's human rights course was aimed at making Palestinian children develop "negative sentiments towards the armed resistance although it is legitimate for a people under occupation."
What is also worrying Hamas is that UNRWA is seeking to teach Palestinian children about the disastrous repercussions of wars and violence by depicting a child burning a military uniform. "This does not serve the cause of human rights," the Hamas official said. "They want to raise children on calmness."
The Hamas protests forced UNRWA to suspend its plan to teach the subject of human rights in its schools. Some Palestinians criticized UNRWA for "succumbing" to threats, while others said they were aware that the international agency had no choice but to comply.
In an attempt to calm Hamas, UNRWA denied that its school curriculum contravened Palestinian tradition and culture.
A spokesman for UNRWA said that his agency consults with "all components of Palestinian society" about its human rights courses.
Hamas's real problem with the UNRWA curriculum is that it could spoil the Islamist movement's ongoing efforts to stir the hearts and minds of Palestinian children to wage jihad against the "enemies" of Islam.
Hamas wants Palestinian children to be taught how to become suicide bombers and seek the death of Jews and "infidels."
Hamas does not want Palestinian children to learn about civil rights heroes such as Mahatma Gandhi, Nelson Mandela, Martin Luther King and Rosa Parks. These people were opposed to violence and therefore their ideology, according to Hamas, is in violation of Palestinian and Islamic culture.
Hamas wants Palestinian children to glorify suicide bombers and terrorists who mercilessly kill innocent people, including many Muslims, on a daily basis. Hamas's summer camps are all about training children in the use of weapons and injecting them with more hatred towards Israel and the US.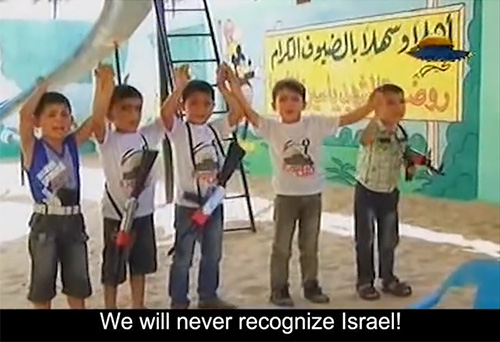 Palestinian children at a Hamas summer camp in June 2013. (Image source: IDF YouTube video)
"Hamas is behaving in the Gaza Strip as if it were an independent state," wrote Palestinian columnist Hassan Khader.
Khader also criticized the Palestinian public and political factions for failing to pay enough attention to the controversy between Hamas and UNRWA over the school curriculum.
For now, Hamas appears to have succeeded in preventing UNRWA from teaching Palestinian children about human rights. The two parties are now negotiating an end to the crisis, which does not seem likely unless UNRWA officially joins Hamas's ideology and starts preaching for jihad and anti-semitism.
‭‮
Related Topics: Palestinian Authority | Khaled Abu Toameh receive the latest by email: subscribe to the free gatestone institute mailing list
Reader comments on this item
| | | |
| --- | --- | --- |
| Title | By | Date |
| And UNRWA Caves (satire, but only barely) [1 words] | Thag | Mar 6, 2014 04:44 |
| Rubbish [132 words] | Bart Benschop | Mar 2, 2014 00:54 |
| Negating the Golden Rule [11 words] | Raj | Feb 28, 2014 08:26 |
| Hamas: Teaching Human Rights is Against Palestinian, Islamic Culture [98 words] | Barbara Griffith | Feb 28, 2014 01:29 |
| You can't argue with reality, of course it's against their culture. [13 words] | Empress Trudy | Feb 27, 2014 18:25 |
| A morally bankrupt society [26 words] | Andy Gill | Feb 27, 2014 15:31 |
| The irony of public education [46 words] | Mike Ramirez | Feb 27, 2014 13:05 |
| "Opposition to violence is in violation of.. Islamic culture". Muslims said it. [205 words] | Steven Buckley | Feb 27, 2014 10:17 |
| UNRWA:a state within a state? [290 words] | Julius O'Malley | Feb 27, 2014 06:17 |
Comment on this item
Subscribe To Mailing List
Tweets by @GatestoneInst
Latest Articles
by Khaled Abu Toameh
To understand what drives a young Palestinian to carry out such a deadly attack, one needs to look at the statements of Palestinian Authority leaders during the past few weeks.
The anti-Israel campaign of incitement reached its peak with Abbas's speech at the UN a few weeks ago, when he accused Israel of waging a "war of genocide" in the Gaza Strip. Abbas made no reference to Hamas's crimes against both Israelis and Palestinians.
Whatever his motives, it is clear that the man who carried out the most recent attack, was influenced by the messages that Abbas and the Palestinian Authority leadership have been sending their people.
by Richard Kemp
Would General Allen -- or any other general today -- recommend contracting out his country's defenses if it were his country at stake? Of course not.
The Iranian regime remains dedicated to undermining and ultimately destroying the State of Israel. The Islamic State also has Israel in its sights and would certainly use the West Bank as a point from which to attack, if it were open to them.
There can be no two-state solution and no sovereign Palestinian Arab state west of the Jordan, however desirable those things might be. The stark military reality is that Israel cannot withdraw its forces from the West Bank.
Fatah leaders ally themselves with the terrorists of Hamas, and, like Hamas, they continue to reject the every existence of the State of Israel.
If Western leaders actually want to help, they should use all diplomatic and economic means to make it clear to the Palestinians that they will never achieve an independent and sovereign state while they remain set on the destruction of the State of Israel.
by Louis René Beres
The Palestine Liberation Organization [PLO], forerunner of today's Palestinian Authority, was founded in 1964, three years before Israel came into the unintended control of the West Bank and Gaza. What therefore was the PLO planning to "liberate"?
Why does no one expect the Palestinians to cease all deliberate and random violence against Israeli civilians before being considered for admission to statehood?
On June 30, 1922, a joint resolution of both Houses of Congress of the United States endorsed a "Mandate for Palestine," confirming the right of Jews to settle anywhere they chose between the Jordan River and the Mediterranean Sea. This is the core American legacy of support for a Jewish State that President Obama now somehow fails to recall.
A sovereign state of Palestine, as identified by the Arabs -- a Muslim land occupied by "Palestinian" Arabs -- has never existed; not before 1948, and not before 1967. From the start, it was, and continues to be, the Arab states -- not Israel -- that became the core impediment to Palestinian sovereignty.
by Timon Dias
It looks as if this new law is meant to serve as a severe roadblock to parties that would like to dismantle the EU in a democratic and peaceful way from within.
A rather dull semantic trick pro-EU figures usually apply, is calling their opponents "anti-Europe."
Most Shared
Most Viewed