Hamas: Teaching Human Rights is Against Palestinian, Islamic Culture
Translations of this item:
Hamas' real problem with the UNRWA curriculum is that it could spoil the Islamist movement's ongoing efforts to stir the hearts and minds of Palestinian children to wage jihad against the "enemies" of Islam. Hamas wants Palestinian children to be taught how to become suicide bombers and seek the death of Jews and "infidels."
Palestinian schoolchildren in the Gaza Strip have been denied the opportunity to learn about human rights after the Hamas government determined that such a subject "dangerously contravenes Palestinian and Islamic culture."
Hamas's announcement came in response to an attempt by the United Nations Relief and Works Agency (UNRWA) to include a course on human rights in schools run by the agency in the Gaza Strip.
The UNRWA bid drew strong condemnations from the Hamas government, whose representatives accused the international agency of seeking to "brainwash" Palestinian children.
Mutasame al-Minawi, a senior official with the Hamas-run Ministry of Education, explained that the main reason why his government was opposed to the human rights subject being taught in Palestinian schools is because it "ignores the nakba [catastrophe] of the Palestinian people, seeks to scrap the right of return for Palestinian refugees [to Israel] and promotes the culture of peaceful resistance and submission as a way of restoring our rights."
Al-Minawi said that UNRWA proposed two years ago to include in its school curriculum the subject of human rights. UNRWA was hoping, he added, that the subject would be taught to children from Grades 7-9.
According to the Hamas official, his government back then expressed reservations about some of the contents of the subject, prompting UNRWA to amend about 40% of the material.
But recently, UNRWA decided to go ahead with its plan to teach human rights in its schools in the Gaza Strip, ignoring warnings from the Hamas government, al-Minawi claimed. "UNRWA is acting as a state-within-a-state," he charged. "They need to know the limits of their power and that they are committed to the curriculum taught in areas under UNRWA's jurisdiction."
The Hamas official said that UNRWA's human rights course was aimed at making Palestinian children develop "negative sentiments towards the armed resistance although it is legitimate for a people under occupation."
What is also worrying Hamas is that UNRWA is seeking to teach Palestinian children about the disastrous repercussions of wars and violence by depicting a child burning a military uniform. "This does not serve the cause of human rights," the Hamas official said. "They want to raise children on calmness."
The Hamas protests forced UNRWA to suspend its plan to teach the subject of human rights in its schools. Some Palestinians criticized UNRWA for "succumbing" to threats, while others said they were aware that the international agency had no choice but to comply.
In an attempt to calm Hamas, UNRWA denied that its school curriculum contravened Palestinian tradition and culture.
A spokesman for UNRWA said that his agency consults with "all components of Palestinian society" about its human rights courses.
Hamas's real problem with the UNRWA curriculum is that it could spoil the Islamist movement's ongoing efforts to stir the hearts and minds of Palestinian children to wage jihad against the "enemies" of Islam.
Hamas wants Palestinian children to be taught how to become suicide bombers and seek the death of Jews and "infidels."
Hamas does not want Palestinian children to learn about civil rights heroes such as Mahatma Gandhi, Nelson Mandela, Martin Luther King and Rosa Parks. These people were opposed to violence and therefore their ideology, according to Hamas, is in violation of Palestinian and Islamic culture.
Hamas wants Palestinian children to glorify suicide bombers and terrorists who mercilessly kill innocent people, including many Muslims, on a daily basis. Hamas's summer camps are all about training children in the use of weapons and injecting them with more hatred towards Israel and the US.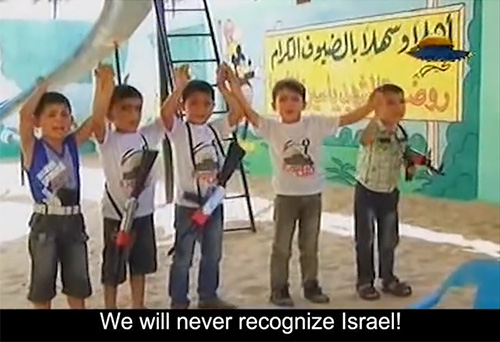 Palestinian children at a Hamas summer camp in June 2013. (Image source: IDF YouTube video)
"Hamas is behaving in the Gaza Strip as if it were an independent state," wrote Palestinian columnist Hassan Khader.
Khader also criticized the Palestinian public and political factions for failing to pay enough attention to the controversy between Hamas and UNRWA over the school curriculum.
For now, Hamas appears to have succeeded in preventing UNRWA from teaching Palestinian children about human rights. The two parties are now negotiating an end to the crisis, which does not seem likely unless UNRWA officially joins Hamas's ideology and starts preaching for jihad and anti-semitism.
‭‮
Related Topics: Palestinian Authority | Khaled Abu Toameh receive the latest by email: subscribe to the free gatestone institute mailing list
Reader comments on this item
| | | |
| --- | --- | --- |
| Title | By | Date |
| And UNRWA Caves (satire, but only barely) [1 words] | Thag | Mar 6, 2014 04:44 |
| Rubbish [132 words] | Bart Benschop | Mar 2, 2014 00:54 |
| Negating the Golden Rule [11 words] | Raj | Feb 28, 2014 08:26 |
| Hamas: Teaching Human Rights is Against Palestinian, Islamic Culture [98 words] | Barbara Griffith | Feb 28, 2014 01:29 |
| You can't argue with reality, of course it's against their culture. [13 words] | Empress Trudy | Feb 27, 2014 18:25 |
| A morally bankrupt society [26 words] | Andy Gill | Feb 27, 2014 15:31 |
| The irony of public education [46 words] | Mike Ramirez | Feb 27, 2014 13:05 |
| "Opposition to violence is in violation of.. Islamic culture". Muslims said it. [205 words] | Steven Buckley | Feb 27, 2014 10:17 |
| UNRWA:a state within a state? [290 words] | Julius O'Malley | Feb 27, 2014 06:17 |
Comment on this item
Subscribe To Mailing List
Tweets by @GatestoneInst
Subscribe To Mailing List
Latest Articles
by Soeren Kern
The Vatican failed in an attempt to cover up the contents of a prayer by a Muslim cleric at an interfaith "Prayer for Peace" service held in the Vatican garden on June 8. Departing from a pre-approved script, the imam recited verses 284-286 of Sura 2 from the Koran, the latter part of which calls on Allah to grant Muslims victory over non-Muslims.
Danish police raided a mosque in the Vibevej district of Copenhagen after a passerby allegedly saw weapons being carried into the complex.
"We now have hundreds of jihadists and thousands of sympathizers. This naïve Cabinet's inaction is inviting an attack in the Netherlands." — Geert Wilders, Dutch Freedom Party.
Conference attendees called on the Spanish government to sponsor an official study aimed at finding ways to bring European food standards into compliance with Islamic Sharia law.
by Douglas Murray
They carried banners saying, "Stop Israeli State Terror," but some went off-message, deciding, apparently, that it did not matter if their targets were Israelis or not.
In the Netherlands, fresh from a pro-ISIS rally in Amsterdam, the home of the Chief Rabbi -- not Israeli, just Jewish -- was attacked twice in one week.
We live in a rightful disgust for racism of any kind. And yet here we see -- and nowhere more clearly than in Germany -- the new racist nightmare for Europe.
by Samuel Westrop
"These boys were groomed [at the Al Manar Centre] ... so that they are satisfied that what they go to do is right ... once they're groomed, all it takes is someone to say come and I'll take you." — Source close to the Yemeni Community, Cardiff, U.K., as reported in The Telegraph.
All these preachers share one thing in common: they are favorites of the two leading government-subsidized Salafi charities in Britain.
by Bassam Tawil
"We know that Hamas uses human shields. But why would you report this when you are sitting in the middle of the Gaza Strip, surrounded by Hamas gunmen?" — Reporter covering the war, who asked not to be identified.
Besides the human shields story there is another item that the international media choose to ignore: the extrajudicial execution of Palestinian "collaborators" during the last two weeks. The executions were reportedly carried out in the most brutal manner. Hamas has also been shooting suspected "collaborators" in the legs to prevent them from moving around.
It is the media that is helping Hamas get away with war crimes.
by Guy Millière
This was the first time since World War II that an anti-Semitic pogrom took place in France.
Almost all French politicians adopt an attitude of appeasement toward the enemies of Israel and Jews. They act as if they did not see that the hate speech that France finances in the Middle East is now spreading throughout France itself.
No major French television report speaks of Hamas's genocidal Jew-hatred or of the use of Arab women and children as human shields. Criticizing radical Islam on public television is now almost impossible. Members of the Israeli government are never interviewed on French television.
French politicians know that 70% of all the inmates in French prisons are Muslims, and that these prisons have been transformed into recruiting centers for jihadists.
Most Shared
Most Viewed