Why Hamas Said No to Egypt's Sisi
Hamas is probably interested in a cease fire, but not one that would bolster the standing of Sisi. Hamas is now aiming to replace Egypt with Qatar and Turkey. It now remains to be seen whether Qatar and Turkey will be able to save Hamas.
Hamas's rejection of Egypt's proposal for a cease-fire with Israel did not come as a surprise to many Palestinians.
On Wednesday, Hamas announced that it had officially informed the Egyptians of its opposition to the cease-fire proposal, which had been issued by the Egyptian authorities 48 hours earlier.
Hamas spokesman Sami Abu Zuhri said that Hamas was opposed to any cease-fire that "does not meet, from the outset, the conditions of the resistance groups."
One of the reasons that Hamas rejected the proposal, Abu Zuhri said, was because the Egyptians did not consult with the Islamist movement before announcing it.
Hamas's conditions included the reopening of all border crossings and the lifting of the blockade that was imposed on the Gaza Strip seven years ago.
But Hamas's rejection of the Egyptian cease-fire plan should be seen in the context of its strained relations with the regime of President Abdel Fattah Sisi.
Sisi's cease-fire proposal is not much different than that presented by deposed Egyptian President Mohammed Morsi in November 2012.
Then, Hamas accepted Morsi's proposal, entitled "Special Understandings For Cease-fire In Gaza."
Sisi's plan, rejected by Hamas, is entitled "The Egyptian Initiative For Cease-fire In Gaza."
Both plans called for a cessation of fighting between Israel and Hamas, and for the reopening of the border crossings for passengers and goods.
The main difference between the two plans was an invitation from Sisi to Israel and Hamas to hold separate talks in Cairo to "complete discussions about consolidating the cease-fire and pursuing confidence-building measures between the two parties."
Back then, Hamas had no problem accepting a cease-fire engineered by a Muslim Brotherhood president, who considered the movement a close friend and ally of Egypt.
But Hamas views Sisi as an enemy -- that is why its leaders are not prepared to accept anything he offers, even in the form of a cease-fire that is aimed at saving the lives of Palestinians in the Gaza Strip.
By rejecting the cease-fire, Hamas has shown that it prefers Israel's bombs to Sisi's offer. For Hamas, Sisi represents a hostile regime that has declared war on the movement and its Muslim Brotherhood allies in Egypt.
Hamas holds Sisi responsible for tightening the blockade on the Gaza Strip by keeping the Rafah border crossing closed and destroying hundreds of smuggling tunnels along the border between Egypt and the Gaza Strip.
The last thing Hamas wants is to award Sisi -- and enhance his standing in the regional and international arena -- by accepting cease-fire "initiative" from him.
Similarly, Hamas does not want Abbas to play any role in a cease-fire agreement lest that strengthen his standing as the representative of all Palestinians.
Statements by Hamas leaders over the past week have been extremely critical of Abbas's stance regarding the war with Israel. Top Hamas officials have gone as far as condemning Abbas for conspiring with Israel and Egypt to eliminate the Islamist movement and end its control over the Gaza Strip.
A sign of growing tensions between Hamas and Abbas was provided on Tuesday when the Palestinian Health Minister, Jawad Awwad, tried to visit the Gaza Strip.
As soon as Awwad entered the Gaza Strip through the Rafah border crossing, Hamas supporters pelted his vehicle with stones, eggs and shoes, forcing him to flee the area.
The Palestinian Authority [PA] later issued a strong condemnation of the assault, holding Hamas "elements" responsible.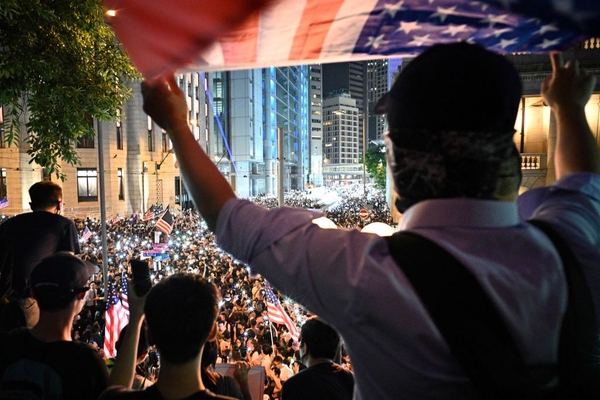 Palestinian Authority Health Minister Jawad Awwad is attacked by a mob upon exiting his official vehicle on a visit to Gaza.
Hamas leaders complained this week that President Sisi did not even bother to consult with them before drafting his cease-fire proposal. "We heard about the cease-fire proposal through the media," said a senior Hamas official in the Gaza Strip.
The official claimed that Sisi chose to negotiate with Israel and PA President Mahmoud Abbas instead of with Hamas and the other terror groups in the Gaza Strip.
Hamas is also suspicious of Sisi's true intentions. Leaders of the movement are convinced that the Egyptian president's ultimate goal is to disarm the movement and other terror groups and hand the Gaza Strip back to Abbas's PA.
Some Palestinians believe that Qatar and Turkey exerted pressure on Hamas to reject Sisi's cease-fire plan. Relations between the two countries and Egypt have deteriorated as a result of their continued support for the Muslim Brotherhood in Egypt.
Hamas is probably interested in a cease-fire, but not one that would bolster the standing of Sisi. This war is not only between Hamas and Israel. It is also a war also between Hamas and Sisi's Egypt.
Hamas is demanding that Israel halt its "aggression" on the Gaza Strip. But its main demand is that the Egyptians end their blockade on the Gaza Strip and reopen the Rafah border crossing.
Hamas is also demanding that the Egyptians stop their security measures against the Islamist movement and the Palestinians of the Gaza Strip, including travel restrictions and the destruction of smuggling tunnels.
Hamas is now seeking to replace Egypt with Qatar and Turkey. The movement is determined to deny Sisi the "honor" of assuming a major role in solving the current crisis. So far, Hamas appears to have been successful in its effort to marginalize Sisi. It now remains to be seen whether Qatar and Turkey will be able to save Hamas.
Related Topics: Egypt, Palestinian Authority | Khaled Abu Toameh
This article was republished in:
receive the latest by email: subscribe to the free gatestone institute mailing list
Reader comments on this item
| | | |
| --- | --- | --- |
| Title | By | Date |
| Four reasons why Hamas said No [665 words] | Caroline Rausch | Jul 18, 2014 03:47 |
| Qatar and Turkey [141 words] | Jim | Jul 18, 2014 01:18 |
| Hamas is doing Israel a favor [82 words] | Carl | Jul 17, 2014 16:19 |
| Real smart on the part of Hamas... [68 words] | Hans | Jul 17, 2014 13:36 |
| Heard it on the grapevine [69 words] | Blanche | Jul 17, 2014 10:48 |
| Hamas going down slowly but surely [182 words] | Haim Ahmed Emmet | Jul 17, 2014 10:33 |
| ↔ I think you're right. [46 words] | K.K. | Jul 24, 2014 12:06 |
| Hamas charter [37 words] | David Walker | Jul 17, 2014 09:52 |
| Let Hamas slit their own throats [148 words] | John | Jul 17, 2014 09:16 |
| Gaze Conflict [66 words] | Val Cumming | Jul 17, 2014 08:52 |
| Hamas is right, for once ! [170 words] | Hamady | Jul 17, 2014 08:41 |
| New conflict in Israel. [39 words] | Hammar | Jul 17, 2014 08:24 |
| THE MODERN ROOTS OF THE ISRAELI ARAB CONFLICT [129 words] | Daniel Berger | Jul 17, 2014 06:12 |
Comment on this item
Subscribe To Mailing List
Tweets by @GatestoneInst
Latest Articles
by Burak Bekdil
It was the Islamists who, since they came to power in the 2000s, have reaped the biggest political gains from the "Palestine-fetish."
But the Turkish rhetoric on "solidarity" with our Palestinian brothers often seems askew to how solidarity should be.
by Raheel Raza
One blogger writes that Malala hates Pakistan's military. I believe it is the other way around.
I would so like to see the day when Malala is welcomed back in Pakistan, with the whole country cheering.
by Francesco Sisci
Democratic evolution in China was being seriously considered. The failures of U.S. support for democracy in Afghanistan, Iraq, Egypt and Libya gave new food for thought to those opposed to democracy. Lastly, the United States did not strongly oppose the anti-democratic coup d'état that overthrew a democratically elected government in Thailand.
On the other hand, Russia -- dominated by Vladimir Putin, a new autocrat determined to stifle democracy in Russia -- provided a new model.
The whole of Eastern Europe and most of Latin America, formerly in the clutches of dictatorships, are now efficient democracies. This seems to indicate that while democracy cannot be parachuted into a country, there is a broader, longer-term global trend toward democracy and that its growth depends on local conditions.
As economic development needed careful planning, political reforms need even greater planning. The question remains: is China preparing for these political reforms?
by Peter Martino
The United Kingdom Independence Party [UKIP] not only managed to halve the Conservative vote, but also the Labour Vote and the Liberal Democrat vote.
UKIP stands for small government, low taxes, and preservation of Britain's identity and sovereignty, values that appeal to Conservative voters; and it wants to pull the United Kingdom out of the European Union. UKIP also stands for strong policies on law and order and immigration, which appeal to the traditional old Labour heartlands.
Strategically, to pick up Labour votes, UKIP would need to move to the left, but examples in France, Switzerland, Denmark and Geert Wilders's PVV in the Netherlands, show that it is possible to attract voters from both the left and the right.
by Peter Huessy
Critics of missile defense must have seen their whole multi-decade, multi-million dollar campaign to stop U.S. missile defenses in danger of crashing to the ground.
"All flight tests of the weapon have been rigged," William Broad, New York Times, June 9, 2000.
The success of Iron Dome apparently gave lie to the repeated claims that missile defense tests are rigged; that missile defense systems cannot work; that they do not save lives, and that the threat of rocket attacks must be dealt with through appeasement and concessions.
Most Shared
Most Viewed