Koran editing
Reader comment on: Germany: A Koran in Every Household
Submitted by Jason Giles, Apr 12, 2012 11:52
The most important paragraph in the article deals with the editing of the Koran to remove the verses that would be controversial. This is all part of a campaign of deception about their religion by the extremists mentioned in the article. People across the globe need to wake up to the deceptive practices being used to promote and defend Islam. Like the article tells it, these non-controversial versions of the Koran are being distributed in order to introduce an Islam that is significantly different than the one proposed in the original Koran; and afterwards those who are converted will slowly be assimilated into the Islam that is taught under it.
---
Note: Reader comments are screened, and in some cases edited, before posting. Gatestone Institute reserves the right to reject anything found to be objectionable. Reader comments, including the one above, represent solely the opinion or viewpoint of the readers that submitted them and do not represent the opinion or viewpoint of Gatestone Institute. Gatestone Institute takes no responsibility for the content of reader comments.
Other reader comments on this item
Comment on this item
Get Free Exclusive Gatestone Content:
KHALED AL-ASAAD, BEAHEADED BY THE ISLAMIC STATE
Khaled al-Asaad, 81, a renowned Syrian antiquities scholar, was publicly beheaded on August 18, 2015 by the Islamic State in the ancient city of Palmyra, apparently after he refused to reveal where valuable artifacts were hidden.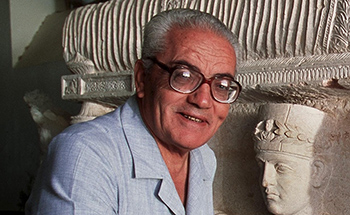 FIRST TRANSLATION OF AYATOLLAH KHAMENEI'S BOOK ON HOW TO DESTROY AMERICA