"Never believe anything until it has been officially denied," people use to say in days of the Soviet Union. Today, the same seems to be true for the European Union's migrant policy. When German Chancellor Angela Merkel engineered the EU-Turkey deal on migrants, it was widely described by the European politicians and the media as a "breakthrough". Merkel and other EU leaders agreed on offering a down payment of €3 billion to the regime of Turkey's President, Recep Tayyip Erdogan, in return for its promises to "stem migrant flows".
In December 2015, nearly four months before the EU-Turkey agreement was even formalized, Hungary's Prime Minister Viktor Orbán accused Chancellor Merkel of working on a "secret deal" with her Turkish counterparts. Orbán was quite specific in his claims, apparently certain that Berlin would soon reveal the details to the public.
"Beyond what we agreed with Turkey in Brussels there's something that doesn't figure in the agreement," Orbán said in December 2015. "We'll wake up one day -- and I think this will be announced in Berlin as soon as this week -- that we have to take in 400,000 to 500,000 refugees directly from Turkey."
Prime Minister Orbán was ridiculed for his claims. European Commission Vice President Frans Timmermans dismissed Orbán's allegations of a secret deal with Turkey as "nonsense".
Bloomberg News reported the German and French outrage at Orbán's allegations at that time:
"France and Germany are working together to manage the flow of migrants, which is a challenge to everyone," French government spokesman Stephane Le Foll told reporters in Paris on Wednesday. "Last weekend the union reached an agreement with Turkey," and Orban should be aware of the details since he was there, Le Foll said.

A German government official, requesting anonymity because EU-Turkey talks are ongoing, said Orban's claim that Germany made a secret deal is false.
As it now turns out, PM Orbán was right about a "secret deal" all along. According to the latest revelations made by the German newspaper Die Welt, Chancellor Merkel, along with Dutch Prime Minister Mark Rutte, had agreed to accept 150,000 to 200,000 Syrian migrants from Turkey into the EU without consulting other European member states.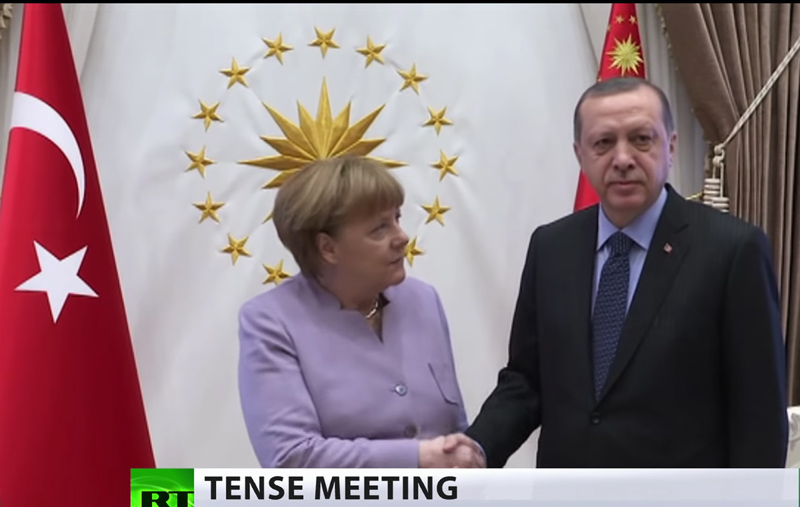 Pictured above: German Chancellor Angela Merkel meets with Turkey's President, Recep Tayyip Erdogan in Ankara, on February 3, 2017. (Image source RT video screenshot)
Die Welt reported on March 13, 2017:
Contrary to previous information, German Chancellor Angela Merkel (CDU) and Dutch Prime Minister Mark Rutte made concrete commitments on a legal refugee quota during the negotiations on the refugee deal between the EU and Turkey. Merkel and Rutte promised directly to bring in 150,000 to 200,000 Syrian refugees to Europe from Turkey each year...

The plan agreed upon by Merkel, [Turkey's Prime Minister] Davutoglu and Rutte was presented the following day as an unexpected suggestion by Turkey. The heads of the state and governments agreed on a "voluntary intake due to humanitarian reason" in the final document of the summit.

The exact number was not revealed to the European [leaders] by Merkel, Davutoglu or Rutte. The three heads of government reached an understanding on the number 150,000 to 250,000 through a gentleman's agreement. This has been confirmed by several individuals involved in the negotiations.
There is a plausible reason why Merkel and Rutte are still hiding these migrant figures from the public. Both Rutte and Merkel have to face their voters this year and are looking at a real prospect of anti-mass immigration parties making strong gains in the March and September general elections respectively.
Regardless of any secret dealings, however, the idea of importing hundreds of thousands of migrants into Europe fits seamlessly into what seems to be Merkel's agenda of transforming the German and European demography.
In September 2015, before the migrant crisis could even fully unfold, Germany's Vice-Chancellor Sigmar Gabriel declared that country could absorb up to 500,000 migrants each year.
In a government report published last month by the German newspaper Rheinische Post, experts recommended an annual intake of up to 300,000 migrants a year for the next 40 years, to counter lower German birth rates. According to these official estimates, Germany will have to take in 12 million migrants to keep the current size of the German population -- 82 million -- stable through 2060.
As they embark on a bizarre social engineering project on a continental scale, members of Germany's political class evidently do not see the need to consult even their own electorates. Instead, they apparently believe in creating irreversible facts on the ground. They are even proposing a contingency plan to thwart a potential backlash from the population. In case of any future national referendum, Germany's Federal Commissioner for Refugees and Migrants, Aydan Özoguz, recommends giving voting rights to migrants permanently residing in Germany.
Considering the ironclad support for Merkel's "Refugees Welcome" policy in the German media and across the political establishment, there seems to be a consensus within Germany's political establishment to keep the floodgates of mass-migration open, no matter how high the price.
For Merkel and Germany's political elite, the victims of Islamist terror attacks across Germany or the hundreds of women who were sexually assaulted in Cologne's central square on New Year's Eve are merely roadkill on the Autobahn leading to their promised multicultural paradise.
Vijeta Uniyal, a journalist and news analyst, is based in Germany.